Lockdown, Night and Day: A Mother's Reflections on Parenthood During the Covid-19 Pandemic
Originally Written in August 2020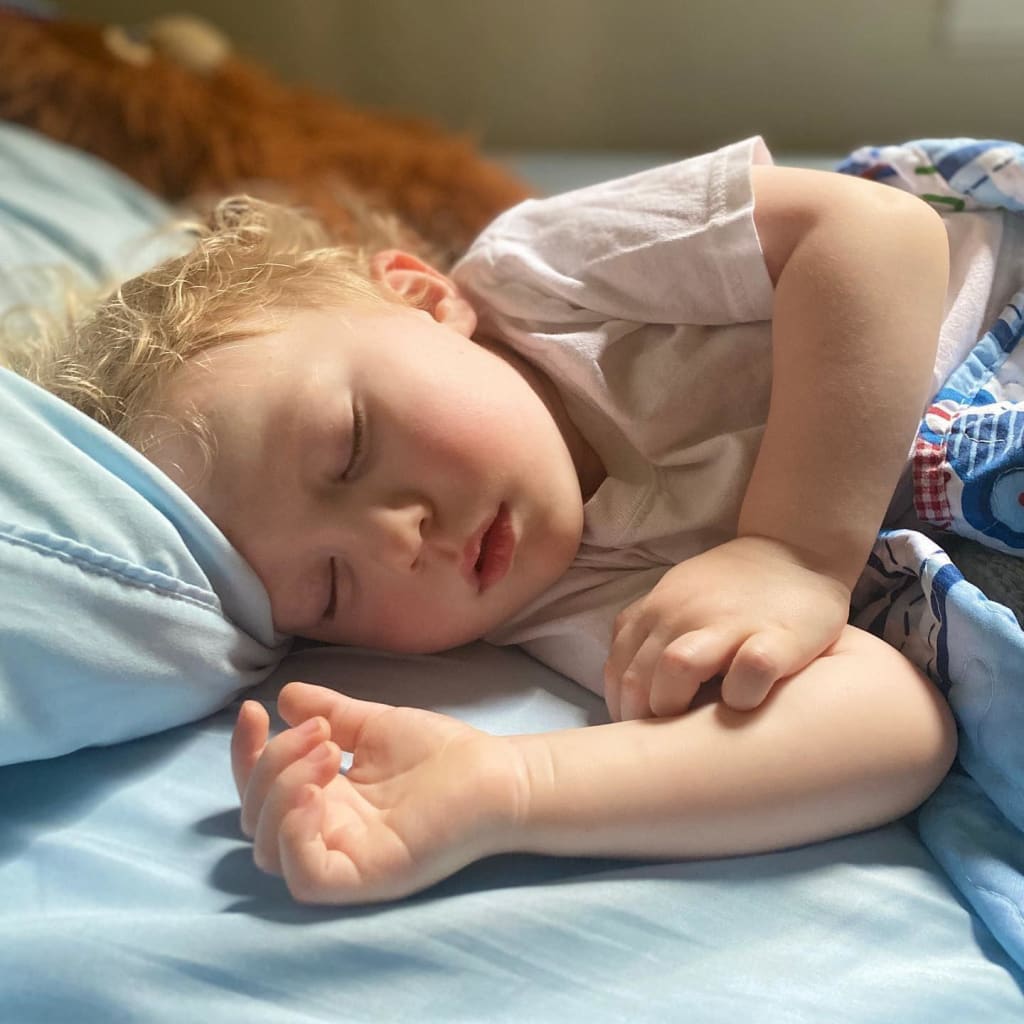 A photo I snapped of my son sleeping peacefully during the Covid-19 pandemic.
My toddler's newest refrain echoes through our small two-bedroom home every night at bedtime without fail.
"Hold hand, hold hand!"
While he used to be a beautiful sleeper in his own little crib all night without fail, since we began living in isolation, his nighttime wake-ups became nighttime anxiety. Now he can barely let a parent out of his sight in the evening without melting down into sobs that wrack his slight frame, tears puddling on the collar of his pajamas.
He's too young to understand why his daycare shut down, or why visits to Granny and G-Pa are suddenly fewer and farther between. He doesn't see why I, his mother, a veteran teacher by trade, logs off of one more Zoom class and lays my head on my desk in utter defeat, nerves frazzled from a day spent on screen with middle schoolers who would in all likelihood be better off outside, playing in the sunshine. He can't comprehend the terseness of his father, my husband, whose employer shut down as the pandemic reached its height, making him suddenly our son's primary caregiver during the day and our resident bill-payer by night. Long after we have finally gotten our child to sleep, my husband hunches at our dining room table, poring over mail from collectors and loan sharks, trying to figure out how we're going to make ends meet with a sixty percent reduction in our income.
Daytime is fine. We cook all of our favorites. I make savory waffles in the morning with perfectly poached eggs on top, delighting in the silky yolk breaking on my plate, reminding myself I would never have time to poach an egg during my regular busy workweek. My husband experiments with baking bread and desserts, true to lockdown stereotype, and we eat our fill of banana nut muffins, double-chocolate brownies, peanut butter cookies, and berry cobblers. I splurge despite our financial straits and fill our backyard with a slide, a swing, a sandbox. Covid-19, its effects, and even its method of spreading was still very much unknown in the earliest days and I reasoned that we might as well enjoy our backyard as a family while we still could.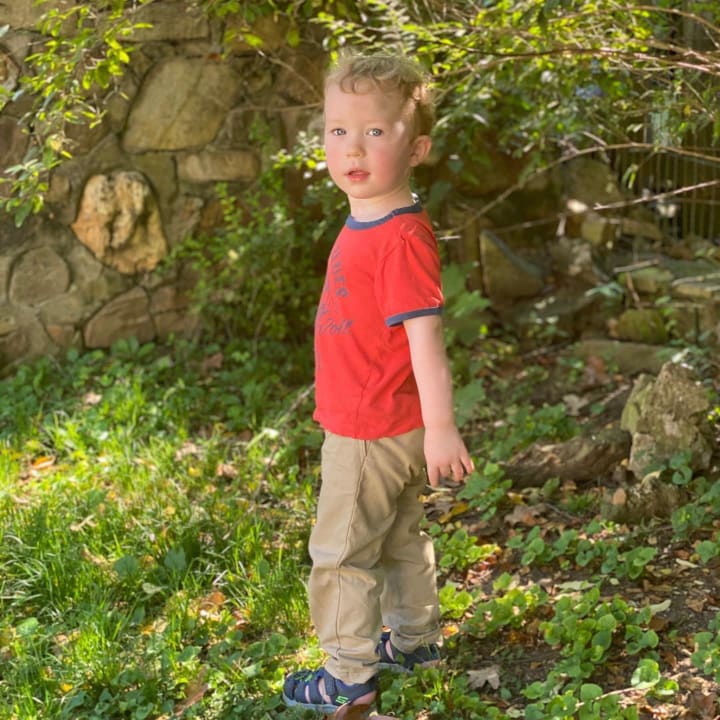 We avoid the news, and religiously wipe down groceries and take-out boxes with Lysol wipes before touching them. By the time our Lysol wipes ran out and were nowhere to be found on grocery store shelves, we had already learned that the virus was mostly spread through respiratory droplets. Our canned goods and fried rice containers were safe. I stalk Amazon for bulk diapers and order them whenever I can get my hands on them, knowing they will be bought up in hours. I live with a tooth ache for two weeks, terrified to go to the dentist and potentially expose myself to the virus.
We walk. Around and around our block each evening, we walk. We started with a circle around our neighborhood and back. Then we began walking two miles, then three, then five, then to our favorite restaurants, where we cautiously ate on the patio, leaving quickly if anyone sat down near us. We walked in the nearest park, and then we walked in a new park, and another and another until we found our favorite one, twenty minutes outside of the city, with a trail next to an idyllic creek, densely wooded, shady and cool. As we walked, we talked more than our busy lives as employees and graduate students had afforded us before. In our ten years together, talked more during this pandemic than ever before, laughing at the antics of our son, admiring his golden curls, fretting over the health of our parents, debating the presidential election. My husband catches my hand as our son toddles on ahead, joyfully hitting a stick against every tree.
"You're beautiful," he says, and I smile up at him, wiping sweat from my forehead. My first years as a teacher followed by graduate school and a pregnancy were not kind to my body, and now as the world locks down, I find every opportunity to get outside and move.
When our son sleeps late in the mornings, or plays quietly with his wooden trains and tracks, we find moments to lay in bed together, lazily loving instead of occasional, frantic encounters snuck in somewhere between a graduate seminar and potty training. I feel young again, although the pandemic also makes me feel very, very old.
Daytime is fine. Sometimes, it is even joyful, peaceful. Despite everything that is going on in the world, time spent together as our little family of three feels right. But at night, our laughter filled days spent in isolation are pierced by our son's howling cries from his bed, ceaselessly demanding.
"Sit here," he dictates in a high-pitched whine, patting the bed next to him. "Sit here. Hold hand."
And we do. At night, as I curl into my two-year-old's bed and pull my heirloom quilt over his warm, tired body, his stuffed orangutan, his juice cup, I keep his own dark fears at bay as well as my own.
I imagine forming a protective cocoon around us, his father, our cats, our house, that the world cannot penetrate with all of its destruction. I trace his little features as his drowsy eyes close and he drifts easily into sleep, assured that his mother is near and all is well, and I know I'd give anything to push this mother's soothing power outside of my four walls and into all the world until we can each rest easy, the hurts and fears of the day put to bed.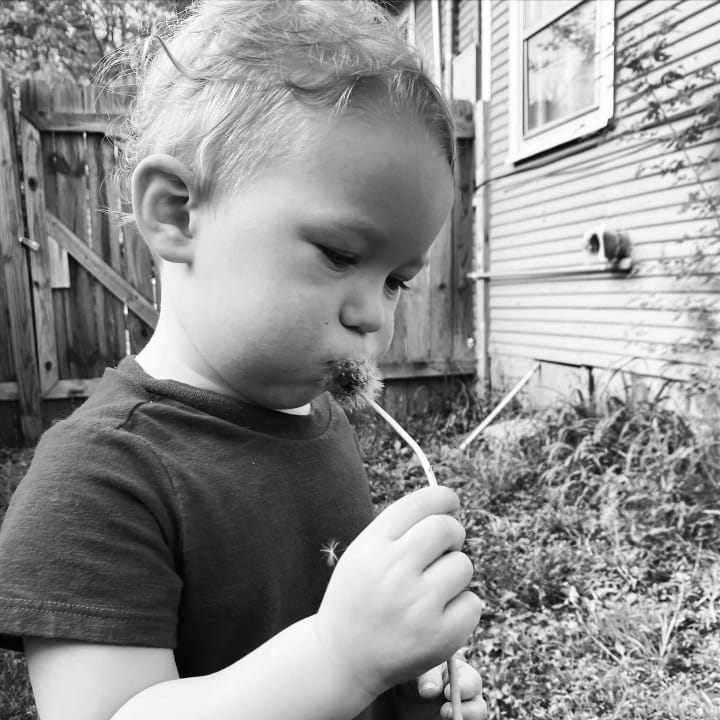 ***
A version of this piece was originally published in "The Corona Silver Linings Anthology" by The LifeWrite Project which is the non-profit division of www.Opyrus.com. It is republished here with written permission from the publisher.
Purchase a copy of The Corona Silver Linings Anthology here.
***
If you enjoy my writing, please leave a tip, a heart, or follow me on Twitter @arkansas_scrawl.
About the Creator
I'm a wife and mom, and this is my creative outlet. I am experimenting with lots of different writing styles and topics, so some of it is garbage, and I'm totally fine with that - writing is cheaper than therapy. Thanks for stopping by!
Reader insights
Be the first to share your insights about this piece.
Add your insights