Lil' Paper Crane
Third Place in Tattoo Tale Challenge
Origami, In Memoriam
The Idea's Origin
It's a frosty February morning in 2017 when Mom calls. Normally, it's to tell me about her day -- a friend she runs into, something funny the cat's done, a waterfall on a new trail -- sweet little things, sure, but a dime a dozen, and things I usually brush off. More often than I'd like to admit, I don't pick up because I'm on my way somewhere. But in this rare moment, I've paused, so I answer. I'm glad I do, because she's probably on the other end thinking Please. Please pick up. It's not a waterfall this time.
I'm sitting on a carpeted stair in the UVic Fine Arts building. Students and professors are buzzing around, lining up at the coffee shop across the lobby to get their caffeine fixes in between classes. On the phone, Mom says that she's on her way to Kingston, Ontario because her father ("Grandpa Art" to me) has died. There, he leaves behind his partner, Billy, and a small daschund "devil dog" (his words, not mine) named Emma. Mom very rarely ever cries, but she is now.
I wasn't expecting this. I knew he was sick, but I guess I didn't really know how sick. It was only a month or so ago I found out.
Aleks, my then-boyfriend, knows something is wrong. I look at him through tears, and he takes my hand. Thank you. I'll tell you in a sec. Mom signs off. It always takes her a while to do this. Today, I don't mind though. I think we need each other.
I decide to skip my afternoon classes and go home. I can't focus on much else anyway. Aleks comes with me. I have a long, uninterrupted cry when I'm finally away from school and people. After that, I have some juice.
(* Brief, Important Tangeant: ALWAYS have juice on hand for after you've had a good cry. Your favourite kind. It's a game-changer.)
Aleks hugs me, and holds space for me. He's always been good this way.
He asks, "What do you want to do?"
"Watch Netflix..." "Order food..." "Find a dog to pet..." I should say.
Instead, I reply "I want to get a tattoo."
I don't have any tattoos. This would be the first.
"...Uhm..." he says.
But then he smiles. I smile. And that's enough for me to know that it isn't really that crazy an idea.
For Art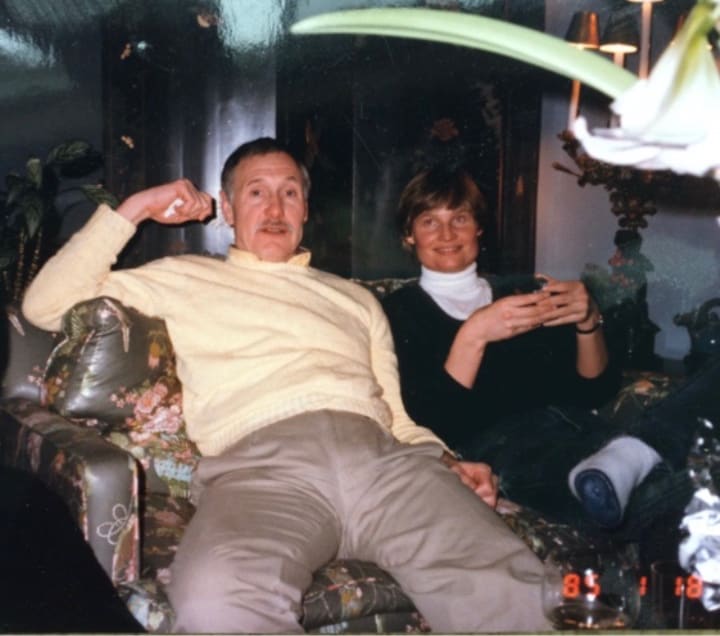 Here are some of my favourite facts about Arthur "Grandpa Art" Griffin:
​1) Despite being a towering man of 6'4'', he insisted that he was no older than six. He always had a child-like, mishevious sparkle in his eye, so I never questioned it. To this day, I wonder if he was seven by the time he died.
​2) He used to be an aerospace engineer for the navy. Ironically, one of his biggest fears was flying. Nevertheless, he would make it out to Victoria from Kingston every other year for a visit.​
3) His favourite colour was yellow. A creamy, sunny, happy yellow. He had a little yellow house in Kingston, that 3000% belonged in a storybook. Matching daffodils lined the walkway to the doorstep.​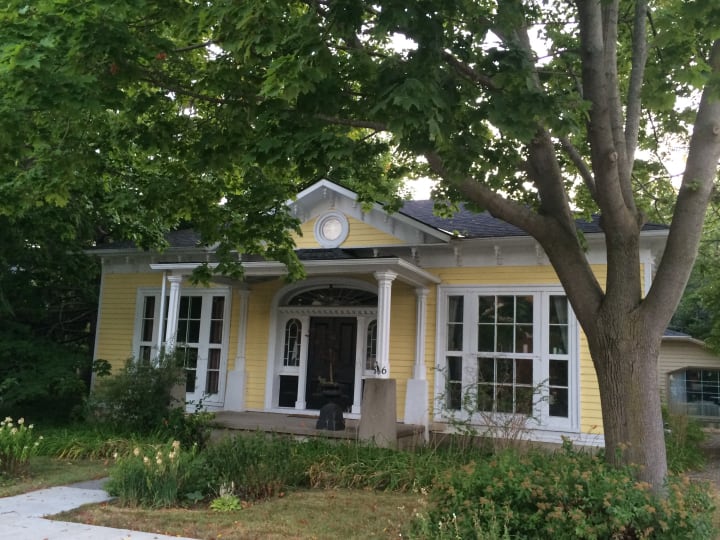 4) When Mom was four, Grandpa Art came out as gay. It was a good decade and a half before Mom and him talked again, and a few decades more before he talked to Grandma. While it took Grandma a long time to heal (and understandably so), Grandpa Art always thought the world of her. He still had love, respect, and admiration for her, and that was clear even when they met almost a lifetime later.​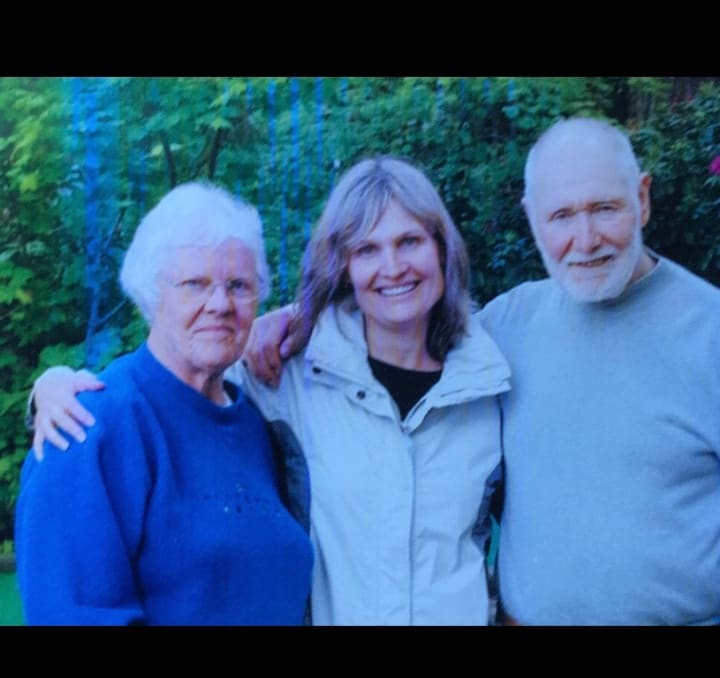 5) Grandpa Art ended up getting a Master's degree in Divinity Studies, and became a pastor at his local Anglican Church. He officiated many marriages in his time, a good number of them being same-sex marriages.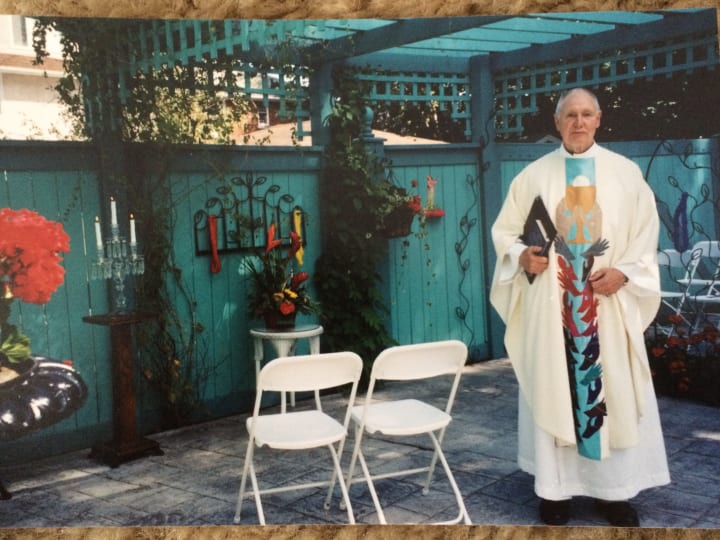 6) He loved to bake. Once a week, he would lead a service at the prison, and he'd always take some baked goods for the inmates. Their favourite recipe was his cookies, so much so that he was nicknamed " The Cookie Man."
7) On one of his last visits to Victoria, Mom and Art were on a dogwalk. Mom subtly checked out a man walking by. So did Art. That's when they realized that they had the same type.
For all of these reasons and more, Grandpa Art was special to me. I never knew him as well as Mom did, but I still felt a tremendous absence when he was gone. I knew that some of his sparkle had been carried down to me. I needed to honour this marvellously quirky person in some way.
Also...
Around the same time I got the news about Grandpa Art's passing, I was doing some self-exploration. In theatre school, I was involved in a devised project. This show, appropriately called Foundation, looked at the biases in the beauty industry towards people of colour.
For example, ever notice how lighter shades of make-up have names like "porcelain" or "ivory" while darker shades are "caramel" and "coffee"? (Why, at a certain colour, does a skin tone stop being something delicate and start being a food? And that's just skimming the surface). The cast was a majority POC, and as we created together, I was encouraged to explore the Japanese heritage on Dad's side.
So, I was 21 when I figured out I was a person of colour. Better late than never, I guess.
Before that, I never really considered myself to be POC because I was lucky enough to be born with a lot of privilege, in a predominantly white community. I grew up in the quaint seaside city of Victoria. I came from a family with a good income. I got to go to university and study what I wanted to study. Yet, there were still some experiences that I only later realized were related to being a person of colour:
1) In highschool, there were different expectations for the asian kids in terms of grades. Even in jokes, there was external pressure, and they put a lot of pressure on themselves as well. I never really knew where I fit into this.
2) Finding out that the reason Grandma Masa (Dad's mother) never came back to the West Coast was because it was too painful to visit after the Japanese detainment of WWII.
3) As a result, Dad and his siblings were raised western. In turn, so was I, and all of my cousins. Our generation looks a bit asian, but none of us know the Japanese language.
4) I felt like I'd never get cast in a period piece, because everyone I saw donning a corset and ballgown was white, and white only.
5) Being "exotic"-looking though, was apparently a good thing. My ethnic ambiguity meant I could be cast as a multitiude of races (even though that doesn't mean I should've been).
The show had allowed me to unearth my Japanese side. I learned to love its expression in my skin. While I had indeed lived through these POC-related hardships, I discovered a whole culture, part of myself that I was missing out on. There was so much to be celebrated!
So as I began to understand one aspect of my blood, I was losing another part entirely. I had lost Grandpa Art.
---
After I had cried, and had my juice, I arrived at a point of clarity. At the forefront of my mind was this:
there must be a way of marrying these experiences.
Of course,
in the form of permanent body art...

The Paper Crane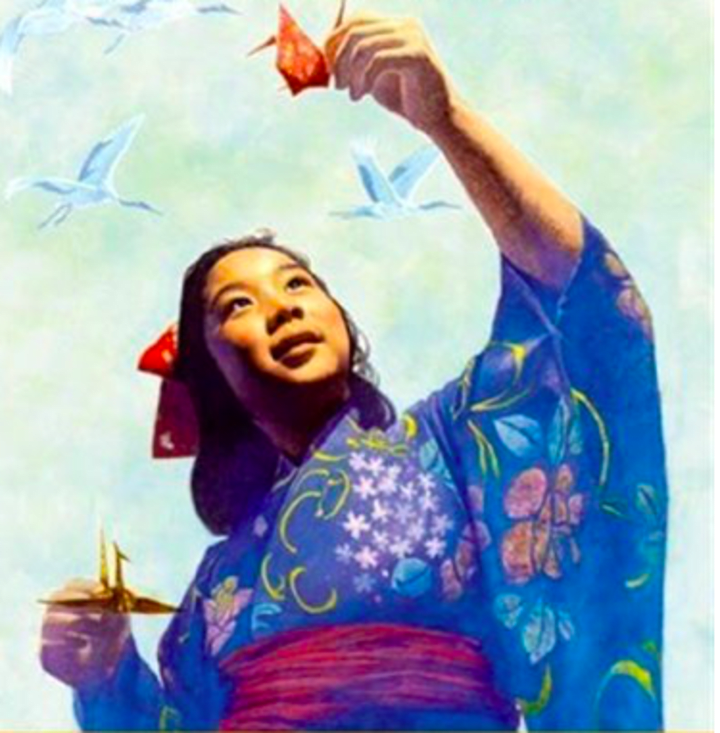 I do remember some aspects of Japanese heritage sprinkled throughout my childhood. One such experience was reading Sadako and the Thousand Paper Cranes. Sadako, a young girl of 12, discovers that she has leukemia, and her father tells her that if she can fold a thousand paper cranes, her wish (presumably, to live), will come true.
(* Note: In Japanese culture, the crane is representative of good fortune. Folding a paper crane invites success, in this life and the next. It encourages your wishes to come true -- hence why they are commonly seen at most big life events: birthdays, weddings, and funerals. )
Admittedly, I remember that I didn't really like this story. Unlike my other children's books, this one had a sad ending. While Sadako has friends who help her make the cranes, together, they get to about six-hundred before she dies. The friends reach the one-thousand crane goal after her passing. All of the cranes are buried with her.
What I realize now, is that there's a reason the book ended the way it did.

The story is true. Sadako was a real person.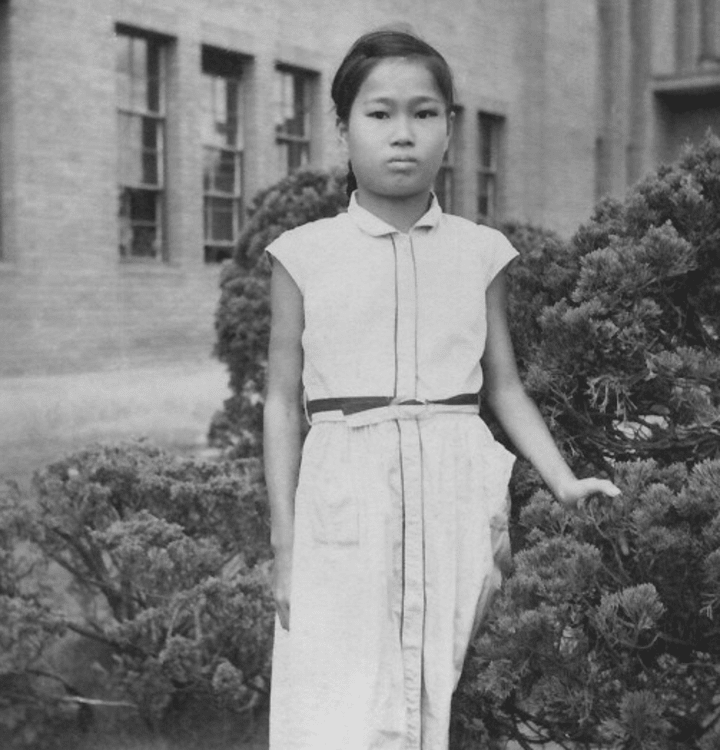 In 1945, when Sadako Sasaki was two years old, she was playing outside when the Hiroshima bomb exploded. Her mother ran to her, expecting to find her dead. Miraculously, Sadako was fine. The leukemia she experienced later in life was believed to be related to the bomb radiation.
Furthermore, it was discovered later that Sadako did reach her one-thousand crane goal, and actually surpassed it, before she died. Since Sadako's life and story, the paper crane has become an emblem for peace, strength, and Hiroshima education. The Crane Peace Project (Sadako Legacy NPO), spear-headed by Sadako's older brother, is now a world-wide movement. School-aged children fold paper cranes, write messages of peace on their wings, and exchange them with students in other parts of the world.
So yes, the paper crane's history and symbolism runs deep.

For myself, it was perfect. It fufilled my objective:
Remember and celebrate Grandpa Art, in a way that connects me to my culture.

Ta- Da!!!
I had chosen my ribcage. The tattoo artist said that I was brave for chosing the ribs for my first (it's up there on the pain scale. Lots of bones close to the surface of the skin). I remember breathing into it, a little bit thankful that I was already lying down. Aleks held my hand, even though I'm sure I was clammy.
It's looking really good!...
.... and 45 minutes later, it was done.
My beautiful lil' paper crane was there forever.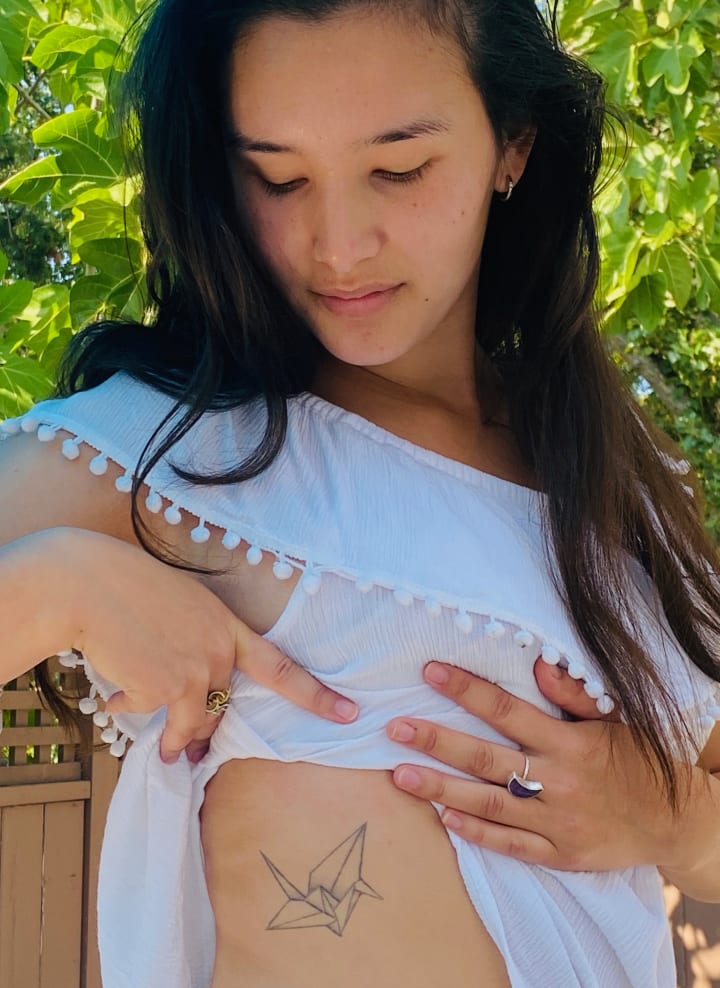 Today, my crane is:
1) A beautiful way to remember Grandpa Art, in all his sparkle.
2) Quintessentially Japanese, a part of me also. In a way, Sadako is there too... her peace, her power, her legacy.
3) A reminder of the time in my life when I got it. The self-discovery I went through, the loss I endured, the people who guided me through it all.
4) Just pretty to look at.

I have no regrets.
It means the world to me.