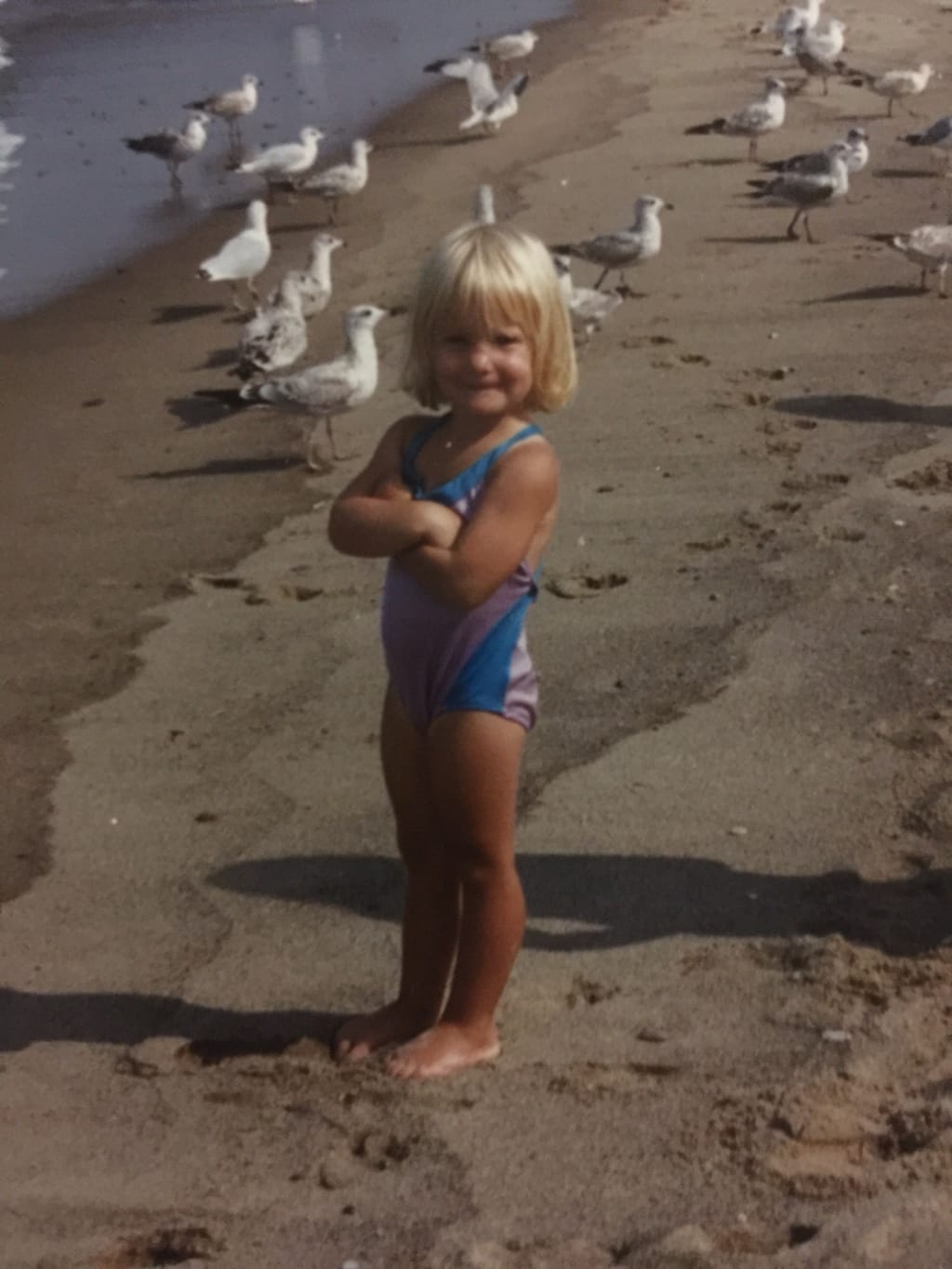 My family went to the beach a lot when I was a child. We went so often that my three-year-old skin was tanned and my already blonde hair was bleached white. I had forgotten the sounds of the heavy waves crashing onto shore. They used to resonate deep into my chest like a drum. I forgot the seagull's incessant pleas for food and the distinct fragrance of Lake Michigan air…until recently.
As I moved into adulthood, the beach was a distant memory to me. I didn't think about the sunshine across the limitless sky or the hour long, song filled car rides we took to get there. My dad would be the lead vocals and he had us chime in for the harmony. He would let us know with verbal cues and gestures when it was our turn. Fleetwood Mac's "Everywhere" will forever be linked to these drives. These moments came rushing back to me in an instant when I decided to have a nectarine for the first time in years. The memories were as powerful as the waves I used to chase and I could have buckled under the weight of them. These distant moments seemed so close it was if I could touch them. My heart ached for these times. I could see the orange and black checkered cooler that housed our snacks. I could see the little picnic I created for myself on my towel, which was held down by four beach rocks that I collected. These were to be taken home, of course. Nectarines were a beach staple, along with plums and peanut butter sandwiches on white bread. I remembered that I used to draw messages into the sand, only to let the relentless waves take them when they returned to the shore and retreated back, so rhythmic and mesmerizing. I gave so many secrets to those waves. The nectarine forced me to remember the gritty sand under my feet as I chased my siblings up the dune and down to the lake. My heart pumped as I struggled to keep up. I was the youngest and the slowest. My dad was not far behind and always willing to scoop me up and carry me the rest of the way. I could see my dad skipping his perfectly smooth rocks across the water, always cheering and calling out the number of skips he managed to accomplish. He tried so hard to teach me his tricks, but I was never able to replicate them. I can remember the cloudless skies, the rush of cool water against my skin, the happiness that filled the beach. The end of the beach day was always marked by a trip to the ice cream parlor. I chose the same one every time; bubble gum.
Eventually life slowly begins to happen. Beach towels are traded in for inhibitions, rock collections traded for CDs. Divorces happen, moves happen and beach trips dissipated along the way.
When I lost my dad at the age of fourteen, these memories hid themselves from me. They scurried into dark corners, shut the lights off and remained quiet. They remained unheard and unseen for many years. I think the mind has a way of protecting us from memories that are too beautiful, moments that will only cause us pain when we realize what we are missing.
I go back to Lake Michigan frequently now. I still hope to absorb some of the happiness that took place there. Those times were absolute magic to that little child I used to be. The energy there is palpable and it only took a nectarine to remind me.