I Hope She's Proud of Me
A look back on the tools my Uma gave me to become the Artist I am today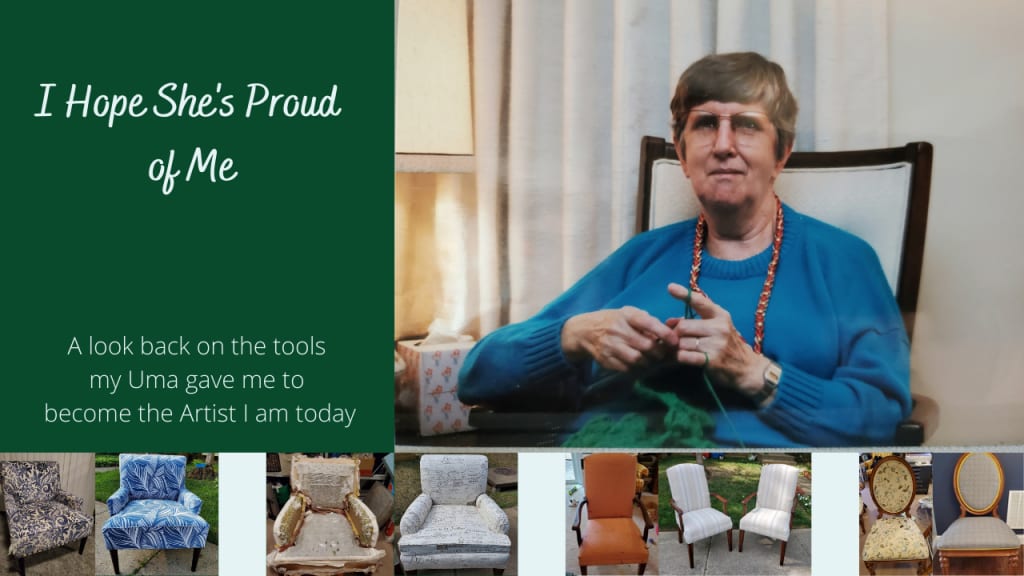 Dear Hazel in her usual chair, crocheting something amazing
I labeled myself as a fiber artist years ago because trying to tell people I made crafts made me feel like I put glitter on popsicle sticks. It all started when I was a kid. We would go to my grandparents' house and I would make these things called "Fads" with my Uma, which was a monthly mail-order craft box of random projects. My older sister and I would spend a week at their house over the summer; I would embroider and make crafts, she would bake and we would both go volunteer with my Uma at the nursing home; Uma answering the phone and Jody and I eating graham crackers and chocolate milk under the desk.
I think I was the easiest grandchild to shop for at Christmas. My bag of presents always had craft supplies. Paints and colored pencils, sketchbooks and colored embroidery floss were always included in my gifts. It was Uma that gave me my first sewing machine and bought me my first pair of really good Fiskars fabric scissors, both of which I still have and use today. My Uma and I shared a bond tied with yarn and thread and it was through her that I learned to love making things with my hands. She taught me how to appreciate art and how to celebrate its beauty, whatever form it might take.
Fast forward 20ish years. I had a coworker come up to me one day and ask if I'd ever made boat cushions. I hadn't but cushions are basically just rectangles so we agreed that I would give it a go and see if I could do them. I have to let you know that my coworker Shannon was very persuasive - I lived in a little apartment with a very young baby, so space was at a premium and the words "boat cushion" sounded very big and very intimidating. It was big, but luckily that first one was a rectangle so it ended up being very manageable. What I didn't know at that time though, was that Shannon had 7 other cushions on her boat, all different sizes, and with snaps and zippers that she had me do over the course of the next year. I did say she was persuasive.
This project really launched my love of upholstery. When I tell people what I do, usually at least one person has a chair in a storage unit, their basement, or their grandparents' house that needs to be fixed. Reupholstering furniture is an adventure. You never know what you are going to find under the fabric; money that got stuck in between the seat, deteriorated foam that needs to be replaced, and sometimes - a second layer of fabric! It's different with every piece, which makes it an interesting journey to go on each time.
While I upholster, I still use the machine my Uma got me. I've added 2 more to my collection to use for specialty fabrics and finishings, but that original - the OG - is a workhorse and has never failed me yet. I still use the Fiskars scissors she gave me. They've been sharpened a few times since I got them for Christmas all those years ago, but of all the scissors in my house, those are by far my favorite ones. I've conditioned my children to NEVER cut anything with those scissors and besides my wedding ring, they might be my most prized possession.
I also use the intangible things she gave me. The passion to create, the calm that comes over me when I'm fully focused on a project, the pride I have when I share with others what I have made. Those are all pieces of my Uma that make me remember the wonderful times we shared together.
Sometimes when I'm thinking about my next move or what I should be doing to grow business, I wonder if she would be proud of me. I'm sure she would in the "I'll always be proud because you're my granddaughter" kind of way, but would she look at what I've been able to accomplish as an Artist and truly be proud of what I've created? I think she would. She's always been my guiding light and I'd like to think she's watching over me just a little more than my brother and sisters ;)

Sara Stehle
Sara Stehle is an Artist, a Mom and a Meeting Planner. She specializes in fiber art; predominately crochet and upholstery. Sara can be seen crocheting at the airport, working late hours in her basement and being a very busy person.
See all posts by Sara Stehle →