How One Busy Mom Makes Time for Family Dinner
How our life as a family of six went from fast paced to living simpler, slower and healthier!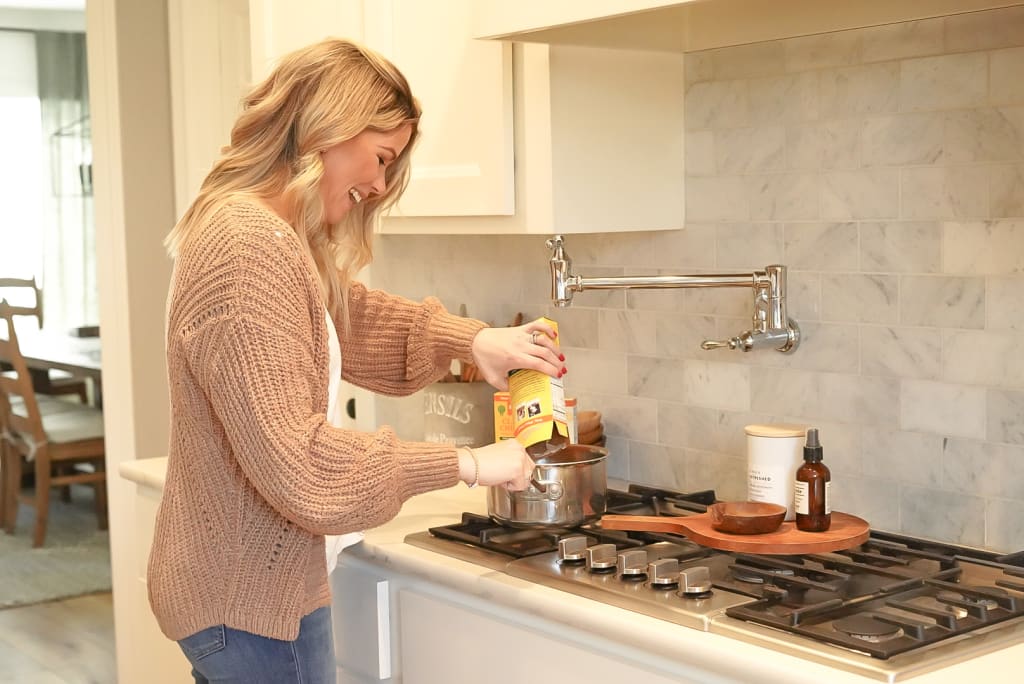 As a mom of four girls that range in age from seven years old to four weeks old I can certainly tell you how fast the time goes. I often wonder where the time has gone and how I could possibly be the mother of a seven year old already! I'm constantly questioning the decisions I am making as a parent - did I spend enough time with each of them today, did I use the right words to make them feel good, did I give their bodies the right amount of nutrients for energy and growth and the list goes on and on. Parenthood is a crazy ride and until about one year ago I was letting it fly by without realizing it.
Like many families, my husband and I both worked full time jobs and our children went to daycare, school and after care.
Our careers were demanding, but we both loved and excelled in them. Our children spent the majority of their waking hours with their teachers and caregivers, whom we were incredibly grateful for and were essentially an extension of our family. I worked in a sales job that provided me great growth and compensation, but also never really turned off and my office hours were somewhere between fifty and sixty per week (talk about full time). I spent about three hours per day with my girls and during that time it never even occurred to me how little that was. Our time together as a family was constantly rushed. We rushed in the morning to get out the door, at dinner time my kids typically sat in front of the tv eating whatever unhealthy meal I was able to quickly get in front of them before bedtime and on the weekends we hurried to pack in whatever housework and family time we could before the weekend ended. Things were not trending in the direction that my husband and I had envisioned to say the least.
However, that all came to a screeching halt (thank goodness) when our third daughter was born. My husband came home for lunch one day while I was on maternity leave and asked if I wanted to move states. I knew this move would give me the opportunity to stop working and stay home with my children, but would certainly be less glamorous. Without hesitation I said, "Yes".
About six months later the moving truck was packed and we headed to our new life.
We knew one of the most exciting moments about this move was going to be the amount of time we would get to spend together as a family. As a mom I had my list of things I was going to do differently and one of my top priorities was going to be creating healthier habits for each and every one of us. I decided we would start with meal time and here are the steps we took: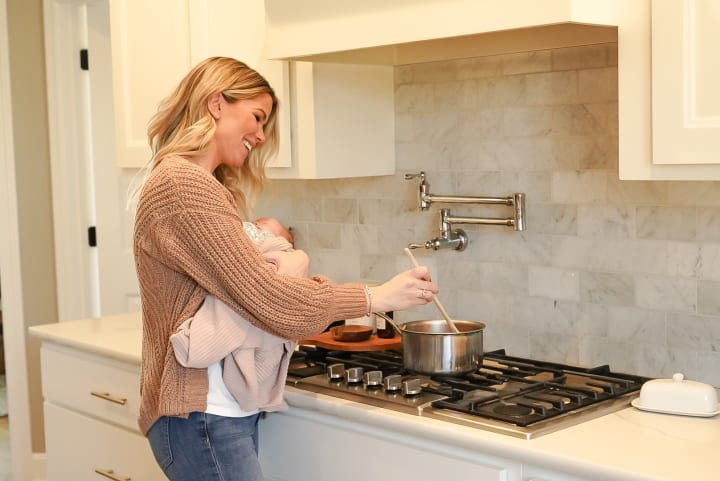 Turn off all screens, phones included. Turning off the tablets and television for the children was the easy part, but disconnecting as an adult is completely different. My husband and I vowed to not look at our phones during this time and it has made such a difference.
Sit together as a family for all meals when possible. This seems like such a simple thought, but when life gets in the way it's often easier to eat on the go. Taking the time to slow down and make this happen has been a welcome change. We each spend time talking about what we are grateful for that day and some of the things we each did, whether it was positive or negative.
EAT MORE VEGGIES!
Holy moly it is so easy to get into the habit of letting your kids eat whatever they want out of convenience. I have always been conscious about nutrition and eating a balanced diet. Making certain my kids ate protein, fruits and vegetables was how I envisioned myself as a mother - much easier said than done! Kids don't exactly squeal in excitement at the sight of a plate full of broccoli, which led me to figure out a way to give them their favorite meals without compromising their nutrition. I tried a few different tricks, but without fail my kids would always call me out and say, "Mom, what is in this? It tastes weird.", and that would be the end of that and into the garbage can it went. That is until I discovered Plant Camp.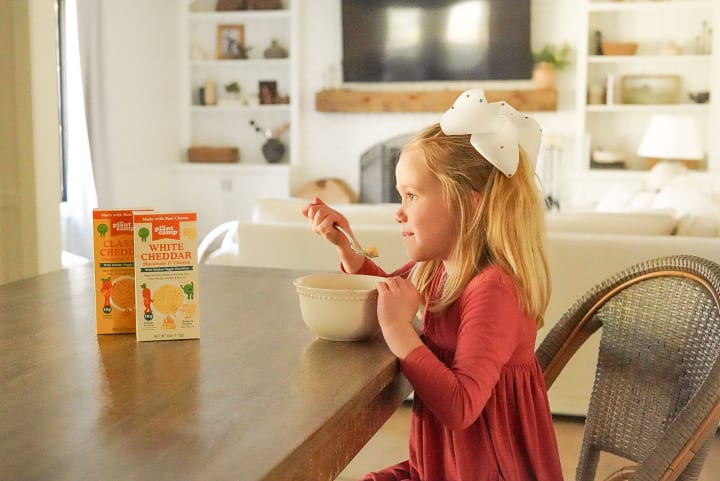 Plant Camp quickly became our girls' most requested meal, and I especially liked it on nights where we had extracurricular activities and time was not on our side. Like many other kids my girls loved macaroni and cheese. Prior to introducing them to Plant Camp they became partial to one brand and one shape noodle, which I didn't particularly enjoy. I didn't have high hopes of them actually accepting the new macaroni, but I was definitely willing to give it a shot with all of Plant Camp's nutritional value that would assist in my kid's dietary deficiencies. When I found Plant Camp I was most excited about the fact that not only would my kids receive ten grams of protein, but also THE VEGGIES! Each box contains nutrients from six hidden veggies, including peas, carrot, spinach and broccoli and the best part is that my kids have no idea. I remember the first time I gave it to them and quietly sitting in the kitchen waiting to see what they would say about the new macaroni. When my oldest daughter's first words were, "Oh my gosh this is so good Mom," I was so happy and relieved to know we finally found a solution that will allow them to eat the food they like and still provide the proper nutrition for their growing bodies!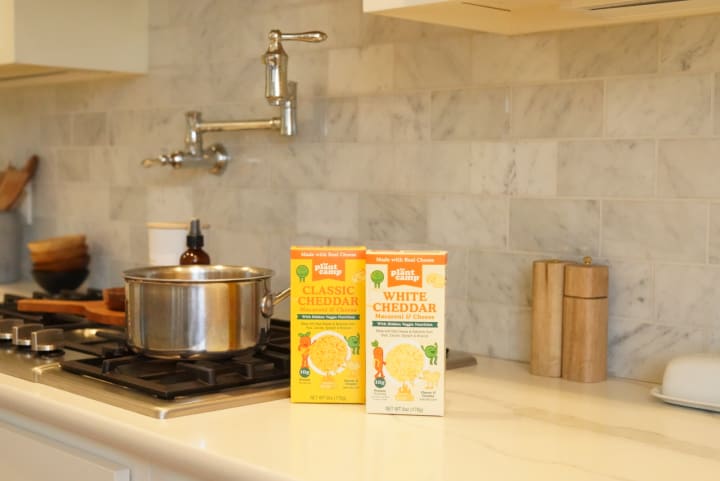 Like so many other parents I am trying my best to navigate the wild world that is parenthood. The changes that we have made as a family over the last year have been incredibly rewarding and I am thankful everyday that we had the clarity and ability to make those changes. Our meal time habits are definitely far from perfect, but I hope that the changes we have made will continue to lay the foundation for a healthier and happier lifestyle. I hope that if you're reading this you will consider less screens, more meals together and meals that provide nutritional value like Plant Camp!
Now I'm off to conquer the other one million things on my quest that is motherhood!

Margaret McAfee
Renovating my 1980s home became a passion project and so McAfeeHomeLiving was born. By providing followers with a positive, sometimes witty and always quality content I have been able to consistently grow and engage my following.
See all posts by Margaret McAfee →