Hometown
Liberty Hill, Tx.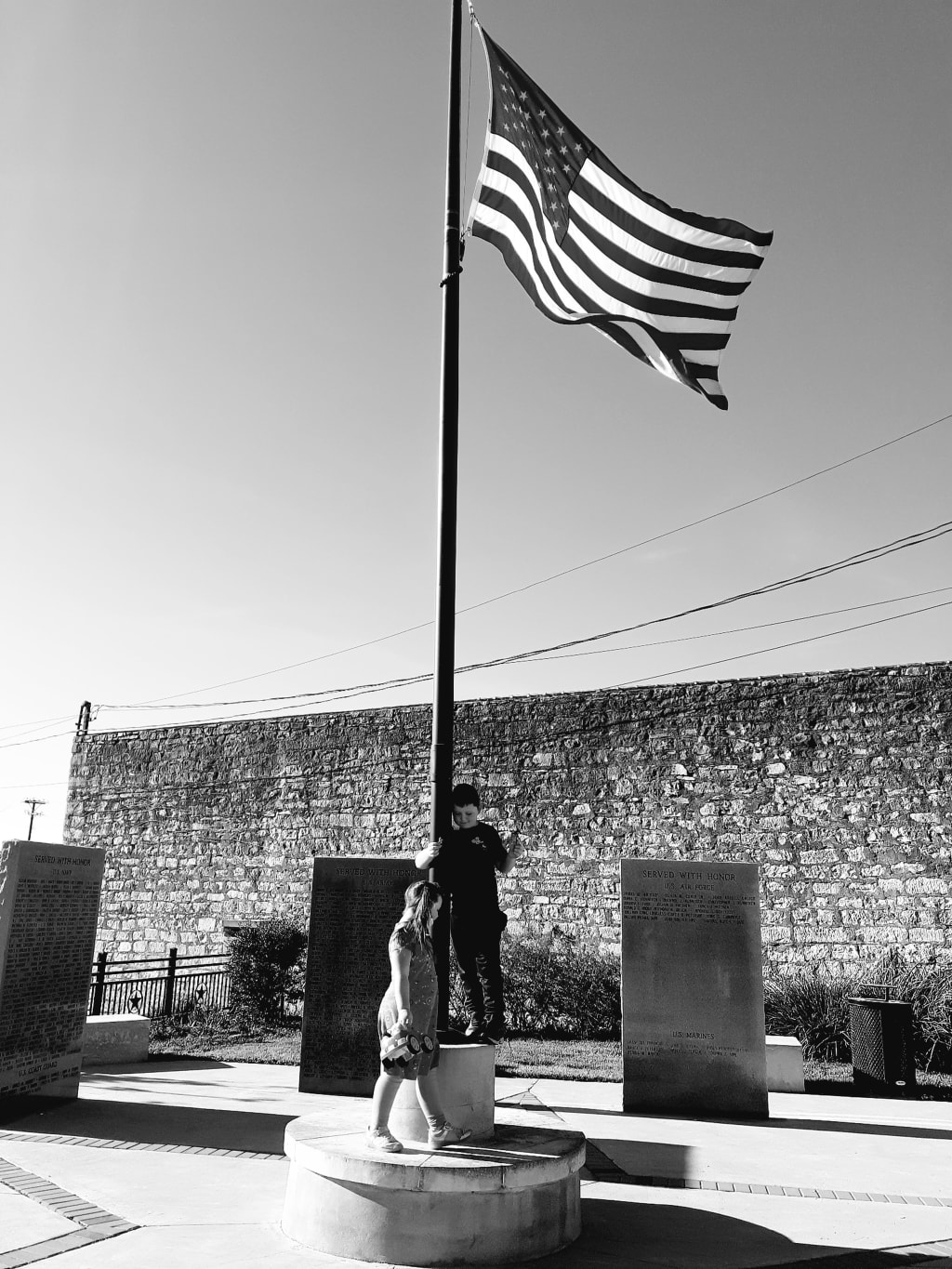 Veteran's Memorial Park, Liberty Hill, Tx.
I don't quite have a hometown. I lived in the Houston suburbs until I was about 6. We lived near Galveston near my father's family. I remember swimming in my Grandmother and Grandfather's pool, playing all day with my siblings, with the sunlight reflecting off the water until our cheeks were sunburnt and our feet were raw from the concrete… trips to Nasa, and 4th of July celebrations and fireworks on Clear Lake… my grandparents' giant anniversary and birthday parties where it seemed the whole town was there. I still wonder to this day how people could have so many friends. My grandmother was one of the greatest people I have ever known, and my grandfather still is.
We moved to Brownsville, Tx. and lived there until I was about 14. I got to know my mother's family and the Mexican culture. I learned to hunt on the Arroyo and learned to fish on the island. There people don't call it 'South Padre', it is simply 'The Island'. I had a myriad other life experiences that can only happen on the sea or in Brownsville... swimming in the bay by The Wahoo Saloon or Louie's Backyard while my parents had margaritas at the bar…Trips to Amigoland Mall to shop and ride the carousel, driving downtown for elote and raspas, or going across the border to Matamoros and eating at Garcia's…trips to my Aunt Pete's. How I miss her. I have so, so many loving memories of this area and town. I found my great love for the ocean during this time, and I will forever be grateful to have lived by the salty, spicy, south Texas coast.
I was wrenched from my comfy life in Brownsville at 14, when everyone is just pissed off. Half teenager, half child I hated my parents for the move. We moved to the Austin suburb of Leander, Tx. What was initially a culture shock, gave way to being another Austin weirdo and lover of the unique Austin culture of half hippie/half cowboy. The Texas Hill Country is one of the most beautiful places I have seen. While I didn't appreciate it then, I certainly appreciate it now. For the next years, I would move on through graduations and boyfriends and children and a divorce, and at this point, I have lived almost everywhere in the greater Austin metroplex. I considered myself a bit of a nomad in my younger days and I moved often after I left my parent's house: Lakeway, Liberty Hill, Lago Vista, Cedar Park, Round Rock, Kyle, Bertram, Del Valle, South Austin, North Austin, Georgetown…and I consider the quaint, lovely little wine town of Fredericksburg my home away from home.
And here I am now, with 2 beautiful children in tow, back in Liberty Hill, Tx. I love this little town. Corporate America has not quite reached this little gem, and I will enjoy that as long as I can. The people are friendly and amazing, and the little downtown area is so fun and this feels like home. We live in walking distance to downtown, and I love going down to let my children find their grandfather's name on the wall at Veteran's Memorial Park, or go the little restaurant of Hell or High Water. We enjoy the live music and food on the patio, and it is great for Mom to be able to have a margarita knowing we are walking home. These have been some of my favorite times lately. Lake Buchanan is 30 minutes away and we love camping there in the summer. Georgetown square is also 30 mins away, and the little open container, historical, downtown area is one of my favorite adult past times. Shopping in the little eclectic stores, having a glass of wine at Grape Creek, and walking the square or eating at Gumbo's is just amazing. I hope to raise my children here, in this little slice of Texas Hill Country heaven. Maybe one day if they are asked where their hometown is, they will have a more clear answer than their mother.