Growing up in Rural Nova Scotia
Tales of a Bluenoser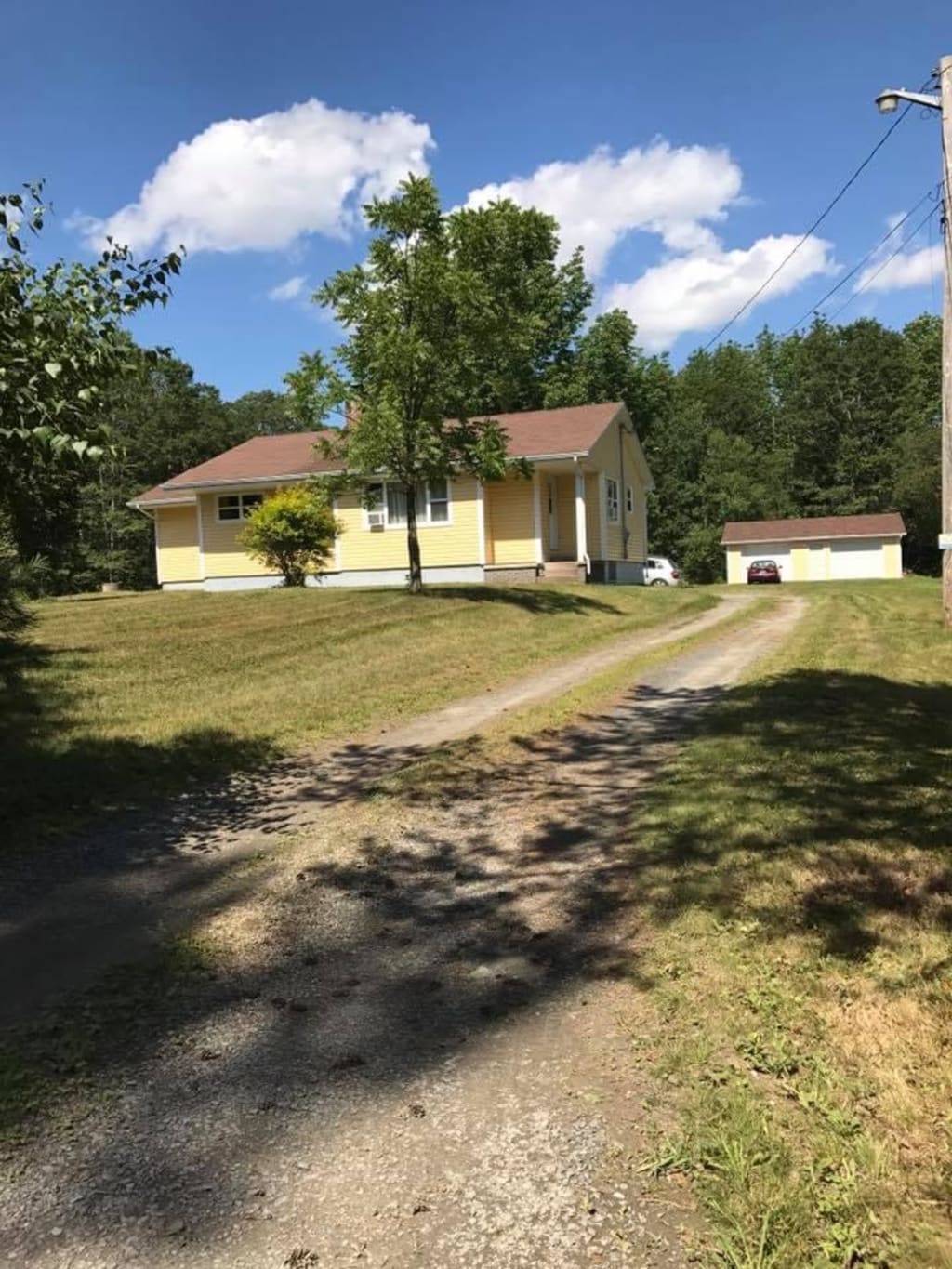 I was born in Lunenburg, Nova Scotia. That's in eastern Canada for those of you who may not know. I lived in a small community nestled between Lunemburg and another, more progressive town called Bridgewater. They were both small towns. Lunenburg was smaller, but more well known because it was the birthplace of the famous schooner depicted on the Canadian dime: the Bluenose. If you were born there you were a bonafide "Bluenoser"
My parents property backed onto a wooded area, on a dirt road. We had plenty of space to roam and there was a steep incline from the road to the field behind our house which was perfect for sledding. During the winter we often had lots of snow. My Dad had to shovel the long driveway with a large metal scoop as he did not own a snowblower. He always pile the snow high on one side of the driveway so that we could build snow forts. We would literally spend hours outside In the snow. Then, when we were exhausted, wet and cold we would come inside for hot chocolate. Did anyone else always lose a sock in their boots ? If we didn't feel like sledding or snow forts we also had a small pond to skate on, and play hockey as we got older. Winter was a magical time for us. (I doubt my dad felt that way with all the snow shoveling he was subjected to).
Spring time was always late. In fact, strawberry season was not until June. We usually went strawberry picking with our mom, and filled our bellies with their fresh juicy goodness. As the weather warmed up we would go for bike rides along the LaHave River, or attempt to cling the large Ash tree on our property. It was very difficult to climb and when I finally succeeded I was elated!
In the summers we got to set up tents, camp, eat blueberry buckle, and way more homemade popsicles than were legally allowed. (if anyone wants to know the secret to amazing popsicles my mom passed the recipe on to me). Often, our grandma would stop by, and give us each a little spending money. It was gone the next day, as we would bike to the nearest shopping place called Mo's Quick Mart. It was a solid twenty minutes ride but the reward for our efforts was candy, or Nintendo game rentals.
For a treat, on Saturday's we went on beach trips and spent the afternoon braving the cold Atlantic Ocean. It was usually about 18-20 degrees Celsius. (That's approximately 68-72 degrees Fahrenheit for any Americans who might be reading) Rissers Beach was my favourite. There was a tunnel to walk through to get to the beach from the parking lot. It made wicked echoes And we would run ahead to try and scare mom and dad when they finally emerged with all the towels and beach gear. On the way home we usually took the ferry. We could get out of the car and enjoy a boat ride back to the other side of the Lahave River. Summer often lingered through September, which was always nice.
Autumn will always be my favourite time of year. I was spoiled with massive amounts of leaves from the ash tree, and if you went for a drive in early October the reds, oranges and purples made for spectacular scenery. Further back, towards the woods, there was an Oak Tree, that supplied us with endless acorns. We collected them and made faces on them.
The funny thing, is I thought my life sucked. We couldn't afford ballet or hockey or expensive gadgets. The only clubs we joined were what the school graciously provided. It seemed like there was "nothing to do" as a kid. I took it all for granted. I failed to appreciate what I actually had. I couldn't wait to move out, and live somewhere more exciting.
Small town life is definitely not for everyone, but after having a taste of city life, I miss all the things I took for granted. I long for the simple and beautiful life that was mine to enjoy in rural Nova Scotia.
I've since had the opportunity to take my own children to Lunenburg, on vacation. We've gone on the sail boat tours, seen the tall ships, gone to the beach, and done lots of touristy things. But since we stay with my folks while visiting, we also get to do the regular things too.
My kids are smarter than I was. They immediately fell in love with my old stomping grounds. To this day, they would move to Nova Scotia in a heartbeat, and so, would I.

Gillian Fraser
my writing is eclectic. I love life, and many things interest me.
Hopefully, something I wrote will interest you, too!
So: Like, read and if you are so inclined shower me
with your tips. Every little bit helps fund future stories. <3
See all posts by Gillian Fraser →