Grinpa
A tribute to one of the men who raised me and called me Booger, first shared at his funeral.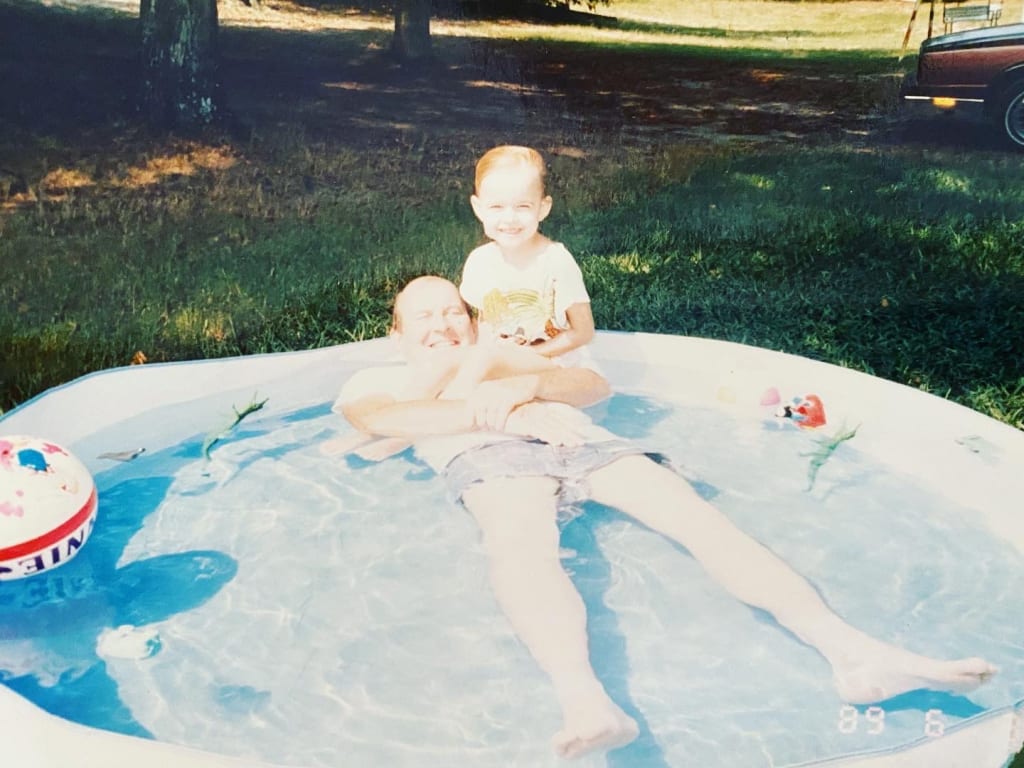 Hello. For those of you who may not know me, I am Dave's oldest granddaughter. While we all know that death is a part of life, it's still quite jarring when it happens. However, all we can do is pray for comfort, and enjoy the memories that our loved one has left behind. That's what I hope to do today, to share my grandpa's life and legacy, but most importantly, the way he made an impact on each and every person he met. Especially me.
My Grandpa was my best friend. I know that title is thrown around without much meaning nowadays, but he was honestly and truly the best (and first) friend I ever had. Although 50 years separated us, we shared a special bond that I only hope others get to experience in their lifetime. Unlike many grandparents, my sister and I were lucky enough to see ours each and every day. With full-time, hard-working parents, my grandparents thankfully stepped in and helped raise us between the hours of 9 and 5. Those are memories I will cherish and be grateful for, forever.
Our relationship was different. Sure, he did all of the regular Grandpa stuff, like take me fishing and play outside with my sister and I. But the best word I can use to describe all of our time spent together is "magical." He instilled within me the importance of having and embracing a wild imagination. Although he worked very hard and had established a distinguished career in law enforcement, he always made the time to make me feel special.
I'll never forget at 4 years old, hopping in his car before he went to work at the Levy County Sheriff's Office to go on "Mr. Toad's Wild Ride." Or when he came home after a long day to pretend to be Eeyore in our "100 Acre Woods." Or helping me catch imaginary pigs in the dark, armed only with a flashlight during a rousing game of "Catch the Pig." Each fishing trip we went on, he would just let me be as I would rather play (and often get stuck) in the Cedar Key mud than sit still and wait for a fish. Even as I got older, he was at every school awards ceremony, every play, every sporting event, every birthday, every graduation…he loved me. And the best part was, I never had to question his love for me. I knew it and never doubted it.
Before I continue, I think it's necessary to share a little bit of history about my grandpa. I myself love history, so this should be fun. He was born in Columbus, Ohio in 1935, which we've never let him off the hook for. Even though he was technically "a yankee," he always displayed the southern charm, hospitality and manners that come along with being from the south. I think we all forgive him for that. He graduated from Bronson High School in 1953, exactly 50 years before I graduated from the same alma mater. What's funny, is looking back through his senior yearbook (which was actually the first one ever printed at Bronson High School) and seeing some of the inside jokes and nicknames he had. I believe one was "Shewitt" and his senior class quote was, "Aww" and a few dashes. I'm thinking we can gather what that may mean. Maybe one of his buddies can fill us in later on what those dashes stood for exactly.
My grandpa was very proud of his time in the service. He served in the United States Air Force as a Target Systems Mechanic from 1954 to 1958. All I know is growing up, he loved to watch war movies and had books lining the shelves related to anything and everything planes - especially B-52s.
He later received 2 degrees from Santa Fe Junior College, and even went on to graduate from the FBI Academy in Quantico, VA. Which I think is pretty damn cool.
My grandpa was very passionate about his career in law enforcement, serving as a state trooper with the Florida Highway Patrol and later as Chief Deputy and Chief Investigator with the Levy County Sheriff's Office. He was featured in Life Magazine, about being the trooper who pulled over a monkey driving a car. True story. From what I remember, a man had trained his pet monkey to drive, and my grandpa saw the unusual sight on the interstate. I believe this is when he was working in Plant City. I also remember thinking it was so cool that he has a police scanner in his car. I always played with the blue light in the dash. And I even learned how to drive in his undercover Crown Vic. Now, I know a lot of his old law enforcement buddies are here today, and while me driving an unmarked police vehicle at the age of 15 was probably not the most "legal" thing to happen…it sure was one of the coolest.
Dave retired from the Levy County Sheriff's Office in 2003, the year I graduated high school. Anyone who knew my grandpa, knew that one of his favorite hobbies was to work. He loved staying busy and involved. So even after he retired, he ended up getting a job at the Marshall's Office in Gainesville, as well as Farm Bureau Insurance. No matter where my grandpa landed, every single person I met who had worked with him, loved him and had the utmost respect for him. I remember always thinking, "I sure do hope people speak of me that way one day."
My grandpa loved spending time with his family, catching up with his old Air Force and law enforcement buddies, fishing in Cedar Key, enjoying Irish music, and doing any yard work he could find. Making up yard work to do, even. During his tenure with the Sheriff's Office, he worked for two years as a security contractor in Zaire, Africa (now known as the Democratic Republic of the Congo.) You'll see some relics from his time abroad on display today. He was an expert storyteller, and his loved ones always enjoyed him sharing the memories of his travels. Speaking of loved ones, he was very proud of his family and bragged about us every chance he got. He believed in me and in everything I did, even when I didn't believe in myself.
My grandpa was funny. Anyone who knew him, knows that. He loved cracking jokes, but also loved to joke about himself. Now, I wasn't here for this, but my dad tells a story about when he was young. My grandparents had apparently gotten into an argument, as many married couples do. When my grandpa went to shut the car door, he ended up somehow catching both of his ears in the door. We still aren't sure to this day how that physically happened, but my grandpa may be the only man alive who has gotten both of his ears caught in a car door, at the same time. I think it's safe to say, my grandma won that argument.
Speaking of my grandma, they just celebrated their 61st wedding anniversary this past December. I always loved when my grandpa would tell me the story of how they met. Bronson Sundries must have been a happening place back in the day - it was long gone before I ever came into the picture. Anyway, my grandpa had recently returned home from the service, and spotted my grandma standing in line with a friend. I believe this is what they mean when they talk about love at first sight. My grandpa leaned over to his buddy who was with him and said, "I'm going to marry that girl." Now of course, my grandma had a say in the matter, and let's just say she didn't make it easy on him. But luckily, they wed on December 18th, 1960.
I believe the connection I shared with my Grandpa was so special, because he truly was a good person. Evil is an unfortunate part of life, and I've dealt with my fair share of bad people. But knowing that a person like my Grandpa existed, gives me all of the hope I could ever need. He did the right thing, always. He made decisions based upon the welfare of others. He didn't have a selfish bone in his body. He loved my Grandma and the family he built with all of his heart. He was humble. He was kind. And if there were more people like him in this world, it would be a better place. In my Grandpa's memory, I vow to live a life like he did. Although I know I fall short of many of the characteristics he owned, I can at least strive to be a granddaughter that he would be proud of.
I'm beyond thankful that I was able to make it from Vegas to Florida in time to say goodbye, before he passed on Christmas Day. And I still feel his presence as if he's watching out for me. So here's to my "Grinpa," my first best friend and my favorite person. I love you and will miss you forever. Until we meet again - hope you're up there catching "Bubba" the redfish (without him snapping your line and you yelling at dad!), listening to Irish music, eating Granny's fried chicken and getting all of the kisses from Fifi and Chica, our little four legged companions who passed too soon. Most of all, I hope you know how much I love you and how much you've always meant to me.
As I look out over the crowd, I can see that Dave meant a lot to many other people, too. I truly thank every single one of you for coming today and feel the impact he has made on so many lives, not just my own. My grandpa would have loved seeing a room full of green, his favorite color. And now when you wear or see this color, I hope you are reminded of some of the greatest memories you may have shared with him.
In closing, probably one of the simplest things I'll miss are our emails back and forth. I loved that he taught himself how to use the computer (a Mac even!) and we enjoyed sending messages and pictures to each other. However, every time I'd visit, there would be one or ten or fifty computer questions or issues I'd have to solve for him. I will definitely miss helping him through all of his technology questions. As insignificant as resetting a password or reconnecting to WiFi is, it made me feel like I was finally able to help him just like he's helped me through my entire life. However, the thing I will miss the most about his computer usage is seeing those emails in my inbox every other week or so. We would share funny stories, I would send grandma recipes or addresses by way of grandpa, we would wish each other a happy whatever holiday it was. I know that he loved receiving messages from me, and I hope he knows how much I loved receiving messages from him. So as I leave you today, I'll sign off with how I signed every email I sent to him, for the final time. I love you Grinpa, and I miss you so much. Hope to see you soon. Love, Booger.