Grandma's Clock
Does she hear my daughter bounce?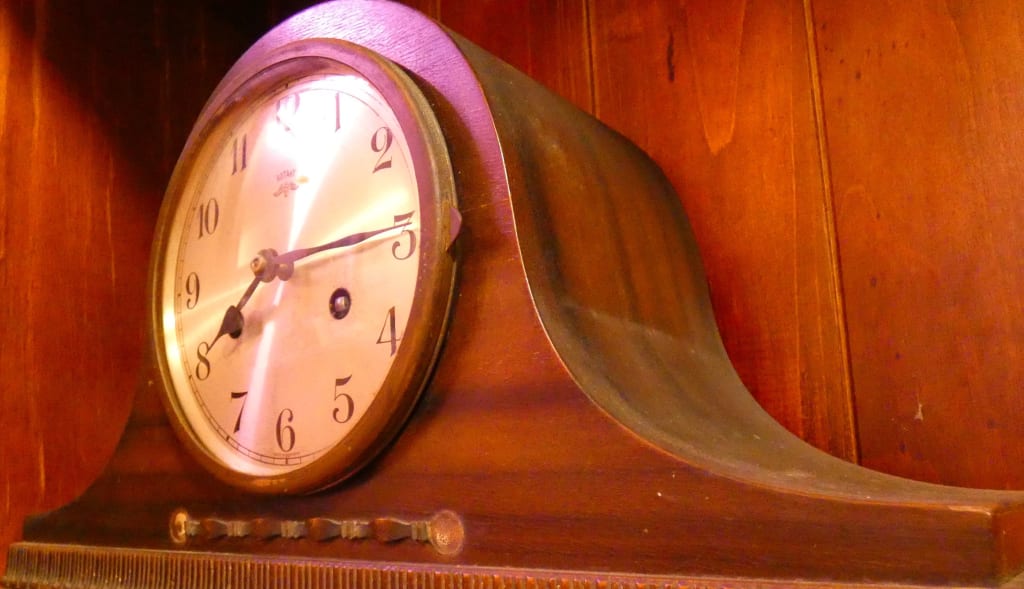 What does anyone need to say about the fondness they have for their grandma or the unconditional love a grandparent could bestow on their progeny? Sure, there are some shocking exceptions, but my grandma, who lived next door when I was growing up, represented so many things – most of all she provided a refuge from a troubled and sometimes fearsome father. My dad's anger at the world is an entirely different story. This one is about how my grandma, gone since I was 16 years old, can hear my daughter bounce.
Forty years since her passing I can still hear Grandma humming tunelessly in her kitchen as she beats the crap out of a sponge cake batter. Occasionally she broke out into a full-blown chorus of one of her favourite hymns, the sound harsh on my ears as I could only hear the old woman's quavering voice.
As a pre-schooler, I used to sit on Grandma's back doorstep while she baked. I listened with great comfort the sounds on her lino floor as she dropped a spoon and bent painfully, her widow's hump limiting her flexibility, grunting as she stretched that little bit further with her arthritic fingers to pick up the offending implement.
My parents' driveway was bordered by a big long strip of geraniums; every colour you could imagine. I know some people spurn these humble flowers, and their smell is not the most appealing, I suppose. But for me, the smell still invokes happiness. I would walk along the driveway and pick one of every colour, making the most beautiful posies I could imagine. Grandma, being a florist of many years, was always the recipient of my gift and always gracious on receiving my special posies. I wonder now what she really felt of the flower although I think she appreciated the gift. I'd then sit on the step and make up songs for Grandma and she was always appropriately encouraging in her comments.
The sun was warm and pleasant on that back doorstep – it seemed to have none of the stinging burn it has now. It was wholesome and gentle on my face. I could hear Joey, Grandma's rosella, singing in his cage near the back door. The water in her fish pond plopped occasionally as a frog swam about, and her three or four chickens in the chook shed clucked, heralding the arrival of their ovoid gifts which Grandma would promptly pop into her patty cakes and biscuits.
No one made sponges like Grandma. She seemed so heavy handed with her mixing but the results were always fit for an angel's feast. She'd make ANZACs and a favourite were her choc chip biscuits. There is little doubt in my 20/20 hindsight that Grandma's baking was in part to blame for the ballooning in weight of my siblings and me when I was about 10 years old. There is also no doubt that this was purely a symptom of an increasingly difficult home life, Grandma's sweet treats all part of the refuge she provided.
In her sixties, Grandma enrolled in an art course by correspondence. Her life between harsh teens and widowhood provided her little time for any artistic pursuits. She raised a family of four with an aged husband (very much her senior but still a match made from love) and a son who suffered a horrific event and the loss of three limbs at the tender age of just 18. Grandma kept her family together, fed, and as with those times, her boys educated and her daughters married off. She kept bankruptcy at bay through the depression, and finally she had a home of her own and time to spare for herself once she made it to retirement.
I would sit with her at her glass kitchen table while she painted sometimes. Other times I'd chat with her while she made wreaths and sheaths for funerals and weddings; a part time pursuit that got her 'money for jam' which she hid from the tax man in an old Cellotape tin in her utensils drawer. That was a special place too. Grandma used to tear off all the Lipton tea carton labels for me so I could send them into the company to redeem for glasses or some other prize. She also kept the Tetley Tea bird cards – a collection I have to this day.
Grandma's old clock would chime the hour and I'd know it was time to head back home, up the dirt path worn into the grass by us kids. I love that clock. It doesn't work any more but I asked Mum if I could keep it for a decoration after Grandma died.
I wonder often how Grandma would have regarded my daughter. She was a lovely old lady (although now I don't see 60s as being that old since they are only a short stone's throw away for me now). She had her ways and my mother used to comment at times that she was quite eccentric. This used to annoy me but now I have a better grasp of human relationships and the eclectic matching of in-laws.
But I wonder about Grandma because she is from a different era. She is from my lifetime and my Dad's lifetime and a time before that where attitudes were so different about so many things. Would she find my daughter's autism an impossible obstacle to any kind of relationship, as my Dad did? It makes me sad that Dad didn't get to know my girl better. I think he would have found great joy in allowing himself to know her.
I like to think Grandma would not have seen it that way. I like to think she would have enjoyed knowing my daughter. And when my daughter does her Tigger thing, especially now in her teens where it seems to be that she bounces off the walls - where everything jumps on its shelf, and furniture rattles and the floor boards boom like a boom box down the street - and when Grandma's old clock on top of the bookcase chimes in time to the bounce, I wonder if she is clapping in time and singing one of her hymns.