Gramma Lives On
She lives on in the stitches she taught me, in the creations I make, and on the smiling faces of the great-grandchildren she'll never meet.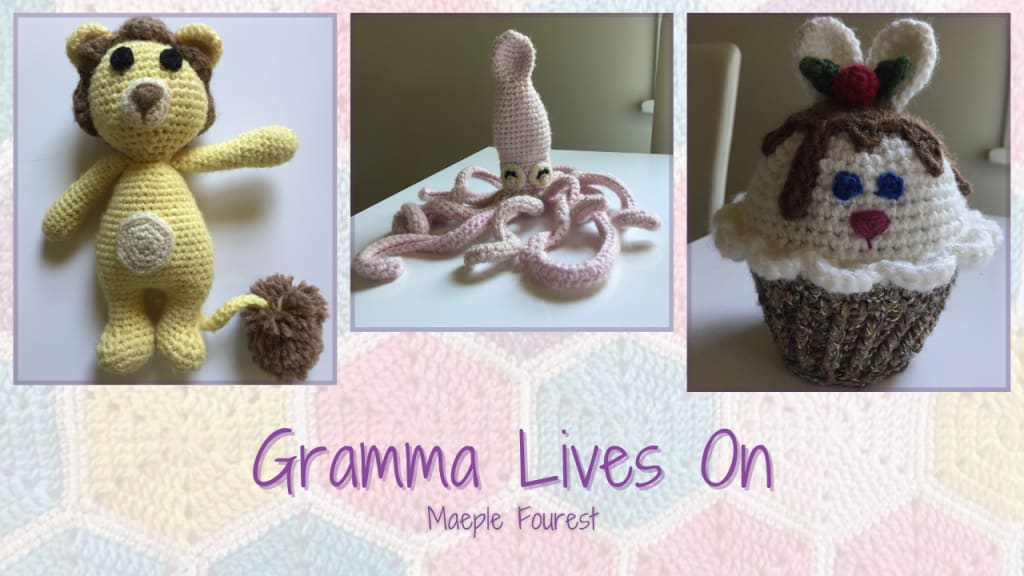 When I think back on my life, and my childhood, it seems that crocheting has always been a part of it. One of my grandmother's was a knitter, and the other a crochetter, and I remember being quite young when I was drawn to that single hook. Now, I am not so sure if it was the actual art of crocheting that enticed me, or time spent with my Gramma –side by side on the couch as she showed me how to start. I was only 9-years-old when I first felt the cool touch of that stainless steel hook; and although I spent many years making long chains, or the odd dish cloth, my skills have grown exponentially since then.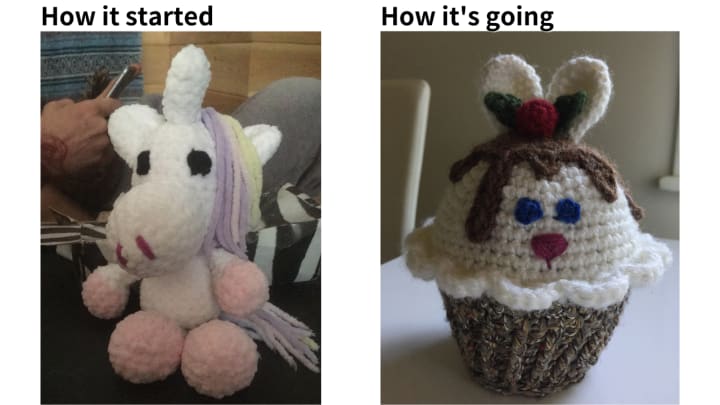 I wish I could say I've been crocheting since I was 9, but months and years would pass by as I forgot about the balls of yarn and half-started projects collecting dust in the closet. When I was 16, however, my dear Gramma passed from this world. It was a shock, to say the least, and over the last 8 years since that dreadful day, the true reason behind my love for crocheting has returned: Gramma lives on. She lives on in the stitches she taught me, in the creations I make, and on the smiling faces of the great-grandchildren she'll never meet, as I gift them crocheted stuffies.
My 5-year-old nephew will never get to meet our dear Gramma, but I know that she is living on through him. Since he was a baby, he's played with a blue crocheted bear that Gramma made even before I was born. One day, my nephew turned to me and said, "Can you make a friend for Blue Beary?" It brought tears of pure love to my eyes, to see his tiny hands wrapped around a little blue bear that a wonderful woman had made with care, decades ago. He's never heard her voice or held her hand, but I know he can feel her love through the battered yarn of an old blue bear. At his request, I made a friend for Blue Beary –a purple kitty– and when I see those two stuffies, side by side, my heart is absolutely full. I'll never get to hear her say it, but I know she is proud of the skill I have cultivated.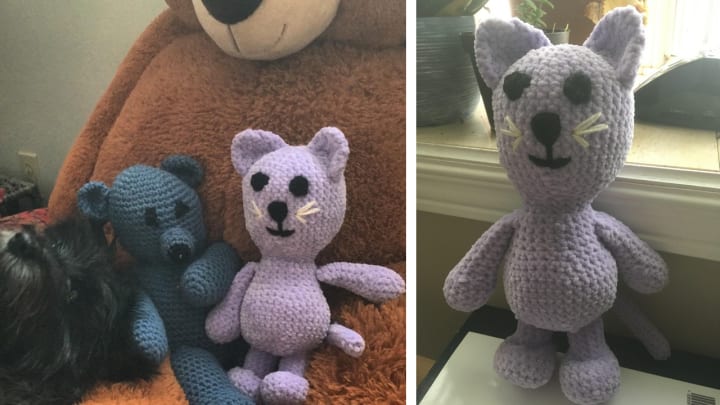 One of the things I wish for more than anything, is to be sitting on the couch with my Gramma, crocheting side by side; learning new stitches together, and making little bear families.
Crocheting has always been a part of my life –it's like there's a strand of yarn looped around my heart, tying me to the women who have inspired me. My Gramma passed the art onto me, as she had with my mother when she was young. In fact, my Mum had stopped crocheting for so long, I was able to (re)teach her what her mother had taught me, all those years ago. However, before I was born, my mother was an even better crochetter than me!
When she was pregnant with my sister (ten years before I was born), she crocheted an incredible panda bear; and she did the same 5 years later while expecting my brother. Even before I picked up the art form, I would admire those bears in awe. She stitches were so uniform and tight –and with such a small hook to make such a big bear, there must have been thousands of stitches, even millions. When I was about 4-years-old, I put down my brother's bear and asked, "Mum, did you make a bear for me?" Her face dropped ever so slightly, and then a small grin spread across her face as she pulled something from her sewing basket. It was a small patch of single crochet stitches, almost shaped like a cone, with a tiny safety pin holding the last stitch. I was confused, until she said, "This is the nose of your bear! I was too busy with your brother and sister before you were born; I never got to finish yours." I've had moments of sadness as I thought of that family tradition that I didn't get to enjoy. But as I look back now, I realize that I was given a tradition that's even more meaningful. My siblings can keep their bears, because I can make new ones for their kids, and know that Gramma is living on in my hands, hooks and stitches.
I spent the first few years with the art form only dabbling with the most basic techniques –dish cloths and scarves were made with a simple foundation chain, rows and rows of single crochet stitches and my one and only 5mm stainless steel hook. For the longest time, I thought that's all I would need to continue creating the way Gramma taught me. Eventually, I rediscovered the pile of yarn in my closet, and when I picked up that silver hook, it rested in my hand like it had never left.
By the time crocheting made its way back into my heart, I could no longer learn from the woman who had taught me. I couldn't stop by her house, sit on the couch, and ask her to teach me new stitches I hadn't thought of before. As I worked on my own, I thought long and hard about everything she said. A few details were gone from my mind, but when I was finally able to crochet a straight row and gift a scarf to my Mum, I could feel Gramma with me again; I could feel her creating through me, and guiding my hands to where I knew they should be.
Without my Gramma to learn from, I sought the knowledge of other women; and I was so grateful when I found videos online of someone else's grandma sharing their skills and knowledge. I followed along to videos, watching foreign hands that somehow became familiar, and added so many new stitches and techniques to my repertoire. I've moved on from those videos now, and written crochet patterns no longer look like a foreign language. I've reached the skill level that my Gramma had worked so hard for, and as I continue practicing, I can feel that we are learning together, surpassing what she taught me and creating for each other.
As my skills have grown, so has my conception of what crocheting is as an art form –it's more than just scarves and cloths. I've now made blankets, throws, coasters and wall hangings; and over the last few years, I've found myself making stuffed animals. I was always in awe of the stuffed bears my Mum and her mum could make, and now I watch my mother's jaw drop in admiration when I show her my newest creations.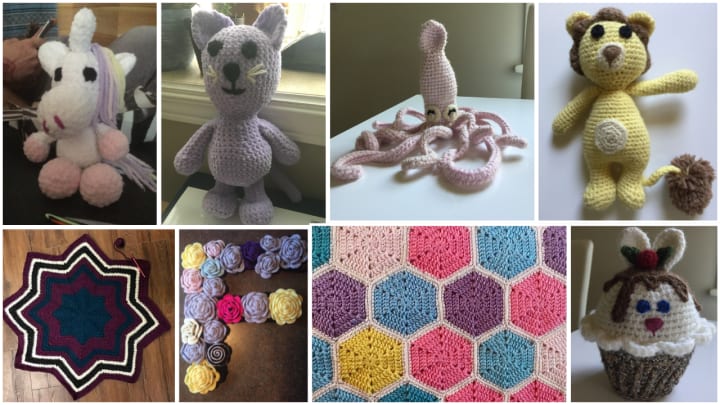 Through developing this niche and recognizing what I am most passionate about (in terms of crocheting), I've found that there are a plethora of useful tools. I've experimented with different sizes of hooks and yarns, and found that smaller strands test my eyes and my hands –I prefer making big stuffies with thick yarn! And there're different materials that crochet hooks can be made from, as well. I've tried plastic hooks, and bamboo ones, and even the ones with little rubber handles; but there's something about the cool touch of the stainless steel. It could be that they're truly superior products, but it's more likely that I continue to flock to the tool that Gramma put in my hand, all those years ago.
There is another tool needed for the art of crocheting, and it's a tool that is often overlooked: scissors. There have been so many times when I am cozy on the couch, surrounded by yarn, and a work-in-progress blanket sprawled out across me, and then it's time to change colours, and my scissors are all the way across the room. It's easy to forget about them, until you really need them. I've been able to break small strands with my hands, or use a lighter for thicker yarn, but nothing does the trick like a nice, sharp pair of scissors.
Actually, that reminds me of one of my favourite family stories: Who took the scissors?
I grew up in a family of four –single mom, teenage sister and annoying older brother. We kept fairly simple routines to keep the house in order, but sometimes, things fell out of place –and there was one phrase I heard more often than I would have liked.
Mum would be in the kitchen, making dinner, when she'd reach for the scissors. They were meant to always been in their spot in the knife holder; but more often than not, she'd reach for them, and they wouldn't be there. A chill would run throughout my entire being, and that of my siblings, as Mum would shout, "WHERE'RE THE SCISSORS?!?!" Sometimes, they would be in my room with me and I'd rush down and put them in her hands before she could get too mad; and other times, they were sitting on the counter, two feet from their designated spot. At the time, it terrified us when Mum would shout for the scissors, but as decades have passed since then, we're all about the laugh about it. In fact, I didn't move out until I was 21, and we found that the tables had turned –I was always looking for the scissors, and she was always misplacing them!
It seems like such a simple tool –a tool that is often overlooked– but I know that my art form wouldn't be the same without them. And now, reflecting back on my life and the role this tool has played, I seem to see them everywhere. I see Gramma sitting at the table, trimming her hair with shiny, silver scissors. I see my left-handed sister trying to shove her fingers into right-handed scissors. I see my nephew doing a craft, sticking his tongue out the side of his mouth as he pulls scissors across the paper. I see myself making my first dish cloth, triumphantly picking up the scissors after my last stitch. And I see myself now, finishing my sixtieth crochet stuffy with the same feeling of love and accomplishment.
I may never get to sit with my Gramma and crochet with her, or hear her voice say how proud she is of me; but there is a thought I will always keep in my heart –whenever my hands move the hook into a new stitch, or slide into the holes of the scissors, I know that my Gramma has done the very same thing before. She's made the very same stitches before, and smiled as she finished a project; she's sighed as she unraveled a whole row, and cried tears of joy as she made another baby blanket. She's stared at her scissors from across the room, wondering if she should move all the yarn off her lap, or call for Grapsy to bring them to her.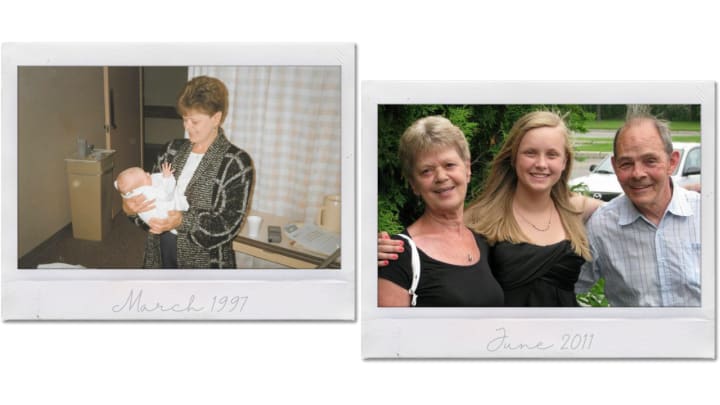 Maeple Fourest
Hey, I'm Mae.
My writing takes on many forms, and -just like me- it cannot be defined under a single label.
I am currently publishing my first book, and looking forward to sharing my art with the world.
ENJOY!
See all posts by Maeple Fourest →