Funny, Talented, and Confident
Because I have the best little sister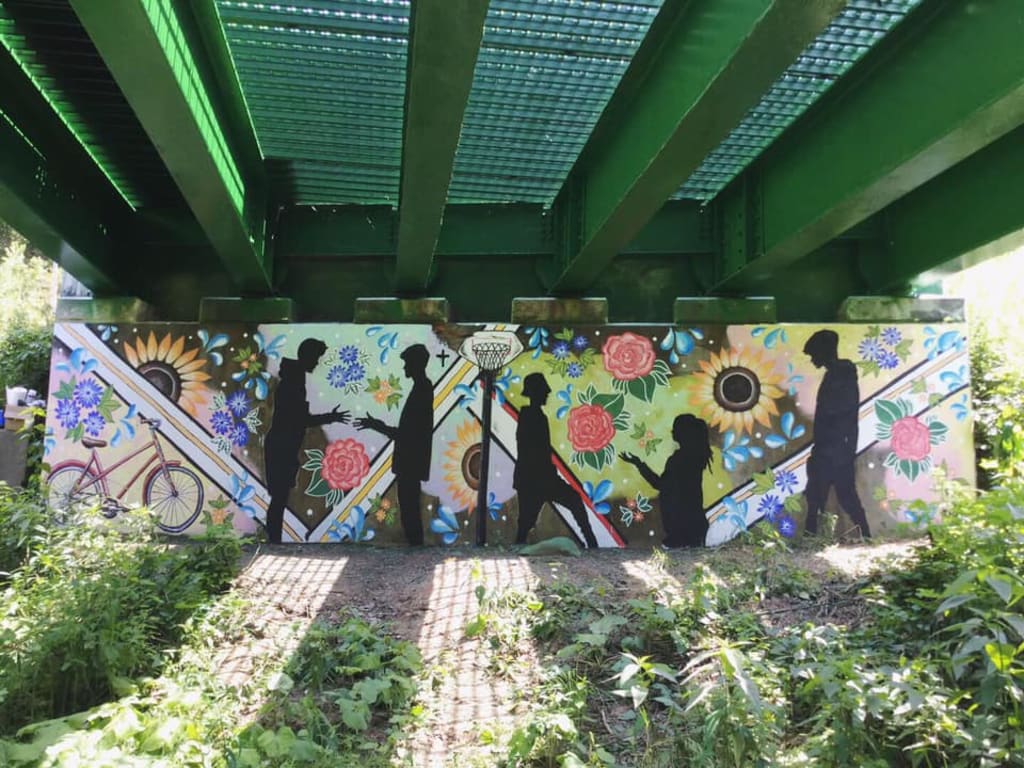 Photo Credit: Natalie Norris (her first mural)
We fought when we were little. Then we tolerated each other, but we kept our distance.
Now we're friends. We have been for about ten years now. I still remember that family vacation in South Carolina where we finally said, "You know? I think we're friends now." It was when we started coming up with code names for family members while we were playing in the pool.
I suppose I could have done this piece back on her birthday or something, but now is when I was finally struck with inspiration. Does that speak to what it means to be a middle child? Maybe. Love you, sis.
We're three years apart. It's enough of a gap that when I went off to college, I feel like I blinked, and she grew up.
And the person she became is someone I am proud to be related to.
I've been thinking about how I would describe her to someone. I have managed to come up with my top three.
My little sister is...
Funny
She's got a great sense of humor. She and my little brother used to do a podcast together. I'm sorry they stopped because I loved listening to it when I couldn't be home. I would listen to it while doing my laundry at college and get an update of what had happened that week.
Her sense of humor is deeper than corny jokes or trying to be the center of attention at a party. She's the kind of person who sees challenges and awkward situations as opportunities to tell funny stories later. She can find humor in almost anything, even her driver's test.
She's also great at planning when it comes to what could be funny. She created quite the elaborate plan to stalk me on my first date. And that was before she could drive, so she had to coordinate with another one of my friends to be the driver.
She mixes her humor with a healthy dose of sarcasm. People who would ever describe her as "nice" or "sweet" don't actually know her. She knows the power a bit of sarcastic humor can have. But she does it in a way that is kind to other people.
You know those people who can tease, and it's actually encouraging? She's one of those people, which is a lot fewer than the number of people who tease.
Talented
She's one of those people that tries something once is usually good at it. Ballet? Yeah, she's good at it. Karate? Totally has a first-degree black belt.
College? Adds on a minor in marketing just because. The person that people ask for help from.
She can write too. If I'm being honest with myself, I would say she has more natural writing talent than I do.
I only have an advantage there because I actually like writing. It gets me excited. Getting a book of writing prompts for Christmas makes me squeal. She would be less than thrilled to get that sort of gift.
She's also incredibly artistic. This year, she asked if anyone in the family wanted a piece of artwork. I asked her for a Mandalorian portrait for my birthday. So, despite her intense finals and work, she managed to crank out this beauty for me: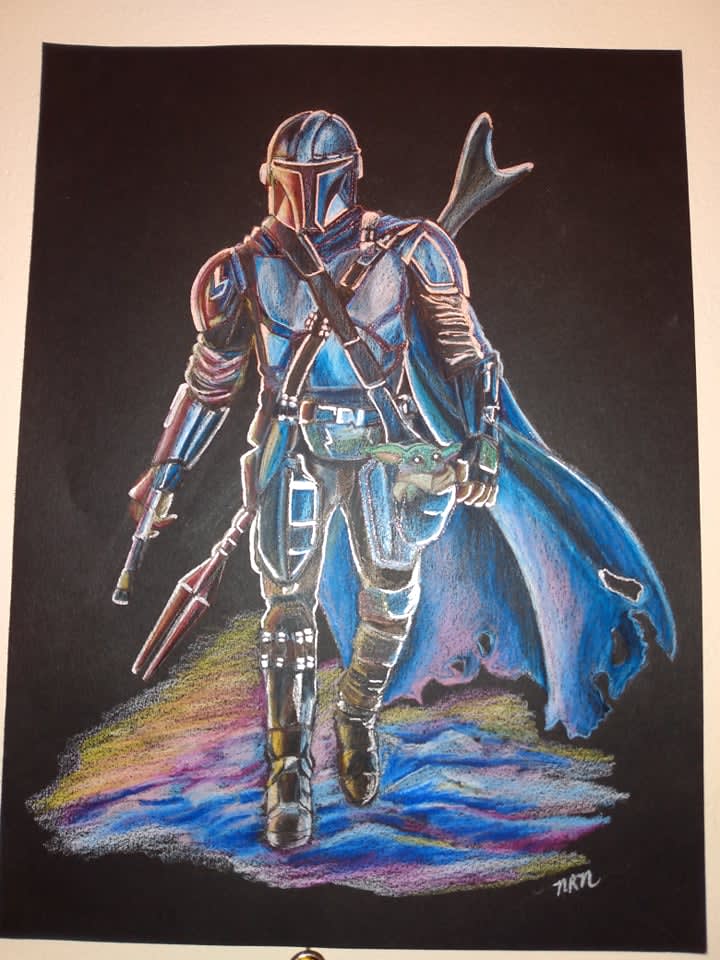 She painted gnome ornaments this year and sold packets of handmade Christmas cards. I look at her art, and I'm inspired to hone my own craft. That's why the Mandalorian picture is hanging in my office. That, and it's nerdy. I have a very nerdy office.
Confident
It took me a bit to come up with this last one. And I'm still not entirely sure that it's the right word. Because I want to describe this:
My little sister is the sort of person who...
Executes a gorgeous scissor's throw, in front of the entire karate class, after only attempting it twice in her entire martial arts career. (Speaking from experience, it's a tough throw to do well.)
Makes bagels for the first time at the age of twelve, just because she wanted to try making them.
Gets our brother a ukulele for Christmas and then learns how to play it herself the day after Christmas.
Decides she wants to paint a mural just because it would be fun. So, she paints a mural. And then paints another one.
I admire her because she isn't afraid to try new things. She likes to find adventure and learn new skills. And with her natural talent mixed in, she's usually good at the things she tries to do.
I'm reminded how out of the loop I sometimes get.
Example: I was traveling one week over the summer and saw pictures on Facebook of her second mural.
And I thought, "I've been gone less than a week, and she's already painted another mural. Wow, I am out of it." To be fair, it was spray paint which dries a lot faster but still.
She decides she wants to do something, makes a plan, and gets it done. And I decided that that takes a lot of confidence.
When she's on your team, you feel more confident in yourself and in whatever you decide to do together. I have been blessed to have her help in many areas of my life, whether it's in plucking up the courage to talk to a guy I like or to keep trying even though I'm feeling anxious.
I'm glad she's my sister. I get a front-row seat to bask in her successes and accomplishments. I can't wait to see where she'll go next. Love you, sis!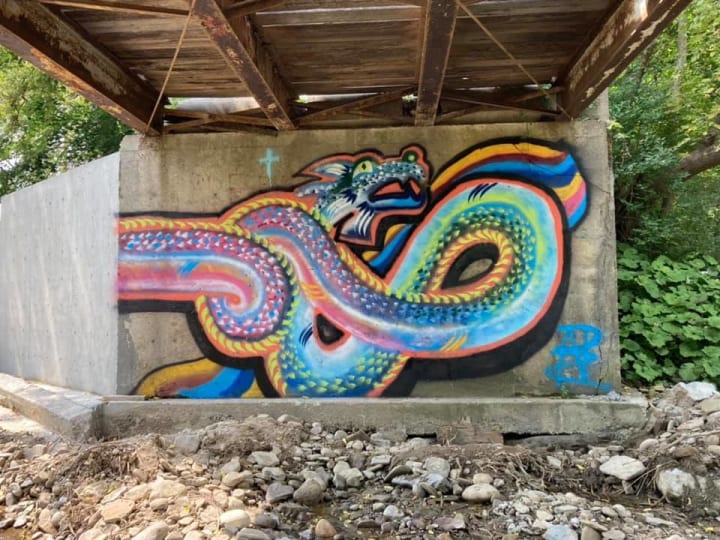 Thanks for reading. If you liked what you read, consider subscribing, pledging, leaving a heart, or giving a tip.
If you would like to receive regular updates on my work, please email me at j[email protected] and ask to be added to my email list.
About the Creator
Passionate writer that is enthusiastic about writing engaging, compelling content. Excels in breaking down complex concepts into simple terms and connecting with readers through sharing stories and personal experience.
Reader insights
Be the first to share your insights about this piece.
Add your insights