Fun Activities to Do With Your Kids in Quarantine
Lord help us LOL!!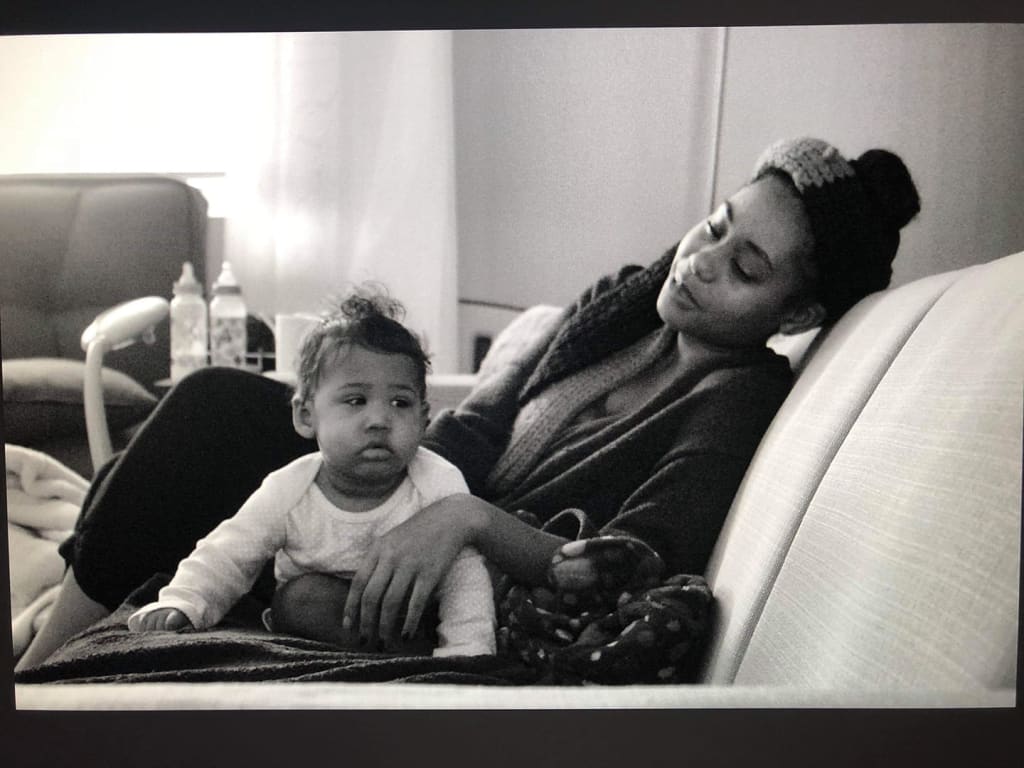 Me and my baby girl trying to survive
Hello to all the parents out there that are singing the quarantine blues right now. Some parents are currently trying to juggle working from home and being teachers at the same time and it can be very stressful. Especially for new parents or parents with multiple kids. I definitely understand, so I created this list to try and ease that stress. These are also tips that helped me survive in quarantine. I hope it helps.
1) Wake Up Earlier Than Them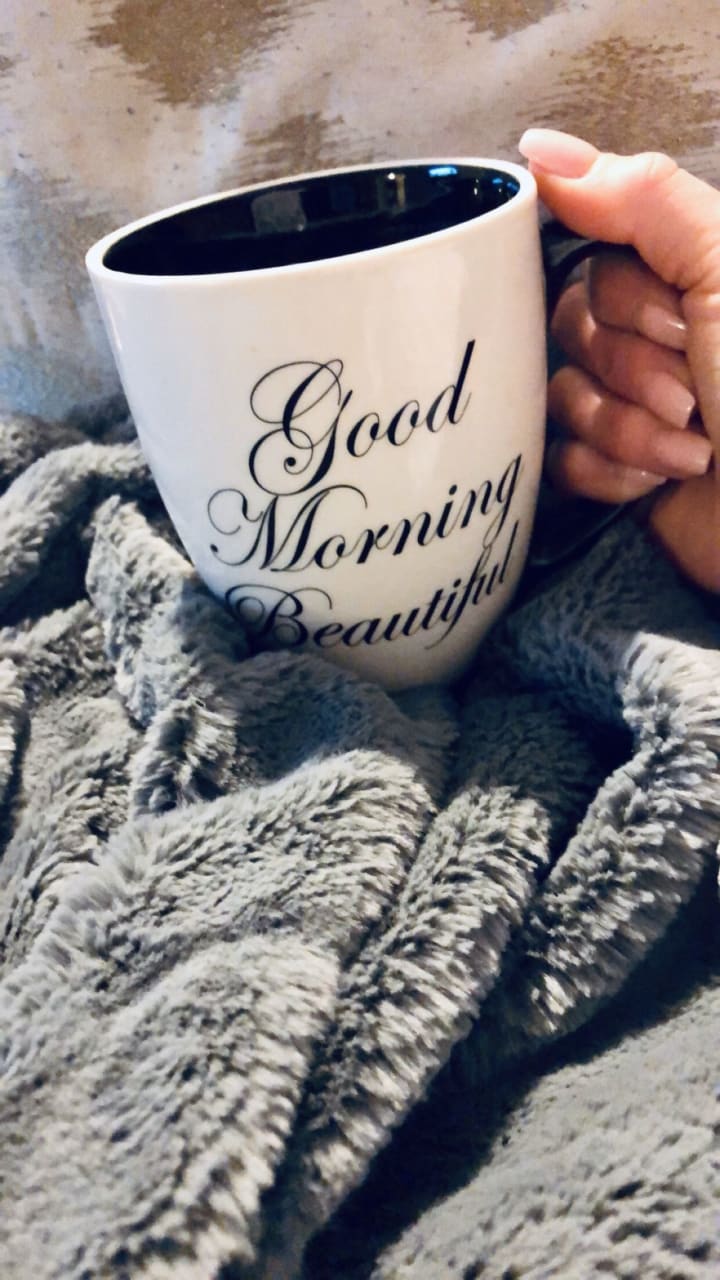 Of course many parents know this already, but just in case you didn't know, please try it. I understand if you hate waking up early, because I definitely hate waking up early... but you first try it, you might feel like it wasn't worth it. BUT WAIT, there's more.
When you wake up earlier than your kids, you have the opportunity to get yourself together and ready for the long, long day ahead.
2) Make A Schedule
This is also a huge life-saver for parents. Making a schedule can help you prioritize important things that we have to do everyday and make room for fun and chill time. You don't have to follow it religiously, but it's good to at least have a guide to stick by throughout these hectic days.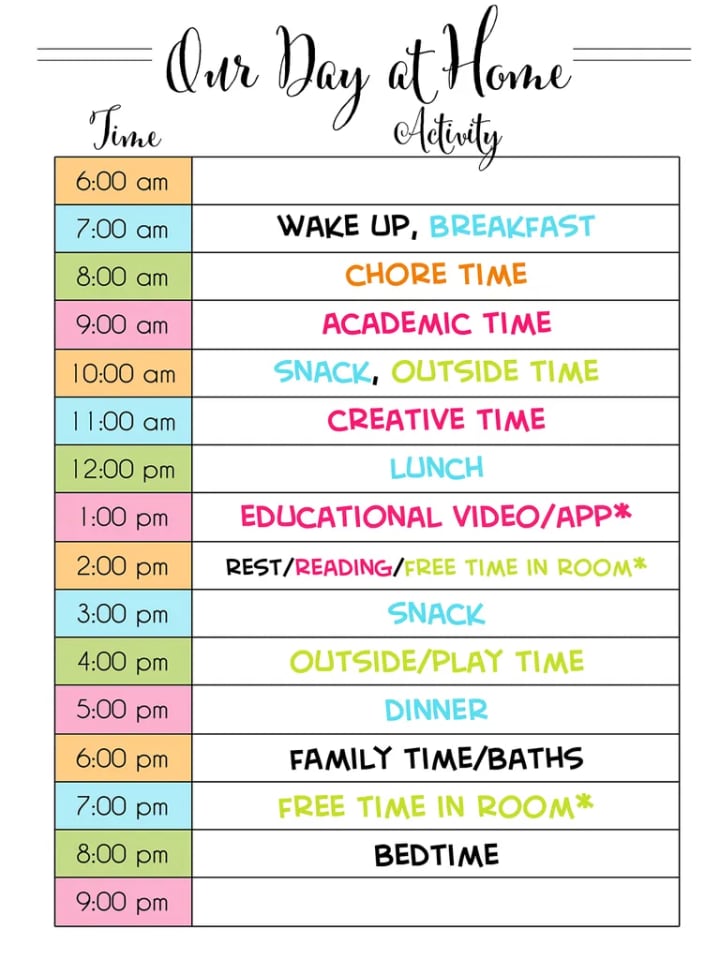 You can find many examples of a good schedule on Pinterest like this one to help get started.
3) Try To Be Active in the Morning and Try To Go Outside At Least Once A Day
This is a point that I've noticed helps me throughout my days at home. This is really helpful especially parents with toddlers or really young children. They have so much energy that they can get rambunctious cooped up in the house all day.
I like to do a mommy and baby work out in the morning after breakfast. That helps me get my daily exercise and my baby girl absolutely loves it.
You could also have a dance party or play some fun children's songs like "Head, Shoulder, Knees, and Toes" or the infamous "BabyShark". Anything fun that gets the blood pumping.
I also incorporated dance time and stretch time when I worked at a daycare prior to Covid. It definitely helps the little ones get all that morning energy out and they have fun. It is also an opportunity to bond with your child or children, which they will love.
Then after naptime, when it's a bit cooler outside, I like to take her for a walk around the neighborhood and let her walk around outside and/or take her to the park and let her play to her heart's content. (of Course make sure to bring plenty of baby wipes and hand sanitizer)
Here's a link to a nice blog that has some great examples for mommy and me exercises. Hit up Pinterest for more ideas!
4) Get Creative!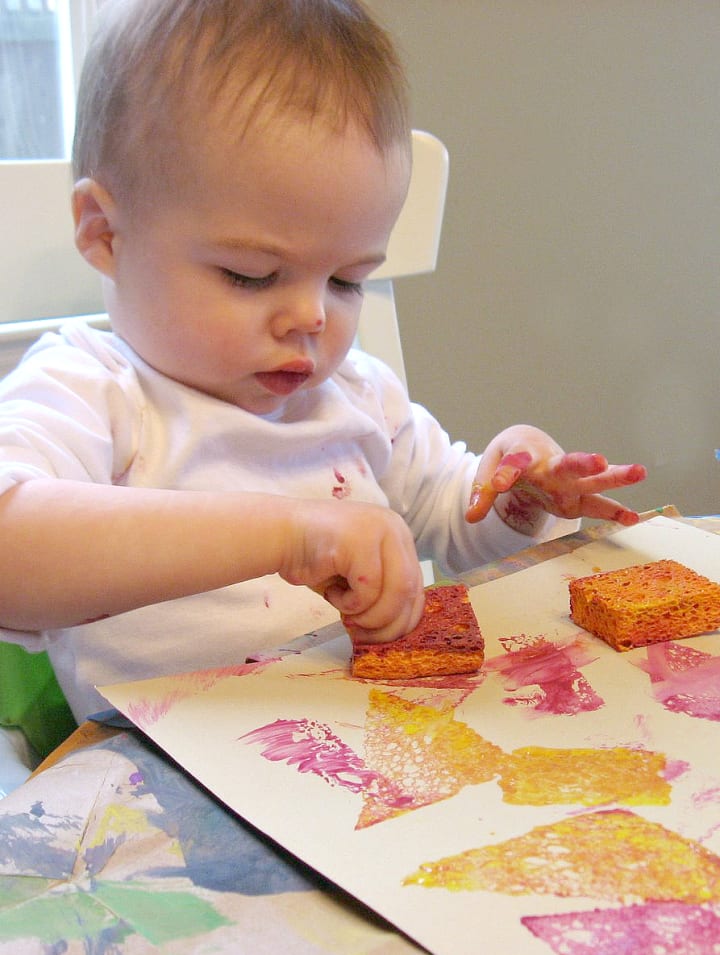 I've noticed with my little girl, that when she gets in the zone when it comes to painting, chalk, playdoh, or markers. By adding these activities to your child's schedule, you'll be able to buy yourself some time to breathe or finish a task while they're little minds are being stimulated.
Be warned though! Play-doh and other products like it can be very messy so be prepared for intense cleanup. Also markers can be quite messy, so just be ready LOL!
5) Last But Definitely Not Least...Nap Time!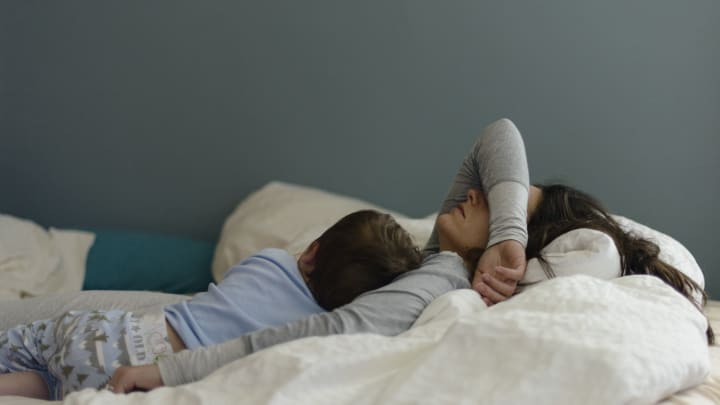 Scheduling in nap time for you baby or toddler is a must! I truly believe that nap times are heaven sent. I like to put my daughter down for her nap in the afternoon between 12pm and 1pm. This is the perfect time, because they should be nice and tired from playing all morning and full from lunch. Put them down for about 2 hours and enjoy some adult chill time.
In conclusion, I hope these tips help any new or struggling parents navigate these Covid-19 days a bit easier. I know every situation is different, but I hope these can still help, even if it's in a small way. Wish all you lovely people the best!
Remember to love and protect yourself!
Follow me on Instagram! @kalasymone
official blog coming soon!