Four Sisters
Our papa was a rolling stone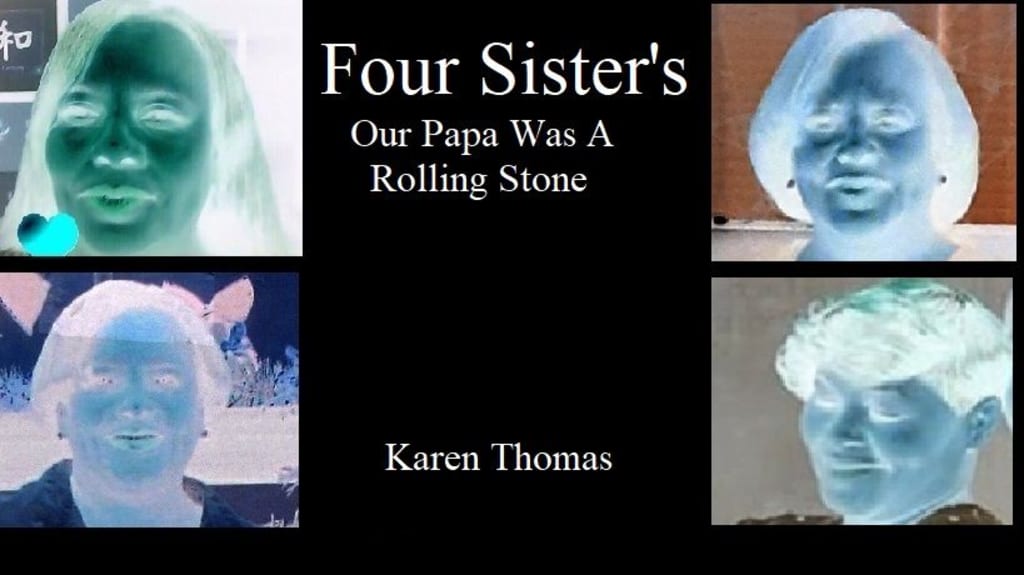 Four Sister's
Our Papa Was A Rolling Stone
Karen Thomas
My name is Karen Thomas. I grew up thinking I was an only child until last year in October. That is when I found out I also had a father. A lawyer had contacted me to tell me of my father's passing and that he had left me his estate.
At first, I was angry with my mother for having me believe all those years my father had died. Until it hit me that the lawyer had said, "estate."
When I arrived at the lawyer's office, I gave my name to the receptionist and told her I was here to see Mr. Brennan. She instructed me to have a seat.
Then a woman named Monica James walked in and asked to see the exact attorney. She was also told to have a seat.
A Bernice Thompson entered next and said she was also there to see a Mr. Brennan. She was told to have a seat that Mr. Brennan will be with us shortly.
Minutes later, a short, puffy little man wearing glasses asked the other two women and me to enter his office. I was curious.
As I entered the office and took a seat, the other two women sat next to me. Just then, the receptionist opened the door, and another woman walked in.
The receptionists introduced her as Dorothy Merrick. Mr. Brennan instructed Dorothy to take a seat in the empty chair. We sat looking at each other curiously.
Then Mr. Brennan spoke: You four are the descendants of Mr. James Anthony Wiley. You are all his estranged daughters. We sat quietly as Mr. Brennan explained how we became sisters. He said our father was a traveling salesman that lived alone and had born no children. On his sickbed, my father asked Mr. Brennan to hire a private detective. He wanted the private detective to determine if our mothers had given birth to any children in the years 1972, 1976, 1978, and 2003. Then he asked the private detective to acquire DNA on any that he discovered. The private detective found four of you and the DNA matched. Then Mr. Brennan added, as you know, your father has passed on to glory. Six months ago, your father won the lottery, and his net worth is well over eighty million dollars. Before he died, and at your father's request, he asked that the money be divided between the four of you. But you must live at his estate for six months getting to know each other in order to receive your share of the inheritance.
Monica said she was just about to leave for college, but for twenty million dollars, she could put it off. Dorothy's two children were still in college. Bernice's son was still in college. My four had already graduated from college and had moved away. So there was no reason the four of us could not live in our father's home.
Mr. Brennan stood and said he was ready to show us where we will be living. We had two weeks to prepare, and we were to arrive at the mansion on December 25th.
Oh my God, all of us said in synchronicity. We looked at each other and laughed. That laughter broke the uncertainty between us, and we started to feel a little at ease.
Still, four estranged and unique female personalities under one roof is going to be interesting.
Stay tuned for the next issue—move-in day.