Estate Sale
Stella's Intuition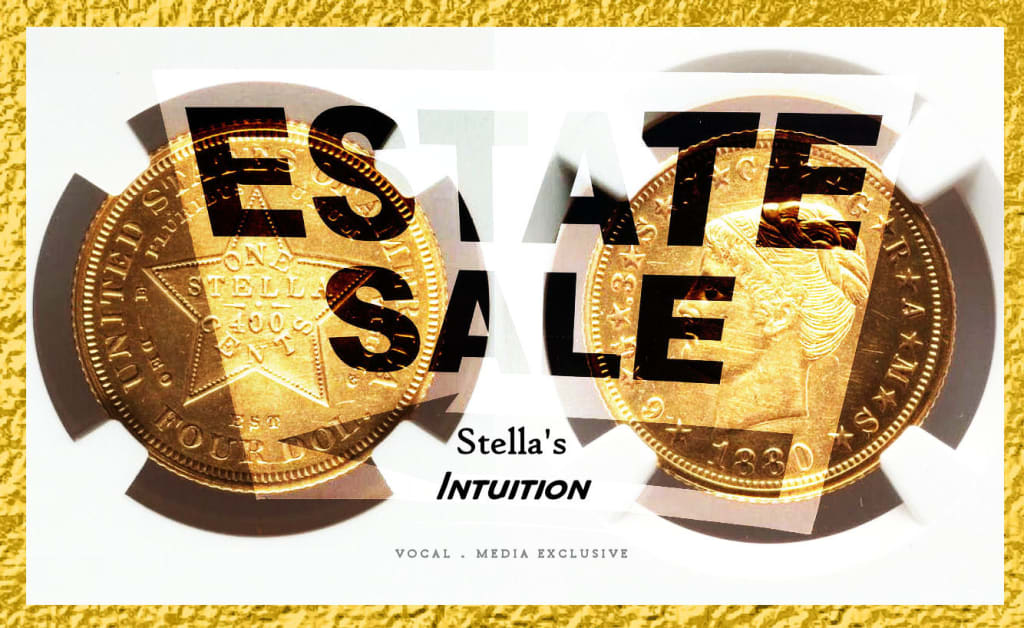 The Chateau de Chambord
A castle located in the Loire Valley of Loir-et-Cher (France) was built between 1519 and 1547 CE. The French Renaissance building—impressive in both size and architectural detail, was commissioned by Francis I of France to function as a hunting lodge. This is where the king and his entourage could pursue the abundant game in the surrounding forest. The chateau has several innovative design features which proved influential on other French monumental buildings in the 16th century CE. A company called UNESCO is looking to list Chateau de Chambord as a World Heritage Site. Before this can happen, the castle is scheduled to host its first (ever) estate sell of portraits, paintings and anything that can be carried out by hand.
An Estate Sale is a way of liquidating the belongings of a family or estate. They're typically much more than garage or yard sales. They are used when someone 'or proprietor' is in need of a way to sell items due to downsizing, moving, divorce, bankruptcy, death or in this case, auctioning. The public is invited into the home and given the opportunity to purchase any item that is priced for sale. There are several ways that Estate Sales are run. Items are marked with a selling price, and if you want an item, you usually pick it up and carry it with you until you are ready to check out. If an item is too large to carry, you can have it marked sold. If you do not want to pay the marked price, some companies accept bids.
At this particular estate sell, the chateau offers as many artifacts for bidding as it does the amount of wild sunflowers on its property. 333 people of all classes of citizenship line the courtyard for a chance to bid for a piece of history, or perhaps the opportunity to view its interior.
Anticipates at the front of the line anticipate being the first group of 20 to enter the castle. Perfect strangers share excitement as they make small talk among themselves. One of the first in line begins speaking to a small group standing around him.
"I track estate and garage sales all the times." he says.
"Most will allow a box under or abouts' a marked table for you to put your items in. This place is large. I can't imagine how anyone could manage corded off areas. Hopefully; everybody will be respectful and classy." a round-bellied fellow answered back.
"I'm sure this crowd will. This is a sophisticated group. Besides, this is not your standard estate. Most of us—here—are of disciplined, distinguished sir names. It should be civil."
"I have a basket to carry my items. I assume large personal bags won't be allowed. I've found that if you ask the sales people (who're stationed around) to put your item by the payout area, they will." another anticipant explains.
"Most facilitators will allow you a reduced price if you purchase multiple items. I'm not going to be afraid to ask. My feelings won't be hurt if they say no. This is only the first day. The last day is usually half price." an excited woman adds.
As they enter the castle , the Inner Hall's refurbishing wasn't the only improvement that this multi-centuries-old castle is undergoing. According to the Royal Collection Trust website, there is also construction being done to the medieval Undercroft area in order to transform it into the castle's own café. The Undercroft, located on the ground floor beneath St. Stevens Hall is one of the oldest surviving parts of the original castle. The Undercroft served as the Castle's principal cellar, where royals would store barrels of beer and wine.
Among the first to enter is an English woman: Georgina. She's a working-class woman married to a locksmith. The family's home is seasoned with second-hand findings from Georgina's adventures. She's accompanied by her daughter. Stella is a jovial, wide-eyed, nineteen-year-old who is in the midst of a grade school-to-college 'gap year'. Though the idea of waiting a full year to go off to college may not seem appealing, there are myriad benefits to taking a gap year. In Stella's case, finances are the issue so she and her family are taking the year to work and save up money. She has no intent to purchase anything for herself. Stella wishes to start college next semester, and has no money of her own. Besides; antiquing and estate sales aren't her cup of tea. This doesn't keep the young lady from admiring the festivities of moderate fanfare.
While everyone laid claims and bid on various findings, Stella walks up to a small, dusty book case. Shelved are three dozen leather-bound books of varying sizes. But it's a hand-held size journal that catches Stella attention.
"You're terribly heavy for being so fragile." she speaks to the feathered pages. "How many decades have you collecting dust? Or should I be asking of centuries?"
As she carefully flips open the first few pages, it's not text she observes, but etches and sketches of unfamiliar coins. There's four per page—one coin for each corner of the small, mysterious book. Even several pages inward; still, the theme is four corners, four pictures of unfamiliar coins. Stella is interrupted by a smiling facilitator.
"You see something you like, sweetie?"
"Oh! No ma'am. I'm not here to make bids."
"Are you sure? It seems as though something has captured your fascination."
"Actually, I do have interest in this little book. It was here. May I ask how much would this be?"
"Ah! …Such a small find in such a big place. Do you read?"
"I do."
"How much can you spare, young lady?"
"I only have 400 pence to spare because 50 pence is for ice cream."
"400 pence it is." she says, winking into Stella's wide eyes.
"Thank you."
The college hopeful pulls coins from her purse, hands them over and places the aged, mysterious, black, little book in their place.
After the estate sell, Stella and her family settle for supper.
"Honey, disappeared for a while. Did you find anything interesting?"
"I did. I paid quivers for this little, black book. It's old and super dusty. I haven't reached the last page, but it's only pictures of old coinage."
"It's charming, but pictures of coinage aren't going to get you into college, dear. Please take that off the dinner table. The germs on that must be ridiculous." Dad espouses. "I have a book you can read. I'll give it to you after supper. It's titled '8 LAWS of ATTRACTION'. We need a miracle. At this rate, your first year of college is a world away."
As a man of his word, he retrieves the book for Stella. She reads the front cover unenthused and with half her energy. Her father's remarks have disappointed her. The last thing she wants to hear is the (likely) possibility of extended time from college.
"LAWS OF ATTRACTION. I wonder if this really works!"
The wide-eyed English teen has nothing to lose and nothing, but time on her hands. She dives in.
"Step 1: Create a positive money mindset. That's easy enough. I can definitely do that. Step 2: Visualize your ideal life in glowing detail. OK. For this, I can take out a piece of paper and jot down and sketch the elements in my ideal life. Step 3: What you focus on expands. Focusing on the positive emotions and feelings you want that you believe money will enable you to feel. Step 4: Money is a resource, a tool, a medium of exchange. I definitely agree. Money isn't evil. Doing devilish things to obtain it is evil. Money is definitely just a tool. Step 5: Your beliefs determine your reality. The key to reverse patterns of 'limited thinking' is to challenge yourself by doing something you don't think you deserve to do. Step 6: Clear clutter and make space for what you want. Get rid of the old stuff. I get that. Things carry energies and frequencies. Bad luck can be boiled down to purchasing new make-up." she explains to herself, laughing.
She continues.
"Step 7: Express your gratitude. Oh, I have so much to be grateful for. This one is easy for me. My family amazing... My mum is a cancer survivor… My friends wish me well. I love my new purse… Life is good."
It's step #8 that levies her into a practitioner.
"And step 8: Practice being rich. Now this is interesting. I suppose I could take one element of my ideal day and experience it. I'll start tomorrow. Tomorrow I am going to have an 'I AM RICH' attitude all day. That sounds grand. But how exactly would I pass the time if I were financially care-free and in college? I'd definitely be worry-free. That's what I'll do. I'll clear my consciousness of all concerns."
…And this is exactly what Stella does. From brushing her teeth in the morning, to saying her prayers before bed, she's careful not to ask God for anything. In theory, she already has everything she needs.
"God: thank you for how spirited I've felt all day. Thank you for all that I have and thank you for everybody I am able to help—because of what I have. –AMEN."
It's the next morning. Dew canvases the landscape. She grabs the mysterious, little, black book and heads to the back yard. Stella is content in her new energy of accepting everything as if she has everything. She only desires two things.
"Out here, I can admire the morning dew and finish the last pages of this dusty, little, black book. I've been neglecting this poor, little thing. I should've been through its pages."
As she opens it, a familiar plant (although potted) distracts her and reminds her of the castle she had visited three days earlier.
"Hello Mr. Sunflower! Perhaps you've used the laws of attraction to bring the dew. Perhaps your need was honored because your need (also) affected so many other plants. Isn't that amazing? You desired something other plant needed, but it was your belief that caused it to fall. You've satisfied so many. If they could thank you, I know they would appreciate you. You're admirable Mr. Sunflower. Affording college would benefit more than just me. If what I've been trying to attract comes to pass, it will affect all of my loved ones too. We have that in common."
As she turns the last page of the book, she notices how thick it is. A page is 4x thicker than the rest. The last page seems more of a thin card board with cutouts. Each of the four coin-sized cut-outs contains real coins.
"Oh! …Coins? This book would've evaded everyone who neared that little bookshelf at the chateau's estate sell." she suggests.
Each of the 4 coins read 'Stella' on one side of them and a caricature of a woman boasting braided hair on their opposite sides.
"That's my name. What? 1880… That must be the year. 400 cents… This is not happening."
Stella is finding it hard to breath. Her intuition justifies her excitement. She carefully dislodges the coins and takes them to her father.
"That dusty, little black book held secrets, Poppa. Look!"
"You've got to be kidding me. Your name is on them? The value of these just might cover your tuition costs?"
"That would be splendid, Poppa! May you take them to an appraiser?"
"I have a better idea. We'll go together."
The Appraisal
"It seems you've plucked on a gold mine. These are $4 'COILED HAIR' coins from 1880. ...Astonishing, really. They're estimated to be worth $800,000.00USD each."
"Did you just say $800,000.00?"
"I sure did, young lady. You're no longer just any family. You're wealthy."
"Thank you, God." she manages, with tears forming in her blue eyes.
"Thank you SO MUCH."
vintage
At the age of 25, I discovered my love of research and the divinity within us. If knowledge precedes empowerment, knowing thyself should be everyone's first priority. Understanding the nature man, woman & their dynamic is gratifying.