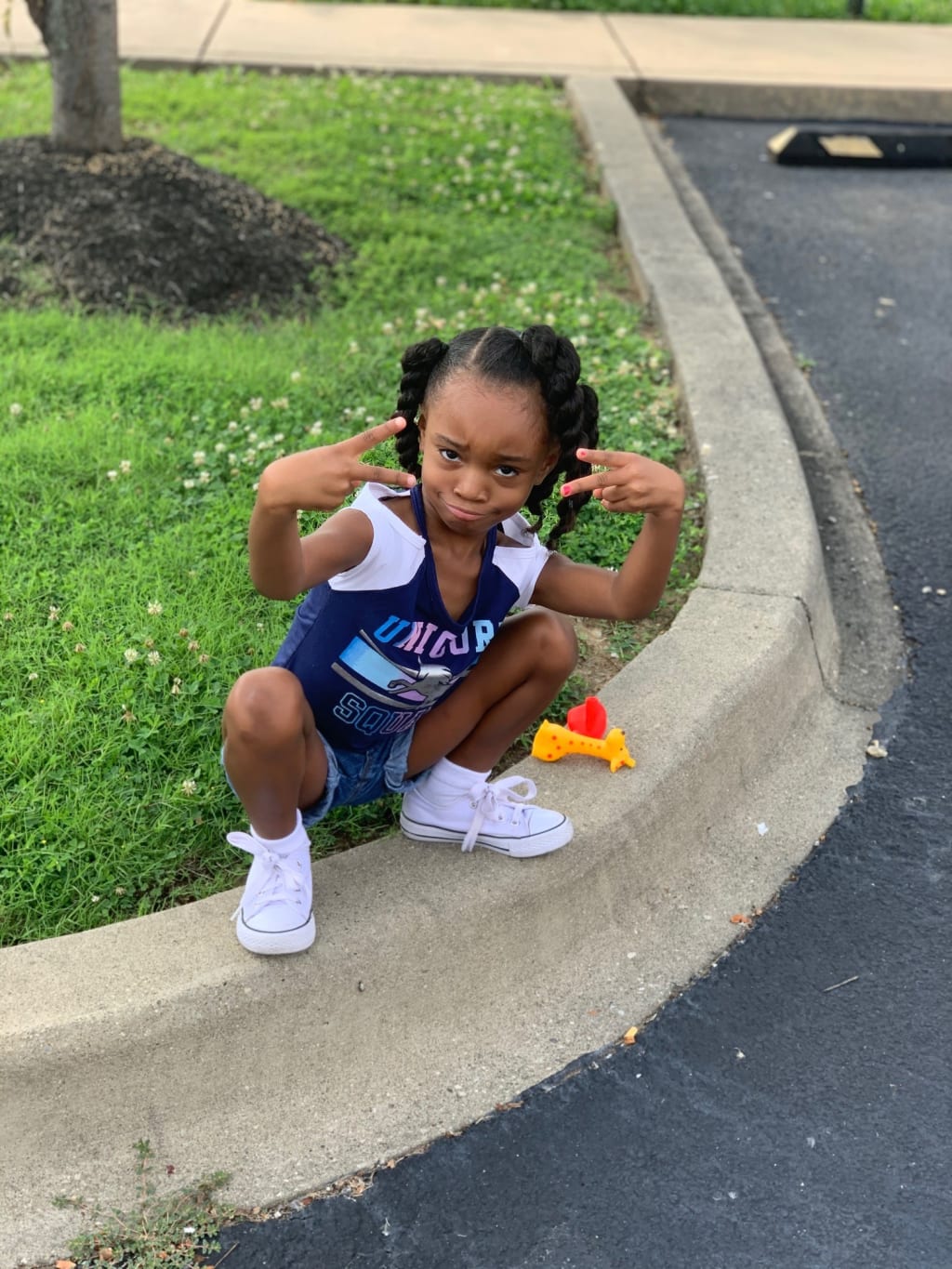 Bye Bye Dentist
On a first look, one may say, "What in the world is this little girl doing posing down low and making peace signs. Well, let's just say my four year old daughter Izabela, has quite a way of expressing her thoughts not just through words but also by her actions which can be quite hilarious considering her age.
Soon as we exit the dentist office, she drops down for a quick picture and hollars, "deuces." I turn around and gaze at her while shaking my head.
She had just gotten her first filling and apparently was not too fond of the procedure. She didn't say much from the dentist chair but her twisted face told a different story outside. My girl threw up the deuces to symbolize her disdain.
Going to the dentist has never been a problem for her. However, I guess today she just wasn't "filling" it. The thought of someone grinding in your teeth and making you open your mouth longer than you want to is not exactly a great feeling.
She talked about how cold the water was against her teeth. She expressed how much she didn't like the funny gritty taste in her mouth. Then had the nerve to ask me if she could just leave the cavity in her mouth.
She said, "Mama, but it don't hurt. Why do I have to get it out?"
Now you must know, I am a fanatic about brushing my teeth and I try to teach her to floss and brush regularly. She has no problem doing this usually. She has an electric toothbrush and loves to brush her teeth more than normal. Many times, she reminds me to brush my teeth as I give her the side eye as if to say I'm your mama, not the other way around.
This whole cavity saga was not on my side. I literally pulled up another YouTube video as I always do to explain my point. This time I showed her what a cavity looks like and the importance of having it removed. She twisted her little face up again in disgust.
While in the dentist chair, all she wanted to do was play on her iPad but I explained to her that you have to be still and listen to what the dentist says. My child is addicted to her Ipad. Taking it away is like pulling teeth. Reluctantly, she put the iPad down on her lap and said, "OK mommy, but can you tell her to hurry?"
I chuckled to myself and told the dentist let's hurry up and make this as painless as possible. That was the dentist's cue to get started before her four-year-old attitude kicked back in. Thank God for "laughing gas" or nitrous oxide. Before we knew it, the procedure was over and my Izabela was back on her iPad!
She walked out of the dentist office feeling like a BOSS. Clearly, she felt better as she insisted that I take a picture of her down low in her "deuce position." I smiled as I grabbed my phone to snag a picture of this beautiful little girl posing and becoming her own.
Instantly, mama tears began to drown my cheeks. I was witnessing me all over again, but 40 years ago. As parents we often wonder where they got this or that from. Everyday as I watch her words and actions, I fall in love with my Izabela, prouder each day of the little girl she is maturing into. The way she acts, the things she says, the attitude she carries is purely a reflection of me. D E U C E S!
Staying at home each & every day to be there with your children as they learn and grow sounds absolutely amazing in hindsight, right? Absolutely! Who wouldn't think that it's just living the dream?! But what the world fails to disclose is the truth behind being a stay at home mom..

11/18/2020 So, grandma (81 this year) has been up my ass about keeping a journal of everything that is going on right now so here goes. Amelia is 9 and in 4th grade, Raynen is 5 and is in kindergarten and Rj is 3 and is home with me. We live in fort lee right now and my husband, Bobby (30 this year) has just had his 3rd spine surgery and now awaiting the promotion board (he is in the army) and finding out when we will be moving. I am 26 credits away from my BA in history. The coronavirus pandemic has been a pain in the ass and the 2020 presidential election was a complete dumpster fire. Yay 2020 and the best part was carol baskin and the memes from that world.

It was early October, and it was finally time for my long-awaited moose hunt. I had waited ever since I was a little girl for this opportunity, and it was finally here. So, my father, the one that looks after me, and I packed up our stuff and left our city in Alaska. We were heading to a place called Bethel, AK. After a six-hour long drive, we made it to our hunting unit. It did not feel like home to us but it was warm and cozy, like my bed at home.

As your parents age, you're probably spending more and more time caring for them. Even if they're still in good health, you may need to help them live a healthy lifestyle. Your parents may need help with everything from their health insurance to their diet. To avoid caregiver stress, taking care of yourself is also essential.

Staying home, reducing stress, and taking care of ourselves, both mind and body are more important than ever. That's why from beauty and personal care to everyday essentials and home cleaning – we've got you covered. "Avon"

Growing up, I loved the Wizard of Oz. There was something magical and timeless about the Yellow Brick Road and the passion of Dorothy to find her way home, Scarecrow to find his brain, Tin Man to find his heart, and the Lion to find his courage. All to find out that the man behind the curtain was just a man, whose hope and wisdom fulfilled all desires by encouraging everyone by exploring their own virtues.