Dear Grandmas
Inspiration for Generations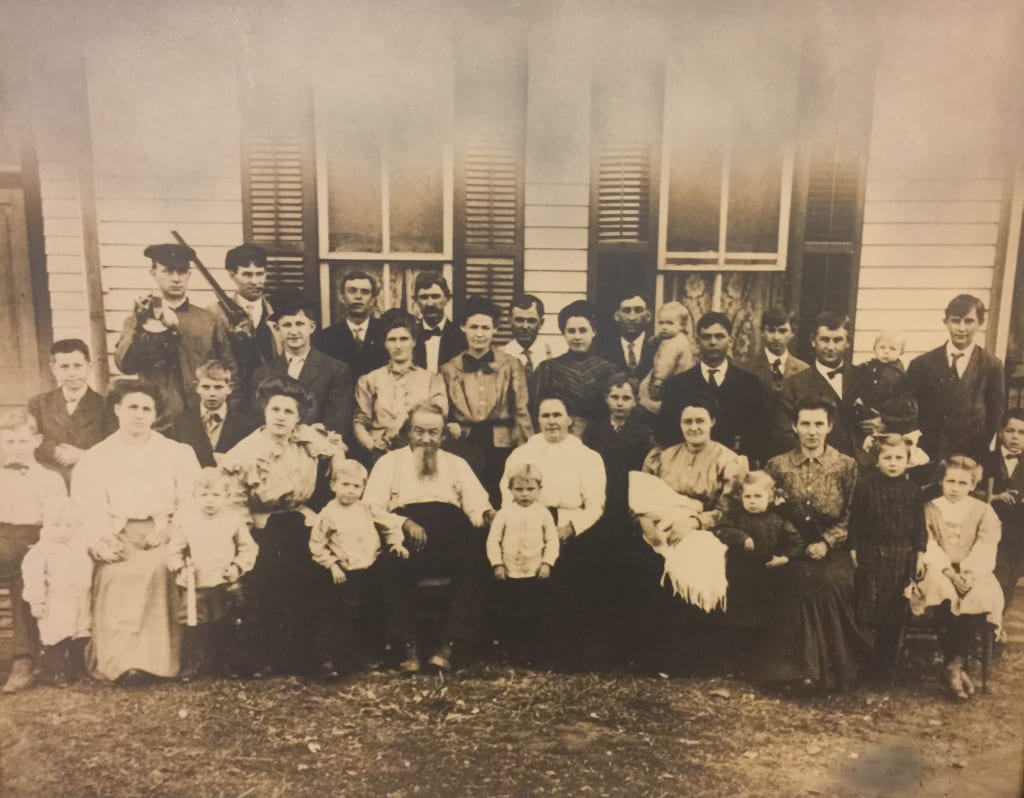 Hillenbrand Family Reunion @ 1915
Dear Grandmas,
It's been so long since I sat down to write a letter to anyone. Definitely a lost art in our fast-paced, electronic lives. Choosing just one of you to honor for your life, and to thank for my life is too difficult. My DNA is filled with your strength and grace. When I think of what each of you went through during your lifetimes, I feel humbled and proud.
Everyone's life is remarkable when it touches the lives of the people who surround them. ~ Your Granddaughter.
Genealogy has helped me learn so much about your lives. It's such an inspiration to read about your struggles and accomplishments. If just one moment of any one of your lives had been different, I would not be here.
Grandma Fuller your life was exceptional but much too brief. It amazes me that you could survive the journey on the Mayflower to the new world. The cramped quarters, disease, lack of food, and absence of healthy drinking water had to be so depressing on your trip. I'm so sorry you didn't survive that first winter. It saddens me that no definitive record has been found of your maiden name. How difficult was the decision to leave everything you knew and everyone you loved behind for a new start in such an unknown place?
To survive being an accused witch in 1692 must have been so frightening for you Grandma Sarah. It's such an awful time in our history. You were only 19 and to be accused with your 12-year-old sister, your stepmother and two of your stepsisters had to be horrifying. The pressure to confess must have been unbearable; especially when those who did not confess were hanged. I am so glad that you and your family were spared in a time when so many women lost their lives to hysteria. It's such a testament to your strength that you could move past the horror. I'm proud that you could marry and raise a wonderful family.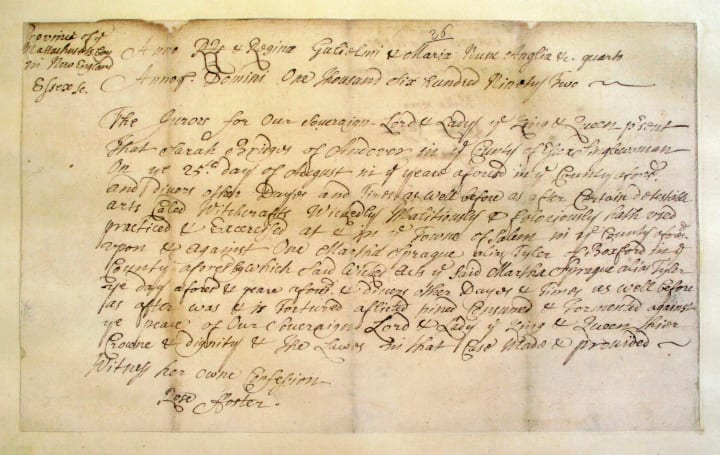 Character grows through sacrifice.~ Your Granddaughter
I had no idea how many of my grandpas were in the military. So, in addition to running your household, you were also left alone as your husbands went to war. Farming women have to be about the strongest women in the world. You raised children while taking care of the cooking, cleaning, and mending. You held the family and the farm together while your husbands went off to war.
Grandma Elizabeth, you always come to mind when I think of military widows. Not only did you lose your oldest son during the Civil War, but you also lost your husband. The worst part is that your husband wasn't even transported home for mourning and burial. He was buried in a mass grave at Andersonville. You did have a son come home from the Civil War and raise a large farming family.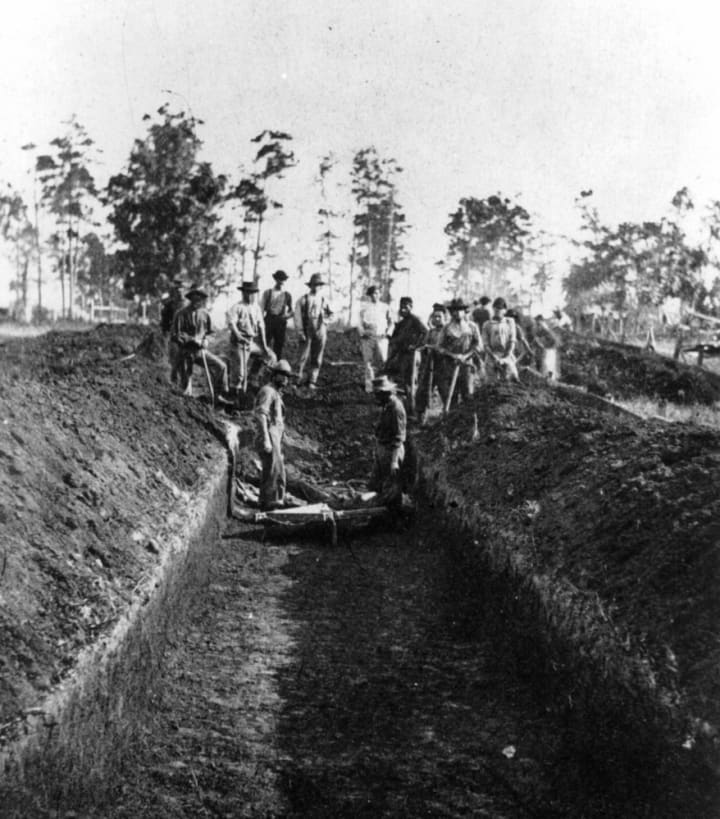 Grandma Mary, you were the wife to that son. I feel connected to you somehow. To be born in Scotland and move to the United States by the age of two must have been quite an ordeal for you. I'm sorry you lost your first husband in the Civil War, but I'm grateful you married my grandpa. All five of your children lived long and healthy lives, but you were gone too soon at 34 years old. I've yet to find your grave and I might never. Your legacy is somewhat overshadowed by grandpa's second wife, but I won't ever forget you.
Your legacy lives in my memory.~ Your Granddaughter
While I love all of you, Grandma Alice Adora, I feel a strong connection to you. I don't know if you included your middle name during your daily life, but I love it. There is a family picture of yours that is one of my favorite photos. For most of my life, people told me I look like my dad. When I saw this family picture I was blown away by how much my dad looks like you. Sadly, he had already passed away, but I so would have been able to tease him about that.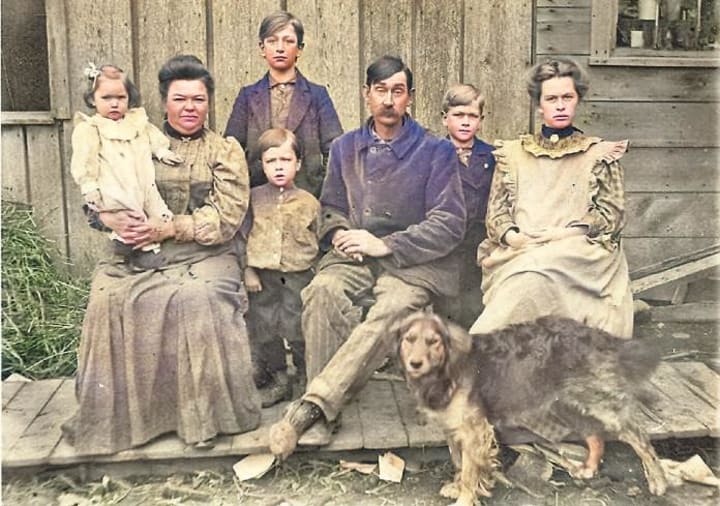 A good measurement of a woman's strength is heart plus determination. ~ Your Granddaughter
One of the saddest family histories has to be yours, Grandma Margaret. In 1918, grandpa died three months before you. Your only daughter died two days after you, leaving a husband and a 5-year-old daughter. Two of your sons also died from the pandemic. The ineffectiveness your sisters must have felt watching so much of your family taken by this disease would be devastating. One of your surviving sons married my Grandma Ethel and had a wonderful family. (Note: Margaret is just right of center in the title picture. Her daughter is just over her left shoulder.)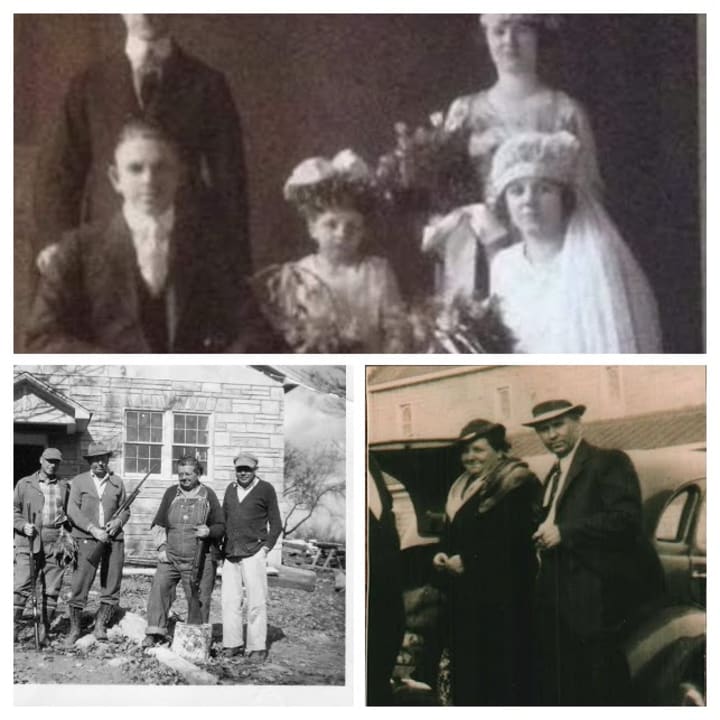 Grandma Ethel, I would love to spend some time with you. You and grandpa ran a restaurant/bar and eventually a nightclub. I've often wondered what your life was like as the wife of a bootlegger. When I see pictures of you and grandpa, I feel like I'm looking at 1930s gangsters. You just give off that lively feel. I've often wondered if your paths crossed with the likes of Dillinger.
Grandma Thursa, I haven't forgotten about you and someday I will discover your maiden name and connect to the rest of your family. I want to thank you for Grandma Eunice and I hope to find her grave one day as well. Whether I fill in those blanks or not, I love you.
Grandmas, I find each of your lives so amazing. I don't need to look any further for role models. I'm such a wimp compared to all of you. There are so many things that all of you did that I don't think I could handle.
Spend two weeks on a ship without knowing for sure that we would survive.
Move to a new country where I'm not able to keep in contact with family.
Go out in the yard and butcher a chicken for supper.
Go across the yard to use the outhouse in the middle of winter.
I would love to spend a few days with all of you. Getting some insight into what your lives were like and if you were happy, would be significant to me. Thinking of how we would spend our time together and how much I could learn from you.
Quilting, hand-sewing, and darning
Hanging sheets on the line to soak up the scent of the sun as they dry.
Baking bread and making butter.
Most importantly, talking about your lives.
If I could only ask one question of each of you, it would have to be: Why, with a father-in-law, uncle, husband, brother-in-law, and one or two nephews named John; did you name one or two of your sons John as well? Same question for your female children. I don't want to think that it was a plan to mess with a granddaughter who was researching your lives, but sometimes I wonder.
My main regret is with record-keeping of the time so focussed on men, it's hard to find your first names and maiden names. I admit that I have been guilty of directing my research on the male lines more heavily. It's much easier to trace. However, if two sisters named Mary didn't both name their daughters Mary, it would be much easier. If I do have one of you currently married to your husband's cousin, I will sort it out as soon I can.
Before I started learning about you, my history seemed so finite. Now I feel like I know all of you. Somehow I feel more complete and more empowered having roots that go so deep. My tree may bend but with your strength, it will not break.
About the Creator
Writing has always been a part of me. My dream could die with failure or would live on if I never tried. Time for that to change. Follow me https://linktr.ee/YvonneWriting and be sure to click like on any stories you enjoy.
Reader insights
Be the first to share your insights about this piece.
Add your insights