Daisies in the Meadow
an original short story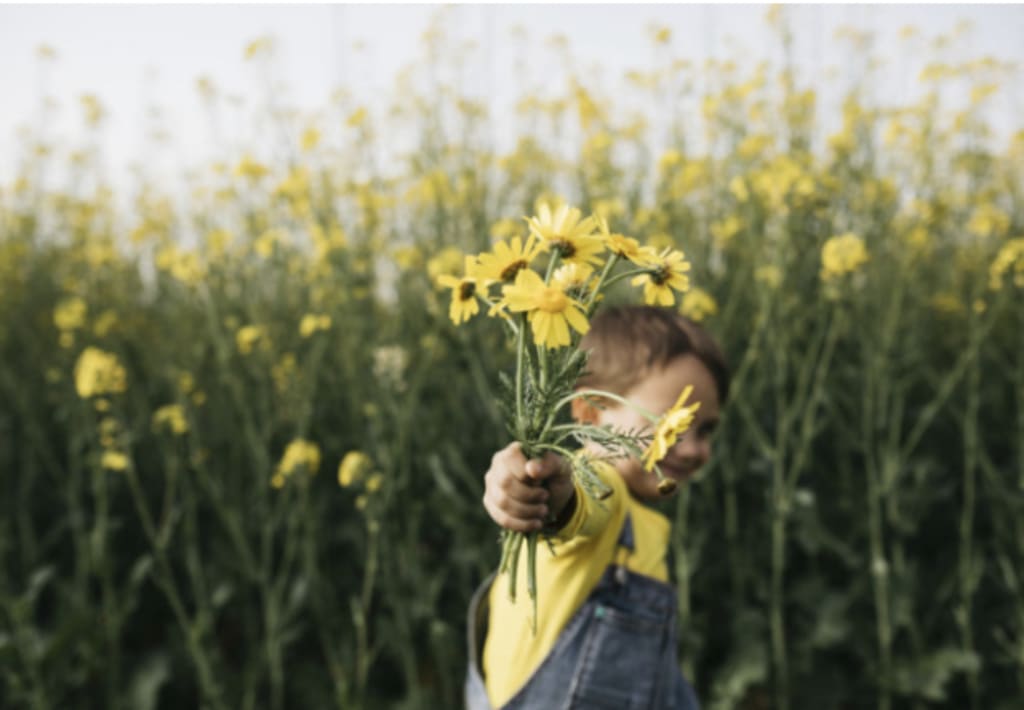 Daisies always were Mama's favorite flower.
Jessica Harper, a petite, dark-haired vision, gave birth to two children in her lifetime and got to raise them on her own.
Well, sort of.
She never married the men that brought her a daughter and son. Jessica would have been known as a harlot in her small country town if everyone didn't like her so well. That's the thing about my mother--everyone loved her, hard as they tried not to. Our conservative little town was able to look past the illegitimacy when they fell in love with the Harper Family.
The Harper Family consisted of my mother Jessica, my kid brother Todd, and me, a teenager and the spitting image of Mama.
Todd and I were home-schooled, along with a handful of other kids from our community, all of us under The Harper Family roof. Jessica made a lovely teacher.
Todd and I were everything to Jessica. She did everything she could to give us healthy, successful lives. I learned everything from that woman, including how to "mother" Todd and the other five- and six- year-olds in our homeschool group.
At 17, I was old enough to help Mama with the teaching. We had lessons in the morning, lunch, playtime, and a music lesson. This was our routine until the days got longer and hotter.
We spent our summer afternoons sippin' lemonade and playing in the water.
Todd begged Mama to let him go to the creek with the 10-year-old boys, but Mama explained that it was too dangerous for a boy his age. That didn't stop him from pleading every time he watched the older boys run by in their bare feet, laughter echoing throughout the neighborhood.
Todd's sixth birthday marked one year of the Harper Family living in that little country town that I never expected to love. To celebrate, half the town got together for a barbeque that sticky June evening where the kids played in the hoses, the adults sat on the patio, drinks in hand, and the teenagers danced in the yard.
The very next day, a couple of Todd's friends came by to play. With permission, they took off to the park, a walk the three of them had taken dozens of times.
I still remember Mama sitting in her white rocker, cross-stitching, while I read a new book on the steps of our front deck. Distant screaming broke both our concentration, hearts frozen as we waited to hear the cause of the commotion.
My hands began trembling the moment Todd's two friends, John and Ben, ran their little legs up the dirt path to our house, screaming and blubbering. Mama hopped off the porch and pulled both boys close, trying to calm them enough to catch the truth.
The park sits next to a meadow full of wild yellow daisies. I never climb the hill to sit under the big oak tree anymore because from that hill among all those wild daisies, I can see the creek.
Todd only wandered off to pick Mama some of her favorite flowers. Spying the creek from that big hill was too much temptation for any kid.
We don't keep flowers in the house anymore. Mama doesn't teach or give music lessons. The curtains stay closed. I gave up college plans to stay with Mama.
I expected this dismal change to be our new normal until we got a visitor.
With Mama fast asleep, I answered. I opened the door and recognized the handsome face immediately. Todd's father smiled at me through grief, a bouquet of wild daisies in his hand.
After five minutes of coaxing, Mama finally got up and got dressed.
Jessica Harper left her room for the first time in months and froze. Her eyes met those of the man in my living room,extending the bouquet.
Daisies always were Mama's favorite flower.