Dad Challenge
The title 'father' should never be assumed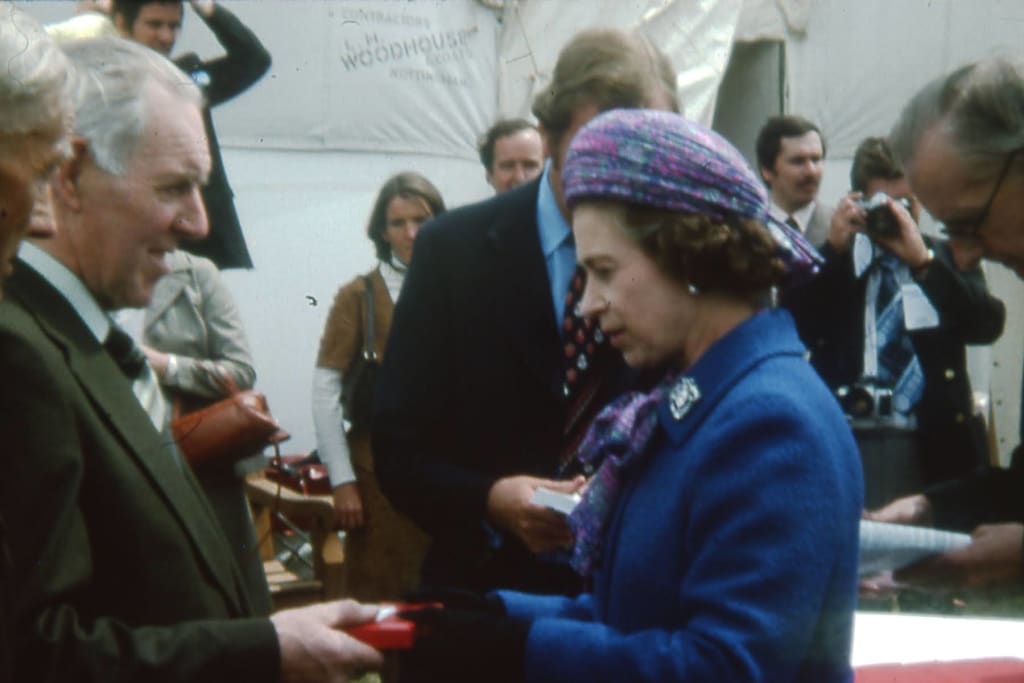 My Grandad receiving a long service medal from the Queen
I have never consciously met my biological father.
To me, he is merely a sperm donor who came and went. A fly-by-the-night addition to my life that has impacted me as much as my change in pants every night. A man for which I have very little interest in getting to know as he never made an effort in my life.
My father was a man, who, in a few short years was easily overtaken by my Grandfather, who I consider to be my father.
My Grandfather
Adding the word grand to the word father does automatically sound pompous. It elevates it to a level of knowledge that conjures up kindness and trust. Takes it from an action that is merely biological and adds a level of choice to the mix.
My Grandfather was more of a father to me than my actual father. A man who was there for me each and every day, teaching me right from wrong when no one else wished to. He was my Dad in everything but the title and one to which I dedicate this text to.
Born at the end of the first world war, he grew up with old-fashioned values and taught me lessons that have lasted a lifetime. A man who taught me the importance of my word and keeping my promises. Someone who had a taste for the sweeter things and would never fail to provide for me, even when I sometimes did not deserve it.
Memory One: Southend Pier
Between the ages of eight and eighteen, I would always look to go shopping with my Grandparents. They would always run through the same process, head to Chelmsford or Southend for the day, before driving to Sainsbury's and having lunch ahead of the weekly shopping.
It was always a huge part of my holidays. To have the time off to head out with them each and every Thursday. To go to the pier at Southend seafront with its one and two pence machine that would ask the player to place the money in the top, before watching it trickle down, before being pushed to the edge.
I would wait patiently in the car as my Grandad parked and my Nan would either head off alone or with my Mum to see the shops. Once this was complete my Grandad and I would walk to the seafront in order to get the train along the tracks and to the arcade at the top of the pier.
After what would feel like hours and in fact only be minutes, we would head back, satisfied with the knowledge that I had a great day. My Grandad would always win his money back and hand me the winnings to use for next time, as I never left with anything. He was generous to a point and never failed in his duty to be there for me.
Southend Pier is something that no one can ever take away from me, as, despite the consideration that my Grandad has now passed, the memory makes me smile. The thought of something so small, such as winning spare change means more to me than anything else.
Memory Two: Games on a Sunday
Every Sunday I would head around to my Grandparents for Sunday Roast. The finest meat, vegetables and Yorkshire puddings with associated gravy would always compensate for my Mum's limited cooking ability. It was a treat from start to finish and would always keep me going.
After food and a nap, we would have tea and biscuits before settling down to a game. Whether it was Draughts or Dominos, my Grandad and I would always play. Through rain or shine, we would have a game and the patience for which he showed me was infinite. Always giving me the chance to take back my moves before moving in for victory. He taught me well and it is one of the reasons why I can say that I am patient today.
I remember clearly the memory of taking my seat on the left-hand side of my Grandad. Between his reading table (complete with always topped up sweet tray) and the other sofa.
That god-awful cream sofa was far too big for anyone. The sofa that you had to literally climb into every weekend and yet always filled me with excitement. I always approached each and every game with the thought that this time I would win.
At a certain point, we stopped. When Grandad reached his 90s and his eyesight was largely a problem we said no more and it was a sad time. It created a hole at the weekend that emphasised his humanity. He would not be here forever and I should make the most of every single second that I had with him, regardless of whether we were playing games or not.
My Favourite Memory
Most of the time we focus on the first memory being the greatest but that isn't the case here. Every memory I have with my Grandad is positive and whilst that will come across as arrogant and maybe even a little false, it is true. I never remember him losing his temper with me or yelling. When a lesson needed to be learned he spoke to me as an adult, as an equal and so any regrets I have are from my point of view for not doing enough.
The third and final memory which I would like to focus on is the one that I always tell. Whenever I talk about my family I speak about the time in which I stayed up until after midnight playing what has to be one of the longest games of Monopoly in human history. Beginning after tea (always beans on toast with cheese, as he was never much of a cook), we sat down to play... Six hours later when my Nan returned from the WI, we were still playing.
I was more than £5,000 in debt yet we kept going and the lesson was learnt. In life you cannot fold the board up and admit defeat, you need to keep going. You have to ensure that you pay back what is owed, no matter how long it takes. This was not the original intention of how we set the game up but sometimes life just happens.
When I say six hours I say this in the context that it never felt as though the time dragged. We stopped for breaks to go to the toilet and have our evening drinks and biscuits. We took moments but kept playing regardless as I was intent on achieving victory without the addition of houses or hotels. That's correct, I was battling my Grandad's empire with little to no assets but that is what life throws at you at times.
Looking back I never asked him why he continued playing but I'm glad he did. He was a man of a few words, yet when he did speak, you listened as the words that tumbled out were worth hearing. We simply enjoyed playing the game, or at least, I hope that he did. I imagine that if he was not engaged then he would have stopped. Whether it was the lesson or the consideration for which he didn't want to let me down, we continued.
It's a memory that for me really encompasses who my Grandad was. A man of infinite patience who was always there for me. Someone who thought of others first and someone that I have attempted to emulate, yet always feel as though I fall short, and maybe that is my mistake?
A Tearful Thought
When I saw this challenge I wondered if I could enter as I have never met my father, yet that thought only lasted a few seconds, as I remembered who my true father was. My Grandad was the greatest man that I have ever known. Taught me so much but writing this back I feel as though I have attempted to emulate him, whereas I should have used his lessons and incorporated them into my life.
I love my Grandad and any thought about him brings me to near tears, yet this is not a bad thing. Remembering someone keeps their memory alive. Keeps them from ever truly dying but I know that he would have wanted me to be me and that is the lesson that I will take from this challenge.
A Final Thought
My Grandfather was more of a father to me than my actual, biological father was and wherever he is I hope that he takes note. Being a parent is a responsibility that should last a lifetime. It is not a quick action which can later be denied. It is something that takes time and commitment. Your first thought in the day and the last before you sleep.
I have listed a few memories of my Grandfather and all of them have made me smile. As I think back I wish he was still here but know that is not possible. I hope that where he is now, he is happy and one day I will see him again, to say thank you. To repay him for all the kindness for which he offered me.
My Grandfather was my father. He was a positive influence in my life and someone who deserves all of the respect in the world. A man for which I have a lifetime of respect. A human being for which I love and trust until the end of time and someone who has offered me a world of memories and lessons. Someone who I want to pay tribute to as I craft a life of my own with my wife.
grandparents
About the author
Someone who has no idea about where their place is in this world, yet for the love of content, must continue writing.
Reader insights
Outstanding
Excellent work. Looking forward to reading more!
Add your insights