Cultivating Joy on Adult Snow Days
Why Snow Days Still Bring Me Joy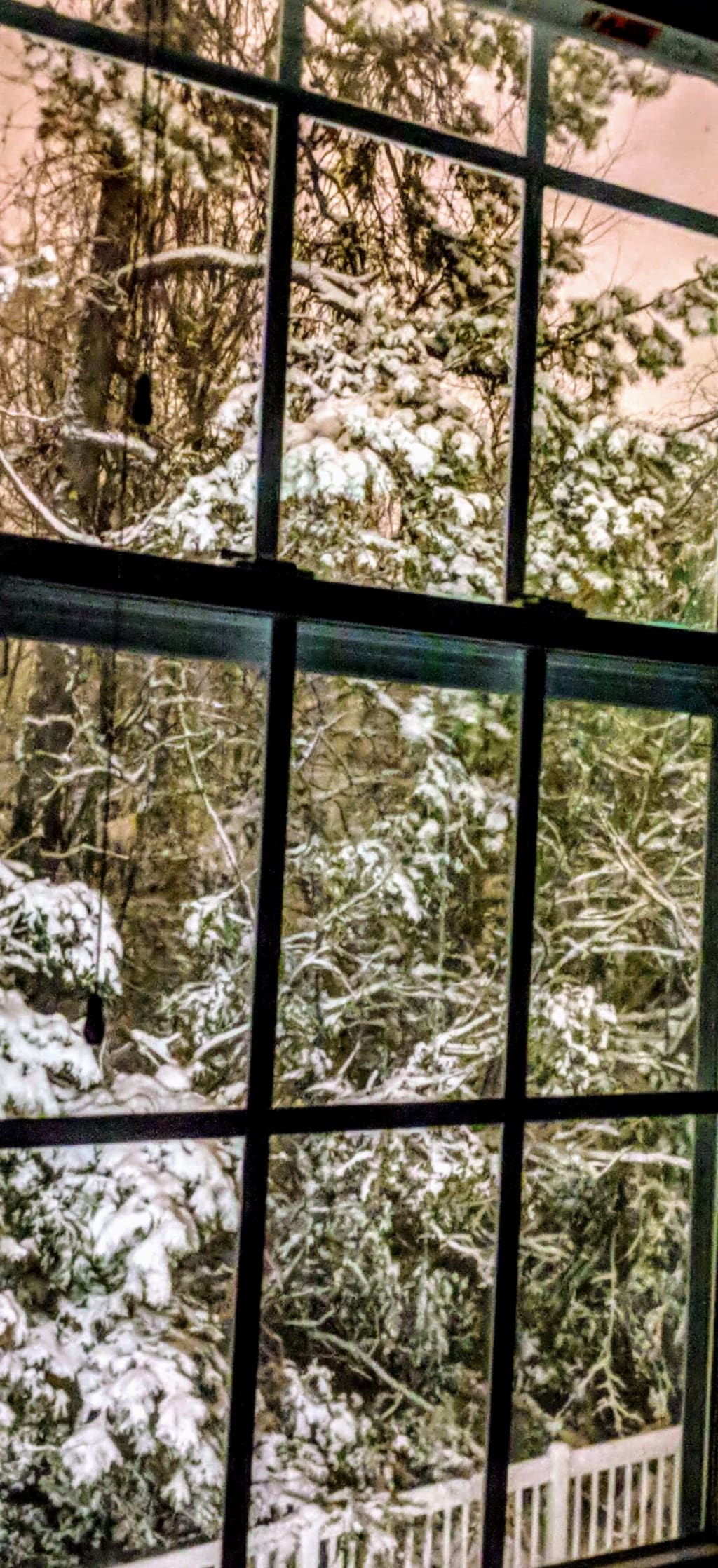 Sunday, 12/09/2018—First Snow of the Season
I lingered awake last night having a text conversation with my friend as we waited excitedly for the snow we had been following for over a week. We were both raised in North Carolina so the fascination with snow is a holdover from nights spent with flashlights waiting for the glimpse of the snowflakes that often meant days out of school. Although we are both decades beyond childhood snow days, we continue to share an excitement over snow that most of my friends have lost.
Reluctantly, I closed my blinds and went to sleep after waiting for the snowflakes long after the radar indicated I should be seeing snow. The first thing I did upon waking, well before dawn, was to open the blinds. There before me was a landscape of snow contrasted against a pink morning sky. Snowflakes fell fat an soft upon the growing cushion of frozen fluff, and I planned the day that lay fat before me.
All of the usual commitments would be forgiven as the roads in front of the apartment were already covered in snow and ice. The day was mine, just as those days of childhood. For the first time in my life, I was aware of wondering what to do with a snow day. I had spent most of my adult years in the desert of the South West, so I hadn't really had many opportunities to solve this particular puzzle. Then those few snow days I had had since returning to North Carolina were spent taking care of my adolescent kids.
This was the first year, where I was only responsible for amusing myself of a snow day. The freedom was almost as palpable as it had been on those oh so few days stolen from school in childhood.
Just like in childhood, my first response was to return to bed and ignore the call of morning. However, the call of freedom quickly became too much and I had to make a choice of how to spend my time. I made myself a cup of my favorite tea and returned to bed to converse with the children. I spoke with each of my children, in turn, making sure everyone was warm and happy.
It wasn't long before I turned to baking. My youngest son and I had bought bakers chocolate yesterday with the intention of doing some Christmas baking over the days we knew we might spend snowbound. I chatted with family and friends as the brownies baked and dreamed of the other things I would spend my time on.
Ultimately, I found I had more dreams for the day than I did time. I spent time reading, baking, soaking in a hot tub, and puttering around the apartment. I spent time talking with all of my four children, my mom, my best friend, and several people over facebook and twitter.
I didn't get around to painting today or cleaning out my closet. I didn't leave the apartment despite curiosity about exactly how much snow we had gotten. However, tomorrow promises to be another snow day. Already, all of the local schools are announcing closings. Many companies are closing and the forecast is for snow and sleet well into mid-morning.
So, for tomorrow I have devised plans to use the day to the fullest. I plan to begin the day with yoga, breakfast, and wrapping the few Christmas gifts I have already acquired. Then I will do some more baking: gingerbread and chocolate chip cookies. I will do some painting; I find that two paintings are ideal. Generally, the first painting of the day is too tight. The second painting is generally more colorful and free in form. I intend to get out the puzzle I have set aside to complete this holiday season. I have developed the tradition of completing a puzzle each Christmas season since the children were old enough to participate in this practice. If I find I haven't eaten up the whole day by this time, I may even actually get around to cleaning out the closet. I'm sure you noticed that not only did I leave that to last, even I am not convinced that I really expect to get that done. Of course, it is always possible that I will end up snowed in for a third day.
So how do I cultivate joy on snow days? I take life much as I did as a child. I value the hours of freedom. I connect with those who bring joy to my life. I do the little things that support my self-care and the traditions I partake in around the Christmas holidays. I spend time thinking, reading, relaxing, and creating. I enjoy and celebrate being me. I hope you find a reprieve from the typical day to day toil this winter to celebrate your winter traditions this year as well. Perhaps you don't need to be snowed in to allow yourself these hours of freedom, but if you do, please take them and enjoy them to the fullest.
advice
About the author
Nalda has led a rich and varied life. She has worked as a college professor, a mental health counselor, a psychosocial rehabilitation therapist, a research assistant, a retail associate, and a starving artist.
Reader insights
Be the first to share your insights about this piece.
Add your insights