Cost of Living in Bangalore: all you need to know
all about the Bangalore lifestyle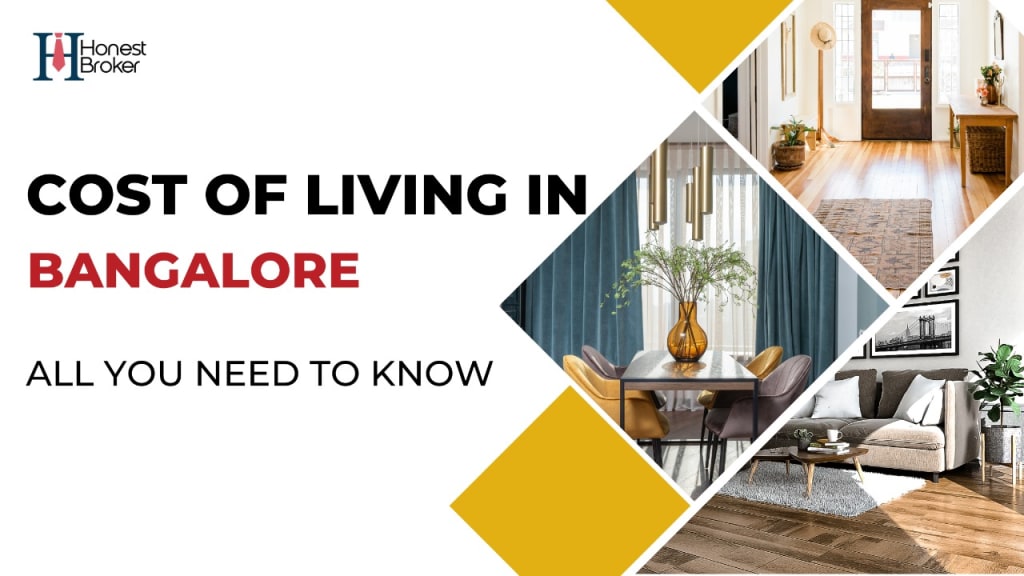 Introduction
Due to the growth of the city's service sector and the increasing number of businesses, Bangalore and Bengaluru are active real estate markets. This article will examine the cost of living and options for people who want to call Bangalore home. Many people migrate every year to India's Silicon Valley. Some estimates suggest that Bengaluru may have half its population composed of migrants. 64% are from Karnataka, while the rest come from other parts. Although there are many expenses you will have to pay, it all depends on your lifestyle and personal circumstances.
Bangalore: What is the cost to buy a property in Bangalore?
Bangalore has both luxury and affordable neighborhoods. The various glances show that over 50,000 projects are for sale in the area. These properties available for sale in Bangalore start at Rs 1 lakh for small residential plots and go up to Rs 40 crores for larger, more independent homes or large land parcels. 1 BHK Flats for sale in Bangalore starts at Rs 8 lakhs. 2 BHK flats start at Rs 10 lakhs. Current listings show that 2 BHK units can go up to Rs 13.50 Crores. You may find luxurious apartments that cost up to Rs 30 Crores.
How much does it cost for a Bangalore property to rent?
Although 2BHK and 3-BHK units are trendy on the rental market, smaller units like 1RK and 1BHK, as well as larger units such 4BHKs, are not uncommon. The cost of renting a property in Bangalore can vary depending on its location, configuration, size, and other amenities.
Cost of Living in Bangalore
According to Numbeo, an average one-way ticket for local transport costs Rs 50, and a monthly pass costs Rs 1,500. The average tariff for hiring a taxi is Rs 60. As of June 2020, the petrol cost is Rs 71.78 per gallon. You can reduce the cost of living here by choosing affordable travel options. Namma metro is a great way to get around the city. For commuters, the metro fare ranges from Rs 10 to Rs 60.
Cost of Living in Bangalore Living in Bangalore
Dining out Bangalore's Cost of Living
Food and Groceries Living costs in Bangalore
Utilities Living costs in Bangalore
Utilities Average Salary of Bangaloreans
What is the cost of Co-LivingProperty in Bangalore?
If you are a student, working professional, or looking for co-living or guest accommodation in Bengaluru. These properties have rents ranging from Rs 1,000 per bedroom to Rs 36,000 per apartment. Prices will vary depending on what facilities are available, such as food and laundry, and the age and location of the property.
Cost Of Living in Bangalore for Couples
The cost of living in Bangalore for working couples is more complicated because everyone has a different lifestyle. The average price of a couple living in Bangalore is around Rs 25,000 to Rs 35,000, depending on the location of their rented property. You can easily find rental flats in Bangalore for as low as Rs 15,000 to Rs 22,000.
Cost Of Living in Bangalore for Family
The cost of living in Bangalore will increase if you have a family. Bangalore's cost of living could rise from around Rs 30,000 to Rs 35,000 if you have children. You can rent or buy unique apartments in Bangalore, either 1BHK or 2BHK. Also, You Must Know About Factors before Buying a House in Bangalore.
● Household expenses
● Transportation costs
Thank you