Children as Teachers
Let kids be kids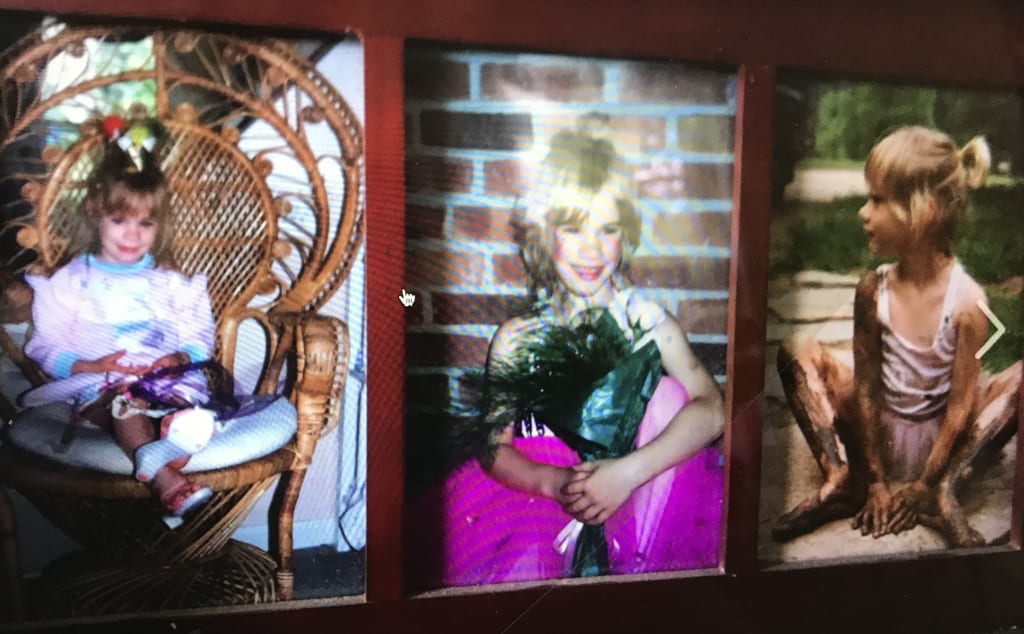 Brooke in all her childhood glory! 
The day I realized that children could, and perhaps should, dress like children, and not like a model off the pages of a magazine, was the day my daughter wanted to wear her recital gown to the grocery store.
It was a full length, magenta colored, sequined bodice ball gown complete with a wide white brimmed hat for her to wear on stage at her dance recital.
She, along with 24 other little six-year-old girls, were to dance to the theme songs of "Green Acres" and "Mr. Clean" while preening like Eva Gabor. It was quite a charming sight.
I had struggled for months to keep her from wearing her costume prior to the show. Times were tight. At the cost of $40 for the outfit, I wasn't about to take the chance that she'd spill grape juice on it, or poke a hole in it before the performance.
"Once the show is over, you can wear it anytime you want to." This was the bargaining chip I had used over and over to get her to comply. Finally the day of reckoning was at hand. The morning after the recital she came bounding down the stairs dressed in her costume ready for her day.
I took a deep breath and said, "No honey, people don't wear fancy gowns to go grocery shopping."
"But mommy, you said I could wear it after the show whenever I wanted to."
"Yes dear, but I didn't mean out of the house."
We went around for a while on the subject. I finally realized that adult reason was not working. I had to ask myself, "Is this really a battle I need to wage?" After all, I did give her my word.
So, off to the store we went. She had a huge grin across her face (which I think must ached). Looking at her in the rear view mirror, I gleaned that there was no doubt in her mind that she was the ultimate fashion plate.
I was feeling rather embarrassed as we entered the busy store and found myself glancing at my feet. As I began pushing the cart around, however, a marvelous thing happened.
Strangers came up to her as she sat proudly in the cart amidst yogurt, graham crackers, and diapers and complimented her emphatically on her "lovely ensemble." She beamed, and I began to realize that she had taught me a valuable lesson.
By the simple act of being herself, she gave joy to those around her. My embarrassment waned and I began to enjoy the event, looking forward to each new encounter. After several aisles of being stopped by shoppers, I realized how much delight she brought to many lives that morning, including hers and mine.
A few nights later I only balked slightly when she came bounding down the stairs, once again in full regalia to attend a local outdoor band concert. When I suggested she might be a bit overdressed, she replied, "But Mommy, you're supposed to dress up for concerts!" I could see her point, and after all, this was her fanciest dress. Off we went, once again to the amusement of the viewing public as she danced and twirled under the stars to the big band sounds of Glenn Miller, Count Basie and Duke Ellington.
By the time she wanted to wear the outfit to the town beach the next morning, I didn't miss a beat. As she skipped down the beach to the water, I hung back and enjoyed the view. People's faces lit up as she floated past, and there was much chuckling and murmurings going on. Later that day, a woman I know came over to me and with a wry smile confided, "Even before I could see who the child in that 'beautiful' outfit was, I knew it must be your Brooke. You're the only mother I know who could allow their child to wear a ballgown to the beach." She chuckled as she walked off.
This was one of the greatest compliments I have received as a parent. She acknowledged that I could allow my child to be herself and that is the best gift any parent can give to their child. Judging by the reactions my daughter received, it is also the finest gift she can give to others.
Of one thing I am certain, we got our $40 worth!
[I hope you enjoy my slice of life stories based on real life. There is no pressure to tip (although if everyone tipped even a dollar I'd be thrilled!). If you do enjoy them, please share with others because I do get paid per view and it adds up over time. Thanks, and I hope you'll come back often!]