Cheap or Free Baby Boxes to Save You Money
Ways to save you a little extra for your little one.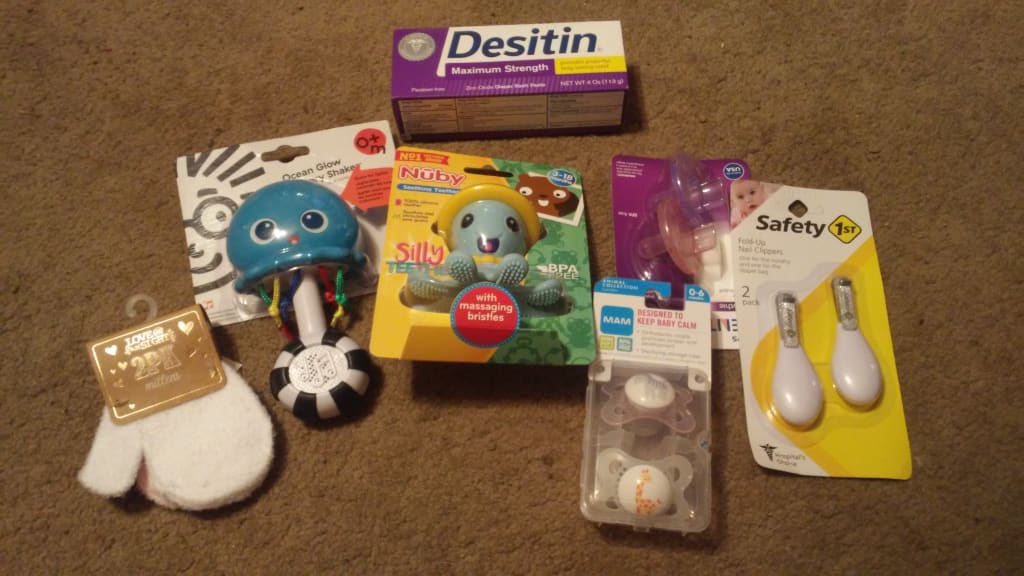 As a first time parent, I was an eager beaver to start collecting as much as possible for our child before they made their arrival into this world. As with most families, though, we had bills and extra things that needed our attention as well, so shopping on a budget was always a difficult thing thanks to baby items being so expensive! So after hours and hours of researching all forms of social media and websites, I made up a list of places to try out and got some pretty decent items out of my haul that I brought in. So without any hesitation, I will share my findings with you and my experiences with them, and hopefully save you some money in the end.
1. Walmart Baby Boxes
Although it doesn't seem like much, this box packed quite a bit of a punch when it came to different varieties of items. This particular box didn't take me long to sign up for but it did take a while to come in. When you sign up, it is just like any other account with your basic information which will help you in making your registry. When you get ready to make your registry, a little owl will actually walk you through the steps and create a suggested registry for you to build off of. Now if you are like me and just did it for the free box, from there all you have to do is copy and paste the url into a separate Walmart free baby box page (I just googled the page and found it) and fill the rest out to have it sent to you. You can not get more than one box sent to your address, but if you have access to multiple address/accounts like my husband and I do, you can have multiple registries and receive more than one box.
Boxes are normally different is what every youtube video I watched said, but each box I received included the same items,(which isn't a huge deal, because most items had no expiration dates on them.) In our box, we received one 8oz Dr. Brown baby bottle that retails about eight dollars in our area, two different sets of breast milk storage bags, which included nursing pads in one and a pacifier in the other, a 1oz Desitin sample trial tube and coupons galore. We also had a single load sample of Dreft laundry soap, monthly progress photo prop cards, a single sample of travel size formula and the trail\travel size water wipes. After sitting down and going through the boxes items I priced this box (including coupon discounts) at roughly $25, maybe $30 depending on where you shop. Overall, this was a good haul for my husband and I for the little amount of time it took for us to fill it all out.
2. Target Baby Bag
This particular item was not one of my favorites on my list, but with having to be on bed rest I figured I would get as much as I possibly could in what little time I had at the time. This particular item is a pick up in store only, which is difficult if you do not have a nearby store. They also scan bar codes now, limiting 1 per registry (which was how it was designed to be but in some videos they were able to get multiple ones either by name or by showing the registry paperwork. )
Again, this one is pretty simple to set up with them. You get to add what you want after creating an account with them and once you have added a few items to it you can go and collect your bag.
In our bag that we received was $80 worth of coupons, which, unless you shop at Target, are totally useless. For our actual items, we got two bottles, one four ounce Avent bottle and one four ounce Dr. Brown's bottle. Other items included two different trial packs of diapers and wipes, pacifiers, nursing pads and breastmilk bags and small samples of items in the coupon booklet. This bag without coupon prices was roughly $20 give or take. Overall, not the greatest haul, but if you are limited like we are to places that deliver or are in decent driving distance, you take whatever you can get.
3. Amazon Baby Box
This box seems to be taking youtube by storm for moms out there. This box normally costs $35 when you buy it on the website, which is roughly what I priced the items at so not a bad bargain, but why pay for it if you can get it for free? You have to be a prime member in order to get it, though. Luckily though, my husband and I were not members and did the 30 day trail to qualify for our boxes. Once you are a member you can follow the check lists to start qualifying for your box, but you must have a total amount of $10 purchased off of your registry either by you or someone you know to qualify fully for your box. (We just covered it on ours and got small teethers or basic items to qualify our boxes.)
In our boxes we had a slight difference but most items stayed the same. Your basic items normally tend to be some form of a four ounce bottle (ours was Avent), trial packs of wipes and diapers, a single swaddle blanket that retails at $18, pacifiers, and samples of aveeno baby lotion. Not to mention all the coupons of various items from stretch mark cream to Babyganics. The only item that varied from one box to the other with us was we received a one ounce tube of A&D ointment in one and a onesie in the other. Overall, this was not a bad haul and delivery was quick and earlier than expected for us. Since we do not use prime though we had to make sure to cancel our subscription otherwise we would be charged the $15 dollars a month fee. So a little bit of hassle, but not too bad if you can remember to cancel if you do not want the fee on your billing list.
4. KIINDE Breastfeeding Box
Kiinde is a great company from my experience with them, and although I paid six dollars in shipping for my box (with a promo code that frequently changes), it was worth it. This box includes a special bottle that retails roughly around seven dollars, due to it working off a freezer safe twist cap bag instead of transferring your breastmilk to a bottle, one trial bag coupons for other items retailing over $50 only to just pay shipping costs, and the proper attachments to hook to your breast pump so that you can fill right into bags. This also helps prevent any damage to the breastmilk. Overall, my haul from this including what I can get from my coupons retails at well over $100. So if you plan to breastfeed this company is worth looking into.
5. Early Moments Dr. Seuss Books
This was the only subscription I actually kept open due to the fact that I actually got it for my nephew as a christmas gift. The first month you get four books for five dollars, but after that each monthly payment is roughly $16 for three brand new books. This actually was cheaper and easier than going to the store and buying them myself due to the fact I got nearly 60 books, anything from old classics to the new year's book for him. I also saved nearly $120 over the year of books I had shipped to my door. They also have other options such as a few Disney options, but I am unaware of price or quality on those books. You can also cancel at anytime. Overall if you like to read this is a good option for you.
6. Dolly Parton's Imagination Library
Although I am unable to sign our child up just yet, due to the fact they need a birth date and we have not delivered yet, we will be signing up for this program. Once your child is here, from birth till their 5th birthday they will get 12 books a year free from the program. Unfortunately not all zip codes qualify for this yet here in the U.S but it will actually check the availability of it for you before you even sign up to save you time if you don't qualify. Although I can not rate this myself yet, I have heard many good things about this program and can't wait to test it out myself.
Overall our haul on baby items was a great one. With well over $200 worth of freebies we got a pretty good start on getting ready for our little ones room and items. I did have a few hiccups with other websites and companies and although I was upset that I never received some things I can not fully blame them for some of my own mistakes. So always make sure to do the research for who does what in your local areas and make sure to read the reviews on them if at all possible. The more you know, the better off you are. Hopefully this helps you guys like it did me and my husband, if so be sure to share the love with friends and family.