CalSto
Your All-in-One Finance App for Seamless Money Management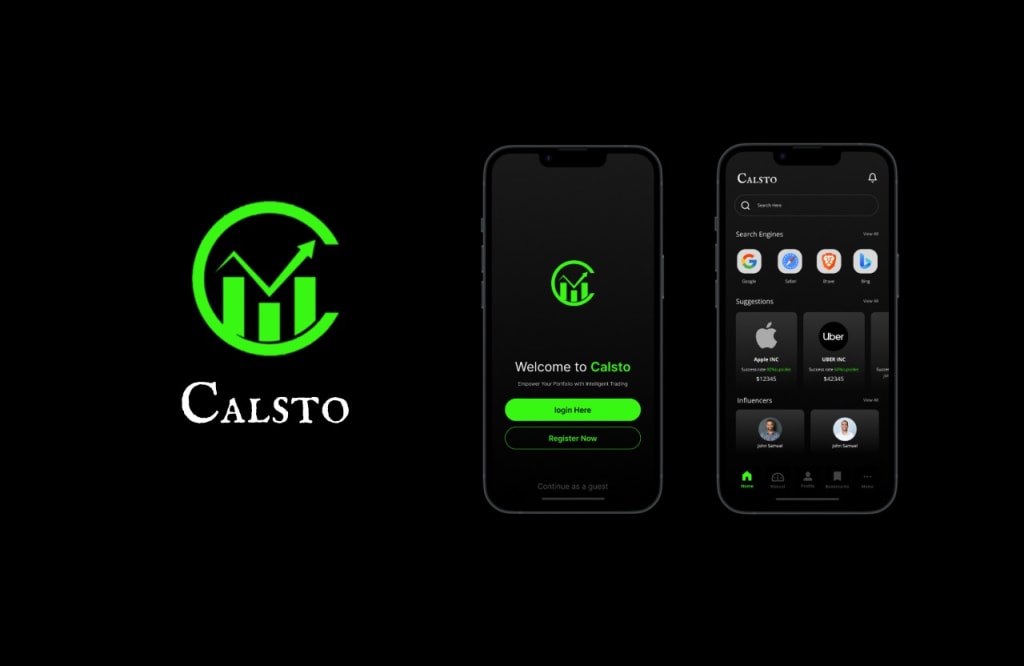 In today's fast-paced world, managing personal finances can be a daunting task. From staying up-to-date with financial news to tracking expenses and making smart investment decisions, the challenges can seem overwhelming. Thankfully, there's a solution that simplifies it all – CalSto, the all-in-one finance app designed to revolutionize the way you manage your money.
News Feed and Search Engine Access:
CalSto keeps you informed with a comprehensive news feed, ensuring that you never miss out on the latest financial updates. Whether it's market trends, business news, or economic developments, the app curates relevant content to keep you in the know. Moreover, with access to multiple search engines within the app, researching financial topics has never been easier. With just a few taps, you can dive deep into the vast pool of financial information available on the web, helping you make more informed decisions.
Personalized Financial Feed:
Are you looking for personalized financial insights? CalSto has you covered. With its unique feature that aggregates content from Instagram influencers, you can access a personalized financial feed tailored to your interests. Stay connected with renowned influencers, gain valuable tips, and make informed decisions based on expert opinions. This feature adds a personal touch to your financial journey, ensuring that you receive content that resonates with your interests and goals.
Twitter Integration:
Stay ahead of the game by tapping into the power of social media. CalSto seamlessly integrates Twitter feeds, allowing you to follow finance-related accounts, market trends, and expert opinions. This real-time information empowers you to adapt your investment strategies and make smarter financial moves. By staying connected to industry leaders and influencers, you gain valuable insights and can take advantage of market opportunities as they arise.
Risk Calculator:
Investment decisions involve risks, and understanding those risks is crucial. CalSto's risk calculator simplifies this process by assessing the potential risks associated with your investments. By inputting the amount of your investment, the app provides personalized risk calculations, enabling you to make informed choices aligned with your risk tolerance. This valuable tool helps you evaluate the potential rewards and risks of various investment options, ensuring that you make decisions that align with your financial goals.
Expense Tracker:
Tracking expenses is the foundation of sound financial management. CalSto's expense tracker feature allows you to effortlessly monitor and categorize your expenses. With easy-to-use interfaces and interactive visuals, you can gain insights into your spending habits, set budgets, and take control of your finances like never before. This feature provides a clear snapshot of your financial health, enabling you to identify areas where you can save money and make more informed spending decisions.
Study and Manage Finance:
CalSto is more than just a finance app; it's a comprehensive platform for studying and managing finance. Explore educational resources, articles, and tutorials within the app to enhance your financial knowledge. Whether you're a beginner looking to understand the basics of personal finance or an experienced investor seeking advanced investment strategies, CalSto has resources to suit your needs. By empowering users with financial education, the app helps build a solid foundation in personal finance and enables them to navigate the complex world of investments confidently.
Trade View and Live Chart Updates:
For the avid investor, CalSto offers a trade view feature with live chart updates. Access real-time market data, monitor stock prices, and track performance effortlessly. These features empower you to make timely investment decisions, maximizing your chances of success. With CalSto, you can stay updated on market trends, analyze live charts, and execute trades with confidence, all within a single app.
Conclusion:
In a world where finance can often feel overwhelming, CalSto emerges as a game-changer. With its intuitive interface and powerful features
, managing your finances becomes seamless. From staying informed with curated news feeds to personalized financial insights and expense tracking, CalSto equips you with the tools needed to take control of your financial well-being. Embrace the convenience and power of CalSto, your trusted companion in the world of finance. Download the app today and embark on a journey towards financial success. With CalSto by your side, you can navigate the complexities of personal finance with ease and confidence, ultimately achieving your financial goals. Start your financial journey today with CalSto – your all-in-one finance app for seamless money management.
About the Creator
hey , I am a freelancing editor and writer.
In this account I will post videos and posts which have me intrested and invested in them.
Reader insights
Be the first to share your insights about this piece.
Add your insights