In today's fast-paced and digitally connected world, loneliness has become a prevalent issue affecting millions of people worldwide. The need for human connection and meaningful conversations has given rise to platforms that offer opportunities for individuals to get paid while providing companionship to those in need. If you have excellent communication skills, empathy, and a desire to make a positive impact, here are some of the best places to get paid to talk to lonely people.
Rent A Friend
Many people like hopping to parties but don't have anyone to come along. Well, in such cases too, you can lend your helping hand and get paid to become a friend.Some people look for a company to attend several occasions.Through Rent a friend, you can easily be a part of the lives of people who are looking for a company. It is easy and free to register with the platform and you can earn as high as $50 per hour.If you feel this is a fun job for you too, go ahead and take the chance.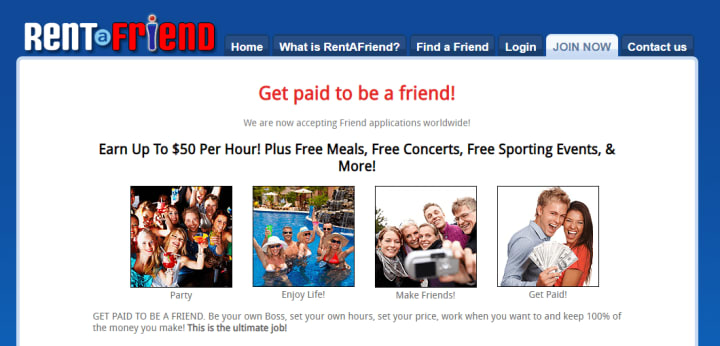 Joining Rent a Freind is absolutely free, you don't have to pay them anything, you will keep 100% of your earnings.
Join Papa
The name of this company in itself tells you a lot about it. Through this website, you can connect to elderly seniors who need young people to spend some time. Your primary job is to act as a caretaker and involve in little household activities. For your services through this platform, you can earn up to $15 for an hour. And, the more hours your work, the more money you get. And there are no limits of earnings, according to the website, their most active Pals earn over $3000 per month. This is kind of a social job for which you even get paid in return.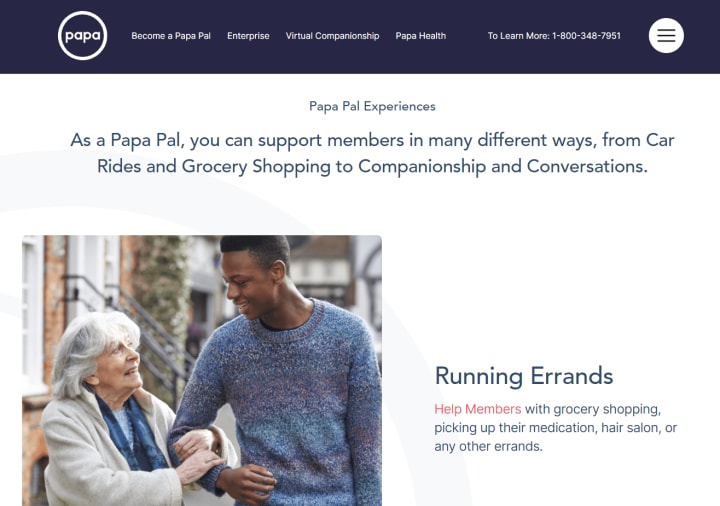 Fiverr
This website is a bit different than the others on the list. It is a well-known freelancing site where you are your own master. People from different parts of the globe offer their services in any area they are good at. Look at the screenshot below, you can see people are actually selling these kinds of services over there. If you look closely you can see they have reviews as well, which means people are actually buying their services. If you too want to try out, go ahead and create your own 'gig' with the services you wish to offer.People who are interested in your service will directly contact you and pay you for the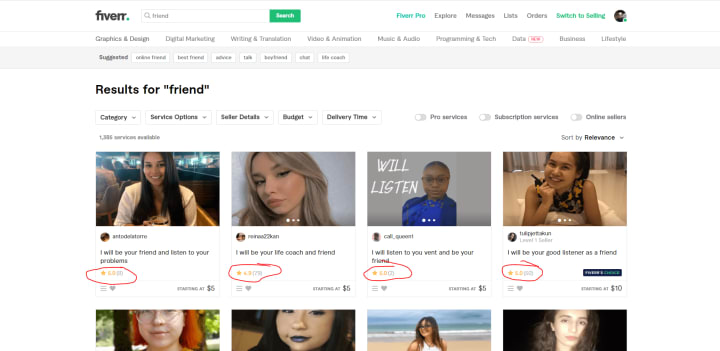 Rent A Local Friend
This is a very interesting platform for those who love to travel with local people while visiting a particular place. Yes! You read that right.You can help people when they visit your local limits. Especially, if your city is a popular destination that people travel to, this is a great opportunity for you.You can charge hourly rates as high as $50 to $200 depending on your choice. All you need to do is create an account after sign-up and you are all good to go.Remember to provide your personal details too.
The rise of digital platforms has opened up opportunities for individuals to make a difference in the lives of lonely people while earning an income. The platforms mentioned above offer diverse avenues to connect with those in need of companionship and support. Whether you choose to volunteer or opt for paid opportunities, the act of talking to lonely individuals can bring immense satisfaction and fulfillment. Remember, providing a listening ear and empathetic conversation can have a profound impact on someone's life, and by doing so, you not only combat loneliness but also create a sense of connection and well-being in our increasingly isolated world.
About the Creator
I am a blogger who brings simplicity and intrigue to the digital realm. With captivating words, I explore trending topics and offer unique insights. Discover a world of simple yet fascinating ideas through my writing.
Reader insights
Be the first to share your insights about this piece.
Add your insights