Being Daddy's Little Girl
Best Friends a Father and His Daughter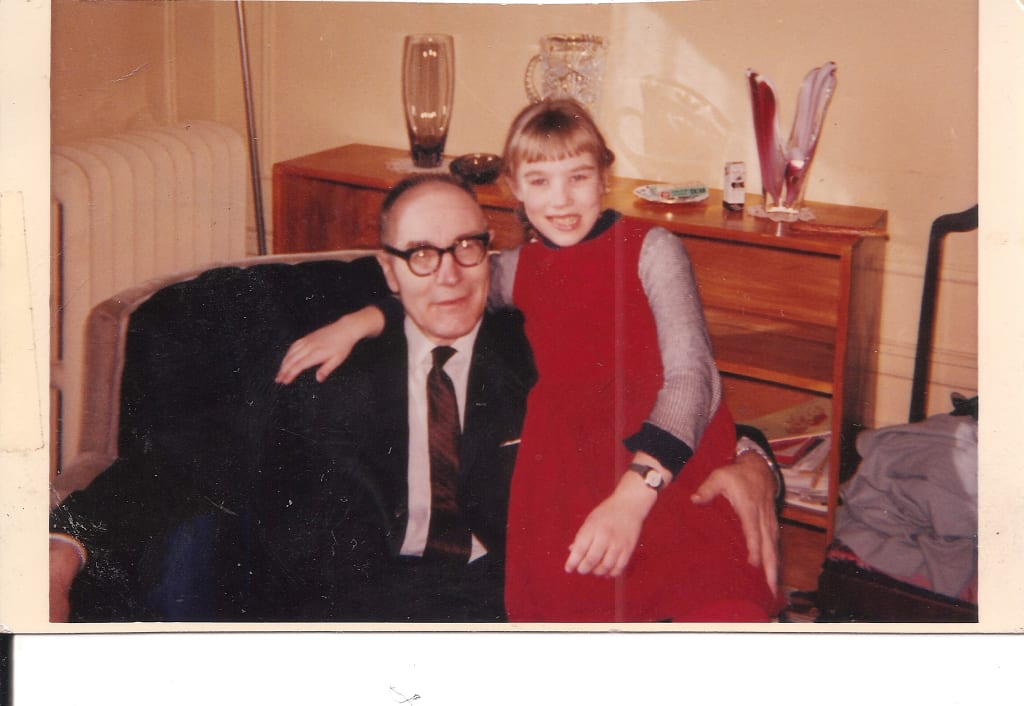 My father and me
It's hard to know what to say if you wish to write about your best friend who, during my childhood, was my father and died when I was only ten. Because I lost him so soon, some of my memories are brighter and more definite than they might have been if I had been able to be with him as an adult.
I was born on a Friday morning on March 1, 1957, and the moment that I saw this tall man with glasses and put one chubby hand around one of his fingers, the romance was on, or at least that's what I was told. From the moment Eriks came home from work, he was fascinated by his little daughter. Elvira spent her days at home taking care of me. When it came to my first understandable utterance, it was in Latvian "Tetulit." Loosely translated, it means daddy since, in Latvian, the name for father is tetis or papa. It was Eriks' shining moment, and Elvira took it with a sigh. Eriks gave me the nickname Bubis which has really no translation or meaning, just a name he called me. I don't think I ever heard him call me by my given name except when he was talking about me to other people.
Summers were spent out of the city and in the countryside. During my first years, we spent the summers with a Latvian family who had rooms to let in Old Saybrook. Connecticut. There was plenty of space for children to play and a private beach for swimming. Later on, my parents became friends with another Latvian family whose last name was Balodis. They had a large property in the Catskill Mountains in New York State near the city of Kingston.
It was here that Eriks and I spent ideal summer days when he and Elvira arrived on Friday evenings for the weekends. An elderly lady who was a family friend took care of me during the week. For Eriks, it was like being back in his homeland. There were tall pine trees under which children could play, a man-made lake to swim in, a forest to go walking in, and a sauna by the lakeside. I remember going mushroom picking. I was about 6 or 7, and Eriks gave me his pocket knife warning me to be extra careful but putting me in charge of cutting the mushrooms at the stem. This was easier than bending down each time from his six-foot height, and I was pleased that he trusted me. I still have this pocket knife today. Early mornings were spent rafting on the lake and picking wildflowers that grew along the sides. My favorites were the cattails.
We would go for long walks along the country roads, and Eriks would enjoy stopping at this one roadside bar at the bottom of a hill. He would pick me up and place me on a bar stool while he ordered a cold beer for himself and a root beer for me. Once we returned to our summer bungalow, my excitement made me announce to Elvira, "Dad and I stopped for a beer!" Well, Elvira knew Eriks and his humor, so she just looked him in the eye and said, "How's that?" and, of course, got the right reply.
Back in the city, Eriks worked at the Latvian newspaper "Laiks," which was only a few blocks from where we lived in Bay Ridge, in Brooklyn, New York, on Ovington Avenue. Elvira worked in Manhattan, so he would take me to school in the mornings and pick me up in the afternoons. I remember one afternoon when I wasn't too pleased with my best friend. It was pouring rain, and there was little me standing dripping wet by the school – no Eriks but when a teacher asked me if I wanted to wait inside, I replied no thank you, my dad, will be here. Eriks arrived with a large umbrella that I no longer needed and apologized for being late. It was the first and only time I really got angry at him.
Being an editor for a newspaper, he had odd days off because sometimes, on the weekends, he had to attend Latvian social or cultural events so he could write about them. This meant he had more time to spend with me during the week. We made it a ritual to go around the corner from our apartment building and wait down the block for Elvira to come from the subway. Elvira remembered it better than me. She said she was coming up the block and in the distance could see a tall man and a small child dancing on the street corner. It was only when she got close enough that she realized this man and this child were her husband and daughter. We were free and unleashed, only doing our dance of joy.
Since we lived in the city, Eriks made sure that he took me to the park plenty of times. |We went to a little park called "Owl's Head Park," which had a children's play area, a meadow to play in, and this hill from which one could look out over the bay and see the Manhattan skyscrapers in the distance. It was at this park that Eriks and I would play imaginative games. One was Blind-Man's Bluff," where Eriks would have me tie a handkerchief around his eyes and then would try to find me as I would dance about him.
Other times we would play ball. Wintertime wasn't the time to visit the park but one winter the snow had fallen, and the world looked so white and beautiful that Eriks took me for a walk and we wound up at the park. Since it would get dark quickly, we didn't go farther than just inside the gates of the park and started building a snowman. It took quite a long time as I couldn't do more than help Eriks rolls up the snow, and he would place the snowballs one on top of the other. We were so wrapped up in what we were doing that darkness fell before we knew it. Eriks came to realize this when the street lamps and the park lamps lit up. Finally, the snowman was finished, and we headed home. Meanwhile, Elvira thought that we had been shot, stabbed all sorts of unpleasant thoughts because what could we be doing if it was already dark out. We arrived home with our snowman story, and all Elvira could manage to say was that it served her right for living with two children.
Eriks enjoyed taking me to the movies. Anytime a children's movie would come out off we'd go. One of my very favorites was "Mary Poppins." When the film about Russia, the Bolsheviks, and the revolution came out "Dr. Zhivago" it, of course, was a must-see for Eriks. Elvira, unfortunately, was tired in the evenings, and he couldn't wait for the weekend he was so curious about this movie. So he took Bubis who was 8. The cashier at the movie theater must have thought Eriks had lost his mind. This was not a movie for a small, impressionable child. I have this movie on videocassette, and I don't remember what my reaction was to the entire film. I do remember the first scene where little Yuri Zhivago is attending his mother's funeral and how frightened he was at night. Well Bubis certainly spent a restless night with a nightmare or two. Elvira, of course, wasn't happy about it, but what could she say.
There were trips to the circus, the zoo, and amusement areas. At that time, small grocery stores sold these long pretzel sticks that I loved. Eriks would always buy one for me, making sure he scraped off a good deal of the excess salt before handing the pretzel stick over to me. When Bubis said that she wanted to learn how to blow a bubble out of a piece of bubble gum, it was Eriks who first learned how to do it and then taught me. I still remember this fondly that he took the trouble to learn the trick of bubble blowing just for me.
Then all too soon, it was all over like a reel of film that snaps, and the screen goes blank. I remember that afternoon when I lost my best friend. I couldn't get into our apartment and had to stay with some Latvian neighbors. During this time Elvira had come home to discover that Eriks had died during the afternoon. The word spread quickly as most of our neighbors were Latvian and were friends of ours. Their next problem was what to do with the ten year old child who supposedly had no idea what had occurred. So our congregation's pastor Richards Zarins was called to come and explain things to me. It's amazing what a child of 10 can feel to this day. I'm a bit psychic, and I believe it all started that very day. The pastor arrived at the apartment where I was staying. |He took me to the elevator for the trip up to our apartment. Dead silence in the elevator. He didn't know what to say, and I kept quiet. Upstairs everyone was gathered around Elvira in the living room and I went into the bedroom.
I saw that Eriks wasn't there, and picked up some of his personal belongings from the desk and I knew, I just knew. Meanwhile, the pastor was standing in the doorway, and I turned around, looked him straight in the eye, and said, "Where's my father?" It was at this moment that he became pale because he realized that everything was perfectly clear to this 10-year-old girl. It was a performance by me worthy of an Oscar. It continued all through those nightmarish days of the funeral and of the burial at the cemetery. I didn't cry, and I didn't want sympathy. I cried alone in the dark of night when I could feel Eriks' comforting presence around me.
My best friend was gone, and yes, I still miss him today.

Staying at home each & every day to be there with your children as they learn and grow sounds absolutely amazing in hindsight, right? Absolutely! Who wouldn't think that it's just living the dream?! But what the world fails to disclose is the truth behind being a stay at home mom..

11/18/2020 So, grandma (81 this year) has been up my ass about keeping a journal of everything that is going on right now so here goes. Amelia is 9 and in 4th grade, Raynen is 5 and is in kindergarten and Rj is 3 and is home with me. We live in fort lee right now and my husband, Bobby (30 this year) has just had his 3rd spine surgery and now awaiting the promotion board (he is in the army) and finding out when we will be moving. I am 26 credits away from my BA in history. The coronavirus pandemic has been a pain in the ass and the 2020 presidential election was a complete dumpster fire. Yay 2020 and the best part was carol baskin and the memes from that world.

It was early October, and it was finally time for my long-awaited moose hunt. I had waited ever since I was a little girl for this opportunity, and it was finally here. So, my father, the one that looks after me, and I packed up our stuff and left our city in Alaska. We were heading to a place called Bethel, AK. After a six-hour long drive, we made it to our hunting unit. It did not feel like home to us but it was warm and cozy, like my bed at home.

As your parents age, you're probably spending more and more time caring for them. Even if they're still in good health, you may need to help them live a healthy lifestyle. Your parents may need help with everything from their health insurance to their diet. To avoid caregiver stress, taking care of yourself is also essential.

Staying home, reducing stress, and taking care of ourselves, both mind and body are more important than ever. That's why from beauty and personal care to everyday essentials and home cleaning – we've got you covered. "Avon"

Growing up, I loved the Wizard of Oz. There was something magical and timeless about the Yellow Brick Road and the passion of Dorothy to find her way home, Scarecrow to find his brain, Tin Man to find his heart, and the Lion to find his courage. All to find out that the man behind the curtain was just a man, whose hope and wisdom fulfilled all desires by encouraging everyone by exploring their own virtues.