Autumn Soup
A Family tradition Prepared around the Fall Equinox to help ward off allergies and boost the immune system.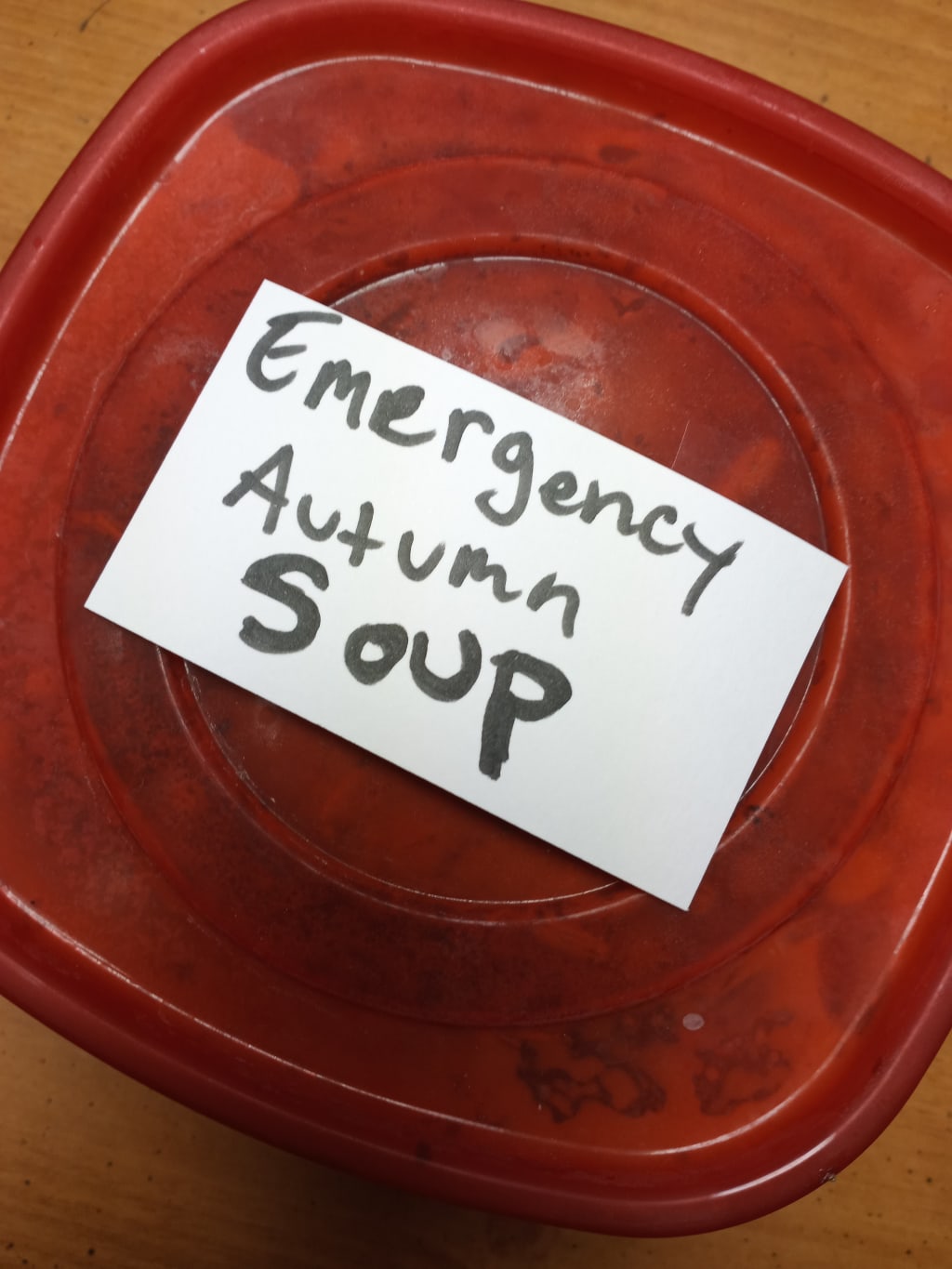 Photo of my soup by Salina Brilla
Autumn Soup
A Family tradition Prepared around the Fall Equinox to help ward off allergies and boost the immune system.
Every year as a child when the leaves would start changing color and the air would start to get crisp my Mom and Grandma would bring out the big pot and start their Autumn Soups. The summer was full of cold salads, Bar-b-q and fresh fruits. Fall means fall allergies and gearing up for the winter cold and flu season.
The Fall Equinox marks the end of summer and is the perfect time for the women in my family to prepare their first pot of soup of the soup season. Each woman uses her own special ingredients but the base is always ground beef with a beef broth loaded with garlic and onions.
Grandma likes carrots, peas, potatoes and tomatoes with spices of Cumin, salt, black pepper, onion powder, garlic powder and extra beef boulion. Grandpa likes his soup with saltines. He applies soft butter to each cracker before placing them atop the soup to allow them to soak from the bottom up. He retrieves them with his spoon only breaking them once inside of his mouth.
Mom also likes carrots, peas, potatoes, and tomatoes but she likes to add lima beans, and kidney beans. Onion and garlic powder, black pepper and salt are included as well, but she is not a cumin fan. Mom likes to use all purpose seasonings such as Seasoned Salt and Mrs. Dash. Mom putts out a loaf of white bread with her soup and Country Crock Margarine.
I am now almost 44. I take the soup recipes of both of my maternal predecessor's and create my own version of Autumn Soup. I live in a place of high allergens and add a bit more spices filled with vitamins that can help ease the suffering of sinus pressure, and sore throat. I too make mine around the fall Equinox and freeze some labeled "emergency soup" just in case.
You will notice there is no exact amount for spices. That is because we never measured them. Instead you taste the soup and add what is needed. It is not a perfect science to Autumn soup, but almost a Witches Brew, with dashes of this and that until the "mmmm, that's perfect" finally hits the tonque.
Autumn soup
1 lb. Ground beef
1 large onion diced
5-7 gloves of garlic cut up
Cook these together first with some salt and pepper then drain the grease.
2 large cartons of beef broth
1 bag frozen vegetable soup mix
1 bag frozen jambalaya vegetable mix
1 can of spinach
1 can of mushrooms
Cumin
Thyme
Rosemary
Turmeric
Black pepper
Sea Salt
Red pepper
I cheat with frozen bags of veggie soup mix, its easier and my kids grew up down south and love okra which is included in the frozen soup mixes. There are peas, carrots, beans, potatoes, and all the stuff my Mom and grandma used, I just add much more. I serve my soup with a hot French Bread loaf or Crescent rolls and butter with Olive Oil and Sea Salt.
I don't know whether or not my Grandma or Mom would like my version of this fall tradition, unfortunately they are not alive to try it. I do feel close to them while I prepare it and share it with my family as they did with theirs. Adding my own flare to the soup just adds my generational knowledge and I like to think they would appreciate it.
I'm an artist, writer, music booker, and Tarot Reader from Chicago who lives in Huntsville Alabama, thank you for sharing my Autumn Soup story.