At Your Place
A Letter to a Loved One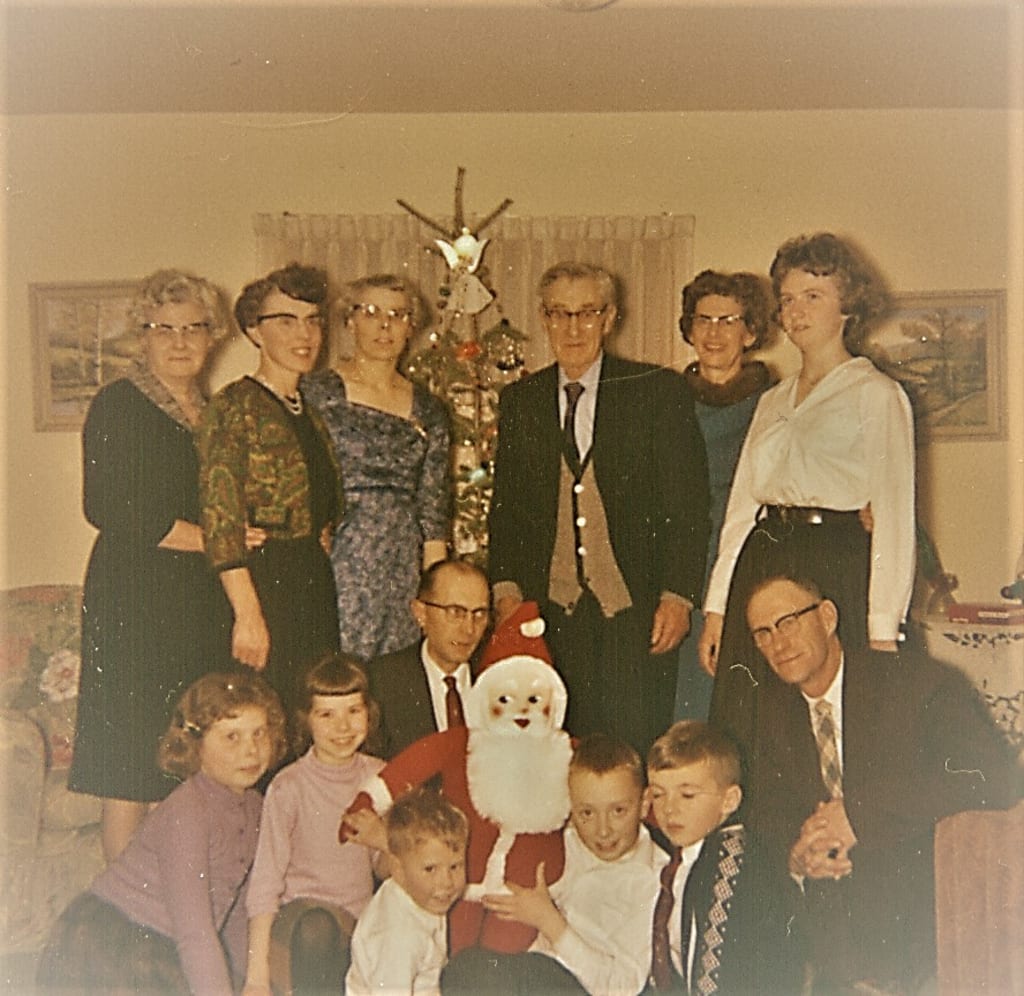 Some loved ones . . .
Dear Loved One,
I wish I could see you at your place. I wish I could sit at your kitchen table and talk to you while you do things at the counter. I know I would probably watch you when you weren't looking. But I wouldn't be rude about it. I wouldn't be disrespectful when I watched you. I would just think how wonderful you were, because you are wonderful. I can't lie to you – I've watched you before so I know you are wonderful.
I would talk to you while you make a sandwich or do the dishes. If you were doing dishes, I would help you by drying them or, by washing them if you would rather dry them, because I can do both. I would rather wash, actually, but I am slow at it so, I sometimes feel self-conscious about washing. I wonder if you would be distracted with me sitting there in your kitchen. I wonder if you would have to stop what you were doing every once in awhile to turn and face me and to use your hands while you explained something. I wonder if you would be dramatic and act out what it was that you were talking about. I think you would be. I would be sorry if I distracted you but I would be excited and entertained by your drama as you talked to me using your hands and making the faces that make you famous to me.
I think you would be tall in your kitchen. You seem to fill up the rooms you are in, especially rooms you are comfortable in, so I think you would be tall in your kitchen. I would watch 'tall you' as you zoomed around from place to place in your kitchen. You might decide to dance once in awhile. You might sing a song or two. I would wish for that. You would have to go into the next room to do something and I would miss you while you were away unless you kept talking, which you probably would. You talk a lot when you get on a roll, but, that's alright with me because you have a nice voice so I like to listen when you talk. But if you didn't talk then I would miss you while you were gone. I would love it when you came back though and I reckon I might get up and give you a big smile and say, "Welcome back!" or something along that line.
After you were finished making your sandwich or doing dishes or putting stuff away, you might come over and sit at your table with me. I would look at your eyes first and try to remember the color they are. I always say I will remember what color your eyes are but I never do. Next time I will. I think I would remember what color your eyes were if I saw them while I was sitting at your kitchen table across from you because I would look at them first and then I would look at them again and again just to refresh my memory on that. They would be their true color because you would be at home in your space and that's where they would get to be themselves.
I had a friend one time, in Grade eight, named Nolan who was a very bad student but I always remember one very good thing he told me. He said that I would never know what he was really like – the color of his eyes, the shape of his face, the tone of his voice, the smell of his hair, the feelings and thoughts that he had – unless I sat at his table with him at his place. So, I went to his place to see him, to sit at his table with him. I was nervous but I wanted to see if I could get to know him. There were lots of people there - big scary adult people, sleeping and passed out on the floor in the kitchen. Some were snoring. Some didn't seem alive. The air in the house smelled sweet and sour at the same time like the rubbing alcohol we used on the pigs and like when somebody pees in his bed. There were empty whiskey bottles on the floor too. Nolan was hiding in the cellar. He was shivering and he told me to go, and not to look at him. The table was broken in half and lying in pieces on the kitchen floor with all the people. I couldn't sit at his table with him so I left. I didn't get to know him very well. I'm sorry for that.
I would like to sit at your kitchen table, with you, at your place. Maybe we would play cards. I know a good card game for two people. I would teach you the card game for two people and you would ask questions as I was explaining the rules. When you ask me questions you make me feel important, like I actually know something you don't. I would like to share all the things I know with you but only if you asked me questions. I wouldn't want to tell you all the stuff I know without you asking because that would be rude. I wouldn't want to be rude around you – especially at your place. After we had played cards for five or six games, I would be tired of losing so we would have to stop. I'm not a good card player. I wish I was. I like to play cards though, because you get to talk to the person you are playing with, about something you both have in common at that moment. Maybe that's why I'm not good at cards – because I talk too much. I would watch you put the cards away and then you would sit down again. I might be a little nervous then about what to say next. You would probably notice I was nervous and you wouldn't ask me any more questions. You would just talk because you wouldn't want to make me more nervous. I would secretly thank you for caring about how I feel. You are a good host. Maybe another time.
If it was still light out, I would ask if you wanted to go for a walk to the lake. You could tell me a story if you liked. I always want to hear your stories. The walk would go by way too fast though because the story would take me away to another place and I wouldn't notice that I was walking. I would just hear your voice and see your face and your hands moving. Before I knew it, the story would be over and we would be there. I wouldn't want to turn around right away and go back. I would ask if you would like to sit and watch the water for awhile.
I like knowing you and being in your life, and I would tell you that as we walked back. I would like you to tell me another story or, maybe I would tell a story this time or, I could tell you the joke I know about God and St. Peter. It is a clean joke so it wouldn't offend you. I never want to offend you.
When we get back to your place, I would walk with you to your door and I would give you a big hug and I might hold you longer than usual, just because, well, just because I want to let you know that I care about you and that I'm happy we live at the same time and place on the earth. I would tell you that I feel lucky to be there with you. You would need to think about that when you went back inside to your place. It is nice to think of you at your place but it has to be your place. It has to be your space. Your space where you can go and be you. Where you can go and be tall and be you with your stuff around you. I would like to sit in your kitchen with you but only until you needed to have your place to yourself again. Then I would go, and as I was walking out you would say, "Sometime I'll come over and see you at your place."
Yours truly,
Just me

John Oliver Smith
Son, baby, brother, child, student, player, collector, student, farmer, photographer, player, coach, husband, student, writer, teacher, father, science guy, fan, coach, stand-up comedian, traveler, chef, story-teller, driver, regular guy!!
See all posts by John Oliver Smith →
Staying at home each & every day to be there with your children as they learn and grow sounds absolutely amazing in hindsight, right? Absolutely! Who wouldn't think that it's just living the dream?! But what the world fails to disclose is the truth behind being a stay at home mom..

11/18/2020 So, grandma (81 this year) has been up my ass about keeping a journal of everything that is going on right now so here goes. Amelia is 9 and in 4th grade, Raynen is 5 and is in kindergarten and Rj is 3 and is home with me. We live in fort lee right now and my husband, Bobby (30 this year) has just had his 3rd spine surgery and now awaiting the promotion board (he is in the army) and finding out when we will be moving. I am 26 credits away from my BA in history. The coronavirus pandemic has been a pain in the ass and the 2020 presidential election was a complete dumpster fire. Yay 2020 and the best part was carol baskin and the memes from that world.

It was early October, and it was finally time for my long-awaited moose hunt. I had waited ever since I was a little girl for this opportunity, and it was finally here. So, my father, the one that looks after me, and I packed up our stuff and left our city in Alaska. We were heading to a place called Bethel, AK. After a six-hour long drive, we made it to our hunting unit. It did not feel like home to us but it was warm and cozy, like my bed at home.

As your parents age, you're probably spending more and more time caring for them. Even if they're still in good health, you may need to help them live a healthy lifestyle. Your parents may need help with everything from their health insurance to their diet. To avoid caregiver stress, taking care of yourself is also essential.

Staying home, reducing stress, and taking care of ourselves, both mind and body are more important than ever. That's why from beauty and personal care to everyday essentials and home cleaning – we've got you covered. "Avon"

Growing up, I loved the Wizard of Oz. There was something magical and timeless about the Yellow Brick Road and the passion of Dorothy to find her way home, Scarecrow to find his brain, Tin Man to find his heart, and the Lion to find his courage. All to find out that the man behind the curtain was just a man, whose hope and wisdom fulfilled all desires by encouraging everyone by exploring their own virtues.