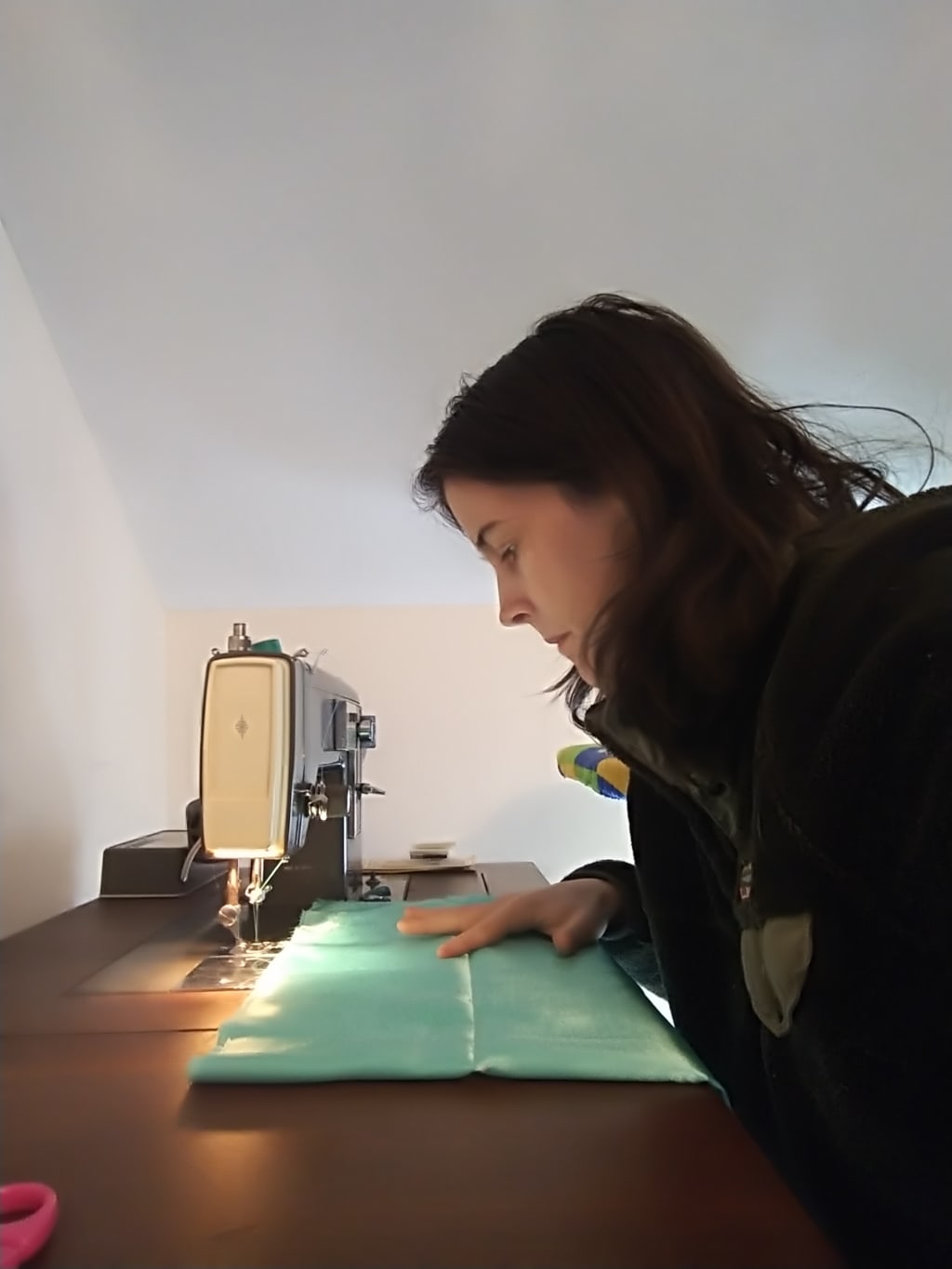 Arts and Crafts 1
Having a hobby is good for the mind and body.
Sewing and knitting are great skills to have. It works your hands while making great outfits, blankets, bags, and more. Tools needed include Scissors, fabric, sewing needles, thread, knitting needles, yarn, and/or a sewing machine. Some people use fabric, and some use rabbit or alpaca fur. According to a recent interview with a guy who took interest in sewing, after his grandmother and mom. He made a pair of jeans, and a poodle skirt for his wife. He also mentioned that he bought old sewing machines, and a machine that makes letters.
Drawing helps with motor skills. It also helps improve imagination. Companies hire artists for logos and ideas for projects. Sketch pads, stencils, color pencils, or paint, are the tools required for this type of art.
Blacksmithing can be a helpful and fun skill to learn. "'A blacksmith is a metalsmith who creates objects, primarily from wrought iron or steel, and other metals, by forging the metal, using tools to hammer, bend, and cut. " Sometimes they have events where people can go, to a resort on Turtle Island, and learn the skills and create some pretty remarkable things.
Floral arrangements are very relaxing to create. The colors can brighten anyone's day. You can use flowers made from plastic, silk, real, or hand-made. Tools needed include: Scissors, ribbons, and vases.
Making specialized gift baskets or greeting cards. Most people will find it a fun, rewarding, project. Other than the products you also need scissors, markers, and patterns.
Pottery - Working with clay helps with your mind, and hand-and-eye coordination. Some projects will take several days to complete. It's important some clay needs to remain moist or it will harden. The tools include knife, scissors, paint, and carvers.
Jewelry making is popular. This requires time and patience. Many make bracelets, necklaces and earrings. Tools may include: scissors, a jewelry kit, string, and beads.
Some people make castles and more, with cardboard toilet paper, and paper towels tubes.
Young children like making potholders on a Potholder Loom. They can make a pen holder, a purse, a notebook cover, and/ or a water bottle holder. It comes in a kit, with instructions.
Creating a blog, or writing a magazine, takes some creativity. According to an interview I had with a lady, she's been writing magazine articles for almost three years. She uses live pictures for her stories.
Taking pictures and creating albums are fun and valuable. Many use the picture and make scrapbooks. There are many different types of photography. Landscaping, food, pets and portraits, to name a few. You'll need scissors, an album, markers, and stickers. According to an interview I had with a teacher, she made photo albums for her sister's graduation, and her friend's first baby. She had tons of pictures. She had them in order with a description under each photo. She cuts out different patterns and made them colorful. People love taking pictures for scrapbooking, and framing them too.
Farm work is also a very creative artistic skill you may have. Many Farms have cow's, goats, chickens, even alpacas. Most Farmers take pride in their crops that provide food for their families and for their community. Gardening on farms is very fun and relaxing to do. Some of the tools you'll use are double rake, scissors, and of course, seeds. When it comes to gardening, you need to make sure everything is in line. Watering the crops as much as possible. Make sure they are getting as much sunlight as possible. Gardening is considered arts and crafts, because you are using your hands, your mind, your body, and of course, tools of the trade.
Craft fairs are a good and fun way to share your projects. There are many different crafts you can create to help relieve stress. You can meet people with similar interests. Take pictures of your projects to make albums or portfolios. Some make an amazing business for themselves. Everybody has a talent, and a creative side. Share it and enjoy what the world has to offer.
By Kelly



By

By

By

By

By


art
About the author
Reader insights
Be the first to share your insights about this piece.
Add your insights