A Grandmother's love.
Things I learned through the loss of my beloved Grandmother.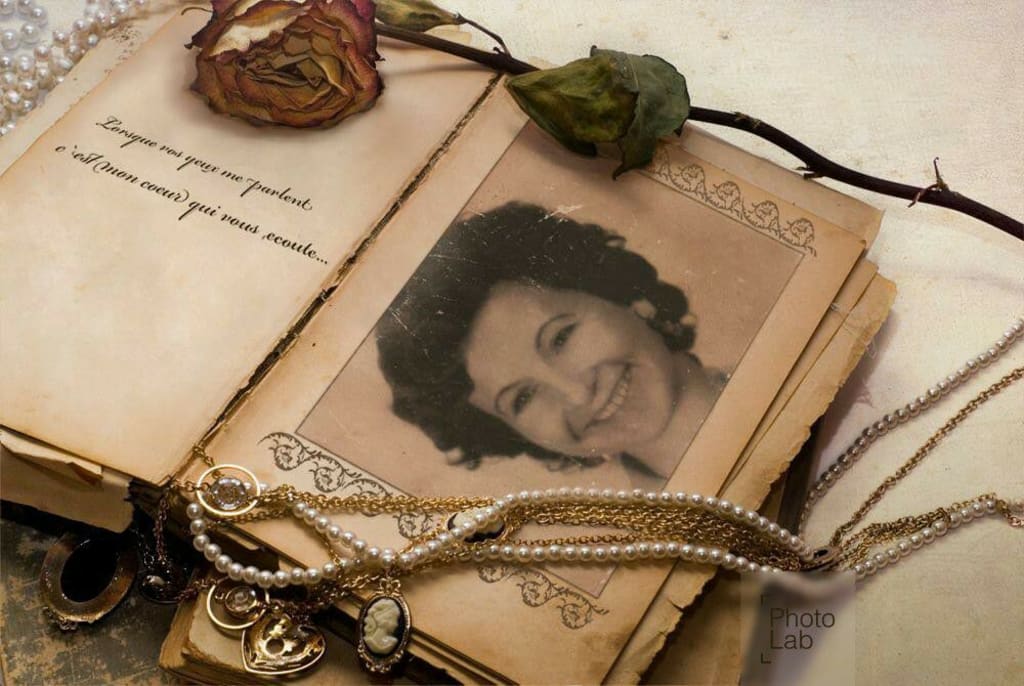 When I first met my grandmother (Alta Grace), I was only 12 years old and thought I knew everything. Typical teenager huh lol? She came to Texas, once I had finally moved in with my mother and her husband. She came to visit with my aunt Kathy and my cousin Chandra. I didn't know it at the time, but those three women(besides my mother) were going to become the most important and influential women in my life.
Fast forward to when I went to Job Corps in 1997-1999. I lived on campus and was about to graduate after 2 1/2 long years. I had made great friends, had a good outlook on life and was about to move into a friend of mines family that lived outside of town. Jessica would move in when she graduated in a couple of months. I would go back to campus every weekend and pick up Jessica and our other friend Shannon. July 8,1999 my life changed forever. We went out to check out a waterfall and got into a very bad accident. We were driving on a dirt road, lost control of the car, rolled four times and wound up on our side on an embankment. Shannon wound up having a broken back and sore neck, me only a messed up back and neck. Jessica died that day. She was ejected from the car and when it rolled, it landed on her. I lost my best friend that day. I remember sitting in the police station when the police chief told me the news. She's gone. I screamed....loud. I was numb. I couldn't think, when I finally could, I called the first person that came into my head....my grandmother. She told me she was very sorry, but that she would recommend me calling my aunt Kathy to come get me. So I did. I stayed with my aunt and my cousin for a couple of weeks, until my mother came up to join me for the wake and funeral. This wouldn't be the first, nor the last time these ladies were there for me. Mainly my grandmother. I got married August 22,2000 to a military guy. We had problems the 5 years we were together, he was unfaithful and finally I got tired of it, took our son and moved back by my grandmother. She babysat my son while I worked at the local grocery store. Eventually, I did go back to that marriage, and wound up moving to Wisconsin away from my family-not by choice. We divorced 5 years later. I stayed in Wisconsin because my son Tristyn was in school and had friends there. I didn't want to uproot him from all that. So I got a job and wound up meeting my second husband Denny about a year later. We were together 6 yrs before we married July 3,2010. We were only married about a yr and half before I found out he was cheating. I packed up all my belongings, signed temporary rights to Tristyn's grandparents, and moved back home to Kansas. When I came home, I lived in Clay Center where my mother, daddy, grandmother, both aunts and cousins lived. My dad got me a trailer and I wound up living there for almost a year. I would go visit my grandmother as much as I could, when I wasn't working. We talked about the old times, cooking, cross stitching, family and more. She was someone I always felt I could confide anything to her. She started getting pretty sick around this time. She couldn't really drive, her eyesight was getting worse. Around this time, my aunt Carol and my uncle Frank (2 of her other children) were also getting pretty sick. My aunt Carol wound up being hospitalized for a while, then she came home. Shortly after, she passed on June 1, 2013 at Timber Creek Campground, Wakefield, KS at the age of 65. My uncle Frank's health wasn't getting any better at the time either. He was diabetic and hadn't been compliant. He passed away February 6, 2014 at Good Shepherd Hospice House in Manhattan, KS. He was 70. This took a HUGE toll on our family. We were in a lot of grief. My grandmother didn't want to eat, and just wasn't getting any better. We knew the inevitable was going to happen, she was going to die. None of us were ready for this though, especially not me or my mother Waunita. The day came, she passed on September 21, 2014 at her residence in Clay Center, Kansas. She was 89 years old. I got there shortly after she took her last breath. I remember a couple days before, she was in and out of being coherent and sat straight up(with only me and my mother in the room) and loudly said I LOVE YOU!! I think that was her way of letting us know she loved us and had to be moving on. She was truly the matriarch of our family. Our family is so completely lost without her. We are not as united as we were when she was here, and that's all she ever wanted. Me and my mother have tried, but what can you do when others just don't care?
The lesson in all of this that I have learned is that NO you will NOT get over this, it DOESN'T get better. It gets manageable. You get to a point to where, sadly, you learn to live with the loss. There is nothing else to do. My grandmother, to me was a light that will never be put out...even by death. It hurts dearly to know that I can't hug her, smell her perfume anymore or see that beautiful smile anymore except for in photos. But I will go on, trying to live as she did and pass on that love and kindness that she had. She taught me so much more about myself and life than I would've ever known. She taught me about the type of woman I want to be. She taught me that family is forever. Rest in Loving peace my beautiful "Grace." Until we meet again.
-Trisha Brandhorst
grandparents
About the author
I'm 41, happily married and have two boys& a step daughter. I love to write, spend time With family, travel & meet new people. I love animals. The beach is my favorite place in the world.
Reader insights
Be the first to share your insights about this piece.
Add your insights