A Gnome Christmas
a children story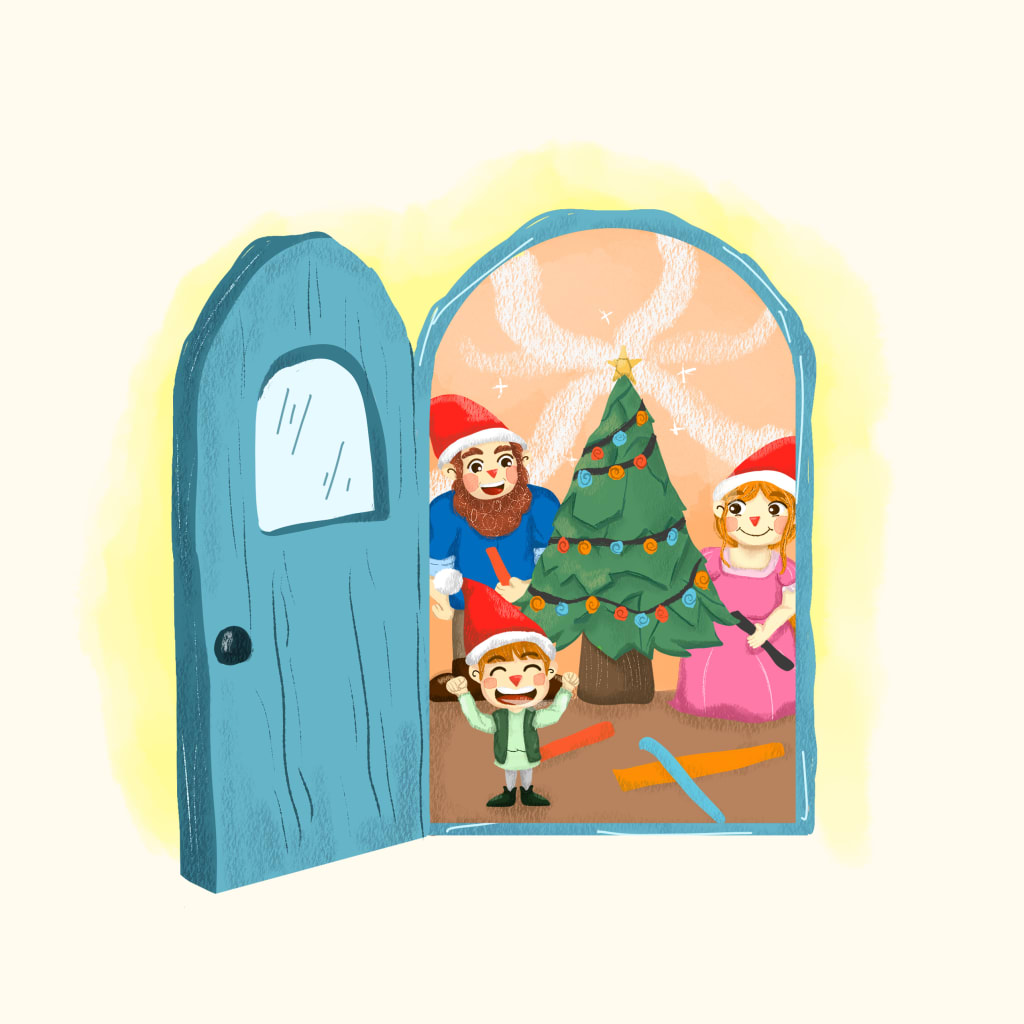 A Gnome Christmas
Written By C.E. Leung
Illustrations By Natsy Land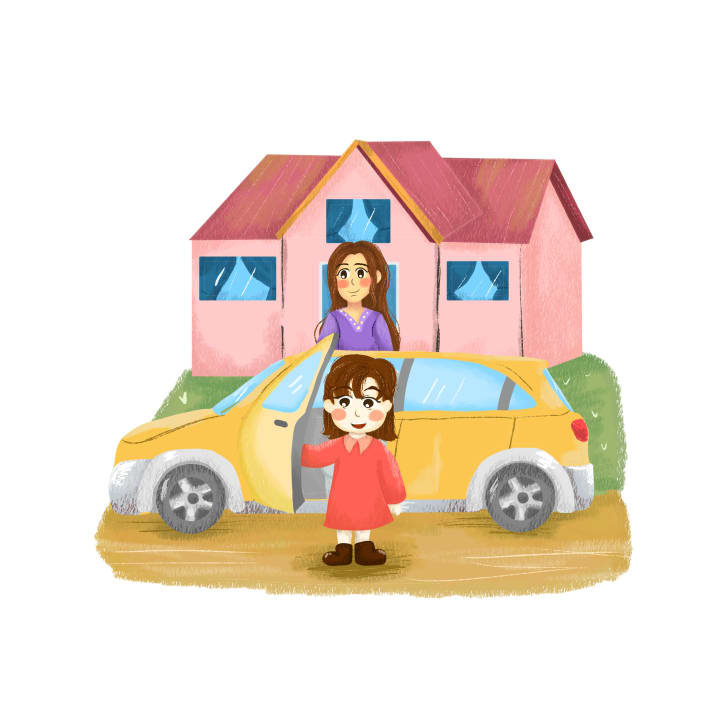 "Mom the gnomes are missing," Anne said.
"They're probably in the garage when I cleaned up the yard last." Mother replied.
"No mom they were there, yesterday!" Anne proclaimed.
"Honey, We're busy right now, can we talk about this later?" Mother said as Anne and her Mom hurried into the car and left for Christmas shopping.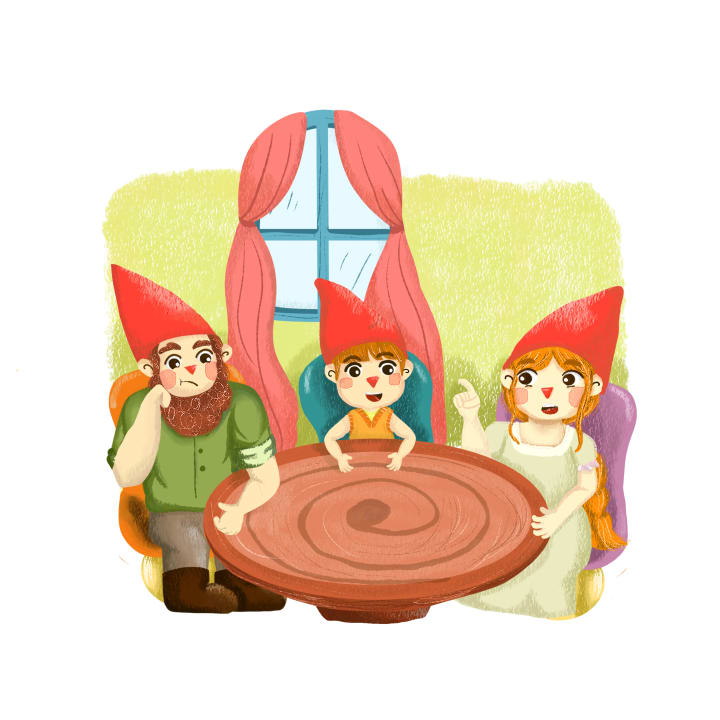 It was the week before Christmas and the Redds family were just waking up.
"I want Christmas this year, look at the beautiful Christmas decorations" Johnny exclaimed.
"Son, that's for humans, not for us gnomes!" Dad said.
"Honey, if Johnny wants Christmas this year let's try it out." Mom chimes in.
"You two are the opposite of gnome life." Dad responded then carried on "Ok, but don't get caught. We don't want another gnome disaster."
Johnny continued "Yay, let's get a Christmas tree!"
Johnny wanted to give cheer and joy to his family. Johnny and his dad went out of their cute and little home, to the woods in the backyard.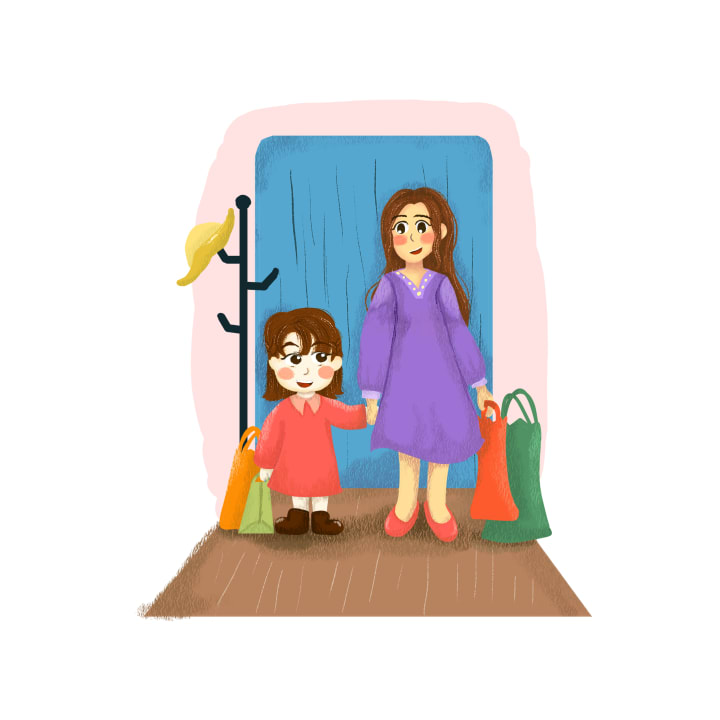 A few hours later Anne and her mom came home.
"Mom, can I go out and play outside?" Anne asked.
"Sure sweetie, just be back inside for dinner." Mother said.
"Ok Mom," Anne replied.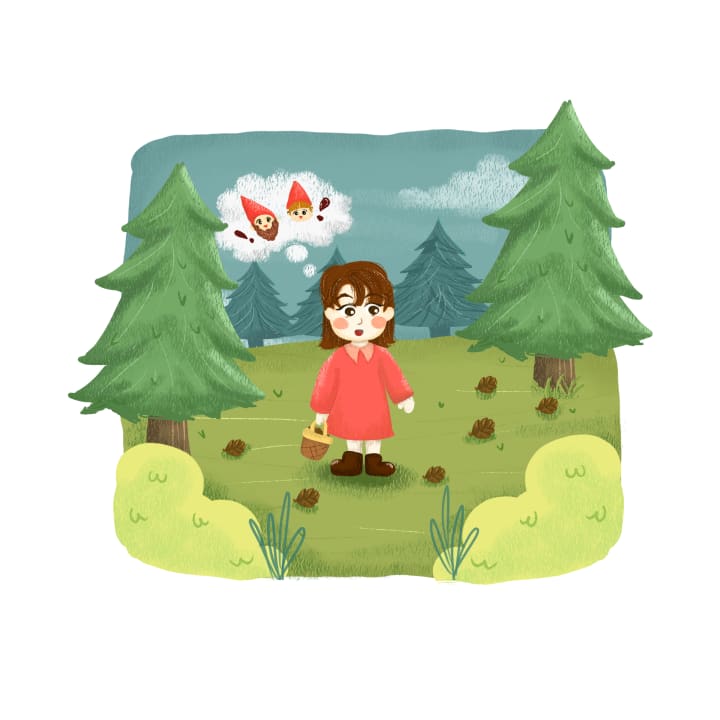 Anne went outside and decided she wanted to make a Christmas wreath, she went close to the woods in the back of the yard. And started gathering some pinecones and pine needles. Anne peered into the woods and noticed two of their gnomes. I wonder why mom would put them there.
Little Johnny noticed Anne and quietly whispered to his dad "don't move Dad, she can see us" Johnny said.
"Anne, come inside." Mom yelled. "Let's make some Christmas cookies."
"Yay" Anne said without thinking any more about the gnomes.
"That was close," Johnny said. His Dad nodded.
When they noticed they were in the clear, they started walking back to their home.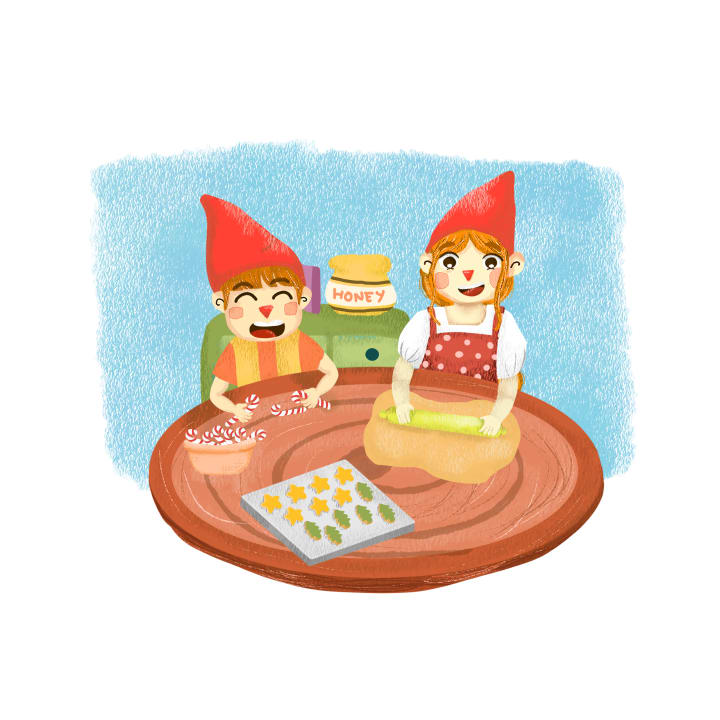 Johnny was excited, he decided he too would make Christmas cookies with his mom. So that evening there was the best aroma of sugar cookies in the shapes of candy canes, stars, and Christmas trees.
The next day While Johnny and his dad were decorating the tree with chain links made from construction paper, johnny realized there were no gifts to put under the tree. Obviously, his would come from Santa but he wanted to make something for mom and dad.
"Mom, how do I make a Christmas gift?" Johnny asked.
"There are lots of ways to make a gift sweetie, you could paint a picture, crochet a hat, or we could create something from salt dough." Mother mentioned.
"Ah good Idea mom, tonight I will work on gifts!" Johnny excitedly responded.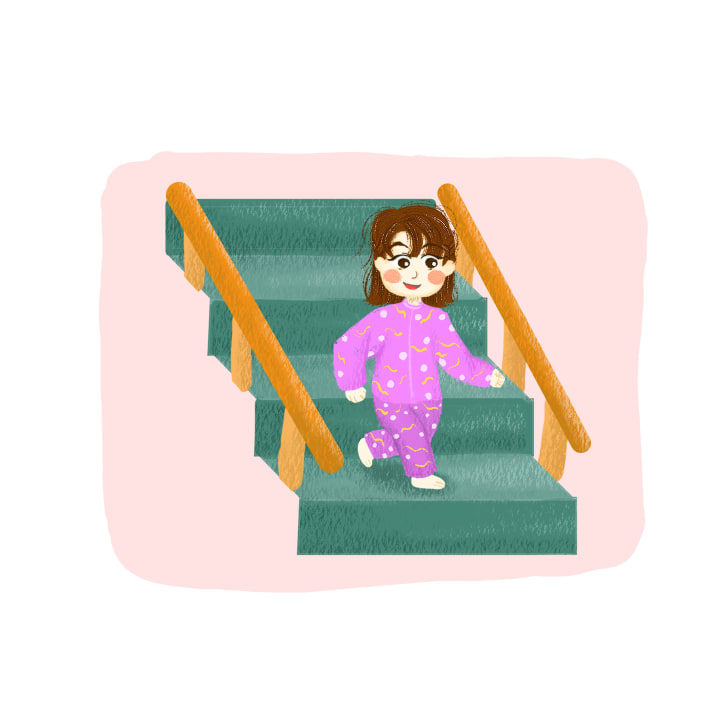 Anne woke up and suddenly remembered that the gnomes were in the woods. I'm gonna ask mom why they were there she thought. She ran downstairs and proclaimed "Mom why did you put the gnomes in the woods."
"Honey mom had to go to work today for a few hours," Dad said.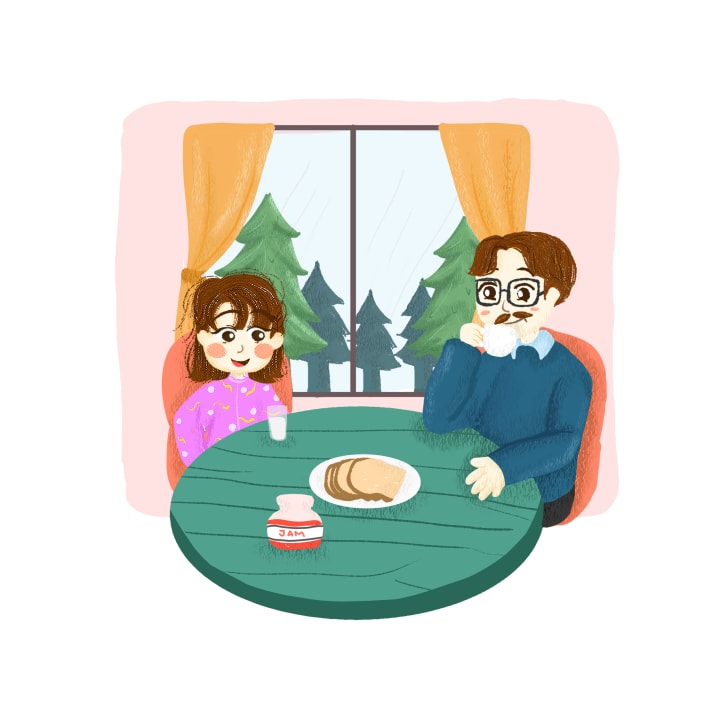 "Oh yeah," Anne said.
"Only 6 more days till Christmas," Dad said. "Do you want to go see Santa today?"
"Yes, please!" Anne responded, "But first can I run outside to grab a few more pine needles for my wreath?"
"Please be quick, we will need to leave in 5-10 minutes," Dad said.
Anne went out to the woods. Grabbing some more pine needles she looked to where the gnomes were, but they were no longer there. Why does mom keep moving them? Anne thought. As she walked back to the house in the corner of her eyes she saw the boy gnome walking around the corner of the house. Anne started to head that way in curiosity, but her dad yelled for her to get in the car.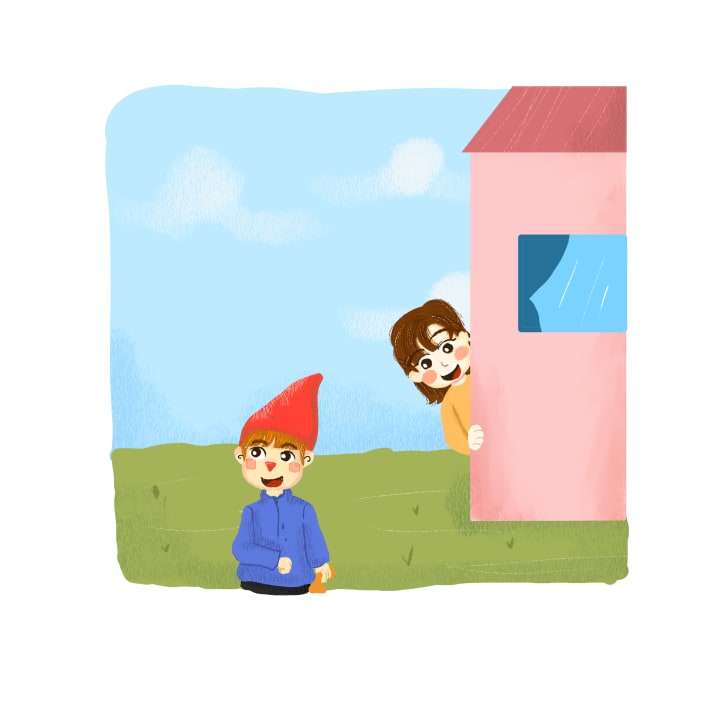 "Anne time to go!" He said loudly.
Johnny saw them leave. He too wanted to go see Santa. But instead, he decided he would write him a letter. Johnny knew Anne had lots of pens and paper. But he decided to do this alone as two gnomes in the human house could get tricky. He knew no one was home so it should be an easy mission.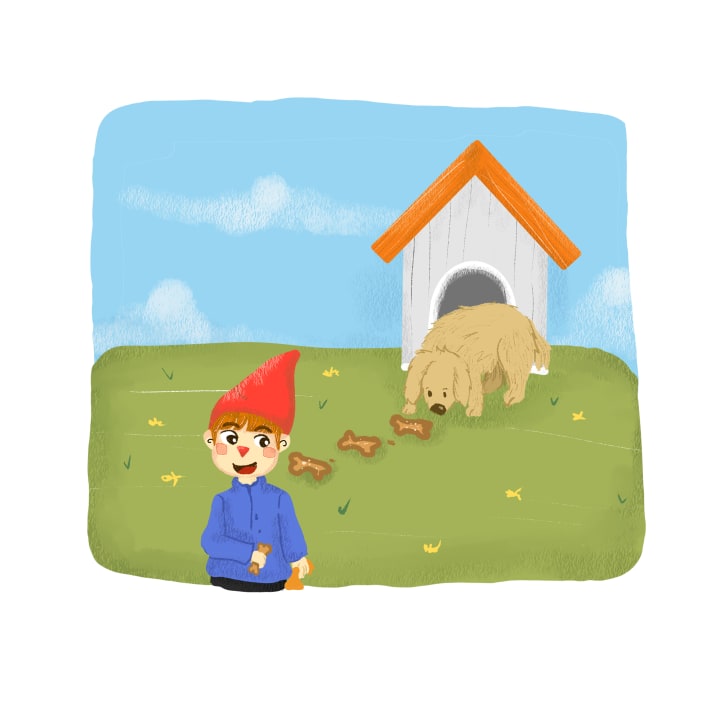 Johnny went through the doggy door and gave spot some treats as he usually does when he goes through the house. He got to Annes' room and saw a lovely Christmas notebook. He grabbed that and the smallest pen he could find. He returned to his home and got working on his letter to Santa.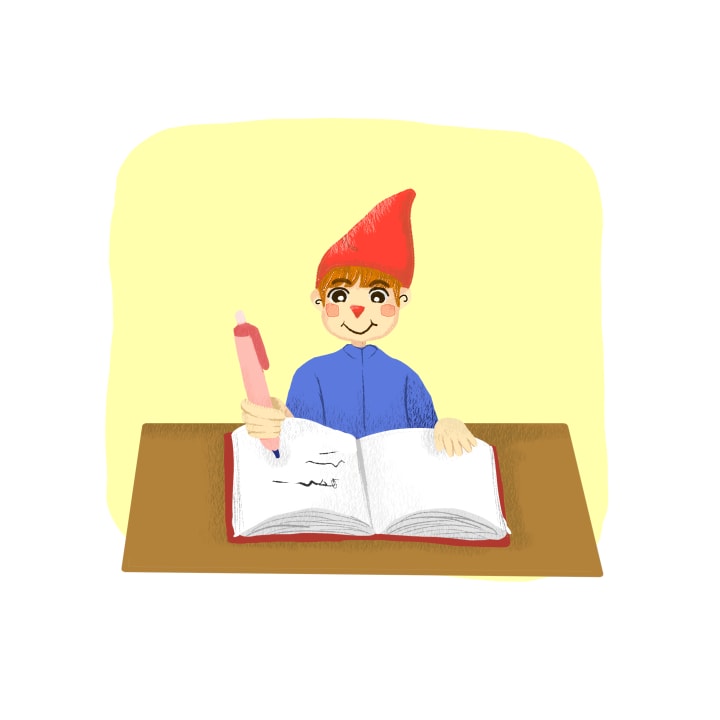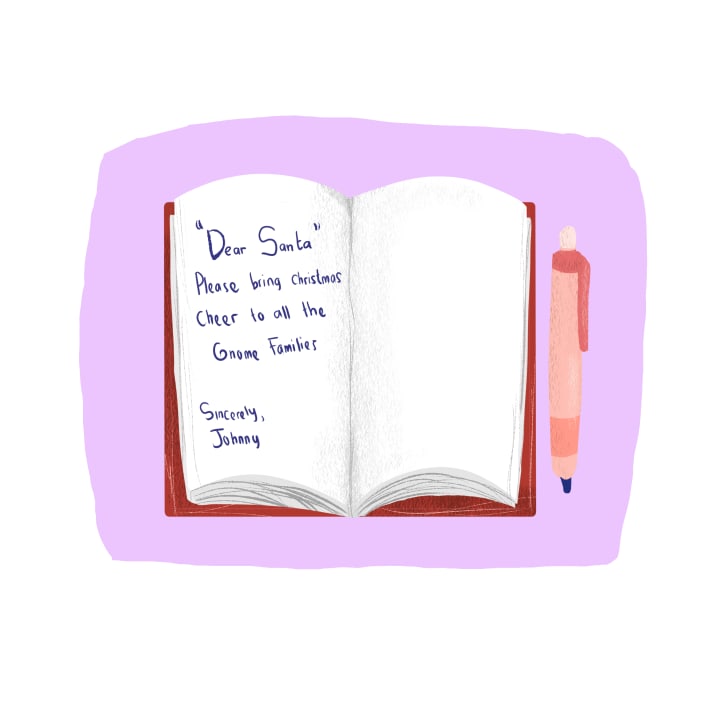 He put it in the gnome mailbox addressed to Mr. Santa clause.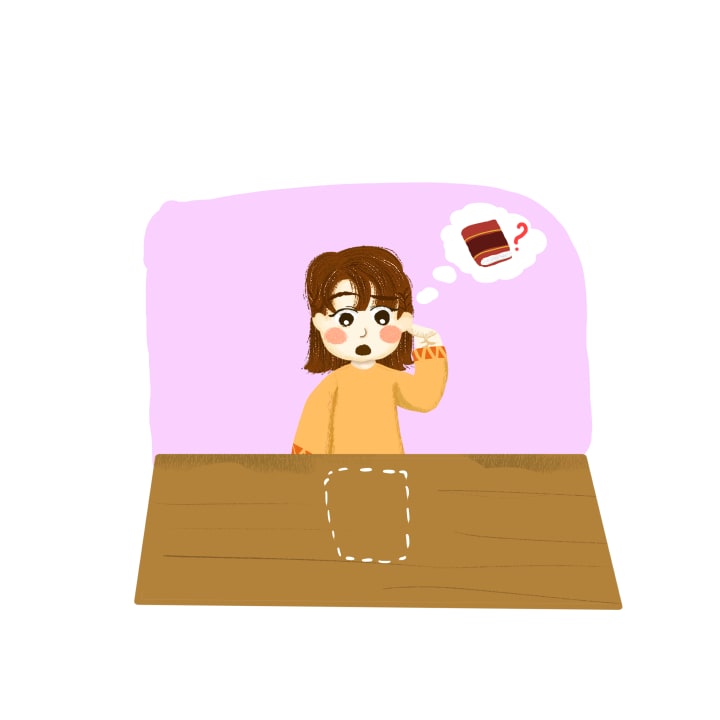 Anne and her Dad got home from visiting Santa. She went upstairs and noticed her Christmas notebook was gone. "I swear I left that on my desk," she instantly thought. The more she thinks about it the more sure she is that the gnomes are alive. She then thinks what if they are getting ready for Christmas too. I should give a little gift. Because mom always says that giving is the holiday spirit.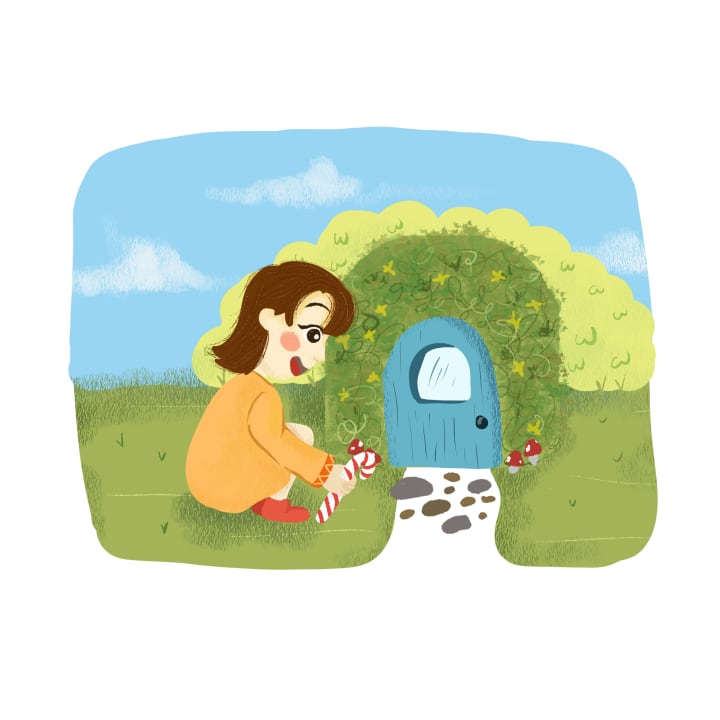 The next day Anne grabbed a handful of the mini candy canes, determined to give it to the gnomes. She went outside and looked around the corner where she thought she saw the boy gnome going. She found a little gnome door and swore that was never there before. She left the candy canes by the door and decided it was best not to linger in case the gnomes were afraid of humans. Hopefully, they know it was from me.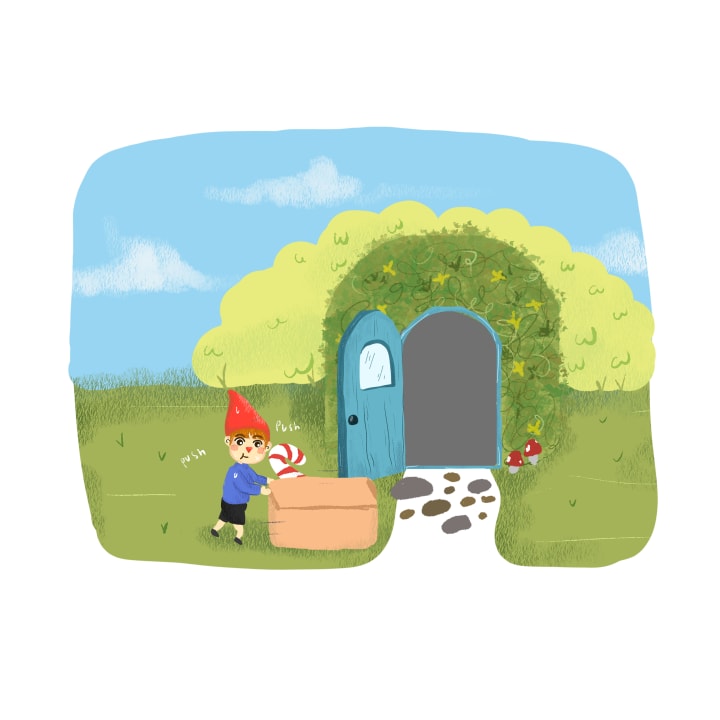 Anne left. Johnny was curious why she was by their front door. He opened it up and saw the candy canes. "Wow, I've never had a candy cane before," Johnny said. He pushed them all into the house and closed the door. Time to get working on my gifts he thought. The next few days went by quickly as Johnny was working on all the gifts he wanted to give.
Anne too was creating gifts for friends from school and with her being so busy handing them out, she completely forgot about the gnomes during those few days. Anne decided since it is Christmas Eve, she would turn on some holiday music.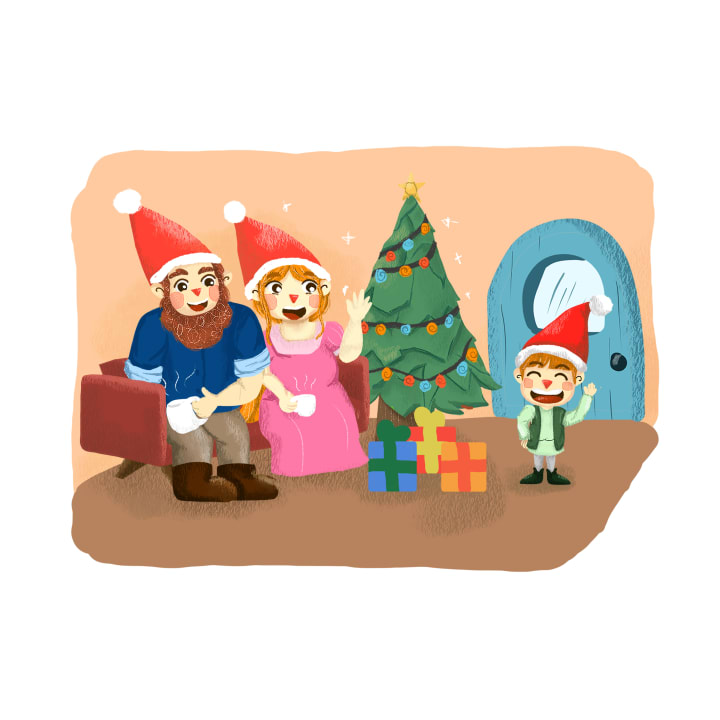 Johnny finally finished all his gifts. He worked really hard at perfecting each one. After that, he put them under their gnome size tree. He then heard Christmas music coming from the big house. He was very happy to be in the Christmas cheer.
"Mom, Dad, do you hear that?" Johnny cheerfully asked.
"Yes, we do." They both said while smiling, knowing how happy it is making their dear son.
Johnny had one other gift and he knew couldn't go under their Christmas tree. He had one final mission before Christmas Day. Johnny will have to wait till it is way late into the night.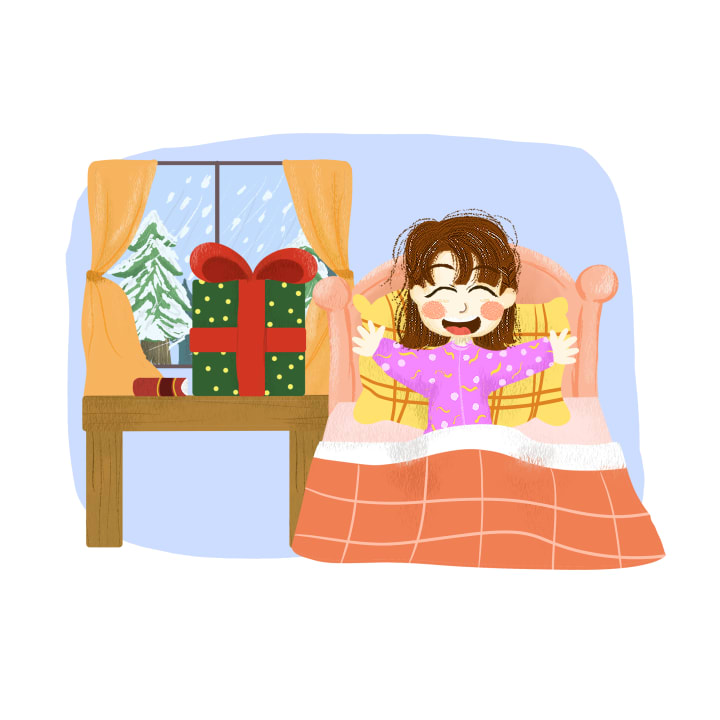 Anne woke up to a snowy winter morning. I can't believe it's Christmas already. As she started to climb out of bed she saw a cute little box sitting on her desk next to the Christmas notebook that had been missing. She opened the box inside was a little ornament of a gnome wearing a Christmas hat. There was a note inside.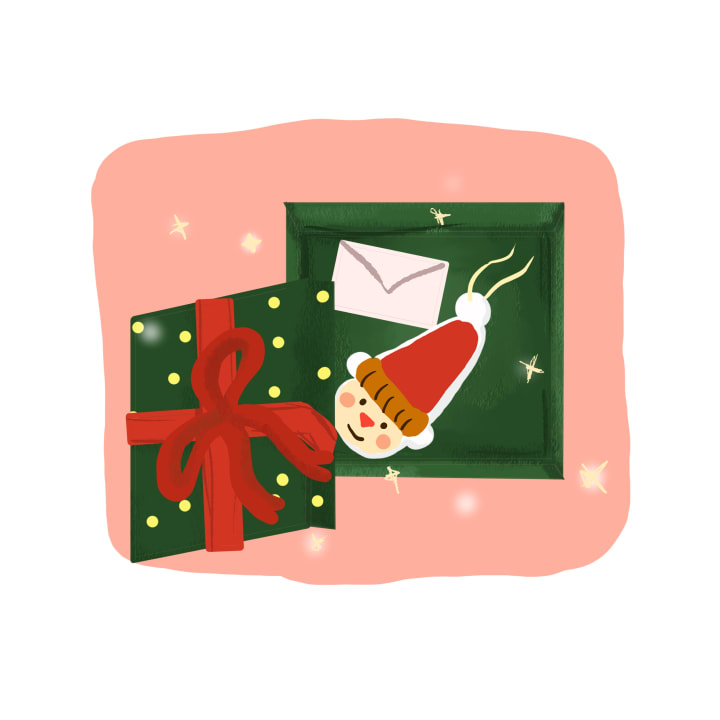 Dear Anne,
Thank you for letting me borrow your notebook and pen. And also for the yummy candy canes. I hope you like the ornament.
Merry Christmas from your little gnome friend,
Johnny
"I knew it! They are alive." Anne shouted.
Johnny got out of bed a bit late, exhausted due to his late-night mission. He went to the living room.
"Time for Christmas gifts and hot chocolate!" Johnnys mom loudly exclaimed.
As they sat around the Christmas tree, Johnny couldn't hold back his excitement, he knew Santa had made his wish come true.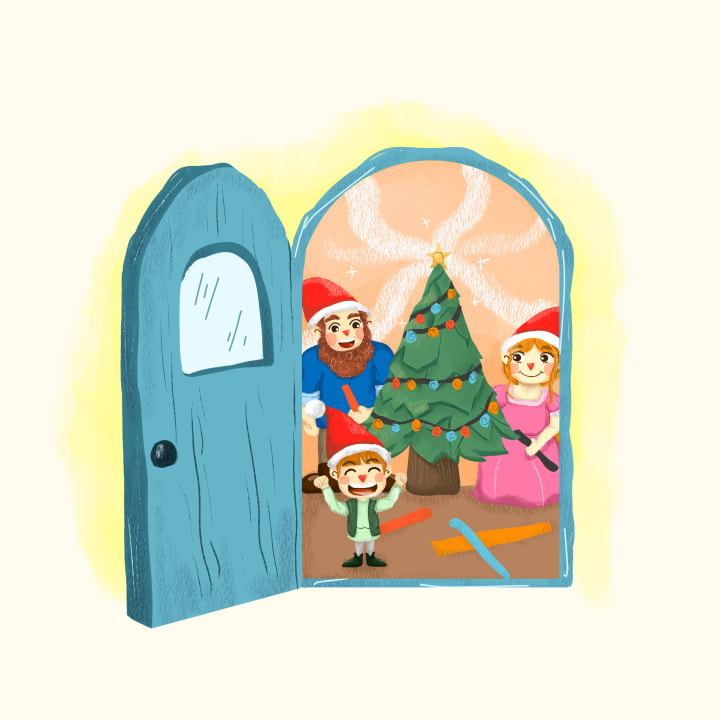 Reader insights
Be the first to share your insights about this piece.
Add your insights