514 S. 6th Street, #1
Voices Silenced by Death, yet Still Being Heard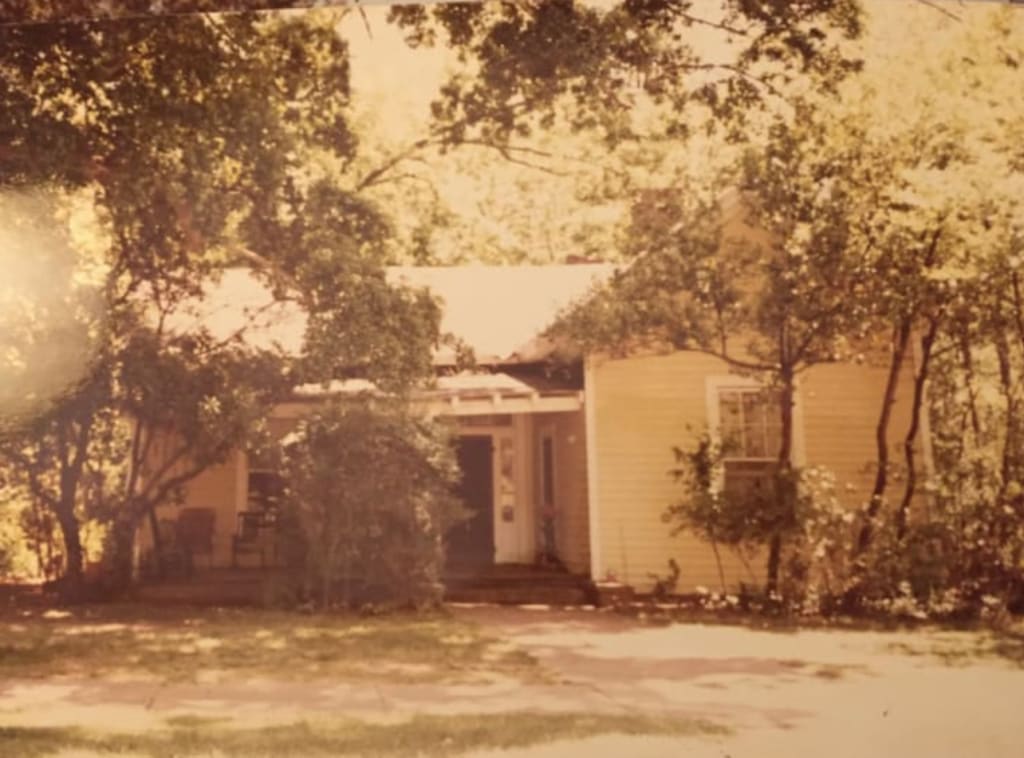 514 St. 6th St., Griffin, GA
Summers and holiday memories
Forever in my soul
With generations all housed
In Mom's family home of old.
Sweet surges of love
Along with moments pained
The many who lived there
Lived lives of glamour, real and feigned.
From moments of birth
Until lives gone by
Those who lived there
Laughed and they cried.
Their Spirit's still live there,
Though the house is long gone,
Sweet, tough, sad, troubled souls
Glued with strong family bond.
The family in-town home was homebase for my mother's family, with many memories of extremes. Those who lived there at some time in life from my direct line were: My mother, Patricia, my grandmother, Elizabeth, and my great-grandmother, Mamie "Lee," who inherited the home from my great-great grandparents, Benjamin and Ada. Other relatives who called 514 home included another great-great aunt, Anne (sister of Mamie Lee), Albert (son of Mamie Lee), Jean (foster child of Anne Sullivan and before that Hazel and Marvin - Marvin was brother of Mamie Lee and Anne), and Charles Theodore (aka Ted, Jean's son - they also lived with Aunt Bess). I believe that Aunt Bess, Uncle Marvin, and Aunt Lucy (all siblings of Lee, aka Mamoo), along with other siblings, and a younger brother, John Rufus, who died young, lived there at some time, too.
So many stories, happy and sad, hopeful and desperate, filled with tribulations and triumphs, line the collective memories of all who remember 514. Some memories may be best left buried, but those bringing love, peace, hope, understanding, and perseverance are all worth sharing. This home is about rising above the pain to create lives that made a positive difference in our world. My mother was a product of this home. Growing up during the Great Depression and Deep South, she embodied the good, did so much for others, and carried 514 with her until the day she died, even after it was sold. Some may argue that 514 remained with all even after their deaths, as my mother's writings will attest. Mom loved the home, and yet never wanted to return and live there; was happy to arrive and even happier to leave. She owned it, rented it out, sold it, and never moved in again. I has since been torn down. A multi-family home now occupies the acre of land.
Legend has it that this home, built around (if not before) the turn of the 20th Century, was the first in the area to install electricty. It was probably filled with asbestos (we always suspected that my mother's lung issues began with the asbestos). It was originally a tiny house with a porch with the first of three connecting bedrooms in a row (on the right side). Upon entry, one was greeted by a hallway entry that separated the master bedroom from the living room. Behind the living room was the dining room with the kitchen on the left side and an adjoining bedroom on the right. The kitchen may have originally been separate. I have no idea. That was the end of the original house. We knew this because the bedroom had a blocked window and exterior walls on the back side of it.
The back "porch" section was added later on; I'm not sure when. It housed another bedroom (behind the one with the window), a bathroom, a large closet, and a utility room area. The lights throughout the house and porch were all dangling bulbs, and one turned them on and off by pulling their strings; sometimes it took a few good yanks to get those lights on.
As more and more gadgets, appliances, and electricity-consuming devices entered the home, the more the fuses would blow. One could not watch television while another was ironing clothes. Too many lights on while using other devices caused frequent power outages. Wires bringing electricity into the home entered through poles on the outside and were visible throughout the house.
In that entryway, to the left of the master bedroom door, there was one telephone on a table with an attached seat and shelf for the phone book. The phone number was 4401. That's it - 4401. An operator was only a "0" away, and she could connect anyone in town to anyone else. "I'd like to call Cartledge Furniture," I said to her one day. The phone rang, and my grandmother answered "Cartledge Furniture. How can I help you today?"
This phone was party to many loving and livid conversations. Luckily, those did not make the written page. As I said, somethings are best left buried. What I remember was how special a phonecall was in those days. We lived in New Jersey; long distance calls were expensive, but sometimes, I could hear the voices of my grandmother and great-grandmother on the other end, and they were always saying, "I love you. I miss you."
What follows in the writings I will be sharing include my reflections, my mother's memoirs, and exchanges of letters from those within its walls. They are stories of souls living in hope beyond hell and heartache, cohabitation rifted with conflicts and collusions, and motivations that created melancholic or magnificent moments that abided across and beyond generations.
Authors include those long gone (Mom, Elizabeth, Albert, Lee, and others) whose journeys have been compiled by my family. A special thanks goes to my brother Peter Nason, who compiled all the letters he has found into many volumes of family history. These are voices long silenced by death, yet they live because they wrote and saved those letters. It is also the history of those living now, all of whom were influenced significantly by this side of the family from the past. May they all rest in peace, and may their voices continue to be heard.
About the Creator
Nancy Nason Guss, a retired career educator, is Living with Gussto, a life filled with Books, Bagpipes, & Blogs. In addition to playing bagpipes, she's published pieces for all ages that process life's triumphs and tribulations.
Reader insights
Be the first to share your insights about this piece.
Add your insights