27 Little Black Books
A Short Story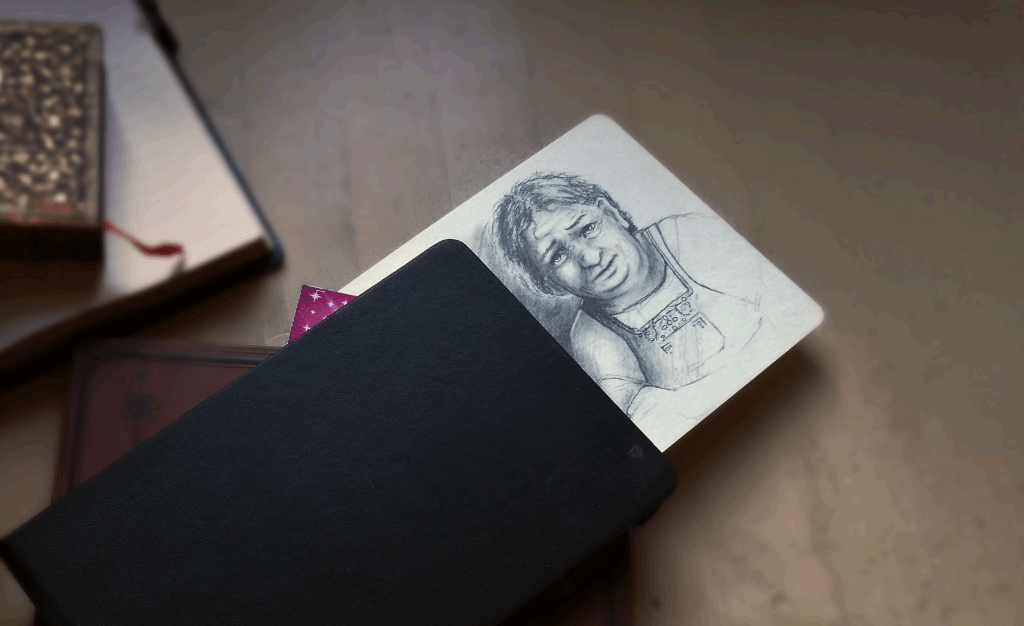 The little black book appeared unremarkable. David carefully prised it out from where it was tightly wedged between a copy of In Patagonia, and a large worn hardback of The Complete Artists Manual.
This little black book, containing one hundred and ninety two pages filled with drawings, notes, short stories, and a lottery ticket, would have been his last gift from Grandma Alice. Ever since his ninth birthday, this had been her yearly birthday present to him. She had never had much by the way of money. Some years she was able to put a little extra to the side and had treated him and his cousins to a birthday meal, but the book, its contents and the lottery ticket were the only things she could reliably give. None of them had ever won anything of course and the lottery ticket, which was always pinned to the last page, became a longstanding joke among his cousins. Over the years his other cousins became less enamoured with the heartfelt gift, and soon he was the only grandchild who received one on his birthday.
He walked over to her dusty pink armchair and sat down with the book in his hands. The house had not been cleaned since the funeral and he was glad for that. Both the chair and the book still smelled of her. Aldehyde and floral smells layered together, with a distinct undertone of the shortbread she always had ready for him when he came to visit. He took a deep breath and cracked open the first page.
A small face smiled back at him. It was his own. The black and white polaroid of him when he had first received a little black book revealed his eyes closed shut in a joyful smile and his contagious toothy grin. He turned the pages and found himself starting at the memories she had made for him over the last twenty-seven years condensed into a lifetime's final recap.
There had been a different theme each year. In his first little black book, each drawing had been done in the style of Quentin Blake, as Charlie and the Chocolate factory had been his favourite book at the time. Year after year the style had changed, through Picasso, da Vinci, and even Turner one year, although even Grandma Alice had admitted that one had not been her best. She had completed the final page with a Turner-esque painting of herself glaring out from the page in frustration, paint on her face and both arms crossed, and an exaggerated twinkle painted on her eye. She often referenced that small painting during her classes at St Hellen's. True art, she believed, was the pursuit of an idea or a feeling, illustrated honestly to the best of one's ability. David sighed and turned another page, only to be confronted with a montage of caricatures of what mum had called his emo phase. He cringed and then laughed fondly; all of the drawings appeared to have been made with eyeliner.
None of her children or grandchildren had inherited her talent for drawing and painting and it had been her students who benefited the most. Many of them had come to the funeral. When he had been younger this had upset him, but Grandma Alice had encouraged him to write, and reassured him that his own talent was just as wonderful.
The pages crackled the further he went. Sellotape held down pictures with careful hand written notes beside them. He saw his birthdays, graduation, and more recently, his wedding through Grandma Alice's eyes. Some recently dried paintings stuck to the adjoining page. He reached the last page and pulled at the lottery ticket pinned there with a handwritten note.
A little bit of luck, my darling, it read.
Tears blurred his vision as he scratched away the film to reveal the symbols beneath. Grandma Alice had always been there each time before, and even though none of them had ever brought him anything more than a fiver, he missed the way she would hold his hand and encourage him to dream that he might just win this time. After the initial disappointment she would always smile, apologise that she had been unable to give him a winning ticket, and then reassure him that one day he would create beautiful things regardless.
Three symbols matched.
David blinked through the tears and looked again. Sure enough he saw three symbols, each the same. He scratched the grey film above it a little further, exposing four zeros and a two. David choked, laughed and then burst into tears.
Three days later, as soon as the 20,000 pounds cleared in his account, David walked to his nearest WHSmith, bought a small lined A4 moleskin and sat quietly on the park bench to write the first page of his book. He smiled at the small picture of Grandma Alice and her note taped onto the front.
For once he did not struggle with how to end the story. He already knew how it was going to end. Alice Williams had been a loving, creative, remarkable woman, determined to share that in her own small way with anyone who let her. David smiled as he wrote. The pages from his birthday notebooks were already marked for the illustrations of the story of the adventures they had shared over the years. The walks learning about the different kinds of birds, trees and flowers, the outings they had taken to the Tower of London, the Leviathan of Parsonstown and Stonehenge, had all been preserved with notes and polaroids dotted over the pages. This would be his first little black book, and with it he was determined to share Grandma Alice's quiet story with anyone who cared to read it.
Staying at home each & every day to be there with your children as they learn and grow sounds absolutely amazing in hindsight, right? Absolutely! Who wouldn't think that it's just living the dream?! But what the world fails to disclose is the truth behind being a stay at home mom..

11/18/2020 So, grandma (81 this year) has been up my ass about keeping a journal of everything that is going on right now so here goes. Amelia is 9 and in 4th grade, Raynen is 5 and is in kindergarten and Rj is 3 and is home with me. We live in fort lee right now and my husband, Bobby (30 this year) has just had his 3rd spine surgery and now awaiting the promotion board (he is in the army) and finding out when we will be moving. I am 26 credits away from my BA in history. The coronavirus pandemic has been a pain in the ass and the 2020 presidential election was a complete dumpster fire. Yay 2020 and the best part was carol baskin and the memes from that world.

It was early October, and it was finally time for my long-awaited moose hunt. I had waited ever since I was a little girl for this opportunity, and it was finally here. So, my father, the one that looks after me, and I packed up our stuff and left our city in Alaska. We were heading to a place called Bethel, AK. After a six-hour long drive, we made it to our hunting unit. It did not feel like home to us but it was warm and cozy, like my bed at home.

As your parents age, you're probably spending more and more time caring for them. Even if they're still in good health, you may need to help them live a healthy lifestyle. Your parents may need help with everything from their health insurance to their diet. To avoid caregiver stress, taking care of yourself is also essential.

Staying home, reducing stress, and taking care of ourselves, both mind and body are more important than ever. That's why from beauty and personal care to everyday essentials and home cleaning – we've got you covered. "Avon"

Growing up, I loved the Wizard of Oz. There was something magical and timeless about the Yellow Brick Road and the passion of Dorothy to find her way home, Scarecrow to find his brain, Tin Man to find his heart, and the Lion to find his courage. All to find out that the man behind the curtain was just a man, whose hope and wisdom fulfilled all desires by encouraging everyone by exploring their own virtues.