Youth Time: The Youth Global Forum Is a Great Opportunity for Potential Youth Leaders and World-Changers, Don't Miss It
Youth Time is when young people must be pro-active, socially and politically, for a better future.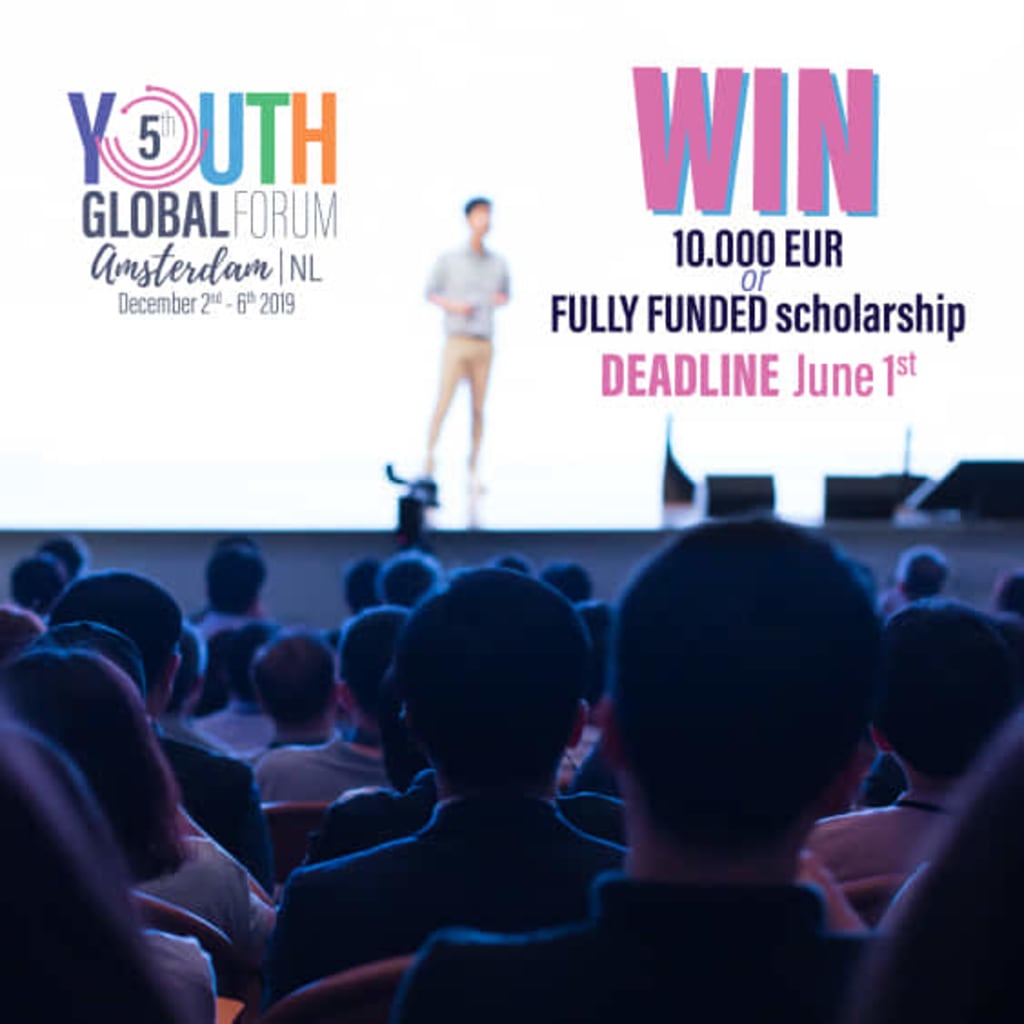 Youth Time International Movement 
Humanity is faced with one of the most challenging questions in the century, which experts, entrepreneurs, innovators, and youth leaders will tackle at the upcoming 5th Annual Youth Global Forum. The event is organized by Youth Time International Movement, an NGO created by young people, as a platform of dialogue between 'cultures and generations.' Youth Time's goal is to engage other youths from all over the world to acquire knowledge, skills, and network to develop youth potential for social leadership and pro-active participation in their civic responsibility for a better and more sustainable future for both old and new generations.
Eligibility and Benefits
The convention, which seeks presenters and participants, (20-35 years old) until June 1st, 2019 offers full and partially-funded scholarships for successful applicants. The event will take place in one of Europe's tech hubs, Amsterdam, The Netherlands from December 2-6, 2019. Over the course of the event, the topic "Industry 5.0 vs Inclusive Development" will be discussed.
Aside from a plethora of networking benefits one will gain from attending this event, project presenters will also have the chance to pitch their most innovative ideas and stand a chance to win Youth Time Idea Grant (10.000 EUR) to realize their vision. Additionally, winners will be awarded fully funded scholarships to study on a bachelors' or masters' program in leading business schools in Europe and South-East Asia, as well as a paid internship.
Industry 5.0 and Inclusive Development
While many nations are still at Industry 4.0, the unprecedented advancement and further sophistication of Machine Learning (ML), Internet of things (IoT), Artificial Intelligence (AI), self-driving vehicles, 3D printing, augmented reality, biotechnology, nanotechnology, among many others have created new business models—Google, Tesla, Uber, to name a few.
Meanwhile, the increasing collaboration between man and machine makes Industry 5.0 an emerging trend. Humans collaborating and interacting with AI for increased productivity, flexibility, and economic growth is no longer a thing of the distant future. It is happening now. This will revitalize manufacturing industries, but it will also move it toward a more cost-efficient and a sustainable business model in the long run. Emerging economies, like the countries treated as the world's 'factories' because of cheap labor, are gradually becoming richer. Implementation of better practices and policies are paying off. China as an example has already become a titan in the global market.
For mature economies, manufacturing offshore can now be just as expensive as manufacturing locally. The benefits brought about by Industry 4.0 (and now 5.0) will level the playing field, boost domestic consumption and therefore, boost development. If all of the world's economies would boldly embrace changes in their industries, including retraining the manpower to successfully adapt to new technologies, as well as make positive environmental impacts, we will be able to foster sustainable growth, flexibility, environment-conscious decisions and a truly inclusive development due to distribution of more wealth in all of the world's economies.
Where is the Future?
The future lies in-between Industry 5.0 and Inclusive Development. In a world becoming increasingly turbulent, good people with the passion for positive and progressive social changes will be at the helm of bridging the gap between industries and the people in periphery areas; the margins of society.
Young people are the hope of our future; the learnings gained from the mistakes of older generations and the challenges we face in modern society including the impact of the climate crisis is a daunting task we were left to solve. The Youth Global Forum is the perfect think tank to discuss and seek solutions we need, to solve the problems in our individual locale. Consequently, if these solutions could be scaled and replicated for the benefit of global communities.
If you've got passion for public service, innovative ideas, and changing the world for the better, apply now for the Youth Global Forum.
Sharing is caring! If you know any potential world-changers, share this article with them! For more information on Youth Time International Movement and the Youth Global Forum, check their website here.
(Sources: Youth Global Forum ; LinkedIn ; TED)