Winger
Rugby, fighting, girls, high school drama, an overbearing dorm parent that may have cursed you with diarrhea on the first day of class--what more does a 14 year old boy need?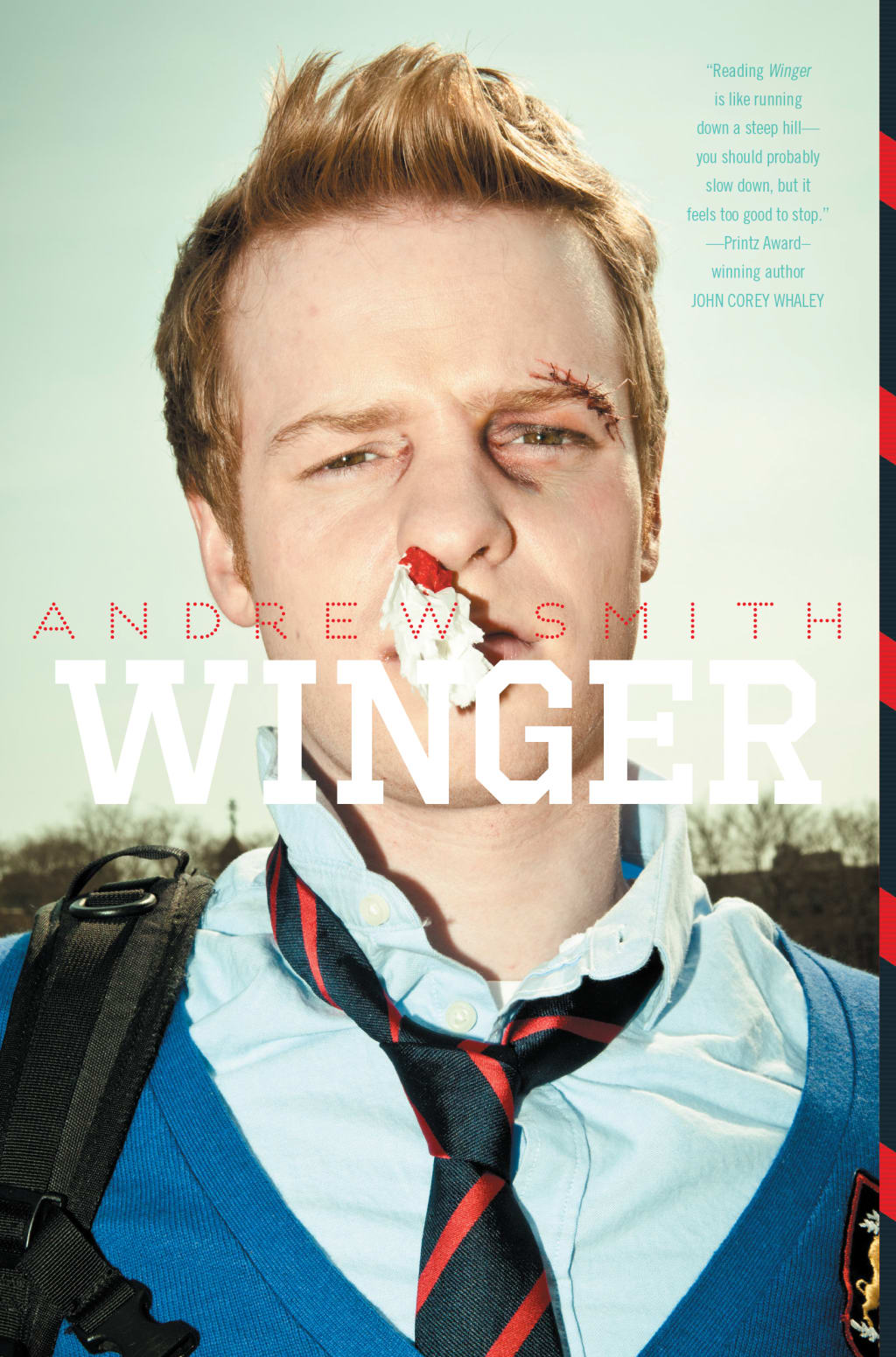 Without a doubt in my mind, I feel as though I have finally found the answer to the question that seems to befall every book lover: who is your favorite author? I have always struggled with this question because I have always enjoyed such a variety of authors and genres, but I have finally figured it out--Andrew Smith. Andrew Smith has woven his way into my heart, and he has taken on the title of my favorite author.
I have liked Andrew Smith ever since I read his book, "Grasshopper Jungle," recommended to me by my Young Adult Literature professor in college (and my go-to YA guru), but after reading more of his work, I simply fell in love with the way that he can create such vivid characters, compelling plot, and thought provoking use of language.
I recently read Andrew Smith's book, "Winger," and I absolutely love it. Winger tells the story of Ryan Dean West (the boy with two first names) as he heads to Pine Mountain, an upper class boarding school in Oregon, as a 14 year old junior. Ryan Dean skipped a couple grades earlier in his schooling and that has forced him to become the youngest kid in his class. All students at Pine Mountain must participate in a sport, and Ryan Dean is a proud member of the school's rugby team (hence his nickname, Winger).
If being the youngest kid in his class wasn't the worst possible thing to happen to an adolescent boy, Ryan Dean is also spending the school year living in Opportunity Hall, the on-campus residence for the young men who seem to continually find themselves in trouble. Sharing a room with Chas, a senior at Pine Mountain and a member of the rugby team, Ryan Dean tries to find the balance between keeping Chas from totally killing him and proving that he isn't just some little kid.
Ryan Dean struggles with expressing his love for the girl of his dreams, fighting hormonal urges towards the hottest girl in school (who happens be Chas' girlfriend), fighting with his best friend, and cementing his heterosexuality despite becoming friends with one of the only openly gay gays at Pine Mountain.
This book was, hands down, one of the best things I have read in a long time. The way that Andrew Smith writes such dynamic characters forces you to become so invested in their lives that you laugh with them, cry with them, and genuinely want them to get what they deserve. This book made me laugh, made me cry, and made me think back to what it was like going through school as a 14 year old. Smith created a book that tackles plenty of very mature topics, with an ending that completely tore my heart out of my chest, but he presents these topics in such a beautifully written, YA way that it allows the reader to connect and process the themes and messages without feeling a heavy burden weighing you down.
Another thing that stood out about this book was the way that Andrew Smith masterfully incorporated different comics, cartoons, and graphs to give insight into Ryan Dean's inner thoughts and feelings. This book reads like a massive stream of consciousness monologue from Ryan Dean's point of view, which shows the reader exactly what the mind of a 14 year old boy looks like.
I would highly, highly recommend this book to anyone looking for a humorous, insightful, and genuinely good-hearted read. Also, I learned a little bit about rugby, which was pretty cool, too.
5 out of 5 stars.