Winds Of Change Blow Into LAUSD Board Room
Rocio Rivas takes her oath of office, capping a years-long fight to represent public school parents on the Los Angeles School Board.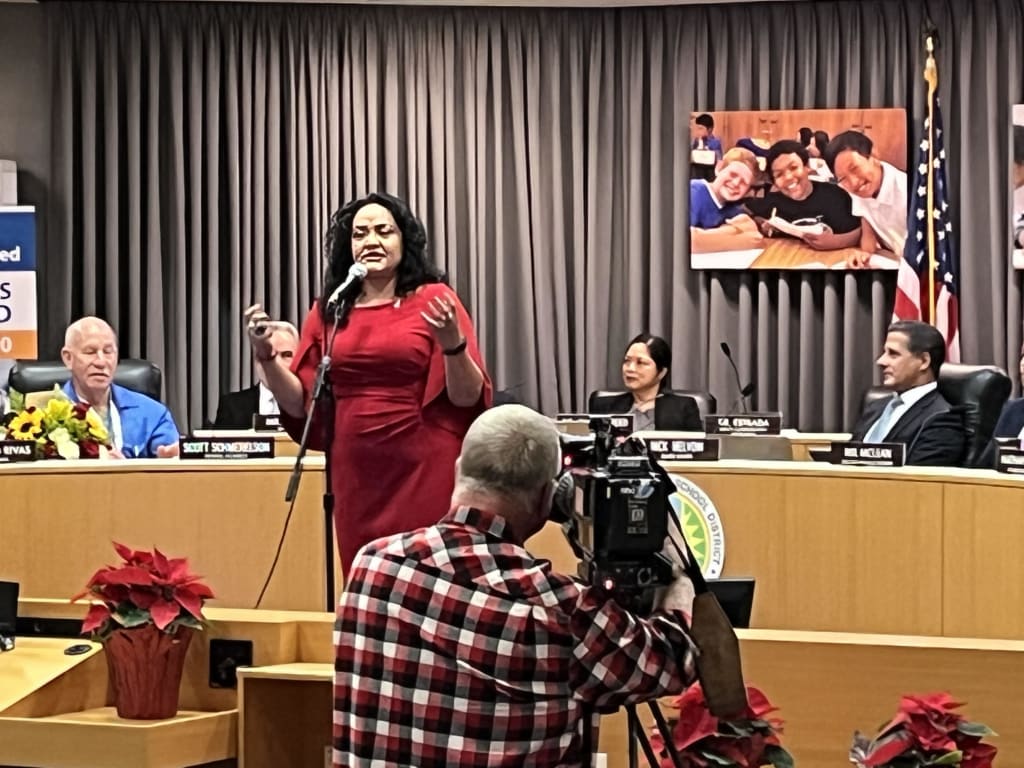 Dr. Rocio Rivas
"We have to invest in our children. We have to invest in our future because that is how we build an anti-racist, compassionate society."

- Dr. Rocio Rivas
As chaos continues to envelop the Los Angeles City Council, it is useful to remember that just a few short years ago the LAUSD School Board was in the grip of its own crisis. The charter school industry had swept the 2017 elections with victories by Monica Garcia, Nick Melvoin, and Kelly Gonez. They joined Ref Rodriguez to give the charter school industry complete control of the board which would allow these publicly funded private schools to avoid any kind of meaningful oversight.
This domination over district operations was destined to be short-lived as Rodriguez was indicted in September of 2017 for charges related to his election. Like Kevin De Leon today, Rodriguez stood firm in his refusal to resign despite the overwhelming evidence against him. Nine months later, his problems were compounded when he was arrested at the Yard House in Pasadena.
After I returned home from my apartment in East Los Angeles where I worked to take on Monica Garcia in the 2017 election, my family and I had begun to consider moving into Board District 5 to challenge Rodriguez in the next election. As I set off on a July road trip with our triplets, it was pretty much decided that when I returned we would begin the process of looking for a home on the East Side.
Just a couple of days into the trip, I received a call from my excited wife, Nicole. Before I even had a chance to say "hello," she exclaimed: "We don't have to move!"
In my absence, Nicole attended a fundraiser by the East Area Progressive Democrats (EAPD) for State Superintendent of Public Instruction candidate Tony Thurmond. At this event, she was introduced to Dr. Rocio Rivas, who was exploring a run against Rodriguez. After a short conversation, my wife knew that Rivas shared our values and would be the perfect candidate to take on the embattled incumbent.
By the end of the trip, news had broken that Rodriguez had pleaded guilty to the charges against him and resigned from his seat. Dr. Rivas would now be competing for an open seat, probably in a special election. I made arrangements to meet with her so that I could hear about her plans.
Dr. Rivas called me shortly before we were supposed to meet to let me know that she was going to be late. She had been informed that the PUC chain of charter schools, which had been co-founded by Ref Rodriguez, had closed down one of its franchise schools in the middle of the school year without warning and she was there supporting parents. She was still needed at the location so we delayed the start of our lunch.
When we finally did get together it was obvious that the experience had drained Dr. Rivas. Her voice was filled with emotion as she told me about what she had experienced; I knew immediately that my wife's assessment had been correct. This ability to empathize with parents was exactly what was needed on the board.
Political veteran Jackie Goldberg's entry into the race changed its trajectory. Still, Dr. Rivas stayed in the battle and offered a parent's voice to the conversation. As election day approached and it became clear that her continued presence might jeopardize the seat for supporters of public education, she stepped aside and asked her supporters to vote for Goldberg.
After winning the general election, Goldberg hired Dr. Rivas as her Research and Policy Deputy. In this position, Dr. Rivas was in charge of "acquiring and sorting through data to inform policy development." It also enabled her to learn directly about governance from Goldberg, who is in her second stint as an LAUSD School Board Member and had also served on the Los Angeles City Council and the California State Assembly.
As the 2022 election approached, Dr. Rivas called to let me know that she lived in the newly redrawn Board District 2 and that she would be running to replace the term-limited Monica Garcia. I immediately pledged my support without hesitation. She came in first in the primary, earning the right to face off against the charter school industry candidate, Maria Brenes in the November election. Despite being vastly outspent, Dr. Rivas came in first and was sworn into office by Jackie Goldberg on Tuesday.
The speech that Dr. Rivas delivered after her swearing in was delivered from the heart. I asked her after the ceremony if she had a hard copy for me to reference and she told me that it had not been prepared in advance. It was hard to tell from her passionate delivery.
Dr. Rivas took the time to acknowledge the hard work that went into securing her victory and pledged to become a voice for those who have been voiceless for far too long. She recognized our history in a way that would infuriate the governor of Florida, Ron DeSantis. She also recognized the importance of her providing the example of a strong female leader, especially for girls of color. She stated her belief that while the members of the board may not always agree on policy, that they should always remember that they share the same goal; making sure that the children of Los Angeles have the educational opportunities that they deserve.
After a short reception, Dr. Rivas and the rest of the board retired behind closed doors for her first official meeting. It was refreshing to know that we now have a passionate fighter representing us during those proceedings.
_____________________________
Carl Petersen is a parent advocate for students with special education needs and public education. He was elected to the Northridge East Neighborhood Council and is the Education Chair. As a Green Party candidate in LAUSD's District 2 School Board race, he was endorsed by Network for Public Education (NPE) Action. Dr. Diane Ravitch has called him "a valiant fighter for public schools in Los Angeles." For links to his blogs, please visit www.ChangeTheLAUSD.com. Opinions are his own.
About the Creator
Carl Petersen is a parent advocate for students with SpEd needs and public education. As a Green Party candidate in LAUSD's District 2 School Board race, he was endorsed by Network for Public Education (NPE) Action. Opinions are his own.
Reader insights
Be the first to share your insights about this piece.
Add your insights