What Things Do You Learn in An HVAC Training Program in MI?
HVAC Training Program MI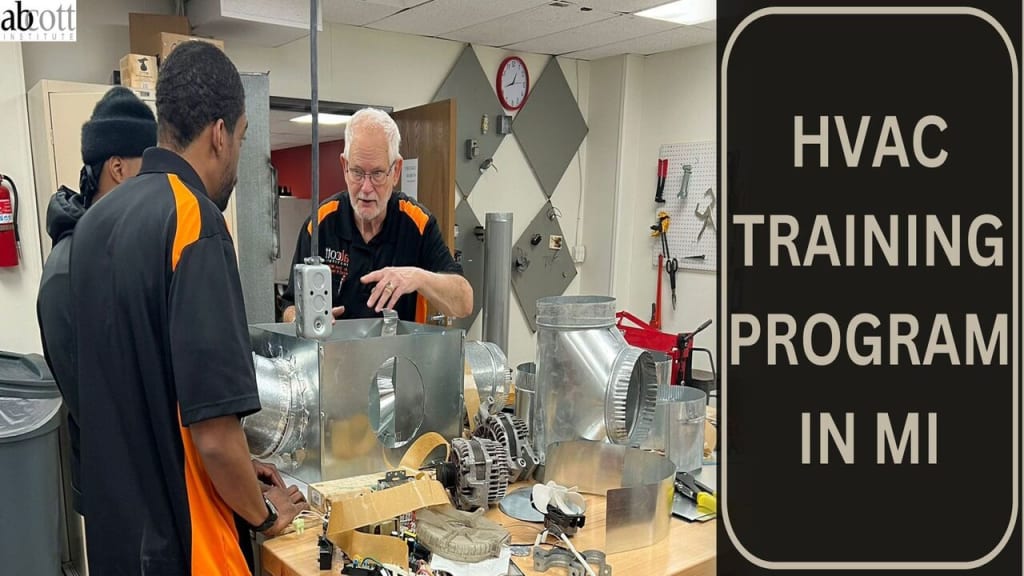 Your skills as an HVAC installer and repairman are valuable to any town. This is a skill set that may be used at home and further developed into a profession. With the right HVAC expertise, you can diagnose, repair, and even replace any HVAC system. Consequently, if you are considering enrolling in an HVAC training program in Michigan this year, there are a lot of things you might learn along the way.
Many of the skills you acquire in an HVAC training program can be used for other types of maintenance work, such as light electrical work and appliance repair. So, it is easier to go right with HVAC repair and replacement expertise for someone who appreciates being handy or is simply looking for a reliable, professional ability.
This post will go through the top five things you'll learn during HVAC training.
1. Discover Safe Appliance Cabinet Disassembly Techniques.
You will first learn how to take apart an appliance cabinet. The metal that makes up appliance cabinets is really thin; if you don't take care, it could cause you to have a terrible "papercut." Each panel is positioned over the others using fittings made of metal sheets. Typically, hidden locks and screws are used to hold HVAC units together. You'll be taught how to open the heating or cooling unit safely and how to put on the proper work gloves.
You will practice with various brands and models during HVAC training to become familiar with the opening, closing, and maintenance processes for each one. You can even obtain transferable skills for opening other appliances when you learn how to remove an HVAC appliance cabinet.
2. How to Examine and Fix HVAC Units?
One of the most crucial skills covered in HVAC training is understanding how to diagnose issues with an HVAC system. Identifying what went wrong and how to fix it includes thoroughly inspecting all internal parts. By inspecting the machine's interior, a skilled eye can detect a fractured blower fan or low coolant levels. In this method, you can instruct company owners and homeowners on how to proceed with an HVAC repair.
You will discover how to properly and safely clean the interior of an electric furnace or air conditioner. Particularly air conditioners have the propensity to accumulate a layer of dust within the unit, which might later transform into a layer of frost. The performance and efficiency of an HVAC system can be significantly increased by just cleaning the coils.
You'll get some experience and learn how to look for problems inside an HVAC system. You will learn about the ideal interior of an HVAC system during this training session. You also discover the typical indicators that anything is wrong inside the machine.
Finally, after inspecting, you make a diagnosis. Next, examine each HVAC customer and determine if they need a new part, a screw that needs tightening, or additional coolant.
3. How to replace necessary parts?
Following diagnosis, you will discover how to address your identified issues. The bulk of HVAC training is devoted to how to fix the systems after an inspection. A replacement HVAC component could be simple or complex. You must know the proper way to shut down and disassemble an HVAC system to get access to the defective element.
The success of your part replacements and other minor repairs will determine your success as an HVAC professional. You will get the ability to remove damaged parts and install replacements precisely. The make and model of the washer will determine the proper technique for each and the exact parts you might need to acquire specifically for the client when replacements are required.
4. Controlling Airflow in a Home.
An intriguing method for ensuring that each vent releases the same air pressure is balancing the airflow. Airflow balancing is required to block, push, and distribute air uniformly into every room and out of every vent register since the closer vents use more of the HVAC capacity.
An iris-like device you install a few feet behind the vent register balances airflow. The iris is opened or removed to increase pressure. Additionally, the iris is shut to partially obstruct airflow to the vents that consume the most air uncontrollably.
Why is airflow balancing essential to teach during HVAC training programs in MI? Airflow balance or imbalance can affect the home's energy efficiency and even how hard the HVAC system has to work to provide uniform temperatures throughout the structure. Therefore, to maintain HVAC equipment in good working order, it is crucial to balance airflow and enhance air quality.
5. Instructions for Filling or Changing Coolant Fluid.
Finally, you discover how to drain and refill coolant using a discontinued line or employ risky but lucrative procedures to top off the coolant fluid used in HVACs. However, anyone who isn't educated to handle coolant could be in grave danger. Always take the initiative and demand that your clients back off so you can do any HVAC coolant repair.
Based on your individual kit, you will carefully check, drain, and replace the coolant. This will restore the HVAC system for a home or company's cooling capacity. People who can't afford a new HVAC system will be happy that a straightforward coolant repair was all that was required.
Conclusion
Abcott Institute is the best option if you're seeking an accredited and job-oriented HVAC course with placement assistance in Michigan. They'll give you the best knowledge and training you need to excel as an HVAC technician. Therefore, get in touch with one of their experts immediately to learn more about their programs!
About the Creator
Abcott Institute provides the best HVAC Training in Detroit, Michigan (MI). As an HVAC Technician, you'll be able to take advantage of Abcott Institute's certification courses in Refrigeration, Heating, Ventilation, and Air Conditioning.
Reader insights
Be the first to share your insights about this piece.
Add your insights