What Makes Spoken English Tuition So Popular? - Swiflearn
Language is the primary source of communication for humans. It's a method that allows us to share our thoughts and ideas with others. There are thousands of languages in the world – some spoken by millions of people, others only by a few thousand.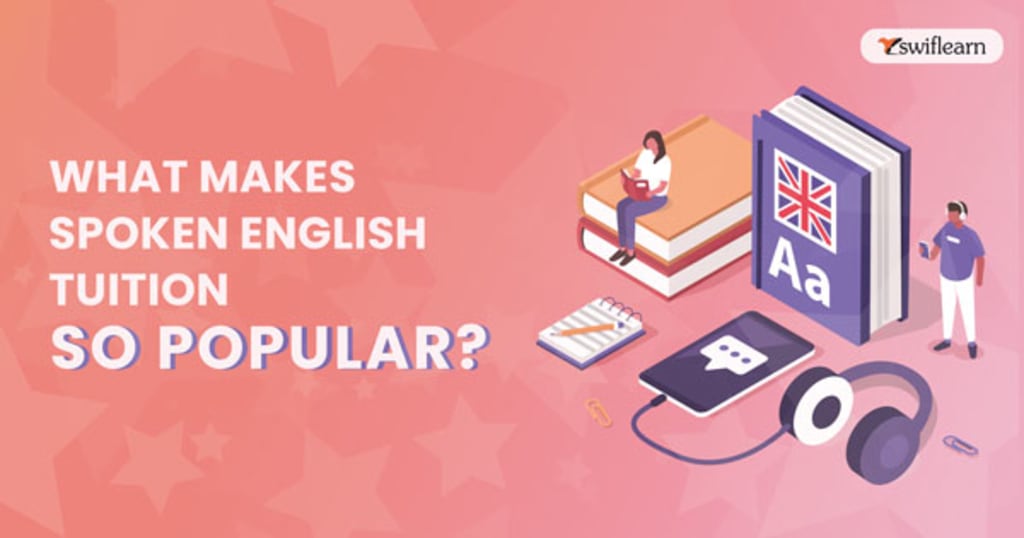 Language is the primary source of communication for humans. It's a method that allows us to share our thoughts and ideas with others. There are thousands of languages in the world – some spoken by millions of people, others only by a few thousand. While English may not be the most spoken language in the world, it's the official language of 53 countries and spoken by around 400 million people. As a universal language, the need to have a stronghold on English is of utmost importance. This is the reason why home and online tuition for spoken English has witnessed significant growth in the recent past.
Whether looking for new job opportunities or planning to travel around the world, having a good command of English can help you progress both personally and professionally. Therefore, nowadays a higher number of parents are looking to get their kids enrolled in an online spoken English tuition class. The blog talks about some good reasons as to why spoken English tuition has been soaring lately.
Meeting New People & Building Relations
Being the official language of 53 countries, English is also known as 'the language of the people'. Whether you're traveling to London or working in New York, good command of spoken English gives you the advantage of conversing with people from all over the world. The more you can converse with people from other countries, the greater your chance of building professional relationships with them.
Good knowledge of English is also vital when traveling abroad. Imagine you're an Indian tourist in Spain. While there's a high probability that your local guide in Spain might not understand Hindi, good knowledge of English can certainly solve your queries. With SwifLearn's LIVE online spoken English tuition classes, students have got the right platform to develop good English speaking skills.
Also Read: Why Should You Emphasise on Spoken English for Kids
Provides Global Job Opportunities
English is the language of science, computers, accountancy, diplomacy, and tourism. People with better English speaking abilities have a higher chance of landing a job in a multinational company either within their country or even abroad. Today, businesses and companies need employees who can communicate effectively with English speaking clients and potential customers. This helps in getting the leads quickly.
Students with good spoken English knowledge open the door for themselves to receive the best education from across the globe. With thousands of schools, colleges, and universities offering undergraduate and postgraduate courses in English, a good academic English speaking skill gives you an edge to secure a seat in your dream school or college.
Sign up for a FREE trial class at SwifLearn now!
With a high percentage of research papers and publications published in English, being well-acquainted with reading and writing the language is a must for those working or willing to work in the field of Science.
Aids in Personal Growth
English is often called the language of the media and the internet. More than half of the content on the internet is in English. Hence, being well-equipped with English speaking and reading skills is necessary to get a clear understanding of the content and take part in forums and discussions. Besides, various online tuition classes are imparting students with lessons on spoken English to tackle competitive exams like TOEFL and IELTS.
Owing to the prominence of Hollywood in global media, a high percentage of movies, web series, TV shows, etc. are written and released in English. Having a good hold on spoken English will allow you to enjoy these shows and films with ease. Besides, going through books and literature translated into English make you grow as a person by learning the values, habits, and ways of life different from yours.
Also Read: Top Online English Speaking Courses To Become A Public Speaker
Adds to the Overall Personality
In today's world, possessing a good knowledge of English accompanied by articulate speaking skills adds to the personality of a person. Conversing in English grooms a person and adds confidence to their body language. Besides, speaking in English builds business etiquettes within a person and gives a platform to represent themselves globally. Such a person can pitch his/her ideas firmly leading to better results for the organization.
At SwifLearn, we truly understand the necessity of learning and improving spoken English. As a result, we provide LIVE online spoken English tuitions for students of grades 3 to 8. Through these online classes, our entire focus is on enhancing the speaking skills and vocabulary of students through face-to-face learning.
Learning English Online
As a language, English has a big role to play in day-to-day life. Without English, it's close to impossible to manage in this ultra-modern world. However, the presence of various online platforms has made it easier for students to improve their spoken English. Access to the best teachers and tutors via LIVE online tuitions has been a massive boon of digitalization and something that has made online spoken English tuitions immensely popular.
Looking to give a push to your English speaking skills?
Article Source: https://swiflearn.com/blog/what-makes-spoken-english-tuition-so-popular/