What It's Really like to Be in a Sorority
"It's a feeling that can hardly be described through words, but it's one of the best feelings in the world."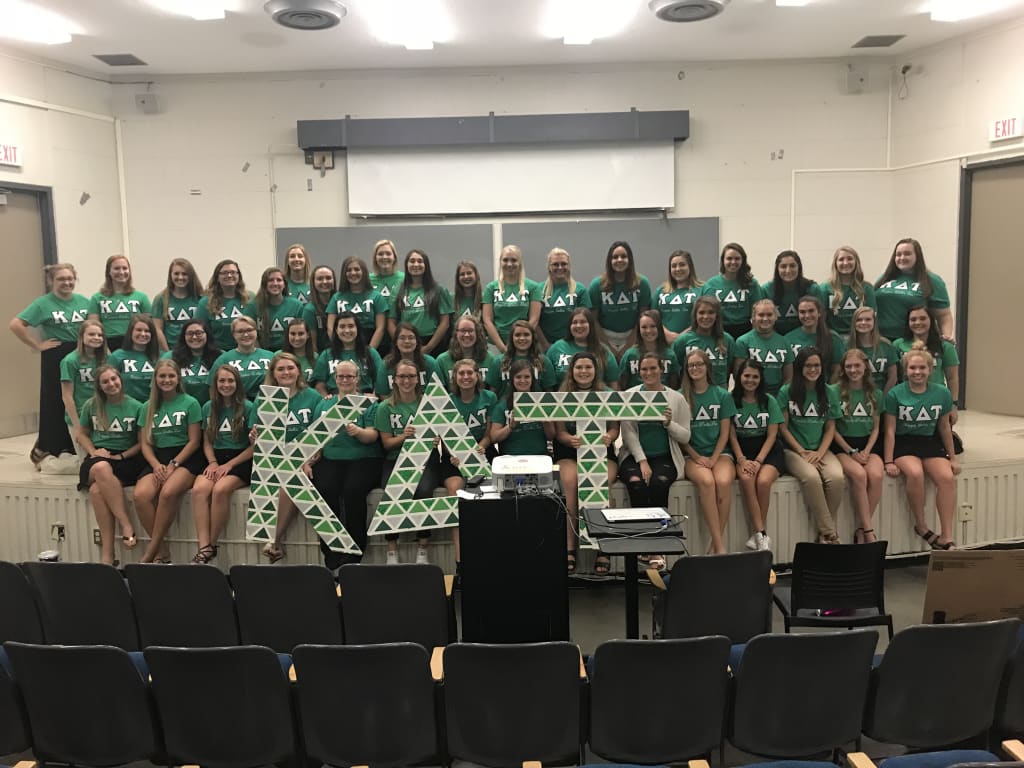 I came into college not knowing a single soul other than my roommate, who happened to be my best friend from home. I knew for a long time I wanted to rush and join a sorority, but when I did, I ended up having a lot of mixed feelings and doubts: Did I really belong here? Was I making the right choice? A series of "what if's" rang through my head. But it was on the third or fourth day of rush that I knew. When I got a bid, I knew. During that first semester, I really knew. This was where I was meant to be. Through the chapter, I found my "sisterhood."
I've met a lot of people who are curious as to what being in a sorority means. What we do, what we're like, what the big deal is. So, if you're one of those people, this post is for you. This is what it's like to be a part of a sorority, an incredible sisterhood. The things you get to experience, the people you get to meet, and everything in between. Because there's more to us than cute t-shirts and glitter. This is based on my own experiences. This is what sorority life means to me.
1. Getting to Do Amazing Service Projects
I've always enjoyed doing service but being in a sorority takes it to a whole new level. Through this chapter, I've done projects where I get to directly come in contact with who it is that I am specifically helping, which is a million times better and more fun than just donating money. Being a part of these various service projects has changed me for the better and has even had an influence on my career path. I now help organize some of my own service projects among my sisters. I enjoy this part of a sorority so much and I especially love getting to serve the community alongside some of my best friends.
2. Knowing Things No One Else Does
Secret ceremonies are the best mostly because...they're secret! It's something you get to do with just your sisters that no one else gets to know about. You share these precious moments with the people who mean the most to you and it's just so meaningful. It makes being a part of something special even more fun and special. Also, who doesn't love surprises? *
3. Big and Little
Big and Little (AKA finding your soulmates) is one of the best things about being in a sorority. My big was the older sister I always dreamed of having, and my little is the epitome of pure cuteness! Through big and little I have found some of my best friends, where our bond goes beyond just being sorority sisters. They are always there for me and support me through the craziness of life. It's a bond that can never be broken, as cheesy as it sounds.
4. Meeting New People
Not only do you have the chance to meet new girls every semester, but being in a sorority allows you to branch out and meet other people from outside the chapter as well. I've done about half a million service projects (like I mentioned before) that have given me the opportunity to meet members in the community who are in need and form a special bond with them. We've worked with other chapters and organizations and I've met people through that as well. It's always nice to see a familiar face on campus, and suddenly feel at home when before you knew no one. Being in a sorority, or simply being involved on campus, is incredibly important when it comes to making new friends, especially during your first year in college.
5. Diversity
Not all sororities are notorious for every member being blonde and preppy. While it might not look like it to some, there's more to our letters than just a fancy font. I found a sorority that was diverse and accepting of all girls, which was where I knew I belonged. There are all different types of girls in every chapter, you just have to find which one clicks for you.
6. Adventure
Being in a sorority is all about adventure and being open to trying new things. I'm always down for a hiking trip or weekend getaway with my sisters. What I love about these moments are the memories we make and the inside jokes no one will understand. This chapter has allowed me to serve the community and have a blast doing it. I tried Miguel's Pizza for the first time, was introduced to Queer Eye, experienced my first real football tailgate, and even got to have a fun photo shoot with some of the girls in my chapter, all because of my sorority. I remember running barefoot in the rain across campus as a whole group of us tried to make it to our dorms without getting soaked after meeting, and sitting in the freezing cold with my sisters cheering on our intramural team. It's the little things that make being in a sorority so worth it, things that make it unforgettable.
7. Wearing Your Letters with Pride
I still remember how I felt when I got to wear my letters for the first time: excited, nervous, but mostly proud. Being able to represent the organization that I loved so dearly and being able to show the world that I belonged to it, it's a feeling that can hardly be described through words, but it's one of the best feelings in the world.
8. Having People You Can Count On
Through this chapter, I have found my best friends, sisters, soulmates, and future bridesmaids. Contrary to popular belief, not all sorority girls are the same. I have found girls who I can bond with over my weird taste in music, while others share my love and addiction for sushi and all things Disney. But no matter what, I know that I can come to these girls for anything, and I have. They are there when I need someone to study with, cry on, and vent to. They pick me up when I'm down and celebrate with me when I'm on top of the world. I know that if my entire life was falling apart, they'd be there in an instant because that's what best friends do.
These eight things pretty much sum up what being in a sorority is really like. It's one of the best decisions I've ever made. Being a part of this chapter has opened me up as a person, allowed me to partake in some of the most rewarding service projects, and introduced me to the best people I will ever meet. I highly recommend going into this as a college student, because it will undoubtedly change your life forever. I've made so many memories and I can't wait to make more.
*And by surprises, I mean fun surprises (No, we do NOT haze). 🙂