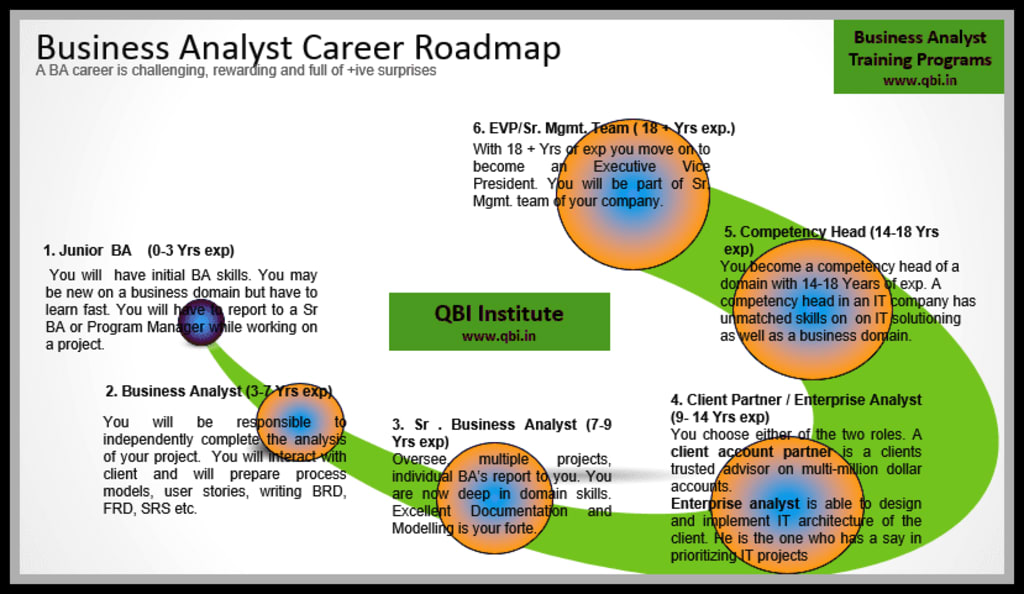 Business Analyst Career Path
A business analyst is a professional who works to identify problems and opportunities within an organization and provides solutions to help the organization meet its goals. They use data analysis, modeling, and other techniques to gather and analyze data, create reports and presentations, and work with stakeholders to develop and implement solutions.
Business analysts work in a variety of industries and sectors, including finance, healthcare, technology, and government. They may be employed by large corporations, small businesses, non-profits, or consulting firms. The specific responsibilities of a business analyst can vary depending on the industry, organization, and job role.
Typically, a business analyst is responsible for tasks such as:
Gathering and analyzing data to identify trends, patterns, and opportunities
Creating reports and presentations to communicate findings and recommendations to stakeholders
Developing and implementing solutions to improve processes, increase efficiency, and drive growth
Collaborating with stakeholders, including executives, managers, and team members, to ensure that solutions align with organizational goals
Facilitating meetings and workshops to gather requirements and brainstorm solutions
Overall, business analysts play a critical role in helping organizations achieve their goals by identifying opportunities for improvement, analyzing data, and providing recommendations for change.
Business analysts play a crucial role in organizations by identifying problems and opportunities, analyzing data, and providing recommendations to help companies achieve their goals. As a result, business analysis is a field with many career advancement opportunities. In this article, we'll explore the career progression path for business analysts, as well as a Business Analyst Course that can help professionals advance in their careers.
Junior Business Analyst: This is the starting point for many business analysts. Junior business analysts typically work under the guidance of senior analysts and are responsible for tasks such as gathering and analyzing data, preparing reports, and assisting with projects.
Senior Business Analyst: With experience, junior business analysts can progress to become senior business analysts. Senior business analysts typically have more responsibilities, such as leading projects, managing teams, and working with stakeholders to develop solutions.
Business Analysis Manager: Business analysis managers oversee teams of business analysts and are responsible for ensuring that projects are completed on time and within budget. They also work closely with other managers to ensure that the company's overall goals are being met.
Director of Business Analysis: Directors of business analysis have a more strategic role within the organization. They are responsible for setting the direction for the company's business analysis function and ensuring that it is aligned with the company's overall strategy.
Chief Information Officer (CIO): CIOs are responsible for the overall technology strategy of the organization, which includes business analysis. Many CIOs start their careers as business analysts and work their way up through the ranks.
To advance in their careers, business analysts can benefit from taking courses that help them develop new skills and knowledge. Some popular business analyst courses include:
Business Analysis Fundamentals: This course covers the basics of business analysis, including requirements gathering, data analysis, and project management.
Agile Business Analysis: This course covers the agile methodology and how it can be used in business analysis.
Business Process Modeling: This course covers the techniques used to model and analyze business processes.
Data Analytics for Business Analysts: This course covers the techniques used to analyze data and provide insights for decision-making.
Business Analysis for Project Managers: This course covers the overlap between business analysis and project management.
In conclusion, the career progression path for business analysts can include roles such as junior business analyst, senior business analyst, business analysis manager, director of business analysis, and chief information officer. Business analysts can also benefit from taking courses to develop new skills and knowledge, such as those mentioned above. By continually developing their skills and gaining experience, business analysts can advance their careers and play an increasingly important role within their organizations.
Reader insights
Be the first to share your insights about this piece.
Add your insights