What is Alice doing now?
Phyllis Reynolds Naylor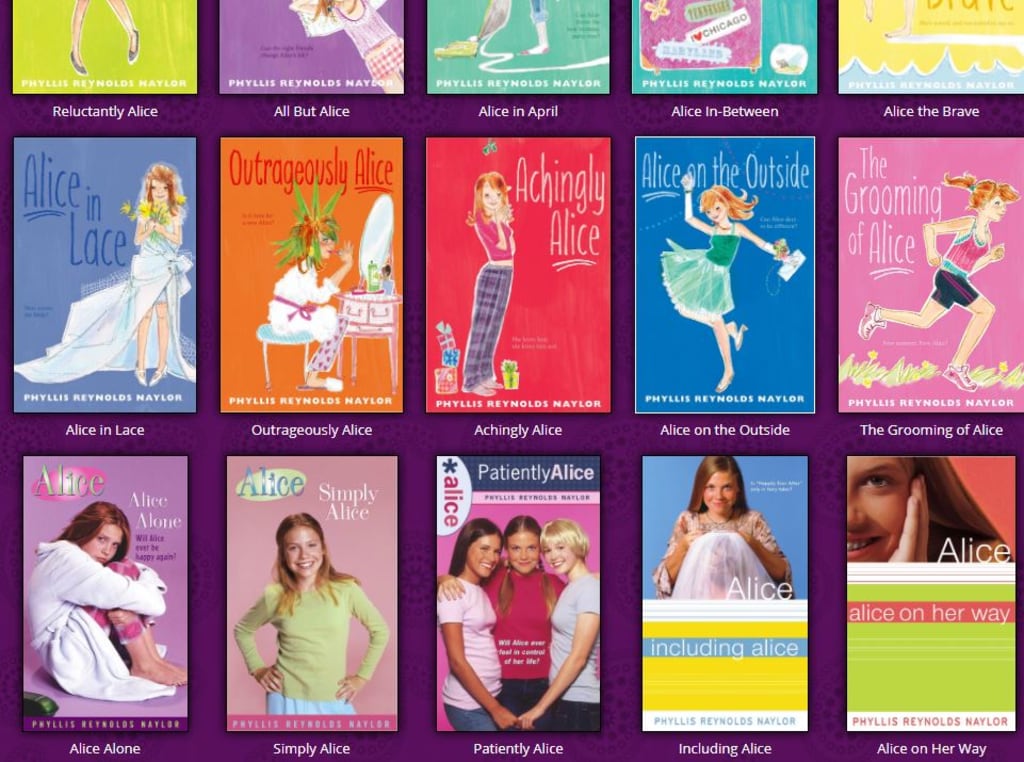 I have a business that includes a call center, credit restoration, credit building, tax preparation, and the list goes on....lol
I got an email that my first story with Vocal Media had been published and I hesitated to share on Facebook because it was, in fact, a little too personal. At least for me. But as I texted with my best friend, Sandra, I was thinking about what to write next.
You see, I am a bit of a nerd, even if I don't act like one. But my mind is always running wanting to learn more and more. I also love to read. Most people will say they like to read extravagant book series like, Harry Potter, for example. But not me! I love those fiction books that are so personal that you can feel yourself right there next to the main character and it makes you even want to give them advise.
I can be a little too nosy at times. Of course, I will not let you know that. But it all started in the 5th grade, as my class walked in a straight line to the school library. Like always, I spent my allowance on snacks, so I again didn't have money to buy a book. But we were allowed to take a free book from the free book table and for some reason, I chose one called "The Agony of Alice" by Phyllis Reynolds Naylor. I didn't share it with my friends. I mean I have always had a best friend. But for some reason, I was always different and having a best friend meant we would talk about boys or latest fashion and makeup but I never remember sharing my thoughts on education with my peers.
So finally, the bell rang, signaling us to go home for the day. Finally giving me a chance to start on this one book that I had secretly and anxiously waited to read once I got home. I opened it to page 1 as I started my walk home. When I got home I would just tell my parents that it was school related book (which it was) and they wouldn't question me about why I was reading all afternoon. No one would care to bother me.
So, I dove right in only to find that, Alice, the main character in this book was just like me! About to be a teenager, questioning every decision and situation happening in her small life and no one to really turn to for guidance. I would never be able to ask my mom about the latest fashion (or so I thought). Little did I know my mom knew a thing or two about what I should wear. I also would never be able to talk to my mom about boys (or so I thought). Little did I know she was reading all of my little letters that I would exchange with my friends and forget them in my pockets.
Alice was having all of the same questions about life herself, except she was an orphan. I wasn't. But back in our times, there was such high level of respect for our parents that we could not just talk "boys" with our moms. Somehow I felt the same way that she did. Not that my mother made me feel like I was orphaned by her. But I couldn't bring myself to ask her about all of these topics. I was afraid that she would find out that I in fact was growing up. That although, I was her youngest, I was growing up.
Oh, but how quickly does time go by? I came to realize how my world has changed. And for a second, I remembered Alice. Where is she now? Does she also have a baby? Did she find the right guy? What career path did she take? Did she follow in my same footsteps? Did she also get bombarded with options and chose the right ones? All of these questions flooded my mind as I was thinking about what to write next. Someday, I will thank Phyllis Reynolds Naylor for secretly helping me through life when she had no idea how her Alice books impacted my childhood, teenage years, and even my freshman year in college.
I remember sitting bored to death in my music class. It was a pre-requisite as a freshman. I thought that I would learn to play guitar. I love music! But like with everything that I love, someone comes and sweeps my time away. And the only time that I would find to read my Alice book was in music class. I failed it by the way. But I got to read and imagine what Alice experienced when she got her first kiss. Of course, by this time, I had done plenty of kissing myself. But it was nice to imagine the first kiss all over. At least someone else's first kiss! Mine had been horrible. But every year, Phyllis would release a new Alice book. Alice and I grew together.
And all that I have left is just a thought of her. Now, that I have a baby. I have little to no time to actually read an Alice book. The only reason I can write is because I am using company time to reflect lol luckily I am the company so I am not stealing my own time and my daughter is at her grandparent's house babysitting for me while I slay the day. Or so they say.