UK Students Receive Record A-Level Results
Number Of Students Getting Top Grade Has Dropped Since Last Year However Remains Higher Than 2019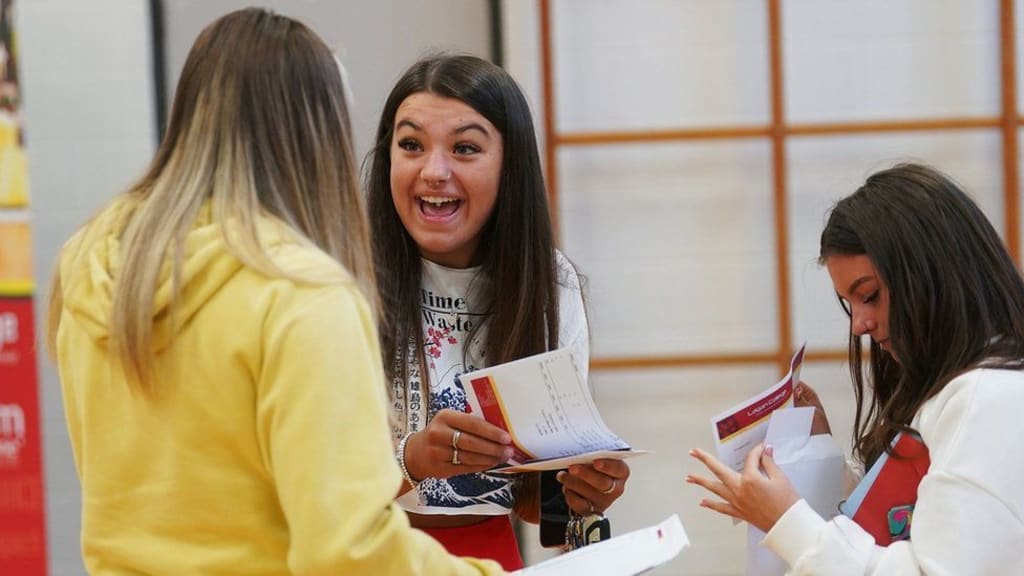 Students Opening A-Level Results, Image-BBC
Students in England, Wales and Northern Ireland received their A- Level, T-Level and Btec results on Thursday 18th August this year. This was the first time in two years that people's results had been based on public exams, as the examinations had been cancelled in the previous two years due to the covid 19 pandemic. The education of all students had also been severely disrupted due to restrictions which were put in place to work from home where ever possible. This meant that students had to learn on their own using online tutorials and assessments which were set out by their teachers and lecturers.
The number of students receiving the top A-levels grades has dropped since last year, however this proportion remains higher than 2019 which is surprising given how little face to face contact students had with their lecturers. Examinations had also been cancelled in the previous two years meaning that many people's grades would have been decided on how they completed their coursework.
About 36.4% of A-levels were marked at A* and A this year, while last year, 44.8% of exams were graded A or above.
People deal with the pressure of different situations in contrasting ways. Some may not be good at being in examination situations and may freeze when they are put under extreme pressure and time constraints. During the pandemic, there were no situations where they could take assessments or exams moduley so this lead to them facing one big exam at the end of the course which can put anyone under large amounts of stress and strain. They will have to have been learning the work as they went along to avoid a situation where they were left at the end of the year trying to revise everything all at once.
The marking system for this year's A-Levels has had to have been adjusted so it can reflect the midway point between 2019 - when 25.4% were A* and A grades - and 2021, when teacher-assessed grades led to a boom in top marks.
England's exam watchdog Ofqual has said the approach was intended to bring grades closer to pre-pandemic levels, while reflecting "that we are in a pandemic recovery period and students' education has been disrupted".
Similar plans were put in place for Northern Ireland and Wales.
In Scotland, where pupils received their exam results on 9 August, the pass rate at Higher level fell to 78.9% - down from 87.3% in 2021.
"Almost four hundred and twenty six thousand students have been accepted on to places to study at university."
That's according to the University and Colleges Admissions Service (UCAS) who regulate and process applications from students to study courses to help them achieve their career goals. Anyone who didn't receive the grades they were looking for or was unlucky enough not to be accepted in to university is strongly advised to contact a university so that they can go through the clearing process to see if they can find a place on their chosen course or one that's very similar that way.
UCAS also stated that more students from disadvantaged backgrounds were being awards places at university meaning this year's intake will be more diverse and will give more equal opportunities to students who may not be as well off as others so need extra help and support. This could be in the form of loans and bursaries to help them pay for their tuition fees and teaching materials or to pay for additional support in the form of a mentor or support worker who can help them with their studies.
People may be disadvantaged due to a particular health condition they may have which has affects on the way they react in certain situations or on how their memory and concentration develops and works during their studies.
If you're someone who didn't get the grades you were looking for this time, and need help figuring out your next step, you can contact the UCAS Clearing system at:
www.ucas.com/clearing-launch
Reader insights
Be the first to share your insights about this piece.
Add your insights