Top 5 educational apps for every aspirant preparing for their upcoming exams!
Top 5 educational apps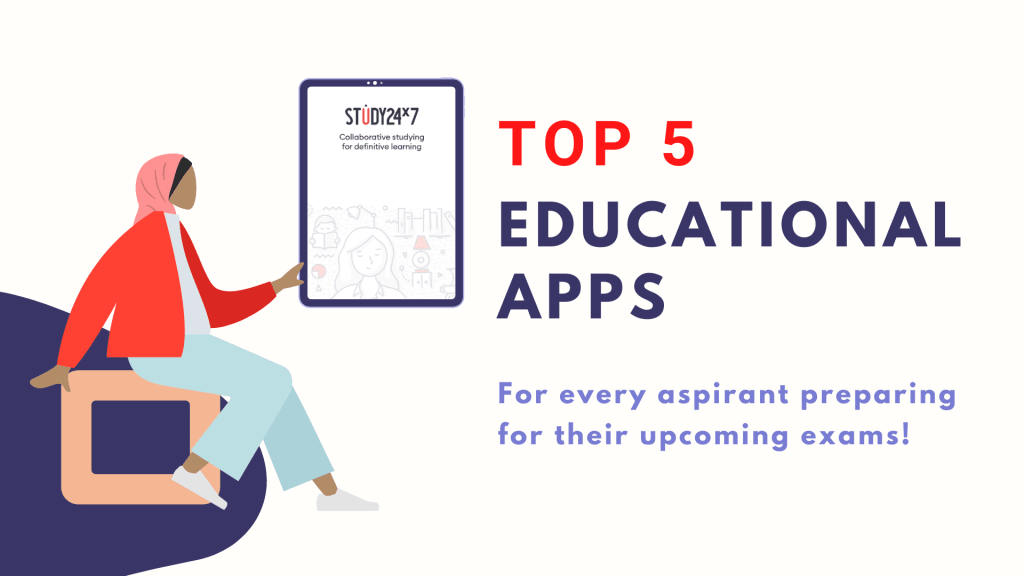 This era of education is all about digital learning and teaching! Mobile phones that were once used only as a source of communication have now turned into online learning platform. Now every educator and learner is empowered with technology that instantly connects them with each other, bringing the power of teaching and learning right into their hand held gadgets.
Exam preparation platform and App serves variety of different purposes. Some are meant for coaching and online courses whereas some are entitled to provide career guidance. Also, some are being more innovative and applying the fundamentals of social media, being called as social learning platform.
While all of them have got their own eminence in the life of learners, let's take a look at top 5 educational apps that are an ultimate destination for every learner and competitive exam aspirants-
1. Study24x7- India's first social learning platform
Study24x7 has emerged as India's first social learning platform that has transformed the basics of online education. It is a social learning service for learners and educators- A place for collaborative learning, sharing and communicating. The top features of Study24x7 are its flexible and convenient learning environment, interactive live classes, unlimited course related questions & quizzes, and real time solution to queries.
On Study24x7 the learners can find courses on diverse exam categories such as Staff Selection Commission, PSU Bank jobs, UPSC/PSC jobs, Teaching jobs, Railway Recruitment Board jobs, Defence jobs, State Job Exams, etc. Here one can also find vide variety of courses for higher education and K12.
2. Gradeup
Gradeup is India's largest exam preparation platform where aspirants get access to variety of educational material for 100+ exams. Through its website and app, Gradeup provides free live learning classes, daily quizzes, mock test papers, daily current affairs, unlimited practice questions/previous year solved papers, recorded video classes, online coaching and much more.
It uses the latest technologies to initiate better learning methods for its 1.3 crore registered students. They offer an enhanced virtual classroom experience and have been known for providing range of recorded videos and lectures.
3. Toppr
Toppr is a leading online learning platform and caters the learning requirement of students starting from class 5th right to K12. It is known for providing the best syllabus coverage for class 12th students with its 1 million courses. Toppr has got more than 8 million students on its platform and prepares them in advance to get the best scores in various school, board and entrance/competitive exams.
It has got variety of features such as free live classes, doubt clearing sessions, and proper class timetable. They cover a very wide range of syllabus from CBSE Board, ICSE, and State Boards. Students who are preparing for IIT JEE Main, NEET, AIIMS can also use Toppr to prepare and practice with Mock Tests.
4. Unacademy
Unacademy is one of the best exam preparation companions for all aspirants. Some of its most significant features are, you can attend Live Classes by Top Educators, get your doubts cleared and test your preparation via Live Test Series, Quizzes, Practice Section and much more.
It covers a wide range of exam categories such as UPSC CSE, SSC Exams, IIT JEE, NEET-UG, NEET-PG, Bank Exams, NTA-UGC NET, CDS/AFCAT/CAPF, NDA/Air Force X&Y/ Navy, State PSCs and more, all on one platform.
5. Adda247
Adda247 is a renowned education-technology company in India that helps students in cracking their Govt. and competitive exams. Its mobile app has got the second largest number of paid users who have benefitted a lot from this App.
Here the aspirants can find courses and study material on almost all exam categories such as PSU Bank jobs, Staff Selection Commission, UPSC/PSC jobs, Railway Recruitment Board jobs, Teaching jobs, Defence jobs, State Job Exams, etc.
This platform has been integrated with all the recent technologies that enable the learners to access all the study material in a seamless and most effective manner.
Conclusion
Exam Preparation Platform/App has brought a revolutionary change in the existing system of learning and teaching. They have introduced the concept of easy learning where students from anywhere and anytime can indulge into effective learning process without covering any distance or being restricted by geographical boundaries. This is not just a boon for learners but also for parents who dream to see their children reaching to greater heights.