Tips for Narrowing Down Your Next Destination | Blake McCoy
Blake McCoy | Travel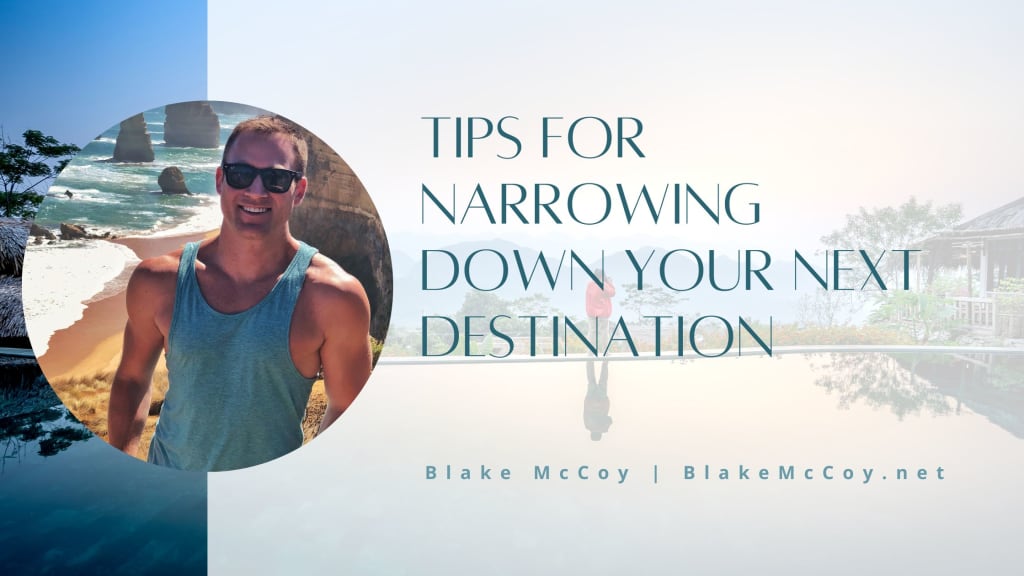 Choosing your next travel destination can be an exciting but overwhelming task. With so many beautiful and exotic locations worldwide, narrowing down your options and picking the perfect destination for your next adventure can be challenging.
However, by considering your budget, travel style, timeframe, and accommodation preferences and doing extensive research, you can narrow down your options and find the perfect destination that aligns with your interests and travel goals. Here are a few tips for narrowing down your next travel destination to help you make an informed decision and plan the trip of a lifetime.
Determine Your Budget
Your budget is one of the first things you should consider when narrowing down your destination. Your budget will significantly affect where you can go and what you can do. Determine how much you will spend on travel, accommodations, and activities, and use that as a starting point for your search.
Consider Your Travel Style
Another essential factor to consider when choosing your next destination is your travel style. Do you prefer adventure travel or relaxing beach vacations? Do you enjoy cultural experiences or outdoor activities? Consider your travel style and interests when narrowing down your choices.
Think About Your Timeframe
Your timeframe can also play a significant role in choosing your next destination. How long are you available for travel, and when are you planning to go? Consider factors such as weather, peak travel seasons, and availability of accommodations and activities when choosing your destination.
Research Your Options
Once you have determined your budget, travel style, and timeframe, research your options. Use travel guides, blogs, and social media to get inspiration and ideas for your next destination. Consider safety, accessibility, and cultural experiences when researching your options.
Consider Your Accommodation Preferences
Your accommodation preferences can also play a role in narrowing down your destination. Do you prefer luxury hotels, budget-friendly hostels, or unique vacation rentals? Consider your accommodation preferences when choosing your destination, and research the availability and cost of different accommodations in your desired location.
Ask for Recommendations
Finally, consider asking friends, family, or travel experts for recommendations. Connect with people who have traveled to your desired location, and ask for their guidance and advice. This can help you get insider tips and insights into your destination and make the most of your trip.
Deciding your next travel destination can be a daunting task. Still, by considering your budget, travel style, timeframe, and accommodation preferences and researching, you can narrow your options and find the perfect destination for your next adventure. Remember that choosing your destination is a personal decision, and choosing a location that aligns with your interests, preferences, and travel goals is essential.
This blog was previously published on April 12, 2023 at BlakeMcCoy.net
_________________________________________________
Blake McCoy's career often takes him to exciting new locations covering events as they happen. Journalism rewards curiosity. In his off-time, Blake McCoy channels that innate curiosity into travel with assignments he gets to choose himself.
A California native, Blake McCoy grew up outside Los Angeles. His first travels were to explore new beaches, attend summer camp in the mountains of Big Bear and on weekend trips to places like Santa Barbara, Palm Springs and Catalina Island. As a teenager, Blake McCoy relocated with his family to Nevada and a small town outside Las Vegas rich in history. Founded by the federal government in the Great Depression, Boulder City was built to house workers constructing the Hoover Dam. Today, that dam creates Lake Mead, the largest man-made reservoir in the United States, responsible for generating power and allocating water for three states — Nevada, Arizona and California. The sprawling growth of Los Angeles, Blake McCoy's first home, was made possible by the prior founding of Blake's second home — a story revealed through travel (okay, a forced move) and endless curiosity.
As a journalist, Blake McCoy's career has taken him to new homes across the United States. Blake McCoy's first job in television took him to Boise, Idaho, known worldwide for potatoes but appreciated by those who live there for its mountains and access to the great outdoors. Blake's next job returned him to Nevada, this time under the neon lights of Las Vegas. After three years back in Nevada, Blake traded triple-digit heat for sub-zero cold with a move to Minnesota and the Land of 10,000 Lakes. Blake fell in love with lake life, distinct seasons and the friendliness of people in the Midwest. He would go on to join NBC News as a national correspondent and requested to be based out of their Midwest bureau in Chicago. Blake McCoy also spent many years living in Washington, DC, which offered weekend trips to beach towns in Maryland and Delaware and day-trips hiking and rafting in West Virginia. Blake McCoy has close family in Hawaii and Texas, two places he also travels often.
About the Creator
Blake McCoy is a dynamic, engaging broadcast journalist with a depth of experience. As a network news correspondent, Blake has traveled the country sharing stories of human triumph and tragedy, struggle and perseverance.
Reader insights
Be the first to share your insights about this piece.
Add your insights