There's a tool for every task...
Creative Endeavors and Teaching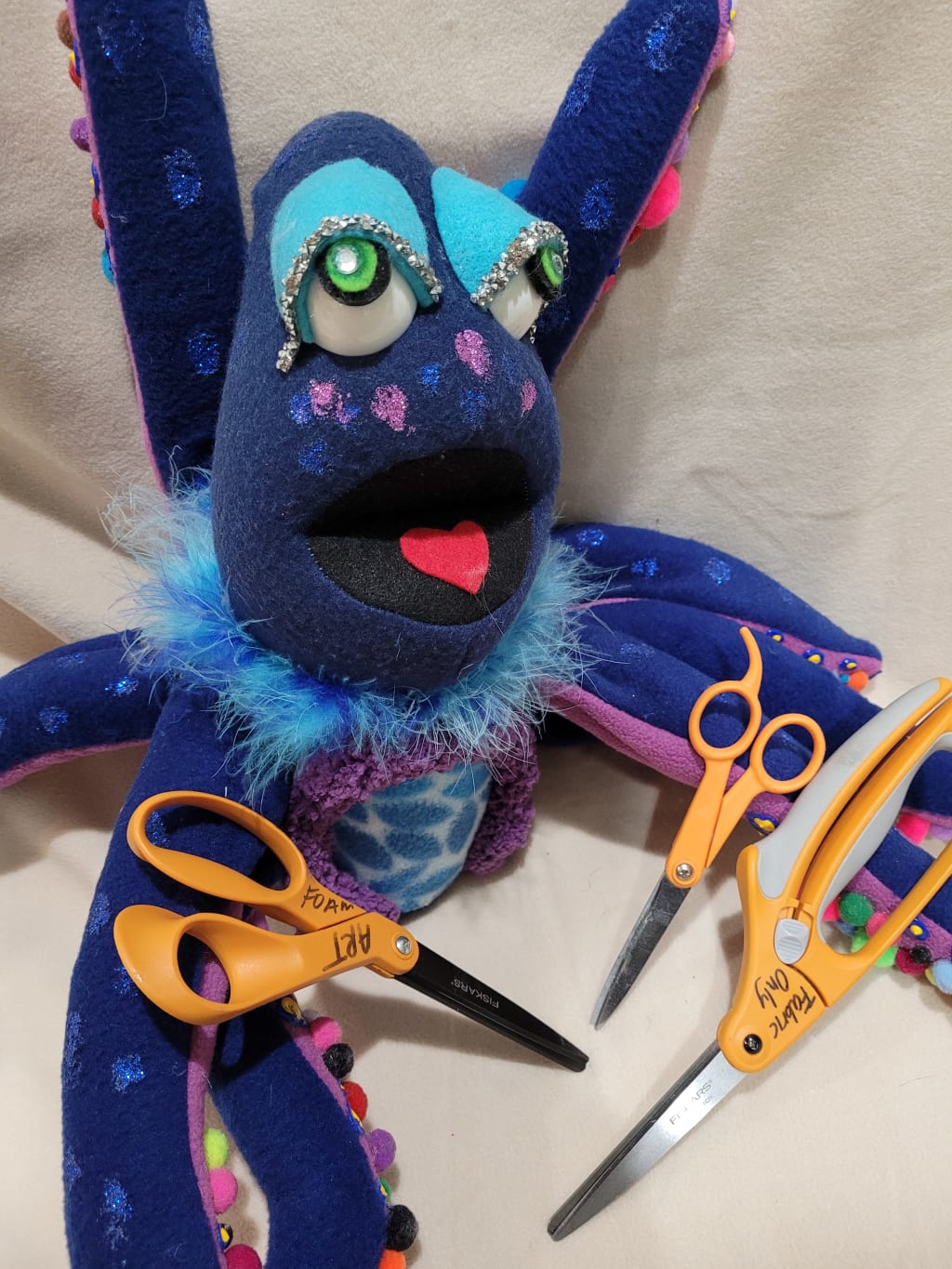 Tools of the Trade
A creative imagination belongs to every child. If one is adequately encouraged, these attributes can extend into adolescence and far beyond. I took my dream into adulthood and developed my love of design and creativity through my explorations in the visual arts and my unique puppet characters, each with a story to tell.
The characters on Sesame Street and The Muppets Show were magical to me. I wanted to make my puppets, and I tried many times to re-create puppets like the ones I saw on T.V. Impressed with my determination, my parents purchased a commercially made 'cookie monster' puppet. After examining the construction, my enthusiasm soared and a desire to become a puppeteer/maker for Jim Henson, creator of the Sesame Street puppets, was my dream. The freedom of imagination and creativity was addictive. I took the puppet apart and experimented with making patterns, cutting fabric/cloth, and sewing.
Life happens, and my interests evolved into other forms of media. To celebrate and continue my varied interests, I decided to become an art teacher. As a middle school art teacher, I have shared my passion and curiosity with my students. I love teaching Visual Arts. It gives us all the opportunity to experiment with a variety of media. In our art studio, I use Choice/TAB arts education. I believe students/artists should have the agency to determine what and how they should create artwork. In a Choice studio, each arts media has its zone and tools. The program encourages our student artists to choose how and what to make based on curiosity. Students are encouraged to dig deep and go outside of their comfort zone. On a typical day, my student artists work independently on their ideas in drawing, painting, mosaic, sewing/stitchery, or sculpting clay. My student artists build upon their skills using a variety of tools and techniques.
Everything comes full circle. After many years of finding my creative outlet, I stumbled across a puppet-making workshop and jumped right back to my childhood dream to be a puppet maker. The years of manipulating vast types of media were a huge benefit. So much so that in 2012, I started my own puppet-making company called Outta Our Minds. I started small by selling finished puppets at local craft shows and festivals. Later, I went global on Etsy and developed my website, and I have a portfolio of extraordinary custom puppets made for authors and television.
As a craftsperson and teacher, finding the best materials and tools are the highest priority. After all, a tool's longevity reflects on the final product. Whether it's one of my puppets or my students' artwork, I need the best tool for the job. I have been teaching for over thirty years, and I have bins, buckets, and drawers filled with sub-par supplies and tools. Due to their unpredictable nature and poor construction, the cheaper tools I've collected are more valuable as a collage or mosaic component permanently fixed as a wall ornament at my school. When it comes to lifelong tools, I must have the best. To go a step further, I believe in the right tool for the right job, and I insist and encourage my students to follow the same philosophy.
Not too long ago, one of my student artists decided to create an embroidered creature. After planning, my curious artist ventured over to the Textile/Sewing station and collected her fabric, embroidery floss, tension hoop, needle, and began to draw out her creature onto the fabric. When it came time to cut out her fabric dolphin, she quickly grabbed some scissors and began to cut. She struggled to get the scissor to cut the cloth. It kept bunching up, and she was getting upset. We started again, and this time we used the scissors I kept in the Textile/Fabric Station. Initially, she didn't realize I had specific Fiskar scissors dedicated to cutting fabric. The second cutting was much more effortless, with fewer snags and fewer tears.
As George Martin said, "There is a tool for every task and a task for every tool." At home, I attempt to follow the same philosophy. All of my scissors and cutting tools are labeled. Probably kind of ridiculous or overkill, but it makes me pleased to produce a quality product. If only my family would read the labels!