The World is a House
In Which Fairyland is Circumnavigated, Fallen Beneath, Soared Over, Lost, and Raced All the Way Home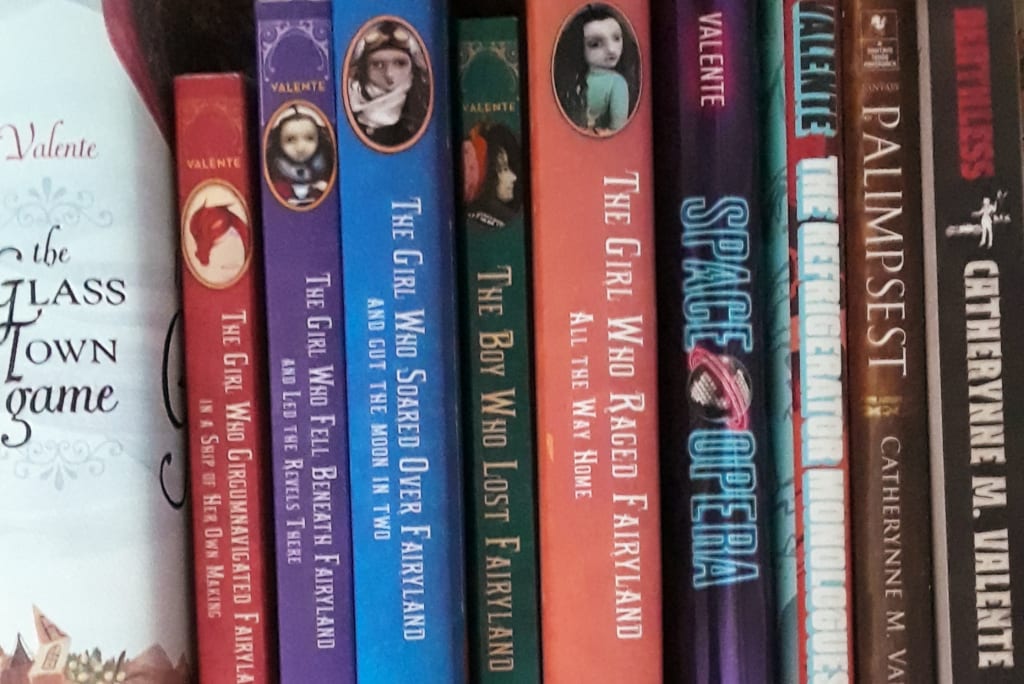 "How would you like to come away with me and ride upon the Leopard of Little Breezes and be delivered to the great sea, which borders Fairyland?" -The Girl Who Circumnavigated Fairyland in a Ship of Her Own Making
Reading a book by Catherynne M. Valente is like getting punched in the face with a story, and liking it. She crafts worlds that are beautiful, surreal, grounded, and extraterrestrial. Honestly, it's hard to choose just one of her fantastical worlds to sing the praises of. Do I choose the eerie mash of post-war Russia and the mirror-kingdom of Koschei the Deathless? Or perhaps the grotesque and alluring dreamland of Palimpsest? A Eurovision style singing contest in the far-flung reaches of the galaxy, where humans will compete for their right to exist in the greater universe? Perhaps Deadtown, where the fridged girlfriends of comic book superheroes gather to vent their rage at the narrative tropes that landed them there? Or a floating trash island the size of Texas, humanity's last refuge in a burned and desolate world?
In each of these worlds, Valente weaves her stories together with complex prose and a vocabulary that does not mess around. The one I want to dive into, however, is the one that found me first—Valente's visceral and dreamlike take on Fairyland.
When you think of Fairyland, you probably think of green fields full of edible flowers, sprawling cities made of scarves and quilts or some other nonsensical thing, befriending dragons (or in this case, a wyvern), answering riddles, attending lavish tea parties, and—of course—fairies. Valente's Fairyland has all those things and more, but she did not for a single moment shy away from the old-world Fey truth; almost everything in Fairyland wants to kill you. If it does not want to kill you, then perhaps it will steal you, or cut into you with claws like knives, mislead you, barter an hour of your life away, send you into the Worsted Wood to face your death amongst the mushroom caps, or maybe just turn you into a tree that lives and breathes but can never leave.
This is a book series for children, obviously.
Despite all its dangers, Valente's Fairyland is a place of beauty. It is a world that understands the unique magic to be found in silence, in stories, and spoons, and in the simple declaration, "No". Fairyland's magic is rooted in anything it wants to be, making the simple, the mundane, and the unexpected, powerful. It is the magic of knowing who you are, how things work, and just what is needed.
"What others call you, you become. It's a terrible magic that everyone can do--so do it. Call yourself what you wish to become." -The Girl Who Soared Over Fairyland and Cut the Moon in Two
The descriptions of each new place within Fairyland, are sumptuous and alluring. From the cerulean waters of the Perverse and Perilous Sea, to a glittering city resting on the curve of the crescent moon, the shadows and electric lights of Fairyland Below, the great plains where the velocipedes run, the Great Grand Library, all the way to Pandemonium—the woven and patchwork capital of Fairyland—which moves according to the needs of whichever story is unfurling at the time, and the Autumn Provinces' eternal fall.
"A place where it is always autumn, where there is always cider and pumpkin pie, where leaves are always orange and fresh-cut wood is always burning, and it is always, just always Halloween." -The Girl Who Circumnavigated Fairyland in a Ship of Her Own Making
All of this serves to frame a story that is absolutely, but indirectly, about growing up—about leaving home for adventure and new beginnings and realizing just exactly what you will miss the most. It is a story about the fears and misgivings that can accompany a person as they take their first, hesitant steps out into the grand adventure of becoming Grown-Up. There's new knowledge, and treasures, and privileges, but they come with responsibility and obstacles that must be faced. These moments are framed poignantly and thoughtfully, the bitter and the sweet, built into Fairyland like they were there all along.
"Could I…could I be the Engineer? My mother's one, you see. And for a long while I didn't think much about anything except Fairyland—getting here and staying here. But I haven't seen my mother since before I went up to the Moon and I miss her. I miss her so much. And she fixes things. Mends things. Makes them good and sound and flyable again. Even if I'm only Queen for a little while, that's the sort of Queen I'd like to be." -The Girl Who Raced Fairyland All the Way Home
The heart of Fairyland is a story, and Catherynne Valente's Fairyland lives and breathes with the stories it houses. It is fierce and beautiful and unknowable and familiar. Each piece of this strange and wild land brings scenes and lessons that resonate with readers young, old, and in-between. It is a perfect Fairyland, and the best fictional world I know.
"A labyrinth, when it is big enough, is just the world." -The Girl Who Fell Beneath Fairyland and Led the Revels There