The Unconventional College Life
A Working Vet Tech Student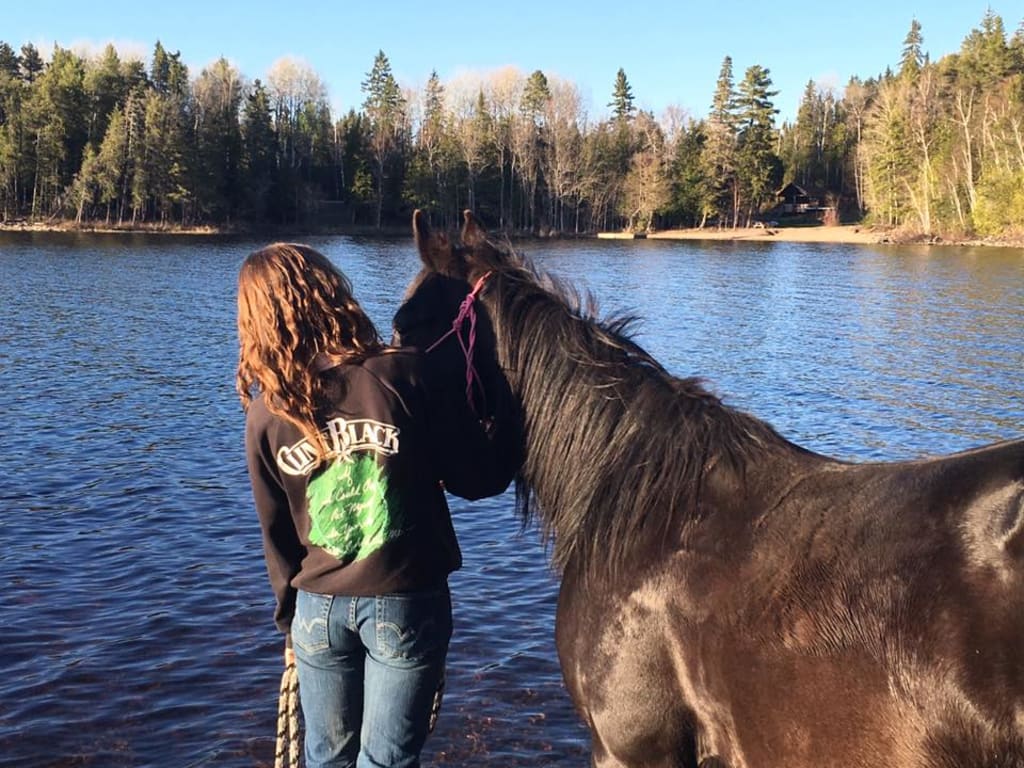 Well it all starts senior year of high school, where it does for everyone: the bone chilling, stomach wrenching waiting, waiting for the letter that seals your fate one way or the other.
After 4 years of working and stressing, bringing it all together all for this, these few weeks of waiting and hoping.
Once I received my letter, that's when the real work starts. I was accepted to a very small school, and with that comes different challenges from the normal start to college with a single res building and no meal plans. My only choice was off campus housing. I found an amazing apartment that was nearly made for me, a rustic loft with rod iron detailed half walls to the bedroom and three chandlers with faux candle lights, large picture windows overlooking my horse's pasture enclosed in a rock-detailed wall and log beams. With all of this came a deal of a lifetime; the deal allowed me to bring my little mare with me. She is a jet black ball of crazy and cuddles. She is truly a huge part of my heart. The deal is I work in the stable to pay off my horse's board.
This barn is like nothing I had ever been at before; I have always been a small time girl. My first barn that I took lessons at was old musty and did the job, and then after that I always had my horses on personal properties, small shelters, no barn, nothing to really be proud of; however this place, with its shiny stall bars, cobblestone isles and automatic waters, looked like it came out of a magazine with jumping ribbons lining the top of the barn like a beacon of the money spent, and me with my dirty cowboy boots and faded jeans stuck out like a sore thumb. Surrounded by girls in tall boots that I could nearly see my reflection in, with breeches so white they nearly reflected the sun, and helmets that have money nearly stamped on them— their outfits cost more then what I bought my horse for. I felt like a girl like me would never fit in there.
I fell in with a group of girls that were more than welcoming; they may dress and ride differently, but they have hearts of gold; they encouraged me to enter up in a few barrel races (my discipline of choice) down here, although I didn't plan on it, and were there behind the ally cheering me on. After a few more weeks, the girls had me taking my barrel horse over jumping courses, and working on "hacks." I would never switch completely. The next thing I know, these crazy girls have talked me into trying my little mare in a jumping show.
Classes were so intriguing and engaging that it didn't even feel like school. It was so much information thrown at me I had to relearn how to learn. It was so incredibly different from the style of learning I was used to. My professors are so focused on helping everyone figure out how to succeed in their classes, it was an experience like no other. With new classes came new friends at school to people all just as passionate about animals as me. We study together and goof off in classes, making our education fun.
It wasn't long after I started I began to get the swing of things. I learned how to balance my school schedule, chores, homework, and friends. It is a very busy life but I don't think that I could have a better college experience working with and learning more about animals each and every day. In an environment surrounded by great people, sweet animals, and good vibes, what more could a girl ask for?