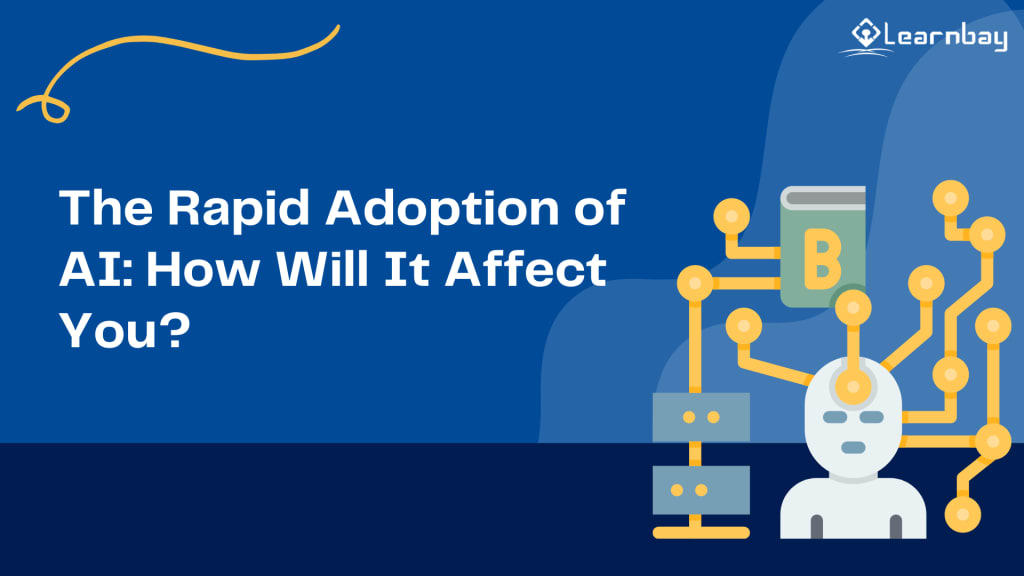 The Rapid Adoption of AI: How Will It Affect You?
These days, hardly a day goes by without a report on brand-new AI-based applications or discoveries from embedded AI systems. The necessity of aggressively adopting Artificial Intelligence across platforms and domains has grown in importance due to the field's rapid breakthroughs.
Artificial Intelligence
The emergence of AI and its advanced version, ML, has had an impact on almost all industrial domains. The demand for AI-driven automation is at an all-time high, helped by the fourth industrial revolution. It's interesting to note that emerging startups and top corporations are using AI to boost production and efficiency. AI can be used for everything, from optimizing production processes to gleaning insightful information from a sea of data. Even governments worldwide are eager to use AI or are already doing so for various tasks, including security, infrastructure development, executive decision-making, and policymaking. AI is currently being used in various fields, including self-driving cars, improved search engines, and recommendation systems.
The fact that academics and innovators striving to improve human life, in general, have been drawn to AI, businesses, and governments is another indication of the field's explosive growth. For instance, MIT researchers found potent medicines in February 2020 that may treat even 'untreatable' strains of bacteria. The method is revolutionary in the world of medicine since it establishes the possibility of using artificial intelligence (AI) for drug discovery and offers hope for resolving challenging issues like creating cancer treatments or battling fatal diseases. Another excellent example is a supercomputer being developed by Meta that seamlessly processes photos, content, and videos around the world. It trains AI models using data inputs from all over the world in various languages.
Moreover, Artificial Intelligence is a tremendous skill set if you want to pursue a career in data science, data analytics, or big data, and it will undoubtedly help you land your ideal position. With Learnbay's Data analytics course in Bangalore, you can master those skills to become a competent data analyst.
Data Science And Artificial Intelligence
The advancements in the data science field are responsible for AI's rapid development. Since the fundamental idea of AI is to train machines with data so that they can learn from the input data and slowly be able to develop cognitive abilities efficient enough to run on their own with little to no human supervision, some people see AI as a field emerging out of the domain of data science.
Today's top data scientists are also masters at creating AI or ML algorithms that automate various processes and aid various businesses or organizations in attaining goals. AI algorithms are trained via real-time data feeding, distant data inputs, and data gathered from sensors. Therefore, AI unavoidably becomes a part of the challenge when organizations try to develop data-driven initiatives or monetize data.
How Does India Plan to Use AI?
The Indian government has embraced AI and is developing policies in light of it. For instance, the government's goal of having a $5 trillion economy by 2025 heavily depends on AI and its applications. The Indian government thinks that AI and data science have the potential to boost the country's GDP by a staggering 500
Billion USD by 2025. India, a country with a historically agricultural-based economy, aims to put AI-driven methods into place to boost production and efficiency to quadruple farmers' income.
The Indian economy's other economic sectors, including BFSI, retail, IT services, etc., are also thought to gain from AI through techniques like financial risk modeling, digital infrastructure building, demand forecasting, targeted marketing, and others.
How will AI Affect You?
AI is the perfect option if you're looking for a job that offers attractive benefits and unrestricted growth at the same time, as well as if you're prepared to learn highly sought-after talents. By taking AI certification courses, you can gain expertise in the subject and get noticed by recruiters from top organizations.
Another intriguing statistic is the enormous need for AI-skilled engineers and tech experts. This is due to the severe lack of qualified personnel who can work as AI experts, despite the constant demand for such specialists. As a result, businesses are making significant investments and attempting to entice people with attractive compensation plans. The situation where demand outpaces supply is challenging in India. Although the nation produces a large number of engineers each year, most of them lack the qualifications to work in the fields of AI, ML, Data Science, or Data analytics. India needs help achieving its AI aspirations due to the traditional character of the nation's educational system. However, some excellent and well-known universities in Indian cities like Bangalore, Gurgaon, and Delhi provide certification programmes in AI taught by professors with years of relevant experience.
Due to its future-proof and steady nature, AI is the ideal job field to devote valuable time and money. In India, a fresher with AI and ML skills may expect an average salary of 6 to 8 LPA after four years of experience. As a result, AI has many lucrative work prospects, and if you have the necessary skill sets, you may take advantage of any such opportunity. Enrolling in the best data science course in Bangalore, will give you the best start and increase your prospects of developing a profession in sophisticated technology.
Reader insights
Be the first to share your insights about this piece.
Add your insights