The Circus Of Life
Lessons Learned & Shared by Me & My Friends!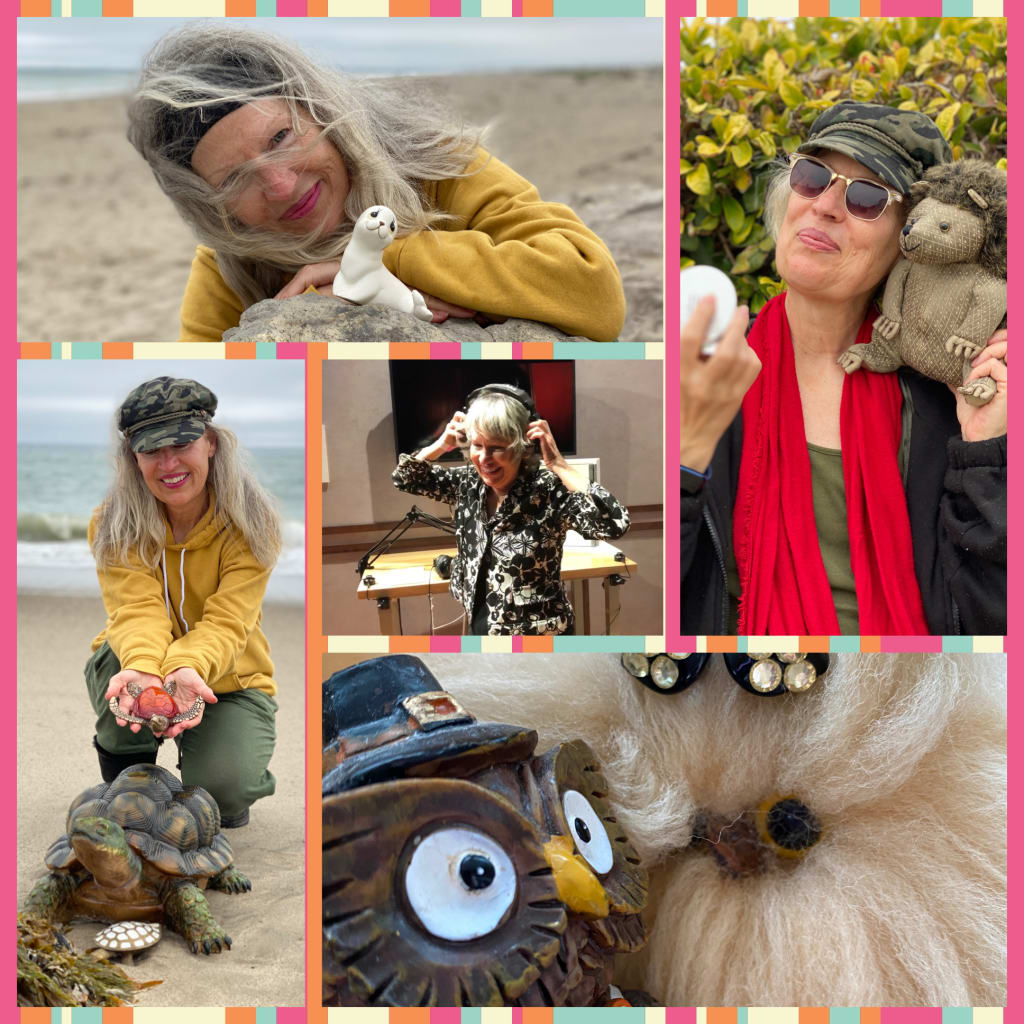 Giving My Friends A Voice!
I felt transported…out of my 'row house, wrong side of the tracks' neighborhood and into a world I had never seen before, never knew was possible…completely and utterly out of my life and into that of "Charlie's Aunt" …a play at Heinz Hall in Pittsburgh. One of the girls from the 'right side of the tracks' invited me. Her gramma lived at the retirement home where I went with my momma when she volunteered to do hair and nails.…I would sing for them….they would clap and fuss (and put a few coins in my pocket, kinda like Vocal, but not virtual :)…I was hooked.
Theatre changed my life. It gave me hope. And, a life outside the row…not by leaving it behind, but by letting every experience, as hard as it was at times, inform the now, to create enriching, 'unique to me' characters, that people wanted to watch, to meet, to understand.
This blessing of a curse, allowed me to connect to others in a powerful unique way, and more than that…to inspire them. It also fueled the passion to help other young talents find their way.
I have mentored over a thousand young artists these last few decades, and it has enriched my life, one young spirited child at a time.
Covid brought a new challenge, as did the Cancer treatment, yet again, life allowed me to further inform my artist's journey.
"Go with the Flow" as my Momma would say. So I did. I wrote a book with the life lessons I've learned and put to good use, to inspire young spirits around the world…not the 'one at a time' I had been used to…but any inspired inquisitive mind living anywhere (and there is quite a bit of humor infused in the book, as in my life, for their parents as well :)!
I also used my years of acting to record an audio book version of the written form, with lively lessons such as Inspiration, Patience, Strength…told through the voices and behaviors of animals, living in their natural habitats around the globe, discovering these life lessons first hand as you listen! There are also some fun facts about the animal species as well, infused into the stories!
And just to circle back to my unique take, Thrifty Trish, a moniker I've embraced since childhood, bestowed on me by the neighborhood kids who would watch me re-create looks from "Seventeen Magazine" with thrift store finds, then put on a fashion show sashaying down Huxley Street…the books' stories are inspired by an animal figurine that I've collected from the shelves of thrift stores around the globe. I have creatively photographed each one, in their natural habitat, for the cover photo of each story!
My Memberful flock would receive a new life lesson every month via audiobook, along with the photo, and written version. They would also receive a bonus…a short quiz on the reading that would include animal facts on the featured animal, cultural history on the location the story inhabits, and some fun tidbits on where and how I acquired the figurine that inspired the story!
I would hope to expand this into my passion for fashion….Thrifty Trish style of course, where I feature the Latest Looks For Less and how to get it, along with Thrift Store feature articles, tips and tricks, and direct sale of my special finds to benefit my scholarship fund!
I am so happy to have recently started THE SIMMONS SCHOLARSHIP FUND at my alma mater in Pittsburgh Pennsylvania, to help young artists receive the benefit of a University education. I was blessed to be the beneficiary of other's generosity, and now I am so excited to pay it forward!
"And that's not all", (sorry, I had to do that…those infomercials late at night…) I would love to create a Thrifty Trish Mobile. A repurposed Airstream, renovated and converted by moi', to accommodate my Thrifty Trish finds, and a voice-over/podcast booth inside where my Memberful membership can follow me on the road to live story readings from my book, thrift store adventures, then purchase my finds and my books on the spot all while benefitting future Simmons Scholars!
I would also love to find a way to utilize my over 20k followers on IG and my "eager to purchase my books" family and friends on FB, (yes, I have several other books I've written, but I am trying to focus myself here…this is why I need you Tiffany & Musa)!
Why people should support my passion? So that my mistakes can be their wins!!! I have made ALMOST EVERY MISTAKE IN THE BOOK…..and the blessing (yes, momma again "your curse is also your blessing"), the blessing is that, I have found a way to the win…it just took longer, so why not take a shortcut and get to where you want to go faster, and healthier!
I have been an actress as well as teaching and mentoring kids using the acting skills I've garnered from studying, living, performing and teaching around the world, for over 25 years. This audio book holds many valuable life lessons told in a fun and entertaining way…why wouldn't you want your kids to have a head start on life? Why wouldn't you want to re-think, re-new, re-purpose your own life?
When, like now, is a good time to start?
And, did I mention, that some of my students at LAKidsAct went on to very successful acting careers? Films and Television Shows on Disney, Nickelodeon, Warner Brothers… and that some of my upcoming stories will be voiced by them? My subscribers will have access to exclusive content with some of their favorite young talents!
"What is your legacy going to be"? My mother would 'rinse and repeat' this phrase during difficult decision making crossroads in my life.
For many, it rests in their children, the future they invested so much of their present in. I thought I'd have ten little spirits running around, filling my home in the country with the white picket fence, with love and laughter and light.
That didn't happen.
Instead, I filled my life with the bright spirited energy of other's hopes & dreams, and made it my mission to help them reach for the stars.How blessed I have been to have earned the trust of these talented children's parents.
Over 25 years and many, many children later. I must consider my own legacy once again. As I have taught the children, now, I must Do As I Say…..and contribute to society in my own unique way.
That is what my passion project is all about.
And, the best part, it includes 'my children' all grown up as it were, still in my life, and making their dreams come true, all over the world…planting the seeds of joy and service and peace, wherever their feet are.
My life will not have been in vain, wasted, gone with my last breath…but instead will live on through the words I've written, the lessons I've learned and shared, the voices I've created, and nurtured… to gently remind and educate others, of the life lessons passed down to me, by the generations of strong women I was honored to know.
To sum it up…I am looking for a platform to bring my passions and my audience together…is Memberful up for the challenge? I am :)!
teacher
Trisha is an actress & writer. Writing began during cancer treatment: a memoir, solo show, poetry & her passion, an audiobook for kids. She mentors young artists & established The Simmons Scholarship Fund to help youth realize their dreams!
Receive stories by Trisha Simmons in

your feed