Terrific Teacher Appreciation Gifts
5 Themes To Show Teachers Gratitude for Every Budget
Teacher Appreciation Week here in the United States is well upon us! Traditionally celebrated by schools and communities across America during the month of May, the 2021 week of recognition spans from May 2-May 8. This is the perfect week to thank your teacher or to thank your student's teacher, no matter the age or grade level they teach! And even if you're catching this article after the week of celebration has already passed, remember...there is never a wrong time to say "thank you."
As a teacher-turned-mom I have experienced Teacher Appreciation Week from both the gift receiving and gift giving side and I am here to guide you through selecting the perfect way to express gratitude to the professionals who pour so much of their time, care, and money into our young people. Here are five themes to consider to show our teachers how much you care during Teacher Appreciation Week and year-round!
Wellness
As I consider which items might be most necessary for my son's teachers this year, a theme at the forefront of my mind is the health and wellness of teachers. They are working long hours through a global pandemic, and though vaccination rates are rising and Covid-19 cases are falling, our teachers are still teaching in classrooms where they could be exposed to Covid-19. To let them know we are thinking about them in this year of all years, I suggest items designed to help teachers take care of themselves.
Here are four goodies we stocked gift bags for our child's teachers with this year: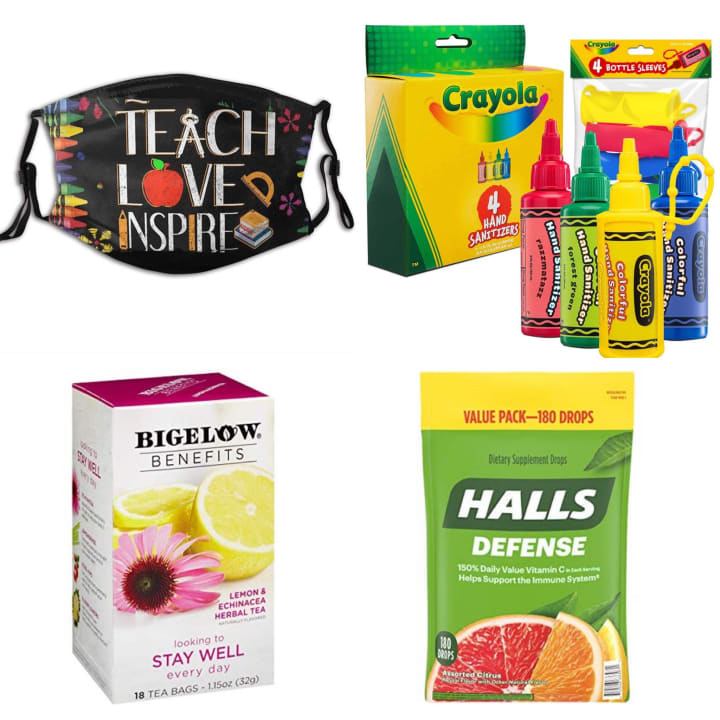 1. A Teacher Face Mask: It's amazing how quickly facial coverings have become standards across communities and occupations. While face masks can feel like a nuisance, there is no denying that they have proven benefits in fighting Covid-19. For teachers, there are lots of cute and inspirational options for facial coverings. We chose masks for my son's teachers this year that have an inspirational message, but you can also find masks with apple and pencil patterns, the teacher's favorite color or quote, or even a custom-ordered mask from a marketplace such as Etsy! A face mask is a useful gift for any teacher, and can be customized to their subject matter or personal interests.
2. Hand Sanitizer: I was so happy to have scored some adorable Crayola themed hand sanitizers for my son's preschool teachers this year. This gift is not only a colorful option with the myriad of bottles and bottle holders available, but also an incredibly practical one. As a former classroom teacher, I went through gallons of this stuff every week...and that was pre-pandemic. I know teachers and students are using a lot of hand sanitizer in the classroom to keep their hands clean, so this is a gift you know your teacher will use daily.
3. Vitamin C Supplements: Probably not the first item on everyone's Teacher Appreciation Week shopping list, but one that I found personally useful in my teaching days, are these handy Halls Defense Vitamin C droplets. Shaped like cough drops, but much better tasting, these droplets will give your teacher 150% of their daily Vitamin C value. A robust immune system can only be a good thing right now, and will certainly help your teacher defend against colds and other nasties that nobody wants to contract while our medical system still recovers from the Covid-19 surge.
4. Wellness Tea: While I loved to receive all kinds of coffees, teas, and other beverages during Teacher Appreciation Week, I really like a good immune-boosting tea for this year. This delicious "Stay Well" tea from Bigelow Benefits can be purchased as K-cup pods or traditional tea bags, and touts lemon echinacea elderflower and rose hips combined with sweet fennel and marshmallow root to support the body's natural defenses and boost health - plus it tastes great!
Relaxation
I am a sucker for bath & body products, and that's no secret. Well aware of the many stressors that come along with classroom teaching, I often try to select gifts for my child's teachers that will help them unwind after a long week in the classroom. It is not often that teachers are able to find the time to pamper themselves and engage in self-care, so anything that will encourage your favorite teacher to take time for rest and relaxation is a winner in my book.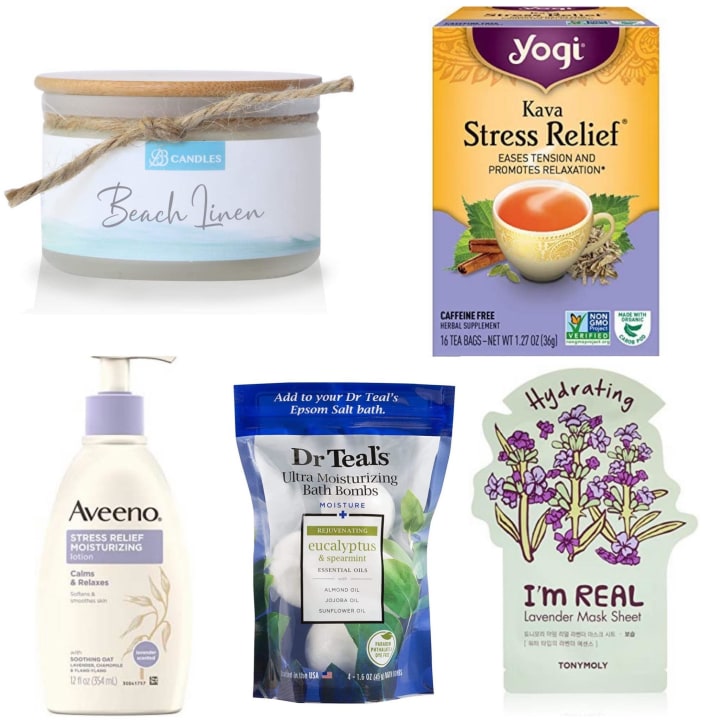 Here are five products to help teachers unwind during this most stressful of school years:
1. A Soothing Candle: If you had endless money and could send your child's teacher on a 5-star vacation, wouldn't you? I know I would. She wipes runny noses, soothes bumps and bruises, and makes my kid absolutely LOVE going to school every day. She's honestly an angel on Earth. Since an all-inclusive resort in Tahiti is a little out of my price range, I like to send my child's teacher on a peaceful retreat, at least for a little while, with a scented candle. This beach linen scent is a great, relaxing option to help your teacher take their mind off of school.
2. Stress Relief Tea: Yes, I know...more tea. But hear me out. This stress relieving herbal blend from Yogi touts all kinds of benefits for your child's teacher. Kava, which is traditionally used for its power to calm the body and mind, combines with warming spices to help support relaxation and tranquility. What more could a teacher ask for after a long day on their feet but to come home and relax over a soothing cup of tea? This was a staple in my classroom while I was teaching, and I often brought a hot cup of a tea to a stressed out coworker, too. Stress relieving tea is sure to be an appreciated gesture for your teacher this year.
3. Lavender Lotion: If you couldn't tell already, I am a big believer in aromatherapy, and lavender is one of the very best scents to calm frazzled nerves and relax anxiety. This great lotion from Aveeno wears comfortably on tired hands and aching muscles, and is perfect for a teacher to keep in their desk or to use after their long day is finished. As a dermatologist tested brand with over 60 years in the market, you know you are gifting your teacher with a quality product that will quickly become a favorite part of her r&r routine.
4. Bath Bombs: These Dr. Teal's bath bombs are ah-maz-ing for anyone, but especially for teachers. Not only do they provide therapeutic relief through aromatherapy with scents of eucalyptus and spearmint, but they are also made with almond, jojoba, and sunflower oil for the ultimate spa experience at home. Your child's teacher will so appreciate a chance to relax and rest their weary mind with these great smelling bath bombs.
5. Sheet Mask: While helping your teacher take care of their skin may be far from your priorities, it is amazing how easily we can neglect or forget to pamper our faces on a regular basis. More often than not I would crash into bed at midnight or one after a long night of lesson planning and grading after school, leaving the day's make-up and grime to be washed off in the morning. I love this sheet mask because of the beneficial aromatherapy aspects and because it is such a luxury for any teacher to take time out to apply it and soak in the therapeutic benefits. Since sheet masks are a very affordable option, you could even pick out different kinds and give the teacher several options.
Nurturing
Another great idea for Teacher Appreciation Week are gifts designed to nurture, feed, and fuel your favorite teacher. They pour so much of themselves into their work that often their own needs, even the most fundamental ones for caffeine and a hot meal, fall by the wayside. Gifting a small gesture designed to help the teacher fuel their busy day will be incredibly appreciated, and is a great way to let the teacher know you are thinking about them.
Here are three ideas to help nurture and fuel your favorite teacher:
1. A Starbucks Gift Card: Alright, I know there are some teachers who aren't Starbucks obsessed. I promise I understand this. But after seven years in the field, I can tell you that there's a pretty good chance that your child's teacher is stopping at Starbucks before and/or after school at least a few times a week. Caffeine helps us get through days jam-packed with instruction, managing classroom behaviors, meeting in professional learning communities, and communicating with parents. And the good news if that even if your teacher isn't a coffee fiend, Starbucks has plenty of non-caffeinated beverages and sweet treats for your teacher to choose from.
2. A Hot Meal: One of my favorite traditions at two of my previous schools during Teacher Appreciation Week was the parents bringing us a homemade lunch or sending us home with a ready-made dinner. It didn't have to be fancy. One year they sent me home with a ravioli bake, a bagged salad, and a pan of brownies and another year they brought us chili with all the fixings. But this was an AMAZING gesture that truly made me feel cared about and took the stress of trying to figure out what to feed myself and my family that evening off the table. If you aren't comfortable with cooking for your teacher, or if you think they would be uncomfortable accepting a home cooked meal, a fantastic option is a gift card for services like Uber Eats, DoorDash, Grubhub, or Bite Squad, or a meal delivery service that will ship a meal to their home. A meal is a gesture that not many think of, but one that will make your teacher feel special indeed.
3. A Gas or Grocery Gift Card: Education isn't really known as an incredibly lucrative field, and teachers often dig into their own pockets to purchase much-needed materials for the classroom. While a gas or grocery gift card from your local station or store may not be a common teacher gift, it is one that would be much appreciated by the teacher nonetheless. Even a ten dollar gas card is enough to basically fill up a tank and keep them running on my commute from school to home for a week. This simple gesture could make a big difference in the teacher's day-to-day life and will definitely let them know you care.
Inspirational
Teachers are incredibly inspirational humans in my opinion. They give, seemingly endlessly, of themselves in order to enrich the lives of others. Teaching is also a very noble profession, even though it seems like teachers are coming under fire by politicians and the public more and more often. An inspirational teacher gift will remind your child's teacher just how much your family respects and supports what they do in the classroom everyday. It will put a smile on the teacher's face every time they glance at your gift and remember that your child chose it especially for them.
Here are three ideas to help you inspire your teacher to continue this important and noble work:
1. A Teacher Book: There are numerous options for books about, by, and for teachers that are sure to pick up an educator when they're feeling down. We have our child enrolled in a parochial preschool currently, so we chose Max Lucado's Pocket Prayers for Teachers: 40 Simple Prayers That Bring Peace and Renewal but here is a short list of some my favorite books I have received over the years that I think will make your teacher smile, too.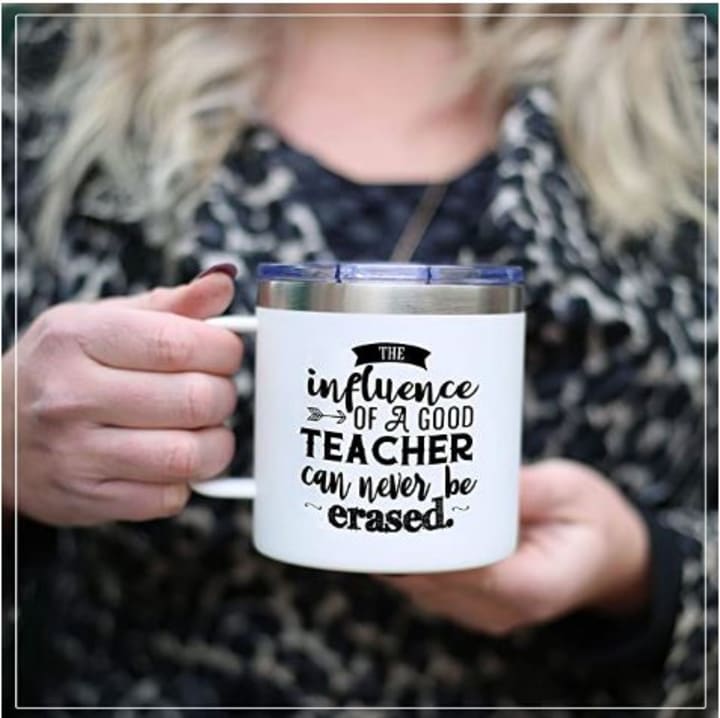 2. A Quality Travel Cup: Ok, there is a bit of a running joke in teacher circles that we get SO. MANY. coffee mugs with inspiring and heartfelt teacher sayings on them. Now personally, I can never have enough coffee mugs and I absolutely love each and every one I have ever received from a student. My suggestion is that if you are considering a coffee mug for your teacher, look for an insulated travel cup with a lid. These are great for taking us from our home to our car to our classroom, and (this part is key) they keep our coffee hotter, longer as we leave it in various places around our classroom and forget about it for the next hour. Another play on this gift idea is a mug warmer for the teacher's desk, guaranteed to keep all the coffee in their traditional ceramic mugs toasty warm until the teacher is ready (read: finds a spare minute in a busy day) to drink it.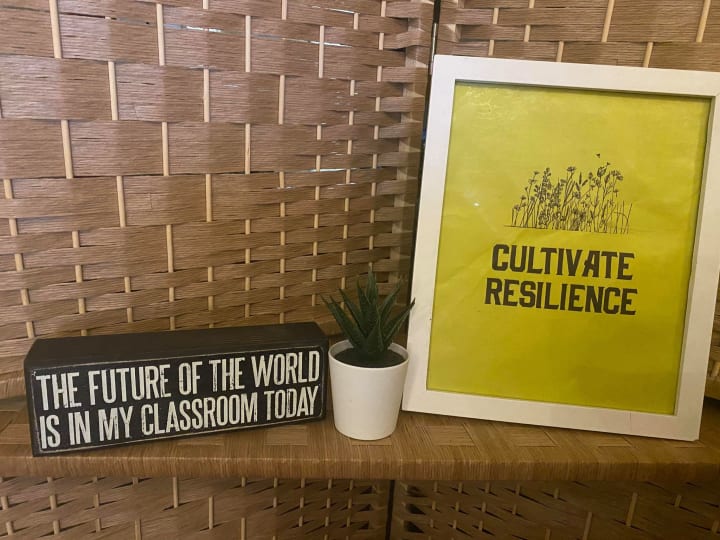 3. Inspiring Signage: I love cutesy classroom decor, and could never have enough of it in my own teacher days. Just when it seemed like my classroom was packed to the brim, a student would bring another poster, picture, or decorative item they had picked out just for me and it would inevitably take its place among my treasured knick-knacks and chotskies. One of my favorite signs ever is this one by Primitives by Kathy, which says "the future of the world is in my classroom today." A second awesome option is this entire book of posters that the teacher can choose inspiring ideas from to post around the classroom; one of my favorites that I have held onto even since transitioning out of teaching is a poster that says "Cultivate Resilience." They will likely use the decor year after year and remember your student fondly every time they glance at it.
From The Heart
Of course, the very best recognition or gift that you can give your teacher during Teacher Appreciation Week is any gift from your heart. I have saved every handwritten note, letter, card, and coloring page my students have ever given me. I still treasure children's beaded bracelets and construction paper creations. Hearing verbal appreciation from students or parents always made my day. And if your child is too young to write a note or give verbal appreciation, there are lots of colorable projects like this one and this one that you can print for your child to decorate if you feel so inclined.
So don't worry about impressing your teacher during Teacher Appreciation Week. They do what they do for the outcome, not the income. And while a gift is always considered a thoughtful gesture, there are a million kind words, acts of service, and other actions from the heart you and your child can take to let their teacher know: we see you. We care for you. We support you. We are thankful for you.
Happy Teacher Appreciation Week 2021 - now get out there and thank your teachers!
About the Creator
I'm a wife and mom, and this is my creative outlet. I am experimenting with lots of different writing styles and topics, so some of it is garbage, and I'm totally fine with that - writing is cheaper than therapy. Thanks for stopping by!
Reader insights
Be the first to share your insights about this piece.
Add your insights