Ten Books Everyone Should Read
Especially if you are almost 30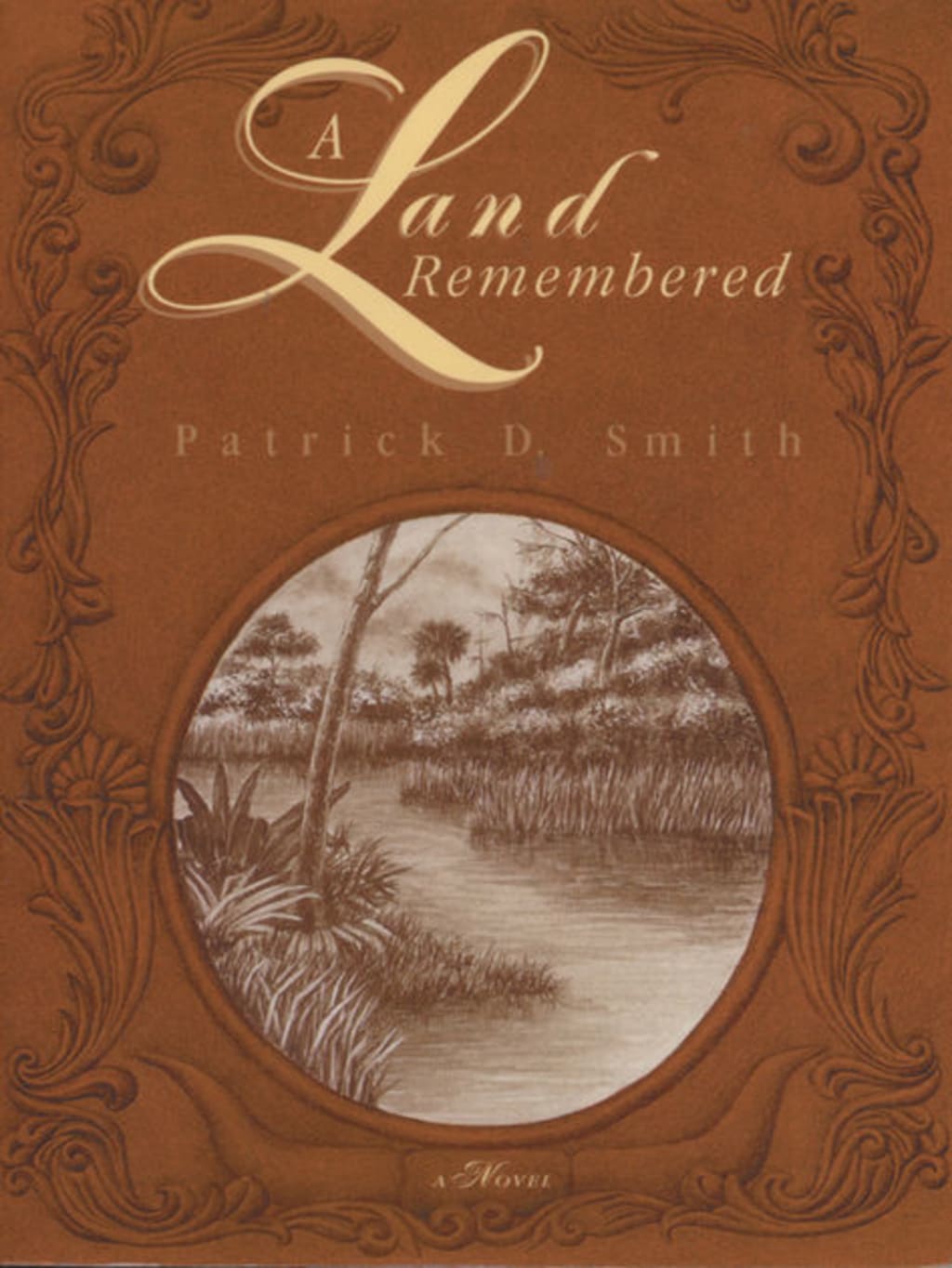 A Land Remembered 
These books touched me in some way, either negatively or positively. All of these are great. Whether you have seen them on previous lists or not, this is strictly my opinion. *= Not for children or the faint of heart.
White Oleander* by Janet Fitch
This story is perhaps the one that changed my life and my views forever, making me into the feminist I am today.
A young girl named Astrid lives with her mother, Ingrid. Ingrid is arrested for killing her boyfriend. Since Astrid has nowhere to go, she is put into foster care and tries to adapt, but the manipulative ways of her mother challenge her everyday life and the foster families that take her in.
This novel was placed in Oprah's Book Club and the audiobook is voiced by none other than Oprah herself, so you know it is good.
A Land Remembered by Robert Smith
I read this novel when I was entering high school, recommended by a librarian at school. It is such a sweet, yet simple story of how Florida grew from the cow land to what it is today. While it is fiction, you really get involved with the characters and want them to succeed.
Three generations across the Florida's harsh land give the McIvey's plenty to do during the 1800s to the 1960s. They advance from raccoon hunters, barely surviving, to real estate tycoons. Choices are made, people's lives are affected.
My Sweet Audrina* by V.C. Andrews
Gives me the heebie jeebies every single time no matter how many times I read it. I find myself pausing to take a few breaths. I urge the reader to take caution when beginning this book because you are in for a wild ride.
Audrina is named after her elder sister that died after she was raped and beaten in the woods behind their house. Her parents constantly refer to the elder as "The Good Audrina," making the living one feel isolated and alone.
Matters worsen when her cousin, Vera, constantly tortures Audrina in a number of ways, which I will not mention here, making her grow up terrified of her own shadow.
The Stand by Stephen King
One of the best mini-series' I have ever seen and an even better book. This is a home run for anyone who likes end of the world and apocalyptic films/novels.
After a super bug gets out of a lab and spreads across the world, killing over 95 percent of the population, the lone survivors must take their stand and rebuild the earth. The ones that follow God go to Boulder Colorado in search of an old woman named Mother Abigail. The ones that follow the devil go to Las Vegas, Nevada in search of Randall Flag.
Which side comes out on top?
A person who is not religious will love this book. I know I did and I have been battling my faith for years. The people that go on this journey are not perfect, even on the side of God. They are in various stages in their lives, even representing the seven deadly sins. It goes to show that to believe in God, you do not have to be perfect, you just have to accept him.
Great Expectations by Charles Dickens
A great coming-of-age story that is eerie in every sense of the word. It opens with Pip as the narrator as he lives with his family and befriends others who have a different take on normal than expected.
My favorite character was Ms. Havisham. She wears her wedding dress every day since she got left at the alter. Her windows are covered and all the food is rotting in the house from the wedding that was. Why was she my favorite character you might ask? I always had a soft spot for the twisted characters, empathy for the extremely depressed as I suffer from depression myself.
The Stephanie Plum Series by Janet Evanovich
If you are looking for a way to escape, this is definitely the series to do it with. My advice is to NEVER EVER watch the film. It was horrendous.
The series (coming out with book 24 this year) follows a bounty hunter named Stephanie Plum. Unlike the ones you've seen on television, she is not talented or skilled, just extremely lucky. A crazy New Jersey family, two hot guys always pursuing her, and repeat convicts to keep her on her toes, this witty series always keeps me rolling with laughter. The first book is titled One for the Money.
Retail Hell: How I Sold My Soul to the Store By Freeman Hall
I am not just putting this here because the author is a personal friend of mine, but because the book makes me laugh. For anyone who has ever worked retail, this book is for you.
It follows the author as he describes his day-to-day life at a place that he titles "The Big Fancy" and all the craziness that comes with it. From the "Dragon Lady" bosses, the different and erratic customers, and the coworkers from all walks of life, working in retail will always be hell when you're fighting for your life in the sea of a revolving door.
Lolita* by Vladimir Nobokov
Many people will automatically discredit this novel because of its subject matter, which is statutory rape and the question if a twelve-year-old is really able to give consent. Due to the nature of the book, I will not go into too much detail.
A man is obsessed with what he calls "nymphets" who he calls young girls who appear to like sex. He takes a liking to his landlord's daughter, Dolores, who is 12 at the time. He takes her from the home and runs away with her.
With many sexual scenes in detail, including ejaculation in this book, this is not for the faint of heart.
The Girl With a Pearl Earring by Tracy Chavalier
Named after the famous painting by Johannes Vermeer, this novel tells the story behind the painting.
A young girl named Griet is hired by a wealthy family as a servant in 1664 Delft. She enters the house and the master, Johannes Vermeer, takes an immediate liking to her, much to the dissatisfaction of his wife.
After reading this novel, I took an interest in knowing the backstory behind things.
Stellaluna by Janell Canon
A children's book, but one of my favorites, and still being read to children today.
This book is actually quite simple to summarize: an African fruit bat and her baby, Stellaluna, learning how to do bat things.
It was one of the first real books I read and it always stuck with me.
Some Honorable Mentions that I will just list but not describe:
Maniac Magee by Jerry Spinelli
It Happened to Nancy by Beverly Sparks
Beezus and Ramona by Beverly Clerey
Say Cheese and Die by R.L. Stine